Since the dawn of crime, technology and law have managed to co-exist together almost entirely indifferently. Yet, as they say, all long periods of slumber and denial must come to an end. And for the legal world, technological apps hell-bent on increasing efficiency and destroying the businesses of all honest lever arch files salesman, have arrived to transform the profession and challenge its robust conservatism.
Total investment in UK Lawtech firms has only just reached £16m, in comparison, Fintech generated £1.5bn in 2015-16 alone. But the market is still in the initial stages of development and is largely unexplored. The expectancy, however, given the UK's legal services generate over £25bn annually, is that this is where the next tech drive is going to take place.
Here are five of the early contenders attempting to disrupt the legal market.
In May this year, the world's best Go player lost to an AI machine for the first time. 'Go' is a hugely complex ancient strategy game where hundreds of years of received wisdom and intuition were believed to mean humans would always retain the edge over machine calculations. It's different in that way to chess, where more than twenty years ago, IBM's Deep Blue defeated world champion Kasparov in its first-ever game. For two decades since that defeat, however, professional Go players had remained undefeated to technology.
How then did they finally teach an AI machine to outthink the world's best player? Well, in many ways, they didn't. Instead of providing it with information about the game as had previously been the technique, they let the machine teach itself. AlphaGo played millions of games in the space of a few days and by correcting its every error, generated its own knowledge. It then baffled the world in its first game (over 100 million people tuned in) by producing moves unseen before, but which in hindsight, made perfect sense.
The development and potential of ideas like this outside of the realm of board games are what is captivating the legal world now and it's not hard not to see why. What could happen if AI strategy games could be developed into legal strategy?
Cambridge graduates were out to test this theory when they created CaseCrunch, an AI software that can predict legal decisions with high accuracy, and it appears, a higher accuracy than human lawyers.
Lawyers from the leading law firms in the UK, including magic circle firm Allen & Overy, were asked to assess 800 historic insurance misselling claims in a week-long competition and predict the outcomes of the cases. The results?
Lawyers  – 62%
CaseCrunch – 87%.
The first ever competition to pit lawyers against AI, and it was decisive. The expectation going forward, however, is the two will work together, rather than apart, we hope…
This company may be the most disruptive of all. Premonition knows "Which Lawyers, Win Which Cases, In Front of Which Judges."
The database is gigantic and growing by 40,000 cases every day in the US alone. The slogan is you can "Select Your Lawyer on Data, Not Anecdote". By entering your requirements into the database, the technology will return the lawyers with the best success. This includes who wins the most, who are the most hired and who are the proven losers that are continually re-hired. Hard to guess why lawyers have been resistant to technology, isn't it?
But it's not all bad news, as the data alone is fascinating. In Civil Appeals there is a barrister with 11 straight defendant wins, despite the fact, plaintiffs win 75% in UK courts. It also revealed Law firms select barristers 38% worse than random, and General Counsel's 18% worse than random!
Aside from collecting this hugely valuable data and significantly strengthening the hand of the consumer, a more juvenile dive into the stats gives the perfect opportunity to settle old scores. According to the data, female partners win 12% more than their male colleagues and female associates win 3% more than their male colleagues. Something to do with multitasking etc…
Another UK legal tech start-up, Cognitiv+ applies artificial intelligence to the task of contract reading to background music of grateful cheers from training contract applicants everywhere.
As legislation, contracts and new regulations continue to grow to sizes of the extreme, the argument in favour of this technology is that managing contract changes are going to become an increasingly impossible job for humans. The AI should be able to monitor changes in legislation and then compare its analysis to a company's own contracts, flagging up potential conflicts or alerting its users to the important changes.
The AI's engine effectively automates contract analysis and management, offering businesses a way to stay on top of legal risks, contractual obligations and changing regulatory landscapes. Brexit has likely come along at exactly the right time for this startup, with new legislation and regulations likely to arrive in their droves in the next few years.
While so much time is dedicated now to worrying about the next big cybersecurity attack, Check Recipient worries about what happens if a data leak is done from within, by mistake. The technology studies your emails and alerts the user when it believes an email has made its way to the wrong person, blocking the attempt and allowing the grateful and-still-in-a-job associate a second chance.
There's more to this idea than just potentially saving you from accidentally sending your boss your CV. The future of data protection may mean the consequences of email misdirection will result in more than just social faux pas. EU regulations set to enter legislation in 2018 could mean mandatory reporting of data breaches and subsequent fines.
A plethora of horror stories has entered the press recently regarding misdirected emails. From an HIV clinic accidentally releasing the names of its patients to a school in Australia sending its students a link to an "inappropriate adult website" instead of the intended annual breakfast event. Yet, closer to home, something as simple as sending the wrong email to an opponent or client when a legal case hangs in the balance would be mortifying enough. Check recipient has got that bit covered.
FlexeBoss.com is an online legal marketplace which enables people to search, select and interact with high quality, affordable (20% cheaper than the market rate), vetted by UK solicitors to solve their legal issues. Lord Justice Jackson may not have been able to convince the profession of fixed costs outside of personal injury claims, but this app goes ahead and fixes them for you. You place the service in your shopping basket, send the documents the lawyer requests, and the Lawyer returns the work to you in the agreed timeframe.
It's a win for both sides, however, as Lawyers can also sell their services through the site. It functions a little like an Amazon for legal services and the potential for growth, as more lawyers become self-employed could be endless. It could be an interesting future for the legal trade should concepts like this become the preference of the consumer. It gives more certainty over cost and an online interface more familiar to the modern customer. Viva la legal revolution.
Five legal tech apps disrupting the legal market
'Just cos he writes about gayness and gay issues, doesn't mean he drives up the marmite motorway.'
'I just think that this story is much more poignantly romantic than fudge packing Jake.'
'A rhythm section that's tighter than your mother was when I took her virginity all those years ago.'
You could be forgiven for reading the above statements as the deranged blabbering of a sulky, and confused teenager. If only it were so. Instead, they represent the historic online comments of elected Labour MP Jared O'Mara.
O'Mara made headlines in the snap election when he displaced Nick Clegg from his seat of Sheffield Hallam. He was seen as a candidate who was very much carried along on the crest of the Momentum wave.
That was June, this is October, and O'Mara has been suspended from the party following a string of vile revelations broken by Guido Fawkes, a right-wing gossip blog infamous for exposing the worst digressions of Members of Parliament.
O'Mara's ire was not limited to homosexual people, or other people's mothers. 'Fat' people, women, Spaniards, Danes and teenage girls have all felt the sting of O'Mara's vitriol over the years. Angela Rayner, a member of the Shadow Cabinet, defended O'Mara by claiming that these comments were made a long time ago, and that his opinions had evolved. This is a pretty weak defence, and weaker still given that we can simply check the dates of his comments in an online forum and ascertain that he was 21-years-old.
Now, I'm 23, and as vulgar and detestable as my colleagues might find me, I would argue that I know that referring to teenage girls as 'sexy little slags' is not the social norm, and I would also have known two years ago that it was unacceptable.
While it would be easy to sit here and pull apart O'Mara's views, and the sub-standard Labour vetting process that allowed him to contest a seat, the best lesson learned for figures of public prominence is the damage that the digital world can wreak on a reputation. O'Mara is 35-years-old now, and is perhaps one generation too late to have truly grown up with the internet.
But given the way he is now being torn to shreds in the media, this raises an interesting question over whether this is something we can expect to see more of, as more public figures who have grown up with online forums, Facebook and Twitter come into the spotlight.
This can at times be a source of amusement. The SNP's Mhairi Black was just 20 when elected (you may have seen her, in a blinding lack of self-awareness, lamenting 'career politicians' recently), and some of her old tweets from her teenage years were dug up after her selection. They were quite funny to the casual observer, and rather embarrassing for Black herself.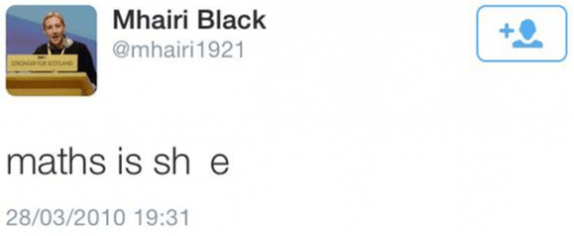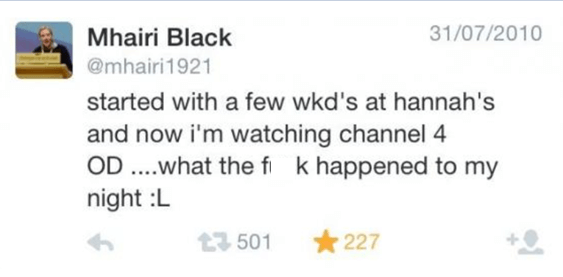 Andre Gray, the Premier League footballer, had a more sobering experience when explosive homophobic tweets from his past were pulled up. He faced FA disciplinary action as a result.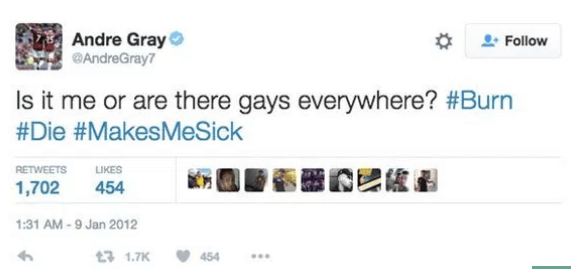 Trial by social media is not a new phenomenon, but as those who have grown up hand-in-glove with the internet move into positions as MPs and figures of public influence, there could be much more scandal yet to come.
Being cautious or vigilant in the here and now is clearly not enough. Do people remember all that they have done and said in the past? Should they continue to be made to atone for it? Is the best course of action to completely erase your digital footprint?
Online is forever, and as Jared O'Mara is finding out, there is no hiding place once all is revealed.
Just how many more skeletons are there in how many more closets? Halloween is on the way, so another fright may be just around the corner.
Jared O'Mara and the unforgiving eternity of the Internet
Hollywood loves an underdog story. Rocky, Seabiscuit, Trump? Well, perhaps not quite. The world of celebrity (Clint Eastwood aside, no relation) was eerily quiet at Trump's ascension to the presidency.
It seemed a script that even the zaniest Hollywood writer could surely not have dreamt up two years ago, and cast all manner of doubt on the impact of celebrity endorsement. With the might of the mainstream media and support from figures from Katy Perry, to Beyoncé, to Lady Gaga, to Chris Evans (no, not that one) behind her, Hillary Clinton still could not hold back the tide and beat a very average candidate.
Fast forward to June 2017, and Jeremy Corbyn achieved success in a way that Clinton simply couldn't. It is worth quantifying that Corbyn did not 'win' the election, he was well short of a majority, but he did harness the potential of social media and celebrity to create a movement, amongst young people in particular, that led to a result that no political commentator had predicted (whatever he says now, The Guardian's Owen Jones didn't see it coming).

Nobody expected to see hashtags like #Grime4Corbyn taking off, but that's exactly what happened. When even Grime MCs are wading into the debate, it is worth taking a step back to explore the role that the celebrity now plays in the political sphere.
First and foremost it is an amazing thing that the power of celebrity can play a role in bringing people otherwise totally disengaged into the discussion. The young, and many other people who felt disenfranchised before the election, were invigorated by the momentum Corbyn's campaign generated.
Celebrities can also use their position to raise crucial issues, JK Rowling is an example of somebody who uses her platform to regularly do so (see below evisceration of Westboro Baptist Church), and Jamie Oliver is another who has done so to great effect.
But there are also drawbacks. In some ways, politics is now more reductive than at any other time in history. The influence of platforms including Facebook and Twitter has changed the very nature of political discourse.
It feels as though we live in a world of increasingly polarised opinion. Cropping manifestos and political opinions into 140 characters might well make things digestible, but there is less room for nuance than ever before. With Brexit and the General Election, there has been a very dangerous recurrent narrative on both sides of the spectrum of 'them against us'.
The last 18 months have been characterised by a surge in vitriol and division as tensions reach boiling point. The world isn't split into good and evil, but too often the content we read online gives the impression that it is.
In this atmosphere of heightened pressure, do celebrities have a greater responsibility to think before they tweet so as not to fuel the fire?
There is an elevated risk in what is a pretty poisonous political climate of appearing crass, condescending or even incendiary. Piers Morgan and Katie Hopkins have both built their brands off the back of being controversial firebrands, and by saying what nobody else would (and there's generally a good reason nobody else would). Milo Yiannopolous did the same until his Twitter ban. All of these 'provocateurs' delight in sowing division and taking 'the left' to task for all manner of perceived sins.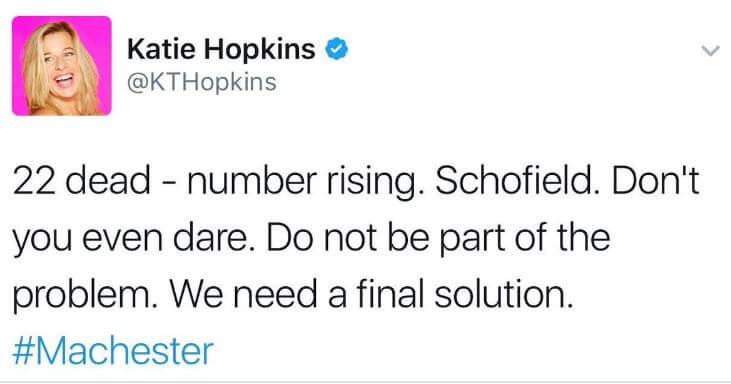 But fear not, the left is just as happy to fire back. Owen Jones takes great pride in deriding those with differing views, while Lily Allen is another who divides opinion, always ready with a forthright opinion and an unerring ability to upset people.
Even Rowling, the patron saint of millennials, was quick to point the finger at Nigel Farage and the now infamous 'Breaking Point' referendum poster in the immediate aftermath of the Finsbury attack. Some may agree with her, but others might contend that such a tweet was insensitive and misrepresentative. Many people disagree with Farage, but to imply that he advocates killing in the streets does nothing to advance the discussion and in the immediate aftermath of an atrocity looks like distasteful pushing of an agenda.
It feels increasingly that battle lines are being drawn. Celebrities have the clout to influence and effect genuine change, the recent election showed that, but with their visibility comes a greater degree of responsibility.
Social media is constantly changing the world around us. The power of celebrity has a place in politics, but exactly how far that power should reach becomes harder to quantify by the day.
In the increasingly factional current political climate, those with the greatest visibility in our society have a duty to think before they speak, pause before they tweet, and to seek to unify rather than divide.
Does the power of celebrity have a place in politics?
If anyone ever tells you they are having a bad day, don't listen to them, because they haven't spent the last five hours watching Political Campaign Ads/Songs. With the Snap Election just days away, let's all come together and bask in how abysmal the human race really is.
These are in no particular order (anarchy – Take that establishment!) but let's begin with something current anyway…
Sam Harrison – 'I Feel Like Jeremy Corbyn'
At a point you have to ask whether people sit at home and think about how much their favourite politicians will love their videos. Is that what you did Sam? Did you think you were helping? 'My girlfriend tells me that I've got a big mandate.' Lord above. I don't know whether to cry, vomit, cry or cry after this.
4/10 – People actually take the time to write these songs.
Votin'
Brexit dragged up all manner of anger, frustration, fear and insecurity. But nothing – and I mean absolutely nothing – comes close to this atrocity. Where to begin? The irony of spelling learnin' wrong? The fact that as part of the prime demographic (18-24) for this steaming pile of cringe I know that the letter 'g' exists and even indulge in usin' it sometimes? I don't know but please don't make me talk about it anymore.
Typin', Watchin', Groanin', Hatin', Ratin' out of 10 (-1000), Turnin', off.
Ivan Massow – 'Invite Ivan'
Eurgh. Look, I get it Ivan. No really, I do. You want to discover what makes Londoners tick. What better way than going to meet with and talk to them? But here's the thing, that's where this should have stopped. Meeting with the public? Great. Engaging with them? Fantastic. Listening to them? Sensational! Living with them? Abandon ship/Lock the door/Run for the hills.
1/10 – A nice idea executed with all the finesse of a pig using chopsticks.
Joni Ernst – 'Castrating Hogs'
A scene from Simon Danczuk's most intimate, sobering nightmares. This monstrosity is enough to make anyone shiver. If any men watching emitted an involuntary high-pitched squeal, don't feel ashamed, even if that squeal is exactly what Joni wants. You can see Beelzebub dancing in Joni's pale, merciless eyes as she viciously wills castration on everyone watching. If Joni comes up on your tinder, swipe left before she devours your soul.
666/10 – I cannot in good faith endorse satanic ritual.
Captain SKA – 'Liar Liar'
Don't hold back will you? This is savage, and it's also blowing up right now (one million views and counting). Theresa May may think she's Strong and Stable but she gets Captain SkA-ewered here. A tad (a lot) whiny for my taste though, we like fun and humour here.
5/10 -#KinderGentlerBlogPosts
Lyndon B Johnson – 'Daisy'
Brexiteers might still moan about Project Fear, but as far as scaremongering goes this takes the biscuit. Its impact is somewhat lessened, however, by the fact that LBJ was famed for exposing his manhood to white house staff, foreign dignitaries and just about anyone who was within watching distance.
4/10 – An attack ad from a maniac who delighted in flashing everyone – thank goodness American Politics is so mundane these days.
Ted Cruz – 'The Senator who saved Christmas'
If Ted had his way the Middle East would probably be getting carpet bombed out of existence with exploding bible extracts right now. But as distasteful and divisive as his foreign and domestic policy ideas are, it is those horrible, shifty eyebrows that make Cruz truly unsettling. Disturbing facial features aside, this is excellent. Bonus points for 'The Grinch who lost her emails' and 'Rudolph the underemployed Reindeer'.
5/10 – Would be higher but Ted Cruz is the Zodiac Killer, so it's not. I'd sooner spend my Christmas in Dante's inferno than with the slimy senator.
Mike Gravel and his Rock
Stone-faced Mike Gravel, delivering a gritty message as he drops a rock into some water. We certainly think he made a splash.
7/10 – Is Mike's message sinking in yet?
Dwight Eisenhower – 'I Like Ike' 
As far back as the 1950's the Americans were pumping out content like this, and our last Prime Minister couldn't remember which football team he supported (classic nutty geezer/pub legend/one of the lads Daveyboy Cameron eh). Once you've heard this delightful little number you'll be bopping along to it for the rest of the week.
9.9/10 – 'Ike for president, Ike for president, Ike for president…'
The Green Party – #GrownUpPolitics
How do you even pick a top moment? It's impossible, but highlights are: Boris on his tricycle (I'm Prime Minister!), Jeremy's nasty shadow cabinet (Put the rockets away) and, of course, lonely, lonely Tim Farron.
9.98/10 –If the Green Party were as good at politics as they are campaign videos we would be a single-party state.
Rick Santorum – 'Game On'
It takes a special kind of ineptitude to be less electable than Mitt Romney, but hats off to Rick Santorum as he managed it in 2012. Skin-crawlingly cult-like – Rick's devoted disciples demand 'justice for the unborn,' while lavishing praise on Rick for being: 'Faithful to his wife and seven kids – he'll be loyal to our land,' (Ted Cruz/Danczuk/Berlusconi – take note).
0/10 – A torturous journey of fidget-inducing terror.
Zac Goldsmith – Who even knows what 
An aberration. Lines such as 'he is worthy of appreciation' aren't doing Mr Goldsmith any favours but the video is even more excruciating, as we are treated to Zac looking out of place and unsettled in various 'common folk' locations, including the tube (come on Zac, who are we kidding?)
3/10 – There is something there, but it's buried so deep that only someone who has spent the last 4 hours listening to political campaign songs could recognise it.
The UKIP Calypso
The words UKIP and Calypso just don't look right when you write them next to each other. Unsurprisingly, they also don't sound right when forced into this unholy union dating back to 2014. In essence, Nigel Farage performing the Dementor's kiss/an exorcism on West Indian Culture – profoundly uncomfortable listening.
2/10 – In the words of Ed Milliband: "It's just wrong."
Silvio Berlusconi – 'Thank Goodness for Silvio'
Behold, feminism's Anti-Christ. Hasn't got much going for it on a musical level and I don't buy that anyone has ever uttered the words 'thank goodness for Silvio'. Thank goodness for what? Economic disarray? Mass unemployment? Flagrant misogyny? If you're thankful for Silvio, you need to stop hanging out with Simon Danczuk on weekends.
3/10 – It's three X's Silvio, but not the type you like you dirty old cretin. You're out.
Conservative friends of India – 'David Cameron'
In an age where political discourse is often muddled and confusing, this song is reassuringly familiar in that I have no idea what's going on. Remarkably, the song makes less sense still once translated. 'The Sky is blue' – oh, okay. And yet 'David Cameron' repeated in metronomic fashion holds a hypnotic and alluring quality.
5/10 – Bonus point for the pitch that the female singer hits – a boiling kettle.
Tony Blair – '1997'
In the context of this list, 'things can only get better' is devilishly appropriate. Loving the nostalgic nineties feel of the video. Stay with it until the big reveal towards the end – Mr Blair looks like a man who has just remembered he left the oven on.
6/10 – No real surprise that Labour won the election after this.
Donald Trump – 'The Trump Jam'
Donald Trump's political career has plumbed sinister and vitriolic depths, but this is unquestionably the most unforgivable mutation that the frothing Republican candidates' posturing has created yet. An exemplary demonstration of Trump's devastating proficiency when employing the Imperius curse – watching these bewitched children stumble around stage is uncomfortable viewing for even the hardiest of folk.
4/10 – Despicable and quite Covfefe.
Kennedy – 'Kennedy, Kennedy, Kennedy'
Ladies, Gentlemen, Donald, we have a winner. Indoctrination at it's simple and masterful best. The message is clear, it's easy to join in and the lyrics are about as fun as political brainwashing could hope to be.
10/10 – Just about pips 'I like Ike', but only just…
18 Political Campaign Ads that made me question my reality
Britain has always been a leader in the creative industries, but a question mark hovers over its future. At a time of Brexit, an NHS stretched to breaking point, and spending cuts, it is easy for industries that are doing relatively well to be overlooked by Government but to do so could be a disaster. This has never been truer than for the creative industries, who enjoyed a bumper year in 2016 (contributing £84 billion to the UK economy) but are largely ignored by policymakers. Yet the continued success of this sector is by no means guaranteed.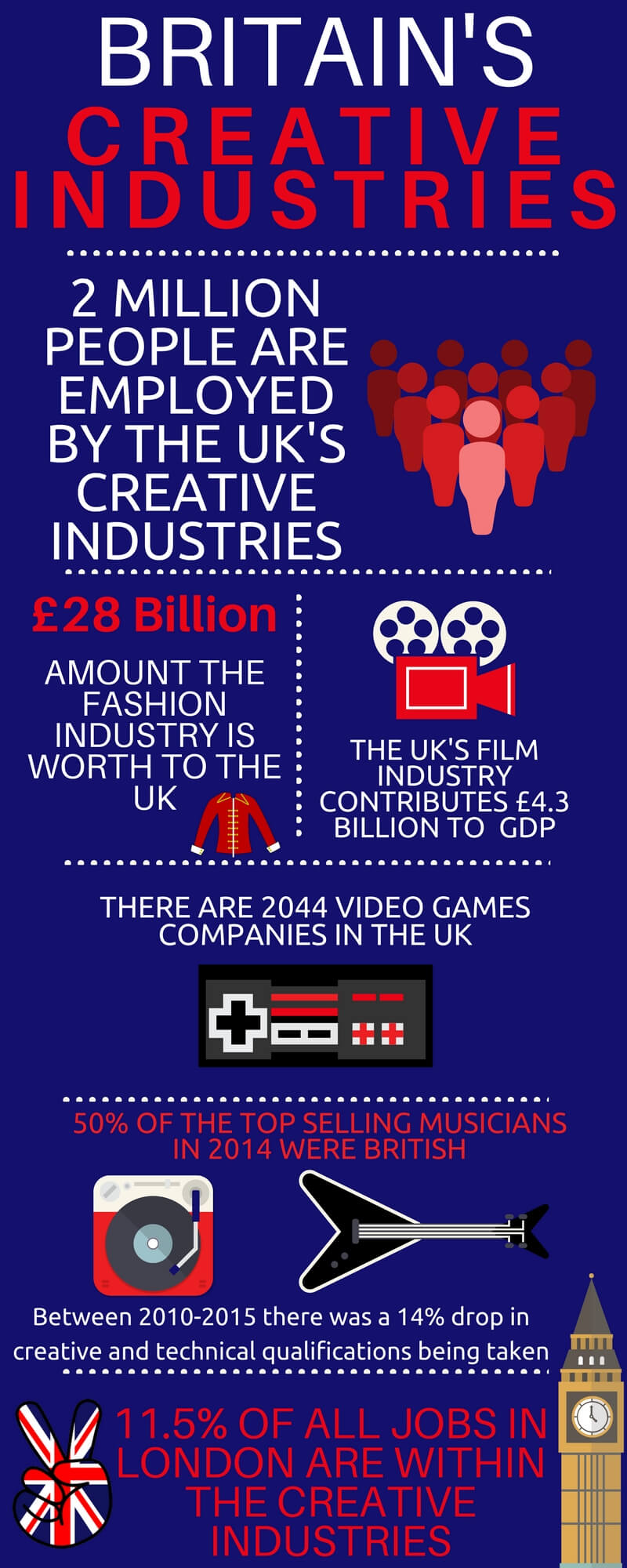 Brexit will have far-reaching consequences for the creative industries in a myriad of ways. One of the most significant changes is likely to be to freedom of movement, which could negatively impact the sector's ability to attract key talent from overseas. Likewise, any requirement for British citizens to have visas to work in Europe could be costly and time-consuming. This will be problematic for anyone in the industry who needs to frequently work in European countries, e.g. musicians on tour. Plus, a business' ability to protect its intellectual property (which is largely governed by EU law at the moment) could be significantly reduced, affecting everything from design to publishing, film and music.
Additionally, the future funding that Britain's creative sectors get from EU bodies could be at risk. Figures from Creative Europe show that it supported 230 cultural and creative firms in the UK in 2014/15. There are questions over what will happen to this, and other similar funding streams, after Brexit, and the government should take steps to reassure bodies who might be affected.
By Michael Lach
My internship at The PHA Group started in October 2016, after recently completing my degree in International Relations and Politics from the University of East Anglia. I had always been interested in Politics as well as PR, and when I stumbled upon an online invite one day asking me to attend a 'PHA Open Day for aspiring PR professionals' I leapt at the opportunity.
The day encompassed of myself and a few dozen others coming to PHA to learn about all the teams and the work that they do. After hearing from Emily, who did an introduction to the Public Affairs team, I knew that this was definitely something I would be interested in pursuing.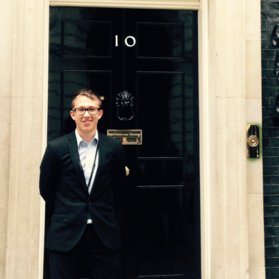 Fast forward to February and I've now been at PHA in the Public Affairs team for a little over 4 months. During this time I've worked on some truly big issues, from helping to safeguard the future of British Film, to helping millions of British overseas citizens. Plus, one of the best things about doing work experience with the PHA Public Affairs team is that unlike in other intern roles where basically your biggest responsibility is in charge of making tea or photocopying, at PHA you are truly part of the team and have responsibilities that matter.
In my first week, I was asked to help set up meetings between our clients and MP's. It felt great that the company trusted me enough to give me such an important responsibility, which ultimately was crucial to our clients' interests. My responsibilities have also included preparing briefs and reports for the team and our clients, as well as client events and attending high-profile meetings in Parliament with our clients and some of the UK's top politicians.
Another thing I have enjoyed is that no day is ever the same! When you come into work in the morning, you could be working on a new client that's just signed up, meeting with a client, or attending events!
It has been 12 days since Trump became the fully fledged President of the United States of America. However, in those 12 days, America is looking less united than ever. His executive orders, from issuing gag orders on abortion and climate change to pushing forward with the highly criticised Dakota pipeline, have sent shockwaves across America and the world over. The most controversial of these has already done irreparable damage to the lives of thousands; this is, of course, the infamous travel ban.
This executive order has suspended the acceptance of refugees from Syria indefinitely, and from another 6 Muslim-majority countries for 120 days, including Iran, Iraq and Libya. These 120 days are supposed to allow time for 'extreme vetting' measures to be put in place. However, Trump will allow those of Christian faith to be accepted as refugees, a decision that has led to the ban being aptly renamed the 'Muslim Ban'. This new regulation is said to be in place for the safety of the American people and was enforced with such haste so the 'bad guys' didn't have time to get in.
The order has been widely criticised by politicians, international diplomats, CEOs and celebrities alike, as well as evoking a huge public backlash in the USA and the UK. The UK's impressive reaction has been bolstered by anger at Theresa May's inability to condemn Trump's actions and attitude, with May being branded 'Theresa the Appeaser'. Parallels have been drawn with previous politicians that chose to appease narcissistic authoritarian leaders, note: it didn't work for Neville Chamberlain either.
The continued voice of the celebrity has garnered much high-profile media attention around these protests and lent its star-studded hand well to the cause. Celebrities such as Rihanna, Mark Ruffalo, Sia and even Kim Kardashian have used their influence to speak out against the ban, and encourage Americans to stand with their Muslim neighbours and those in need across the middle East.
Although the majority of the media has aligned with the sentiment of the protests, and those celebrities involved, there are of course some who have denounced their involvement as irrelevant and uninformed. It is no surprise that Fox News is one of such outlets, who went as far to say that A-list celebrities, like Madonna, were using the protests are a way to stay relevant with a millennial audience. This is a claim echoed in several similar articles and extends as a critique to all of Hollywood for their 'self-involved' contributions to the protests. There is an ongoing conversation that celebrities are too far removed from the 'real world' to have an opinion on politics; their protest appearances "like gods descending from Mount Olympus", says presenter Greg Gutfeld.
This is a predictable commentary from this facet of the media. Fortunately, it remains that as human beings, celebrities have the right to free speech and to use their influence to speak about whatever they deem important. The power of celebrity is currently holding strong the largest platform of dissent against Trump, which is more than we have seen from many industry leaders and politicians. With Trump taking a record 8 days to reach majority disapproval, and diplomats preparing an 'unprecedented dissent memo', perhaps we will begin to see some meaningful discussion within the White House. But I wouldn't hold your breath.
Celebrities stand up to Trump
By Michael Lach, PHA Public Affairs
Donald Trump has been President for little over a week, but there has already been significant political change. In that time Theresa May held hands with the new President at the White House, mass protests broke out in London and the UK in relation to Trump's controversial immigration policy, and 1.5 million people signed a petition in protest against Trump receiving a state visit.
These events mark the significant problems that Theresa May's government face with Donald Trump.  On the one hand, Trump has been hugely supportive of Brexit, has spoken positively of his "Scottish roots", moved Winston Churchill's bust back into the Oval Office and talked up his wish to quickly secure a trade deal with the United Kingdom. This has reassured many within the Government that the so-called special relationship will flourish.
On the other hand, Trump has shown himself to be volatile and controversial. His recent executive order preventing refugees from entering the US has resulted in his reputation amongst the British hitting rock bottom, with 10,000 protestors demonstrating outside Downing Street with just a day's notice. The Prime Minister has also come under criticism for not being quick enough to denounce Trump's Immigration ban, instead simply stating "the United States immigration policy is a matter for the United States".
In reality, Trump's Presidency represents a dangerous balancing game. If handled well, May could create a strong relationship with the United States, akin to the Reagan and Thatcher days. Furthermore, a potential US-UK trade deal would be hugely beneficial to the UK economy going forward and would be a threat to the European Union who Trump has denounced multiple times.
However, if this relationship can only be achieved by May curtailing to every single one of Trump's whims and wishes, and refusing to steadfastly oppose the policies he puts in place, she will face severe criticism in both the press and her party in the UK.
Coincidentally, however, if May decides to actively disagree with any controversial policies that President Trump might pursue, it could jeopardise any positive future relationships, trade deals, or cooperation on other important issues (e.g. NATO, intelligence sharing, etc.) that the UK might hope to work with the United States on.
Ultimately, it can be argued that whatever route May and the government take there will inevitably be pitfalls attached.  For the Prime Minister, the only option available to avoid damaging her relationship with the notoriously thin-skinned President is to somehow craft a personal friendship with him. This will allow her to challenge him on policy objectives whilst protecting British interests with the United States.
Saving the special relationship
Bandying about insults, interrupting his opponent, a winding monologue packed with hyperbole and absent of any detail.
Casual observers of US politics could be forgiven for thinking they had stumbled upon an episode of The Apprentice. Except it couldn't be The Apprentice, could it? Sure enough, that was Trump stood up on stage, but with Hillary Clinton alongside him?
No observer, this was not reality TV – this was just symptomatic of the direction politics in the US and the UK is lurching towards.
The less attentive amongst the public would have been left aghast at Donald Trump's performance in the first US Presidential debate – how could such a man be anywhere near the race for the White House?
And yet to those who have been paying attention – Trump's rise is part of a continuing trend in global politics. There has been a noticeable and collective rejection of the establishment permeating across the British and American political spectrums.
The political shift in the last twelve months has been as fast as it has unexpected. For people in the UK, it started in the aftermath of the 2015 General Election, with the Labour leadership race after Ed Milliband tendered his resignation.
Jeremy Corbyn defied the predictions of every pundit, expert and media outlet to secure the leadership of the Labour Party in September 2015 with the largest mandate in the party's history. Why were people so drawn to Corbyn? Maybe it's because he is different, he represents change – an alternative to the status quo.
What has followed is twelve months of utter turmoil for the Labour Party and the relentless savaging of Corbyn in the mainstream media.
From a refusal to sing the national anthem, to arguments over trident and defence, to the Labour anti-Semitism scandal, to the Virgin train farce – Corbyn has staggered from one PR disaster to the next, with the baying media falling over each other in their eagerness to sink their teeth into him.
David Cameron described it best, when he said that Corbyn is like the Black Knight from Monty Python, just as he seems to have been defeated and cast aside, he gathers himself and limps on.
But what this really seems to be demonstrating, is just how wrong the mainstream media are getting politics – three of the most seismic political events of the last year have been the Labour leadership contest, the EU referendum, and the US Presidential race – and so far the media have got two out of three wrong.
Nobody gave Corbyn a hope of surviving a month, then he wasn't going to see out the new year, then every media outlet told us that Owen Smith was a far more 'electable' candidate. The Telegraph, the Sun and the Mail ridiculed him, the Guardian lamented his destruction of the Labour Party. If people believed all they read in the news Owen Smith would surely have thrashed Corbyn with a 99.99% majority.
And yet here we are, blinking at Groundhog Day twelve months on, with Corbyn securing his re-election in a head-to-head with Owen Smith by winning a commanding 61.8% of the vote.
But then what about Brexit? This surely was something that everyone knew the answer to. Every political party beyond UKIP was united behind the idea of staying in the EU.
The Prime Minister wheeled out experts from every imaginable industry to warn against the dangers of leaving the European Union. A 'Leave' campaign was fronted by the hapless trio of the lamentable Nigel Farage, the abject Boris Johnson and Michael Gove – a man with all the charisma of a pencil.
All conventional wisdom pointed towards one result – a vote to Remain in the European Union. But another result came and went, and again it went against the prediction of almost every informed expert. Why were people so drawn to Brexit? Maybe it was immigration, maybe it was sovereignty but once again it represented change – and this is how the Leave campaign pitched it – an alternative to the status quo.
So now here we are, with a matter of weeks left until the next President of the USA is decided. Hillary Clinton has the bulk of the mainstream media –newspapers and TV networks on her side. She has the celebrities, the business people, the backing of the political elite.
But it all sounds a bit familiar, doesn't it? Just how confident are the pundits feeling right now about who the next President of the United States will be? How confident does anyone feel in making any predictions over what's coming next in politics?
Whatever you or I may think of Donald Trump (a great deal of it, I'm sure, is not printable) one thing he does represent is change. He may be incendiary, vitriolic, and arguably unhinged – but if there is one thing he doesn't represent – it's the political status quo.
First we got Corbyn, then we got Brexit. It's crazy to think, but betting on Trump to win doesn't seem so crazy anymore.
So buckle up, what happens next is anybody's guess.
Trump, Brexit, Corbyn – the rules of political engagement have changed
Last week's attacks in Paris were sickening, of that there is no doubt. The fallout, many innocent people are dead, world leaders are doing their best to be seen to support their French allies and millions of tweets are being sent bearing #JeSuisCharlie.
This isn't a blog looking at the wider repercussions of the attacks, that's something far too large to do here, or in any single blog – to look at the rising anti-Muslim agenda, scaremongering and media misreporting, but what can be assessed is the role social media plays in these instances.
Since last week's attacks, I'd be keen to bet that #JeSuisCharlie has trended consistently. A hashtag which aims to show solidarity towards the victims, defiance against terror and a pro-free speech outlook – big objectives for a mere 13 characters.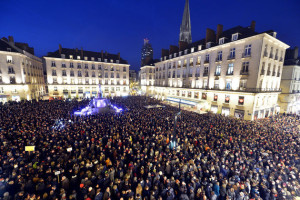 The main reason social media, particularly Twitter, is able to spread this feeling of support and defiance is that, simply put, it's quick and easy to do so – a great advantage. Yet this 'click and forget', 'like and leave' mentality is its own worst enemy. Take the previous example of #BringBackOurGirls, a hashtag supported by the likes of Michelle Obama to raise awareness around the Boko Haram kidnapping of 300 girls in Nigeria. Remember that? Outraged at the time? Perhaps you even shared the hashtag. But what then?
Social media, of which I like most people am a big fan, makes news quicker, more interactive, and affords people the opportunity to share their opinion. But when it's just as easy to back worldwide disgust at a terrorist incident as it is to show your enjoyment of a picture of a cat dressed as a lion, in many ways it cheapens the message.
The nature of social media, particularly Twitter, is transient and perhaps the wider question is can a campaign be sustained through this channel and if so, how?
Yes, being able to say X million people worldwide have backed #JeSuisCharlie is powerful in itself, it is a message that society won't be defeated, but surely a much more powerful measure of impact, of our resistance, is to ask people a month down the line who still really cares? This may sound blunt, but the news agenda moves quicker than ever before and most stories are forgotten.
The Paris attacks perhaps are (and should be) too large to fall into this category, but only time will tell.
#JeSuisCharlie and the Twitter bandwagon