Frequently termed 'The King of Social', Instagram started as a simple picture sharing app, used mainly between close friends and some carefully-selected family, to display the 'best' snapshots of your life. It was a refreshing alternative to the swathes of imagery that confronted you on Facebook, each one only slightly different to the last. It's single-picture format enforced a kind of self-control not seen elsewhere. Of course, this wouldn't last forever. Years later we have video, galleries and stories, and Instagram has expanded far beyond your own social circle. It has, however, kept its highly-polished aesthetic and fetish for 'authenticity'.
Now the app is one of the biggest Social Media sites in the world, with over 700 million users, 400 million of which are active daily! It's impressive to say the least and the potential audience reach on this platform is ever growing. It took only four months to gain the last 100 million followers, whereas the previous took six months.
So, what makes it such a great platform? It's seen as considerably cooler than Facebook, more interesting than Twitter, and more useful than Snapchat. Instagram has become incredibly sophisticated in storytelling and doing so in an artistic manner. The ability to fluently and diversely communicate a brand or individual's story has become indispensable. Authenticity is key to modern marketing, and Instagram is the platform that allows this 'intimate' insight into a brand. And what better brand to apply it to than a Start-Up? A company that is rooted in individuality, ingenuity and passion. One that is already trying to tell its own story, and express its personality, unlike many conglomerates that churn out an all-encompassing 'brand' worldwide.
Engage your audience
So, we know Instagram has the audience and the tools to effectively tell your story, but what techniques can you employ to make Instagram work for you? As a Start-Up, it's important not only to put out great content, but to actively engage with your following, and users who you feel would be interested in your brand. This engagement, or 'community managing', is what will help you grow your channel, awareness, and ultimately your brand. It may seem like a lot of work, but just taking the time to reply to comments and reach out to users and brands can make all the difference.
Hashtag it
Building this community can be done in several ways, but the most immediate is through hashtags. By putting up to 30 relevant hashtags underneath your post you can make yourself visible to the potentially millions of daily users who are engaging with account and brands like yours. Engaging with other users in these hashtags is the next step to generating conversation, and this is worth remembering. Social Media is not a one-way street, you need ask questions, respond authentically, get people interested and keep them talking with you and about you.
If you are a local business, such as a restaurant, boutique or event, then you can utilise these hashtags to target a specific audience. Likewise, you may also use geo-tagging to involve the local community in a location-targeted campaign. These techniques allow you to build a community both offline and online.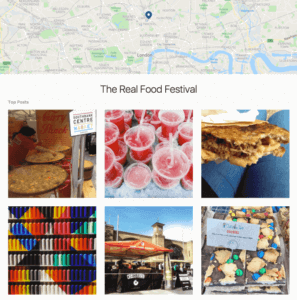 Collaborate and listen
Many brands have taken to cross-posting and collaborations to bolster their online presence. This is a mutually beneficial process that sees both brands raise awareness, and is particularly applicable in a Start-Up environment, where both have a chance to establish themselves in an industry. It's not just other brands that you might consider this tactic with; featuring your customers is an increasingly valuable tool in promoting your brand's merit. Not only will this provide potential customers with authentic, positive feedback for your brand, but it also rewards fans for being fans. In doing this, you encourage them to continue to share their interactions with your brand on Social Media. It's a win-win, they get to interact with the brands they love in an authentic way, and you get exposure and great content for your own channels. Just make sure you always credit them!
For me?! @chapabouttown is ready to chow down on some Turkey and Duck Dinner!

Do what works for you

There are a plethora of techniques to employ on this ever-expanding channel. To do it perfectly, you would be using a variation of careful curated daily posts and stories to provide the most artistic storytelling experience you can. You could run competitions, and cross-post and promote other brands. You could shout about your brand down every relevant avenue, and target it perfectly with paid posts and influencer marketing. This is a lot to take on, especially as a Start-Up. It can seem overwhelming, but it is also wholly unnecessary to try to do all of them at once, and to sustain them. Our advice would be to cherry pick what works for your brand, and remember that creativity and authenticity are at the heart of successful Social Media marketing.

Get Creative

If you want to champion your brand on Instagram effectively, the main thing to consider in this whirlwind of possibilities is creativity. Instagram is a platform that welcomes creativity more than any other. This is the point of difference needed to stop users endlessly scrolling through their feeds and focus on your post. This is the first point of engagement with a consumer, and one of the hardest things to engineer. You want to disrupt and simultaneously engage; having a creative edge here is key.

Of course, this is perhaps easier said than done. But with a proper strategy and some practice, you should quickly find yourself building your brands presence and identity online. Building and maintaining this presence is of huge value to brands and businesses, after all, 32% of all internet users are on Instagram. That's a big slice of the pie to be missing out on!

If you would like to talk about how our digital services could help grow your Instagram following, why not get in touch with us today.

How to grow instagram for your start-up

Finding inspiration and thinking creatively is vital when it comes to achieving success in public relations. If you aren't feeling particularly inspired yourself, how can you possibly engage a journalist and their audience with your PR campaign? However, it isn't always easy to feel inspired and think creatively when you're under pressure.

One of our clients, creative entrepreneur Guy Armitage, is the founder of artist networking site Zealous and is putting on a celebration of the UK's creative talent at the Bargehouse in London's Southbank this month. I picked his brains to discover how he manages to stay inspired and come up with so many creative ideas every day, and my favourite suggestions are as follows:

Make time 

One of the very basic ideas of being creative is making time for it. It's immeasurable, so frustration can arise when you're working on a deadline, but I often find myself at my most creative when I let my mind rest and wonder. Besides, an idea isn't automatically a good one, the more time you allow yourself the better your idea will become, and the easier it will be to filter the good ones from the bad ones. "Sleeping on it" is not just an expression, it really works. Time to question is never time wasted.

Be ready

Inspiration strikes at any time, be sure to have a notebook or smartphone with you everywhere. Also, put something near your bed, you never know what you'll dream up during the night.

Break routine

Everything you do in your life feeds into your creativity. If you do the same thing every day, don't expect fresh ideas. This could be as extreme as taking a spontaneous weekend camping trip, but as simple as changing your walk to work. Anything that forces you out of your comfort zone will help towards gathering the materials that will form the premise to your imagination.

Engage

Leave your iPod at home, put that book down, and look up. The world is full of stories, scenes, tragedies and challenges. Notice them, these could form parts of your business strategy.

Share

Like most things, ideas are greater than the sum of their parts. Sharing with a total stranger is advised, as only they will give you a valid opinion.

Be childish

Was it that long ago that a stick and box could become a racing car, a rocket, a pink pony with an aversion to Brussels sprouts? Think back to your youth and embrace your inner child. Going back to memories of your past may well help you get back some of the creative magic children have in their perception of the world.

If you're in London between the 29 November – 1 December make sure you head down to Guy's free exhibition, 'Zealous X', at the Bargehouse in Southbank. The event will showcase the creativity of 100 artists, photographers, performers, musicians and filmmakers from across the UK and include talks from industry experts and fantastic events like live music and body painting.

Six tricks to finding new inspiration