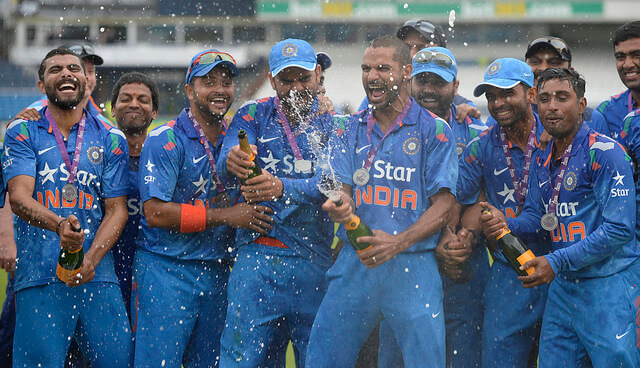 Image courtesy of scrollededitorial on Flickr
With the group phase of the T20 finished and the Super 10 phase set to begin, we ask if anyone can stop India from winning in a home T20 World Cup. Here is our breakdown of what to expect and who to watch out for.
GROUP A:
Australia – Semi-Finals
Have been in formidable form since their shock Ashes defeat to England last summer. No concerns over a batting line-up that is packed with experience and destructive hitting. Warner, Khawaja, Finch and Smith are capable of obliterating any bowling attack. They also have the added bonus of two match-winning all-rounders in James Faulkner and Mitchell Marsh who add depth and balance to the bowling and batting. The worry for them is the lack of a top-class spinner in Indian conditions. If Zampa or Agar can't contribute, expect an all-pace attack missing Mitchell Starc to struggle.
Players to Watch: Batsman: David Warner – The complete opener. Busy and aggressive. If he fires, Australia will fire. Bowler: Adam Zampa – 23 year-old leg-spinner who shot to prominence in the Big Bash, Australia need him to perform and add another dimension to their attack.
New Zealand – 3rd in Group A.
Can't be underestimated, but will struggle to get out of a group that contains India and Australia. Kane Williamson has been as consistent as any player in world cricket in the last 12 months while Ronchi and Guptill can go through the gears quickly enough to win games almost single-handedly. Also boast a well-balanced seam attack with the disciplined Southee and Boult alongside the aggressive McClenaghan. Hard to ignore the Brendan McCullum-sized hole in their batting line up and lack of an international-standard spinner. Still, don't bet against them pulling off a shock.
Players to Watch: Batsman: Kane Williamson – composed and technically perfect. Plays the ball late and his game will be suited to the sub-continent. All-Rounder: Corey Anderson – absence of a frontline spinner means Anderson will have to support the frontline bowlers and contribute with runs down the order.
Pakistan – 4th in Group A
A terrifying pace attack but a batting line-up with all the resolve of a chocolate fireguard. Mohammed Amir has stormed back onto the international stage in a blaze of form while Wahab Riaz's yorkers and man-mountain Mohammed Irfan's extra bounce will trouble plenty of batsmen. Shahid Afridi is always fun and has become an extremely effective T20 spinner. Sadly hard to see where the runs will come from, Umar Akmal and Mohammed Hafeez will have to really perform above themselves.
Players to Watch: Batsman: Umar Akmal – Has always had bags of ability but too often his own worst enemy. Time to deliver. Bowler: Mohammed Amir – reduced India to 8/3 in the Asia Cup recently. Very fast, clever, skilful and still just 23 – will dominate the international stage for the next decade.
India – Winners
Impossible to look beyond an India side packed with world-class players in a home T20 World Cup. Rohit Sharma and Virat Kohli are the men to watch with the bat, while all-rounder Hardik Pandya is coming into the side off the back of an incendiary Indian Premier League campaign. They boast comfortably the best bowling attack in the tournament too. Ashwin and Jadeja are very difficult to take on while the opening pair of 22-year-old Jasprit Bumrah and wily old Ashish Nehra are a deadly combination of youthful exuberance, cunning and experience.
Players to Watch: Batsman: Virat Kohli – Truly world-class, plays conventional shots but scores runs by the shedload and loves the big stage. Bowler: Ravichandran Ashwin – Best spinner in the world, teams must choose to go after him and lose wickets, or target other bowlers and milk him for singles.
Bangladesh – 5th in Group A
A cricket-mad nation and if anyone could cause a big upset in this competition, it might just be Bangladesh. Equipped to cause problems for some of the bigger sides in their group but will fall short.
Players to Watch: Batsman: Tamim Iqbal – A bruising left-handed batsman, will have to hit big runs if Bangladesh are to have a chance. Bowler: Mustafizur Rahman – Mystery seamer who has exploded onto the scene with some fantastic Asia Cup performances.
GROUP B:
England – Runners Up
Suffered a setback in a recent One-Day and T20 series loss to South Africa but this is the most exciting England squad in a generation. They bat all the way down to number 10 and Hales, Morgan, Root, Buttler, Billings and Stokes are all good enough to hit the ball a long, long way. The pace attack is the concern, Willey and Topley are generally too expensive opening the bowling, but Rashid and Moeen are becoming one of the better spin-partnerships around. If England play to their potential they will run any side close, but a lack of experience and mental frailties (sound familiar?) could hold them back. Still, England to get to the final.
Players to Watch: Keeper-Batsman: Jos Buttler – Second only to AB De Villiers on a list of most destructive batsmen on the T20 circuit, if England give him a platform then he could win them the tournament. Bowler: Adil Rashid – mystery-spinners are gold dust in this format and his 3-15 in the warm up against New Zealand is evidence of the damage he could inflict.
South Africa – Semi Finals
A mercurial outfit equally capable of decimating an opponent or imploding in the space of five minutes. No team with AB De Villiers can be discounted, he is unquestionably the best batsman on the planet and Hashim Amla's form is on the up since he resigned the captaincy. Quinton De Kock completes a top three that will have opposing bowlers sweating. The problem for South Africa is that their batting looks thin after those three. Dale Steyn remains a fierce competitor while Imran Tahir is still an understated menace in this format.
Players to Watch: Batsman: AB De Villiers – Who else? The best player on the planet, could single-handedly drag South Africa out of the group, can he take them all the way though? Bowler: Kagiso Rabada – Has burst onto the international scene after annihilating the English batting in the recent test and one-day series. Serious prospect, very fast and surprisingly disciplined for one so young.
Sri Lanka – 4th in Group B
This is the weakest Sri Lanka side in recent memory. The losses of Mahela Jayawardena and Kumar Sangakarra simply can't be over-emphasised and it is hard to see who in that batting line-up will dominate an opposition bowling attack. The bowling does boast the vastly underrated Rangana Herath but an injury to Lasith Malinga is a massive worry – they have to get him fit.
Players to Watch: Batsman: Angelo Mathews – Taking on the captaincy after Malinga resigned last week, he has to lead by example both in the field and with the bat. Bowling: Lasith Malinga – imperative that they get him onto the pitch, still one of the best exponents of yorker bowling about.
West Indies – 3rd in Group B
Not short on quality, but the question with the West Indies is always whether their heads are in the right place. Haggling over payments between players and the West Indian authorities have dominated headlines over the last few years, can they shrug off the controversy and finally focus on the cricket? I'm not sure. But if they can, Chris Gayle, Andre Russell and Dwayne Bravo are three of the best players T20 has ever seen while you always feel Darren Sammy could have something special in him. Expect the unexpected.
Players to Watch: Batsman: Chris Gayle – the biggest-hitting batsman on the planet, can smash the ball out of any ground but if you can starve him of the strike, he struggles to run between the wickets and rotate strike. Bowler: Dwayne Bravo – experienced and has an impressive armoury of cutters and slower balls which make him an effective death-bowler.
Afghanistan – 5th in Group B
Have done fantastically well to reach the Super 10 phase for the first time in their history, will do better still to avoid losing every match in their group. Will take some heavy punishment.
Player to Watch: : Batsman: Mohammed Shahzad is capable of getting the Afghans off to a quick start and giving a more established nation a scare.