For cricket fans the world over, 2005 evokes every superlative in the cliché book. The Greatest Ashes Series of all time, the series to end all series, theatre on an unparalleled scale in the history of cricket.
What a load of nonsense. The 2005 Ashes is the worst thing that ever happened to cricket. It's the year that cursed a generation.
Ever since that fateful summer, my relationship with the gentleman's game has been tumultuous, confused and epitomised by endless frustration. Simply, it was too much too soon. As an 11 year old I watched in awe as everyone I knew (yes, even the year 6 cool kids) experienced a sort of religious cricket awakening. Suddenly everyone was talking about the Ashes, everyone wanted to play cricket all day.
But in a sickening twist of fate, what followed that euphoric summer was a gaping chasm and the haunting realisation that everything would simply never be that perfect again.
Cricket promptly disappeared from terrestrial TV to Sky, depriving the generation that followed mine of the ease of access to the sport that so captured the imagination that summer.
And now here we are, seemingly scratching around from week-to-week in search of a way to save the terribly British game of cricket, right here in Britain.
For those who watched that series, there were so many moments that were unforgettable:
Freddie Flintoff and that incendiary double-wicket over, Kevin Pietersen's blonde Mohawk, Ian Bell waking drenched in sweat as Shane Warne haunted his nightmares, Simon Jones swinging the ball like it were Mark Ramprakash's hips, Michael Clarke shouldering arms and having his off stump obliterated, Simon Katich shouldering arms and having his off stump obliterated, the King of Spain, Harmison's slower ball, Woodworm bats – I'm not sure a single member of my colt team didn't buy a Woodworm bat in 2005– that summer could not conceivably have been better.
English Cricket has failed to replicate this ever since, and while the move away from Free-to-Air Television has doubtless stifled its exposure, it has been a broader failure to evolve how it speaks to younger audiences that has quickened the sport's demise.
The Big Bash League has shown the positive impact that television coverage can have on the game – viewing figures and attendances have simultaneously soared in Australia – but there is a tendency to pin all the blame on TV and overlook other shortcomings. This is particularly pertinent with under 16's in 2017 – they simply don't consume news and information from the TV screen in the way we did a decade ago.
Cricket doesn't hold the global appeal of football and doesn't have a massively popular and engaging console series like FIFA or Football Manager to fall back on, so it needs to find more innovative ways to engage fans.
Youtube, Facebook, Twitter and Instagram have become the nerve centre which drives the news and sporting agenda for young people. If ever there was a time in which TV could be circumnavigated, it is in this age of social media. Other sports dominate these channels – Youtube has even made stars of vloggers who upload videos of them playing FIFA.
It's incredible to think, but people playing football games in their bedroom pull in hundreds of thousands of viewers every day while many cricket counties struggle to fill out their grounds. Football is omnipresent, people know everything about it, and they are constantly consuming more information about it.
Conversely, cricket is conspicuous by its absence. There is a pervasive, largely unchallenged notion that cricket is a dry, boring sport, something that few would have asserted a decade ago. Has the game become more boring? On the contrary, the perfection of the T20 format has created the perfect bite-size entry point for new fans.
But what has changed is the way we talk about cricket. At its best, cricket ebbs and flows, it provides tension, shock and theatre. But large swathes of the British public seem to have forgotten this. We need to communicate with a modern audience in a language they understand to fight these misconceptions.
Social media is awash with influencers who are interested in sport, not just You tubers and Instagrammers, but what about musicians too? Actors? Young people are constantly engaging with content from these figures and are being influenced by what they see.
Greg James is just one example of the kind of ambassador the sport needs. He's a fantastic advocate for the game and has landed himself a role presenting on BT Sport. More assets of a similar profile could have a tangible impact on exposing the game.
Why not get influencers involved with England's players, filming themselves in the nets with Jason Roy or Jos Buttler learning the game? Going along to a match with Greg James? People are so disengaged from cricket in this country that there is a unique opportunity to educate people and rebrand the sport in the process. Cricket is tongue-in-cheek and accessible, it's a game that lends itself to oddities and humour.
The Big Bash and Indian Premier League are proof that cricket holds mass appeal. I genuinely believe that if we get people watching and playing the game, some will not be able to help but fall in love with it.
The raw materials are there to make cricket a resounding success in England. A formidably talented generation of players are coming into their prime, including the fiery Ben Stokes – heir apparent to Flintoff, and the extraordinarily explosive Jos Buttler, renowned for swatting the ball dismissively out of the ground. The Women's game in the UK is professional, and has made huge leaps in recent years.
The tools are there to catapult cricket back to the levels of 2005. Social media is just one avenue to achieve this, but one that can make a palpable difference if treated seriously and harnessed effectively by the powers running cricket.
Could social media save english cricket?
The #NoMakeUpSelfie and #IceBucketChallenge are examples of two of the most high profile campaigns of 2014. Arguably both were great PR ideas that allowed people to engage, whilst self-indulgently sharing an important message. However, it was social media that played the fundamental role of starting the online conversations that spread the word globally and created an international buzz.
The most recent example to illustrate this is the national news story of Alan Barnes. When the disabled pensioner was mugged in his garden whilst putting out his bins, sympathiser Katie Cutler set up a GoFundMe page to raise £500 to help him. In just three days, over £250,000 in donations had been generated. People flocked to support the cause with some as far away as New Zealand and Canada; but what prompted the unprecedented success of this fundraising campaign?
The very nature of social media allowed for the sheer volume of supporters, from far and wide, to generate hundreds of thousands of pounds in a matter of days. The immediacy and accessibility of Facebook and Twitter provided the vehicle to ensure the desired message went viral and its limitless nature spurred on this frenzy of interest. Every time the story was/is shared, another opportunity for engagement is created and support continues to grow.
Since the page was set up on January 28th, the Alan Barnes fund has received nearly 30,000 shares on social media – 26k on Facebook and 3k Tweets. The story has been all over the national newspapers and the fund has now been halted at £329,000 by his grateful family. Attention is now turning to young mother Katie who is being described as a hero. A new Facebook page named 'Katie Cutler For An OBE' has already gathered over 300 likes and another fund has been set up to thank her for her kindness.
Alan Barnes' story not only demonstrates the growing influence of social media, it displays the way it can unite people and be a force for good. Despite all the negative stories we read, in the right hands, this snowball effect can yield positive results and perpetuate goodwill and generosity. Alan's story culminated in unbelievable results and encompassed an online community spirit – millions of people working together in a way that has almost made us forget the tragic reason the page was set up in the first place.
The Power of Social Media: The case of Alan Barnes
Last week's attacks in Paris were sickening, of that there is no doubt. The fallout, many innocent people are dead, world leaders are doing their best to be seen to support their French allies and millions of tweets are being sent bearing #JeSuisCharlie.
This isn't a blog looking at the wider repercussions of the attacks, that's something far too large to do here, or in any single blog – to look at the rising anti-Muslim agenda, scaremongering and media misreporting, but what can be assessed is the role social media plays in these instances.
Since last week's attacks, I'd be keen to bet that #JeSuisCharlie has trended consistently. A hashtag which aims to show solidarity towards the victims, defiance against terror and a pro-free speech outlook – big objectives for a mere 13 characters.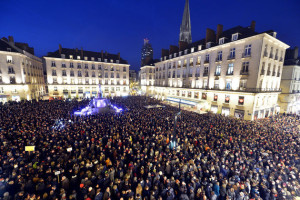 The main reason social media, particularly Twitter, is able to spread this feeling of support and defiance is that, simply put, it's quick and easy to do so – a great advantage. Yet this 'click and forget', 'like and leave' mentality is its own worst enemy. Take the previous example of #BringBackOurGirls, a hashtag supported by the likes of Michelle Obama to raise awareness around the Boko Haram kidnapping of 300 girls in Nigeria. Remember that? Outraged at the time? Perhaps you even shared the hashtag. But what then?
Social media, of which I like most people am a big fan, makes news quicker, more interactive, and affords people the opportunity to share their opinion. But when it's just as easy to back worldwide disgust at a terrorist incident as it is to show your enjoyment of a picture of a cat dressed as a lion, in many ways it cheapens the message.
The nature of social media, particularly Twitter, is transient and perhaps the wider question is can a campaign be sustained through this channel and if so, how?
Yes, being able to say X million people worldwide have backed #JeSuisCharlie is powerful in itself, it is a message that society won't be defeated, but surely a much more powerful measure of impact, of our resistance, is to ask people a month down the line who still really cares? This may sound blunt, but the news agenda moves quicker than ever before and most stories are forgotten.
The Paris attacks perhaps are (and should be) too large to fall into this category, but only time will tell.
#JeSuisCharlie and the Twitter bandwagon
The underground internet community is alive and buzzing following Facebook's announcement this week, saying the social media giant would be allowing users to connect directly to its platform via anonymity network, Tor. From now on, this means users will be able to hide their location and identity, and visit the social network without the risk of their activity being tracked.
But while the world argues about whether this is a great development for freedom of speech in oppressed societies or a huge threat to national security and a goldmine for conspiracy theories, I can't help but think that there's a more self-serving reason behind this controversial move.
Data – it's the internet's currency, and for businesses like Facebook, being able to provide more insights into consumer behaviour than your competitors means more marketers and advertisers choosing to place their budget with them over a rival.
However, lately, 'dark social' – i.e. when people share content and links via private channels such as online chats and email that are difficult to measure – has stumped many media giants. We're now in a situation where brands are getting traffic to obscure pages on their website (because who would type www.techopedia.com/definition/29027/dark-social into a search bar?), and don't know how a person came across the address.
Those seemingly random click-throughs make up a huge percentage of visits to websites (recent estimates suggest that over two thirds of 'social referrals' come from dark social), but if marketers don't know where a link came from, they can't give credit where its due – and equally, social platforms can't claim the victory.
So, in comes Facebook with Tor, opening its platform to users who previously may have taken their conversations elsewhere, disguising itself as a 'dark social' platform. The difference is, of course, that Facebook may well still be able to scan messages for keywords and links.
In other words, Facebook could potentially boost its own metrics by proving to brands that even more users – anonymous or not – are sharing their content on its platform, not to mention continue gathering data that it can use to target onioners with ads.
With requests by governments for user data, be that Facebook, Apple or Google, constantly on the rise and activist plights like the Hong Kong protests regularly making the front page, it's likely that logging in via Tor will gain popularity. We may even see other media giants follow in Facebook's footsteps. But I think it's important that we remember that Silicon Valley rarely does 'free' – and if it scratches your back, it will expect the favour in return.
The Facebook Onion – peeling away at 'dark social'
Content marketing has become an increasingly popular method to get a business noticed. For those who are not in the know, content marketing involves creating and sharing content. Whether it is video posts, Facebook and Twitter posts or blog posts – it is a way to get customers to engage with the brand better, customers who are potentially going to be advocates for the brand and spread the word to an even wider audience.
Rather than some traditional methods of marketing, which involves the 'hard sell', content marketing helps to build a rapport with them, and helps to give your brand some personality.
You might want to write a blog post about a particular event your company is holding; Instagram pictures of your new office pet or create a viral video and upload it to YouTube. Anything that encourages customers to engage with your brands in a less formal way.
New research suggests that customers could be more willing to part with their cash for a firm that uses good quality content marketing. In fact, two-thirds of consumers are more likely to buy from firms whose content they enjoy, even if it costs a little more than from a brand that doesn't.
However, when it comes to content marketing, some brands get it wrong; like engineering, or finance, there's an exponential difference between merely good content and exceptional content. You can distinguish yourself from the 99% of your competitors by pursuing the exceptional – brands get this wrong by sharing other people's content instead of creating their own. Sharing is a great thing in the world of social media, but when many people are all sharing the same content at a time, it's pollution.
Brands That Do It Well
Red Bull is a great example of a brand-turned – publisher that has mastered the art of story-telling.
If you've seen their adverts, marketing stunts (Red Bull Stratos Jump), it will be no surprise that their blog is designed to entertain and motivate readers.
Red Bull created a lifestyle around their brand by effectively implementing the four I's of storytelling: Immersion, interactivity, integration and impact.
Consumers Will Pay More For High Quality Content
Over the past couple of years, Instagram has become the leading social media app for capturing and sharing still imagery. With the option to add a number of filters, it has allowed users to produce really stunning imagery, something which professional photographers with the help of Photoshop would even be proud of.
At the back end of 2012 Twitter purchased the failing video app Vine, which allowed users to record short stop animation style videos and share them around the world.  Until now, Vine has been the only app which has focused solely on sharing video content on a social media platform.
This week has seen Instagram attempt to rival Vine's dominance as the leader in video sharing, by allowing it's users to now share video content as well as it's traditional still imagery. Instagram is also allowing it's users to upload content 15 seconds long in comparison to Vine's 6 seconds, while also maintaining the function of adding filters to really enhance the look and feel of the videos.
So what does this mean for Vine? Twitter users have already taken to the platform with the hashtag "please don't kill my Vine", referring to the Kendrick Lamar song "please don't kill my vibe", suggesting that Vine's days are over.
Last week it was announced that Vine's videos are now shared on Twitter more than Instagram photos, mainly due to the fact Instagram cut off it's Twitter integration in December. So permitting Instagram and Twitter do not integrate again, Vine won't be in danger.
It is exciting to see what the ability to share video content will bring to the Instagram community, especially with the option to add filters, image stabilization and the option to add a cover frame image. All functionalities Vine has still not enabled.
Only time will tell how the apps will compete in the market, but either way, it has opened the door for video sharing enthusiasts to get even more creative.
Instagram Release Video Sharing
Last week Mark Zuckerberg announced that The News Feed was getting a restructure, which will give more prominence to third-party content Apps whilst simplifying the user experience.
The changes bring a choice of feeds so users can streamline the content they want to see, which will be available on desktop and mobile devices:
All Friends feed – see every post from every friend in chronological order to make sure nothing is missed.
Music feed – what your favourite musicians are posting, what your friends are listening too, gigs, album news, etc.
Photos feed – shows every single photo that friends and Pages are posting.
Following feed – to see posts from the Pages and public figures that you like.
Close Friends feed – see everything from your close friends.
Games feed – updates on the latest games on Facebook.
Posts and life events will now be positioned to the right side of the timeline and content Apps will be given more prominence with a separate section in the left column of the timeline on the About tab.
The update also means people can add directly to the timeline from other sites including Pinterest and Instagram and connect Apps like Spotify and Netflix.
For brands and businesses, content is still king but images will rule the page.  They'll need to make sure that wall posts are supported by high-quality relevant imagery or video, to ensure users remain loyal.
Let us know what you make of the changes!
Facebook Facelift: What Impact Will A Revamped News Feed Have?