It was recently reported on MailOnline that personal trainer Kayla Itsines had become the latest #Fitspo sensation after earning herself an astonishing 700,000 followers on Instagram by simply showing off the results of her fitness regime. Kayla is just one of many of the up and coming stars on Instagram who post selfies doing workouts and handstands as fitness inspiration – 'fitspo' for short. This begs the question of what exactly is Fitspo?
And more importantly, is it a good thing? Fitspo is kind of like a healthier and happier version of Thinspiration. Where thinspiration arguably focuses on glamorised photos of very thin women; Fitspiration consists of blogs and photos devoted to those who pride themselves on being fit and healthy.
Posts can vary from photos of fresh healthy food, green juices and women doing impossible yoga poses to body transformations and motivational messages. Instagram has now become crowded with these posts from yoga teachers, personal trainers, ballet dancers and weight trainers who share pictures of their six-packs and snaps of their healthy lunches. For these people, their bodies are a walking billboard; toned, muscular and unattainably perfect.
Jen Selter from New York is the forerunner of this trend with over 3 million followers lapping up her every post. Just one picture of her on a workout ball or squatting at the gym can garner as many as 80,000 likes, and thousands consider her a fitness inspiration – including Rihanna!
Once she achieved 300,000 followers, sponsorship offers piled up from companies including Nike, Lululemon and New Balance, among others. She has since quit her gym job and secured deals with water company NY20 and a nutrition supplement company, Game Plan Nutrition, for which she is a spokeswoman.
While the professional fitspo stars like Jen pride themselves on their beautifully lit, filtered and framed pictures, there are some who set up accounts for a different purpose: not to inspire others, but to motivate themselves and generate accountability.
These people will often state their current weight and goals and post before and after shots to encourage themselves and others to keep on target. It is clear from the popularity of fitspo that many consider it a positive influence in their lives, something which enables them to visualise health and fitness success and adopt healthier eating habits.
Although, there are some critics who believe fitspo can propagate female objectification, dehumanisation and can result in body image issues. These people argue that promoting an appearance that fails to come easily or naturally to a substantial portion of the population could result in many setting themselves impossible physical goals and turning towards dangerous practices such as over-exercising or disordered eating to reach their target.
This is all the more amplified when fitspo bloggers edit their pictures so that all imperfections are removed. Taking this into consideration I think it is important for people to realise that, like many things, Fitspo has its pros and cons.
While some may use fitspo images to motivate themselves and improve their lives, others may find the images fuel their self-hatred and body image issues. Ultimately, I believe our individual interpretations of these images will determine whether fitspo is a positive or negative trend. But what do you think?
The Fitspo debate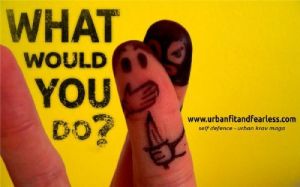 A couple of weeks ago I took myself off for a two-hour women's self-defense workshop at Urban Fit & Fearless in East Dulwich, to join nine other women and learn how to be more prepared if, heaven forbid, we should find ourselves in a compromising position.
Having never been to a self-defence class before, I only had a very basic idea of what to expect from the workshop and was actually quite tentative about the whole thing. This wasn't helped by my boyfriend, who struggled to resist shouting "UNAGI" at me every time I appeared in a doorway in reminiscence of Ross Geller; I promised him that if he continued to do so after my class he'd end up regretting it!
I arrived at Push Studios at 2pm, a little bit nervous but very excited. To start off the session we were all given very clear information about what the workshop was about by our instructor (and founder of Urban Fit & Fearless) Patrice Bonnafoux. The workshop had been designed to teach us how to get up from the ground if we were pinned down – a woman's worst nightmare – so I was ready to get stuck in.
As with most physical activities, the session started off with some warm-ups….and then it was quickly into the real thing. Patrice showed us various moves, each one at a time. Each movement was relevant to its own potential situation. After he had demonstrated each move on a willing participant, we were told to pair up and put what we had just learned into practice.
Of course, I went to the class on my tod so didn't have anyone I knew to pair up with. But luckily for me, there was a lovely girl about my age who was more than willing to let me attack her and within seconds all our inhibitions, concerns about personal space and quintessential 'Britishness' were lost, as we fell about on top of each other for the following two hours.
Although I started out somewhat sceptical about how I could get a potentially strong and large man off of me, Patrice explained and demonstrated very clearly and adeptly that these moves were more about leverage than strength… I always knew physics would come in useful at some point!
Having mastered a variety of kicks, rolls, hooks, face smashes and moves that would win us space to manoeuvre, we were ready for the final test. In the last 10 minutes of the workshop, it was time for us to put our training into practice. Each of us were going to spend five minutes being relentlessly attacked and pinned down by our partners and it was our job, as the 'victim', to get back on our feet and run. Of course, before this, Patrice ordered us to spend one minute lying on our backs punching and being punched by boxing pads to tire us out. This worked a charm.  As I started to be attacked I managed to get up ok the first time, but after a few stints, you realise how exhausting it is and, more importantly, how exhausted you would be in real life if this were to actually happen.
When Patrice came to attack me it really tested what I had learned and what I was able to remember when under pressure. I was able to fight him off by implementing the leverage concepts and by ramming my palm (not at full force, mind) into his face. It was only when he told me to stand up and run that I ended up tumbling like a Jenga tower to the floor, only to be attacked again.
It was at that moment I suddenly felt remorse for having heckled a Hollywood movie when the woman conveniently falls over when trying to get away. I found myself sympathising with said thespian as my arms had turned to jelly and my adrenaline had transformed me into a bit of a sweaty mess.
I came away from the session feeling much more confident and prepared. Patrice explained that we wouldn't ever remember the moves exactly if this ever happened to us, but after the workshop, we would have the basic knowledge of how to get free, whether it is by merging three moves together or using one and then improvising, at least something would come back to us.
That night, much to my dismay, my boyfriend chose not to shout UNAGI at me as I walked through the door.
Our Verdict: A fantastic introduction to self defence, comprehensive teaching and great fun… even if it does leave every muscle in your body aching for a couple of days afterwards.
Our Score: 8/10
Words by Freya Leete
We try……..Urban Fit and Fearless