If you've managed to avoid all social media, and indeed online media, recently then I congratulate you. If not, your Facebook feed and internet trawling has no doubt been saturated with video of friends and celebs dousing themselves with buckets of water for the 'ice bucket challenge'. The aim of this is to encourage donations to research for ALS (in the US) and Motor Neurone Disease (in the UK) and to raise awareness of this disease.
There is no doubt that the ice bucket challenge has been a tour de force from a PR point of view, raising millions in donations, and engaging people with the disease. It is easy to see where the campaign's success lies – it's engaging and funny, giving everyone a laugh whilst watching friends shriek and dance around. However, I myself would not take part if I were nominated.
More: Top ten charity PR campaigns of all time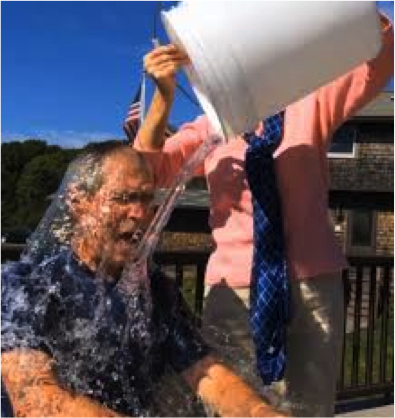 I'm not being boorish or taking a stance for the sake of it, and I'm sure that I will receive criticism, as indeed several people have already, for not taking part. The word 'spoilsport' may come to mind, and others would argue that huge amounts are being raised for this underfunded disease and why would I not want to contribute to any of this. I ask, however, whether someone's donations to another cause or charity are any less worthwhile? They may not be making a song and dance about it but they are no less worthy or valued, perhaps even more so if they are not merely one-off donations. It's fantastic that so much money has been raised but it is certainly not sustainable, and many other charities will never have nearly as much money raised.
Countless celebs from Victoria Beckham to George Bush have undertaken the ice bucket challenge, and it has become a fantastic opportunity for them to cash in on a bit of free PR. All they have to do it douse themselves in water and they are viewed as charity heroes, delighted to be seen throwing themselves behind a good cause. This is narcissistic, and I am not just talking about celebs. Anyone filming themselves doing the challenge and posting it to their social media is always partly doing so for public approval, an occasion to look charitable whilst essentially posting a video selfie.
The charitable aspect is almost an afterthought, and very few of the videos actually contain any information about the disease or why the money is needed. I dare add that some people taking part in the challenge don't have any clearer an idea of the disease than they did prior to soaking themselves with a bucket of water.  The US state department has even banned diplomats from taking part in the challenge, as they are not allowed to use their positions for private gain. They are of course welcome to quietly donate to any charity; they are simply not allowed to cash in on it for their reputation.
Aside from everything else, there are severe droughts all over the world and I can only say that throwing a bucket of clear water over yourself is surely a rather tactless thing to do. If you feel strongly for a cause there should be no need to make donating a self-congratulatory, attention–seeking act.