Football (Soccer) is stealing the global stage when it comes to social media Forbes magazine pronounced this week, Real Madrid CF knocking previous chart-toppers Man Utd off their perch, and Barcelona running in third. On the right of the image below the teams were ranked in order of franchise value and then their combined Facebook and Twitter following. To the left, the size of the bubbles represents their social following. We thought we would dig a little deeper into Real Madrid's social media strategy.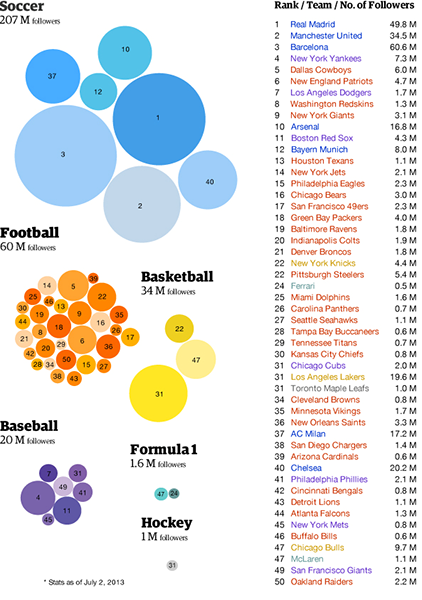 Real Madrid is one of the most recognisable brands in sport, due to their keen embrace of new technologies and communications to increase their profitability. While many UK clubs are just starting to ride the social media wave, see previous article The Future Of Social Media In Sport, Real Madrid have been utilising it for a while now. Since its launch the clubs Facebook page has been a massive success, building up a huge following with over 39m current 'likes'. The page may have been started as a way for Madrid to test fan interaction, but, it has also developed into a powerful tool to direct traffic to RealMadrid.com. However, Madrid's strategy focuses on more than just Facebook.
Madrid clearly understands the importance of engagement and providing fans with great content, for one of the player´s birthdays the club produced special video content dedicated to the player itself and alongside this, they ran a 24-hour jersey sale. Social media has also opened up additional ways for Madrid to activate their partnerships with sponsors as now they have the opportunity not only to be in the stadium, on the shirts, and on the website, they can also have their messages pushed across the clubs social media channels. It has also been suggested that some partners value mentions and space on the clubs Facebook and Twitter pages above advertising on the website.
It is resoundingly clear that social media plays a very important part in keeping Madrid in the top position for franchise value, don't you agree?