Another day, another social media update! On Tuesday, Instagram rolled out a new feature called Instagram Stories.
This feature allows users to upload photos and videos that will disappear automatically after 24 hours. 'Stories' sits at the top of your newsfeed, and you can bring your content to life with text and drawing tools. Sound familiar? Yes! That's because it's just like Snapchat.
Essentially, Instagram have copied the whole concept of Snapchat Stories. Once a place where you could only see the 'highlights', Instagram are ready to take on their fellow tech giant; swallowing their pride with this huge ephemeral curveball. In an interview with TechCrunch, Instagram's CEO Kevin Systrom even said that Snapchat "deserve all the credit".
But what does this mean for the future of Instagram and Snapchat? Reaction has been mixed online.
In favour of Instagram ?
"Good artists copy; great artists steal", say Next Web who have revived the words of Picasso. Some say that Instagram has taken a concept built by Snapchat but "out-innovated" them with their own spin on the familiar feature. When you think about it, this feature is actually a perfect fit for Instagram. Ultimately, Instagram has made the feature more accessible and easier to use for a wider group of people and higher numbers of users; people who sometimes struggle with the current Snapchat model. In their official blog, Instagram said that now their users "don't have to worry about overposting. Instead, you can bring your story to life in new ways with text and drawing tools. The photos and videos will disappear after 24 hours and won't appear on your profile grid or in feed". The new feature will be rolled out globally to both Android and iOS users over the next few weeks.
Instagram Stories offers something more – i.e. beautiful imagery and highlights; along with a raw, unedited look into daily lives. This is a move that could really bring Instagram to the forefront, to make sure it stays on top. The best of both worlds! Watch out, Snapchat.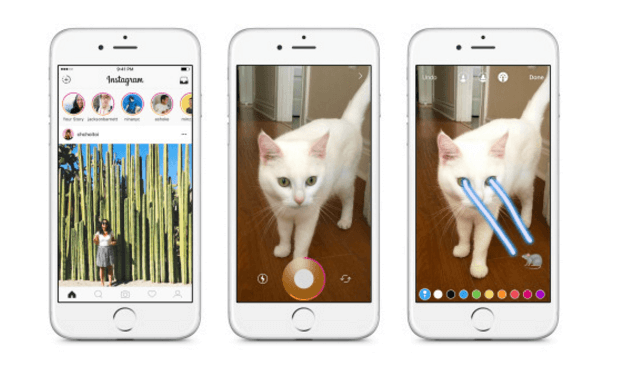 In favour of Snapchat ?
We spoke recently about how Snapchat really is the app for innovation, and it still is. Snapchat pioneered the 'Stories' feature which has taken over the social media world, not to mention Snapchat 'Memories', 'Geofilters' and 'Lenses'. Snapchat have been original with their product, a product which has contributed to the decline in "original sharing" via Facebook. Copying Snapchat is an extreme move by Instagram, one which is telling of the problems the app is facing. People have always liked Snapchat because of the freedom associated with it, it is a place where you don't have to feel judged for posting like you might do on Instagram or Facebook. The new ephemeral feature on Instagram has basically confirmed that this type of sharing is the way forward. Snapchat have innovated before, and there is no doubt that they will do it again.
With a dedicated and loyal fan base, it is hard to see how Snapchat will suffer as a result of this move. Not to mention the fact that Instagram have annoyed many people with their recent algorithm change – 'Stories' has just added salt to the wound. With sentiment erring slightly on the negative side, could Instagram become the Bebo of our time?
As always in the world of tech and social media, we can never tell what's around the corner. Who will reign supreme? Time will tell. In the meantime, the digital team at The PHA Group are looking forward to the next update from Snapchat…
When all you wanted was a chronological timeline, but instead you got #InstagramStories 👌👌 pic.twitter.com/4zZ8KjrZCd

— Missguided (@Missguided) August 3, 2016
How long until @Snapchat sues @Instagram over #InstagramStories? And, then, use that lawsuit as leverage for a @Facebook buyout/takeover!

— Perez (@ThePerezHilton) August 2, 2016