In the digital age we live in, when we are not happy with the service a company has provided us, more often than not we turn to Facebook and Twitter to seek immediate support.  But what happens when the right information isn't readily available to us?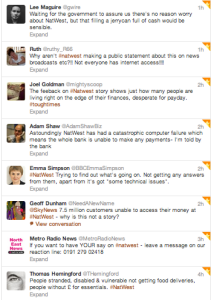 A new report from Birdsong:  Social Media Reconnaissance reveals a number of failings by Natwest in actively supporting its customers via Twitter during the IT collapse in late June.  Despite the surge in followers and influx of mentions of @natwest_help, extended branch hours and weekend openings, the bank's Twitter account did not actively extend its social media presence or increase replies until very late on in the crisis, choosing a 'business as usual approach'.
The new report from Bird Song: Social Media Reconnaissance showed numerous elements which shows that Natwest failed to increase its Twitter support to match the measures taken by branch staff and call centres.
As the problems unfolded, the followers of @Natwest_Help escalated at a rapid rate, growing by over 200% during the crisis, taking the bank from one of the least followed to one of the most followed UK bank accounts.  During this time the number of mention @natwest_help grew 8 times more than its original amount.
The report also reveals the slow reaction time from the bank.  Despite the influx in followers and mentions, the bank maintained standard tweeting hours of 9-5 at a time when branches were being opened later.  It took a week for the bank to start maintaining a later presence on Twitter, until 7p.m.
In addition to this, for the weekend that the bank opened, the Twitter account was left to broadcast automated messages, offering no active support, only a link to direct followers to online help.  The tweet alone generated 800 links (Bit.ly) of people seeking support.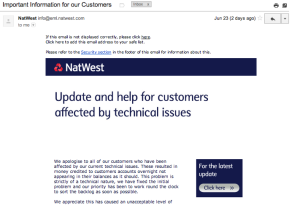 This has also been the case for both Virgin Atlantic and British Airways in December 2010 and was the case for O2 last week.  Since the start of the national coverage disruption, the @O2 account has grown by 50%.
National crises such as the Natwest fiasco, demonstrate just how dependent we are on the web and computer networks, and the ability to adapt to the consequences of a major systems breakdown.  Therefore it is imperative that companies such as Natwest act immediately, enforcing a social media strategy that would see to support those who have been affected.  Putting social media on the back burner could have a detrimental effect on the reputation of the brand, resulting in a leap of unwanted negative comments, which ultimately could lead to customers taking their business elsewhere.
Cover image courtesy of lamoix, flickr.com
Natwest Social Media Crisis – The Importance of Immediacy in a Social Media Crisis
 The social pin-boarding site has only been on the social scene for two years (not even a year yet in the UK), and already it's taking the digital world by storm – doubling its number of unique visitors to 4 million since January.
In case you're not familiar with the site, Pinterest is a place to organise and share online images that you may find interesting or inspiring.  Once uploaded or shared on Pinterest, these images become known as 'pins', which the user can place on customised themed boards.
Some people use the site to share images they find on the web, while others use the site from a more creative perspective. For example, many artists use Pinterest to arrange inspiring images for their work. While bakers may use the social networking site to showcase images of their creative cake collection and interior designers could use it as a platform for different design themes.
Brands, on the other hand, are using it to communicate to their audience through the use of images that best reflect what the brand is currently up to.  An example of a brand that is using Pinterest particularly well is Ikea.
The Swedish furniture store has 15 pin boards, including product ideas and 'pin it to win it' competitions hosted weekly – a great way to get people engaged and grow their existing community.
The site uses striking images to represent theme ideas for different rooms.  Some of the images also include price information for each product, so it essentially acts as an extension of its catalogue.
One of its more eye-catching boards for its 'True Blue' product range is inspired by Indian Culture, this however, doesn't seem to be linked to its homepage which could minimise their efforts.
Pinterest-ing
Ann Summers have managed to add over 250,000 new Facebook fans in the last three months alone. As a result, the retailer has rocketed 36 places up the Facebook League table since the last study back in December 2011.
So how have they managed it? The answer is high-profile campaigns.
The People's Panel concept started the social media ball rolling. The campaign searched for 10 women from across the UK who wanted to work with the sexy brand to create a new and unique sex toy – known as 'The People's Vibrator'. Chief Executive of Ann Summers, Jacqueline Gold, said: "We sell more than two million sex toys a year and we know the appetite to create and design a toy that will revolutionize orgasms is absolutely there; it is a great way of giving women exactly what they want. This panel of talented women will be followed by a TV crew on their unique journey and we hope they will deliver a product that will blow our minds."
The People's Panel is a great example of a brand becoming aware of its consumers and recognising that social media platforms such as Facebook and Twitter are key to reaching these 'everyday' consumers.
Ann Summers integrated a second 3-month campaign to find a new face of the brand for the 2012 Valentines campaign. Lucy Moore beat over 4,000 other entrants and was one of the few curvy girls to take part in the competition. Lucy, who studies criminal justice at the University of Westminster, won with 22 percent of the votes.  The big reveal caused quite a stir online and in national, regional, trade and broadcast media.
In addition, the lingerie brand launched a jaw-dropping campaign right here in Wardour Street. To celebrate National Cleavage day and the launch of their refurbished Wardour Street store, 20+ women marched along Oxford Street in their underwear in front of shocked and delighted onlookers. The march can be viewed here on the Ann Summers YouTube page – note that it's reached nearly 10,000 views!
CEO of Ann Summers, Jacqueline Gold, has an impressive 24k Twitter following. She continues to run a Women on Wednesday competition, hash-tagged as the #WOW competition. From 1-3pm every Wednesday, over 200 female entrepreneurs tweet Jacqueline about their business in the hope of a retweet and a #WOW winning badge.
Clever and regular campaigns result in social media success, that much is undebateable but still, a lot of brands are neglecting their social media accounts over periods when social networking activity is at its highest. To improve strategies and to develop their following, retailers need to ensure that they are researching their social media audience and releasing the types of content. Ann Summers are doing this incredibly well at the moment – their social media is obviously in safe hands…
Ann Summers take their social media to the next level
Since the TippExperience was released on YouTube (and quite literally took it over) last year, many have been waiting to see what creative genius Tipp-Ex will come up with next.
Well, you will be happy to know that the wait is over! And if I don't say so myself they have come back bigger and better than before:
[youtube https://www.youtube.com/watch?v=eQtai7HMbuQ]
In their latest addition to the TippExperience Tipp-Ex have given us an insight into the Hunter and Bears first birthday party. Alas, during their celebrations a meteor can be seen heading towards earth…lucky for them they have some Tipp-Ex handy (what are the odds?!) and are able to rewrite time. This incredibly clever viral allows you to travel through different eras of history to see how the Hunter and Bear would have celebrated their birthday.
If you don't have time to go back through all the years, then all is not lost. I have spent (maybe too much) time trawling through the years to bring you the best of Tippexperience 2. I really recommend taking a look, not only is it fun but it is fascinating to see how with a bit of imagination you can create an interactive and engaging viral that stands out from the rest.
My Favourite years:
1 – Here you will be taken back to 1AC, the birth of Jesus Christ, with some slightly alternative insights on how He was named.
500 – See the Hunter as King Arthur and help him remove the Sword from the Stone.
1980's – Make your own graffiti whilst the bear bops away to his music.
2000 – This year sees the Millenium bug take over your computer…
2004 – Being a digital PR bod, it was inevitable I'd look to see if they had anything for the birth of Facebook, and they didn't disappoint!
2005 – This year celebrates the start of YouTube
2007– Following my success with Facebook and YouTube, I looked for the year that the Apple iPhone was launched, and again Tipp-Ex have delivered another comical clip.
Type in the year you were born to see there take on the era, the 90's is suitably cheesy! And any year with historic significance tends to be amusing.
All in all, I am very impressed, it seems to me that Tipp-Ex have more than covered all areas, demonstrating just how much thought has gone into this campaign.
Take a look and let me know what your favourite years are in the comments below!
Tippexperience – Bigger and Better!
Since launching in 2006, Twitter has stormed the social networking sphere, rapidly gaining worldwide popularity, with over 140 million active users as of the beginning of 2012. Some have dubbed Twitter, a replacement of Facebook, referring to it as the SMS of the Internet – but what can it do for brands and digital PR?
In my opinion, for brands like Greggs, it can do wonders! Demonstrated recently when the brand became a trending topic on Twitter – not once but twice!
In the digital world, a trend means much more than a piece of coverage. A trend on Twitter means that potentially 140 million active users are talking and sharing their thoughts about you. When 'Greggs' began to trend, the brand were quick to act, seizing the bull by the horns and using it to their full advantage.
The Twitter frenzy began after Labour Leader Ed Miliband was photographed outside a Gregg's store as the row about 'pie tax' began to heat up. Greggs cleverly took advantage of the news story and began to send out updates with the hashtag #pieshakespeare, encouraging Twitter users to come up with a line of poetry about pies. This takeover resulted in a huge increase in followers for the bakery.
There is a serious note behind the pie puns. The story began when George Osborne closed a tax loophole that meant hot food would be subject to VAT, wiping 30m off of Gregg's value share. The move has since been dubbed the 'pie tax', and has given Greggs a much-needed boost both on and offline.
This is a fine example of a brand acting on impulse and being in a position to take advantage of a good news story on Twitter when the opportunity arises.
The team behind the @GreggstheBakers Twitter feed were quick to act and quick to respond to incoming tweets, which is just what a brand should be doing. Through their fast actions and pie puns, they managed to maintain their rare trend and even had a little fun with it, generating positive sentiment for themselves. A great example of digital PR!
They even managed to catch the eye of former Deputy Prime Minister John Prescott!
Greggs Online PR
We have known for quite some time that the way in which consumers are targeted by advertisers has changed in recent years. The traditional media have been hit hard by advances online, with many brands cutting their above-the-line spend accordingly. But TV advertising has been somewhat constant, or at least the format has remained relatively unchanged; until now that is.
The golden rule for advertising agencies has always been that audiences need to see something 15 times for it to sink in. But the rulebook has been well and truly ripped up by a new breed of advertisement and it follows the online example that content is king.  Social media is set to play a huge part in television advertising of the future, with advertisers not only linking their campaigns to online content, but also taking their lead from online audiences.
There have been two great examples of both this weekend: Insurance company Aviva's sponsorship of the hugely popular ITV show Downton Abbey saw them run their own dramatic storyline of a motorcycle accident in between segments of the first episode in the series. Content is king, right? Wrong. Aviva made a massive gaffe with their approach as the content wasn't in keeping with the tone of the show and the audience found it both distracting and in poor taste. The British public took to Twitter to complain, with hundreds of thousands commenting on the topic. But although Aviva got it horribly wrong in the first place, they deserve great credit for listening to their audience and reacting quickly with a swift re-edit for the following week's episode. Power to the tweeple.
While Aviva got it wrong, organic yoghurt producer Yeo Valley got it absolutely spot on. During a commercial break on Saturday night's X Factor Yeo Valley's own boy-band 'The Churned' burst out of a barn singing to 13 million people. Their debut became a viral sensation, becoming the biggest trending topic on Twitter worldwide, and amassing over 170,000 views on the brand's YouTube channel, rebranded 'YeoTube'. The song went straight into the iTunes chart at number 31!
[youtube https://www.youtube.com/watch?v=oTrG7mpb61U]
But Yeo Valley haven't stopped there, they have supported the campaign with activity on Facebook, with a tab giving fans the chance to sing along with 'The Churned' and have their efforts judged, with the winner appearing in the Yeo Valley ad that runs during the X Factor final.
The relationship between television advertising and social media is paramount, and as these examples show, it works both ways.
Of course, there is a risk in producing an advert designed specifically to run in one very specific and expensive point in the advertising schedule and for a brand like Yeo Valley, it would mean gambling much of its annual advertising budget. But engaging with audiences in this way can generate a much higher retention. Advertising Consultant Paul Thomas describes it as "sending up a flare" that ensures millions see the launch ad and the content can subsequently be used online, safe in the knowledge it is likely to be recognised.
The model has worked with great success in America, who as usual have led the way. Specially created adverts for major sporting events like the Super Bowl have had huge success across the states. Now that model is being replicated in the UK, thanks largely to the revival of 'event' television on ITV1. Guinness sent up a similar 'flare' during the Rugby World Cup quarter-finals this weekend, with their rugby themed advert.
Of course, in a world where many viewers have the power to fast forward the adverts simply by watching their favourite shows a little later, this concept won't work with every advert. But the combination of the right event, a bright idea and a social media campaign to compliment it could deliver huge results.
Social Media: TV times are a changing
Horsemanning is the latest online photo craze to go viral, and a bizarre one at that. It is thought to have originated in the 1920's based on the myth of the 'The Sleepy Hollow' in which the 'Headless Horseman' beheads villagers.
The pictures that have been popping up all over the Internet are, thankfully, not of this sinister nature. With a postmodern twist on the ghostly tale, parodies include human heads in pizza boxes, sitting next to them on the sofa and being thrown in the bin. Charming isn't it?
This follows a series of photo crazes that have been going viral throughout the year. The first to spread globally was 'planking' which involved taking a picture of yourself lying face down in a random or unusual location. 'Owling' was the second craze that, true to its name, is sitting in an owl-like position and capturing it on camera…
Somehow I don't think I'm alone in thinking this is a bizarre trend! The cynical part of me is wondering how on earth this has gone viral?
However…
It takes one look through the images to realise it has gone viral for the very same reason millions of videos do each year; it's funny. The light-hearted humour of the pictures makes people laugh, share with their friends and join in themselves. And after browsing the pictures for much longer than anticipated, the optimist in me has decided that… I love it.
Horsemanning you must be off your head!