As 12,000 tired and slightly worse for wear delegates begin to recover from a busy 4 days at Conservative Party Conference, Number 10 will be breathing a quiet sigh of relief. With no gaffes, and few MPs causing trouble (Osborne, Gove et al stayed away), Theresa May sailed through her first party conference as leader with flying colours. More importantly though, we got our first real insight into what 'Mayism' might mean for the country.
Overall, the delegates felt optimistic and united, with Theresa May and her new Ministers receiving a strong reception throughout. However, the mood was also serious – there was a sense that this Government would be a safe pair of hands, that all policy would be fully considered, and that there would be a lack of gimmicks. It was clear that many felt that Theresa May's premiership (and the Labour Party's collapse) was a great opportunity to reach out and expand beyond the Party's traditional base. Perhaps this was most noticeable at the packed DUP's reception, which had a lengthy queue and Conservative Party members greeted DUP MPs like old friends (although that may have been because of the free champagne on offer…).
Unsurprisingly, Brexit dominated the entire four days. There were countless fringe events discussing everything from Britain's role in the world, to what it means for the energy market, and how to ensure that young people aren't left behind. However, there wasn't the triumphant grandstanding that might have been expected – instead, the delegates seemed to understand that however they personally voted, it is now time to pull together and get on with the ob.
The Prime Minister set the agenda by making her Brexit announcements at the start of the conference; giving party members something to rally around. For the first time, we learnt that Article 50 will be triggered by March next year and that the Queen's Speech will contain the Great Repeal Act, which will adopt all current EU law into British law. Despite this, there was still a lack of detail besides and 'Brexit means Brexit' and how things are going to work practically. There was a palpable sense of confusion from businesses, and all were keen to engage and get their points across. Tellingly, it felt like most delegates were gearing themselves up for a 'hard' Brexit.
The biggest change at this year's conference was the Conservative Party's lurch to the left, and an obvious U-turn on the austerity agenda. This was evident throughout the conference (e.g. Housing Minister Gavin Barwell proved his commitment to delivering 1 million new homes by 2020 by attending no fewer than 18 fringe events), however, it was Theresa May's closing speech that really emphasised how her Government will differ from Cameron's. Her speech proposed policies that included price controls, dropping the target for a surplus by 2020, taking action against house builders to increase the housing stock, and an even stronger stance on immigration than she had taken as Home Secretary.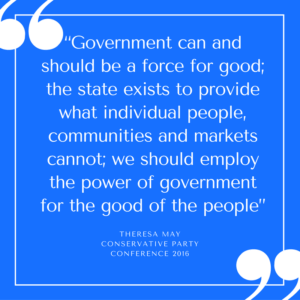 Perhaps the most controversial statement from May was that "Government can and should be a force for good; the state exists to provide what individual people, communities and markets cannot; we should employ the power of government for the good of the people". Although likely to go down well with the public, it could also be the first sign of trouble ahead. These comments were widely criticised by business groups, including the CBI and IOD, and will put many pro-market Conservative MPs who are overtly pro-business in a difficult position. It is clear that businesses can expect a tougher ride under May than they are used to, and will have to fight hard to protect their interests.
Overall the conference revealed that May and her team will be a safe pair of hands. She isn't driven by ideology or cronyism – but a desire to help those who have fallen on hard times. She is also determined to deliver the Brexit that she thinks the country voted for (even if that means making compromises over issues such as passports, to ensure that we get full control of our immigration system).
For the public, it is likely that she will offer a strong centre-ground alternative to Labour. However, it is unlikely that she will fulfil the hopes of many within the Tory membership of becoming a second Margaret Thatcher, and there will inevitably be trouble ahead.
A view from Conservative Party Conference
Bandying about insults, interrupting his opponent, a winding monologue packed with hyperbole and absent of any detail.
Casual observers of US politics could be forgiven for thinking they had stumbled upon an episode of The Apprentice. Except it couldn't be The Apprentice, could it? Sure enough, that was Trump stood up on stage, but with Hillary Clinton alongside him?
No observer, this was not reality TV – this was just symptomatic of the direction politics in the US and the UK is lurching towards.
The less attentive amongst the public would have been left aghast at Donald Trump's performance in the first US Presidential debate – how could such a man be anywhere near the race for the White House?
And yet to those who have been paying attention – Trump's rise is part of a continuing trend in global politics. There has been a noticeable and collective rejection of the establishment permeating across the British and American political spectrums.
The political shift in the last twelve months has been as fast as it has unexpected. For people in the UK, it started in the aftermath of the 2015 General Election, with the Labour leadership race after Ed Milliband tendered his resignation.
Jeremy Corbyn defied the predictions of every pundit, expert and media outlet to secure the leadership of the Labour Party in September 2015 with the largest mandate in the party's history. Why were people so drawn to Corbyn? Maybe it's because he is different, he represents change – an alternative to the status quo.
What has followed is twelve months of utter turmoil for the Labour Party and the relentless savaging of Corbyn in the mainstream media.
From a refusal to sing the national anthem, to arguments over trident and defence, to the Labour anti-Semitism scandal, to the Virgin train farce – Corbyn has staggered from one PR disaster to the next, with the baying media falling over each other in their eagerness to sink their teeth into him.
David Cameron described it best, when he said that Corbyn is like the Black Knight from Monty Python, just as he seems to have been defeated and cast aside, he gathers himself and limps on.
But what this really seems to be demonstrating, is just how wrong the mainstream media are getting politics – three of the most seismic political events of the last year have been the Labour leadership contest, the EU referendum, and the US Presidential race – and so far the media have got two out of three wrong.
Nobody gave Corbyn a hope of surviving a month, then he wasn't going to see out the new year, then every media outlet told us that Owen Smith was a far more 'electable' candidate. The Telegraph, the Sun and the Mail ridiculed him, the Guardian lamented his destruction of the Labour Party. If people believed all they read in the news Owen Smith would surely have thrashed Corbyn with a 99.99% majority.
And yet here we are, blinking at Groundhog Day twelve months on, with Corbyn securing his re-election in a head-to-head with Owen Smith by winning a commanding 61.8% of the vote.
But then what about Brexit? This surely was something that everyone knew the answer to. Every political party beyond UKIP was united behind the idea of staying in the EU.
The Prime Minister wheeled out experts from every imaginable industry to warn against the dangers of leaving the European Union. A 'Leave' campaign was fronted by the hapless trio of the lamentable Nigel Farage, the abject Boris Johnson and Michael Gove – a man with all the charisma of a pencil.
All conventional wisdom pointed towards one result – a vote to Remain in the European Union. But another result came and went, and again it went against the prediction of almost every informed expert. Why were people so drawn to Brexit? Maybe it was immigration, maybe it was sovereignty but once again it represented change – and this is how the Leave campaign pitched it – an alternative to the status quo.
So now here we are, with a matter of weeks left until the next President of the USA is decided. Hillary Clinton has the bulk of the mainstream media –newspapers and TV networks on her side. She has the celebrities, the business people, the backing of the political elite.
But it all sounds a bit familiar, doesn't it? Just how confident are the pundits feeling right now about who the next President of the United States will be? How confident does anyone feel in making any predictions over what's coming next in politics?
Whatever you or I may think of Donald Trump (a great deal of it, I'm sure, is not printable) one thing he does represent is change. He may be incendiary, vitriolic, and arguably unhinged – but if there is one thing he doesn't represent – it's the political status quo.
First we got Corbyn, then we got Brexit. It's crazy to think, but betting on Trump to win doesn't seem so crazy anymore.
So buckle up, what happens next is anybody's guess.
Trump, Brexit, Corbyn – the rules of political engagement have changed
On 5 May London goes to the polls and will elect a new Mayor of London. So far Londoners have remained largely apathetic to the ongoing campaigns. Overshadowed by the hype surrounding the EU referendum (held just a month later), and lacking the larger than life personalities of previous mayoral elections (Boris and Ken, anyone?) many Londoners have so far failed to be inspired.
Sadiq Khan, the Labour candidate and MP for Tooting, looks on course to win the Mayoralty comfortably. However, rather than voting for him personally, polling suggests that Londoners are making their decision based on pre-existing party allegiances.
Turnout could therefore bring about surprises: it is expected to be significantly lower than in previous elections, (the record turnout was 45% in 2008), and a low turnout could favour the Conservative candidate Zac Goldsmith.
Despite this, the job of Mayor of London is an important one, and shouldn't be underestimated. The Mayor runs an economy bigger than most European countries, with a budget bigger than most Government departments. He is responsible for many of the things most important to Londoners, such as TFL, London policing, housing and the environment. Because of this, it is well worth Londoners, and London's businesses, engaging in the process of electing their mayor and understanding what a Zac or Sadiq victory could mean for them.
Sadiq Khan is a former human rights solicitor who is proud of his London roots. He never fails to mention that his dad was a bus driver, and this down to earth image has contributed to Londoner's finding him to be easier to identify with than his Tory rival.
Sadiq's flagship policies have included freezing TFL fares at 2016 prices until 2020, setting a target that 50% of homes being built should be affordable, and making London safer. He has also said that he wants to be the most pro-business mayor yet, putting him at odds with the Labour Party's current image under Corbyn.
Sadiq is more media savvy than Zac but has been criticised as being 'policy-lite' notably being unable to account for the £1.9 bn blackhole in his transport budget, and changing his position on airport expansion.
Zac was also born in London, but in completely differing circumstances. His father is billionaire James Goldsmith, and he attended Eton College before becoming editor of Ecologist Magazine.
Despite being elected as the Conservative MP for Richmond Park, Zac is notably more liberal than most of his colleagues – he is passionate about environmentalism and direct democracy (he even ran a referendum in his constituency to ask for his constituent's consent for him to run to become Mayor of London).
Zac has promised to double new home building in London to 50,000 per year by 2020, to create half a million more jobs, and to protect green spaces. Controversially for a city as outward facing as London, he is in favour of Britain leaving the EU.
In terms of what a Goldsmith/Khan mayoralty will mean for business, both candidates have been determined to stress how pro-business they are. Sadiq has pledged to be "the most pro-business mayor yet", stressing his opposition to Corbyn's anti-business image. Amongst his key policies, he has said that he will involve businesses in decision making on key issues, will challenge visa rules to allow businesses to bring in top talent from abroad, and will seek additional fundraising powers from the Government for major infrastructure projects.
However, it is Zac who will be seen as the safer hands in this area, with Britain having a Conservative Government until at least 2020, allowing him to work more naturally with Downing Street. This was a point that was emphasised recently when Downing Street committed to the devolution of the Overground to TFL, something Zac had been campaigning for. Zac has also pledged to set up a new Business Advisory Group with representatives from the Business community, to fix patchy broadband, and to promote the night time economy.
Although both men are less well known that their predecessors, both candidates are known to stray from the Party line occasionally. Famously, Zac Goldsmith pioneered a stronger Bill to recall MPs against the Conservative Party whips and has been consistently popular in his constituency. Sadiq is one of the Labour MP's who nominated Corbyn for Party leader, but has since distanced himself from the current Labour leadership. It's safe to assume that both candidates will be their own man if elected.
Ultimately, Londoners will wake up on May 6th to a new era. Without a strong character like Boris, but with predictions of a global recession approaching as well as possible Brexit on the horizon, who they choose to run the capital is likely to be of great significance.
The London Mayoral Elections: What to Expect