2017 has been a year of challenges, transformation and triumphs for the charity sector. Well established not-for-profit organisations have had to compete with individual campaigners and corporates alike to get their message heard – and some of the results have been stunning. Here's a quick look back at the campaigns that have had the PHA team talking this year.
 Storytelling with new technology – Tombohuaun Untapped, WaterAid
A recent entry but one that I can't stop thinking about. WaterAid has managed to create a connection between this PR in Soho and villagers in Tombohuauan, Sierra Leone – a village in desperate need of clean water and one at the heart of WaterAid's Untapped appeal.
Anyone with an interest can explore Tombohuaun via a fact-filled 360 view of the village and waterhole and you can also interact with a chatbot which allows you to 'speak' to villager Sellu through Facebook messenger. But this is no guilt-trip – it's informative and compelling personal storytelling. A quiz that allows you to be given your own village visitor nickname delivered via video by Matu delivers a deeper connection. It all helps supporters to feel at the centre of the storytelling and connect them to the campaign for clean water for all.
WaterAid's Untapped Appeal will be doubled by the UK government until 31 January.
 https://www.wateraid.org/uk/tombohuaun-untapped
Crowdsourcing for creativity – The C-Word (I hate you c*****)
Isabella Lyttle's family are raising funds for this brave 10-year-old who is battling cancer, so that she can access a clinical trial abroad to help her beat neuroblastoma.
The creative for Isabella's fundraiser came about after her godmother posted on creative crowdsourcing site One Minute Briefs. The result is a video that at first shocks, with Isabella repeatedly saying the bleeped-out 'c-word', but it compels the viewer to watch to the end – driving home the importance of her plea. The video soon went viral and achieved widespread media interest: https://www.mirror.co.uk/news/uk-news/i-hate-you-cancer-stricken-11232320
Isabella and her family are also supported by Solving Kids Cancer, so supporters can donate via the charity's text to donate line or fundraising team, or through JustGiving. To date, the family has raised just over £27,000.
Battling taboos – Know your lemons, Worldwide Breast Cancer  
If you cast your mind back to January, you're bound to recall the social media storm that gave a much-celebrated spotlight to designer and charity founder Corrine Beaumont's campaign to #KnowYourLemons.
Corrine's image of 12 lemons in an egg box, each depicting different possible breast cancer symptoms in a simple way spoke a universal truth – women all around the world need to know more about spotting the signs. The image has now been seen on social media by 200 million people in 2017. https://www.bbc.co.uk/news/health-38609625
Dominating an anniversary – SSAFA Women 100
We had a great debate about whether a campaign we personally worked on should make this list – but we couldn't post this blog without the inclusion of SSAFA's Women 100.
July this year marked the centenary of the formation of the Women's Army Auxiliary Corps (WAAC). We all know that any major anniversary will attract attention from multiple charities with something to celebrate, but SSAFA's Women 100 campaign managed to dominate the media space through visual storytelling at its best. Our team worked with SSAFA and renowned war photographer Robert Wilson to create an iconic image which showcased the evolution of women in service over the last century. The stunning image celebrated serving women and veterans with a huge range of roles from the Royal Navy, British Army and Royal Airforce, including Olympic gold medalists Dame Kelly Holmes and Heather Stanning OBE.
https://www.dailymail.co.uk/femail/article-4658958/Images-mark-100-years-women-Armed-Forces.html
Corporate powered campaign – Sky Ocean Rescue
Sky set up this campaign to save the ocean from plastic long before we were all tearing up at Blue Planet II. Using its global reach to tackle a global issue, Sky regularly covers associated stories on its news channels, reports successes (such as Coco-Cola dropping opposition Deposit Return Schemes in Scotland), has made its own documentary and provides advice for consumers on how to reduce their own personal plastic use.
Never before has this topic needed the limelight more. As Sky tells us – 'Every minute, the equivalent of a rubbish truckload of plastic goes in to our oceans, it never decomposes and will remain there forever.' https://news.sky.com/feature/sky-ocean-rescue-10734494
The best charity campaigns of 2017
Last week I spent my development day working with the Founder of a new mental health charity, My Discombobulated Brain. The charity is launching with the aim of educating children, young people and adults on mental health issues, and will work to tackle the stigma associated with mental health.
The charity will offer a source of support and education to those affected by mental health issues, with a particular focus on targeting men and teenage boys and raising awareness amongst this demographic. Through bespoke workshops, events and talks, the charity hopes to offer insight and guidance to those who are directly and indirectly affected by mental health issues.
The charity, which has been set up by Laura Dernie, is launching following the death of Laura's best friend, who she lost to suicide, and following her own experiences with peri and postnatal depression.
My Discombobulated Brain hopes to smash the stereotypes attached to a wide range of mental health issues, and encourage conversation around the topic. Working alongside a wide range of medical professionals and ambassadors to demonstrate that mental health is an issue that needs to be discussed as openly and honestly as any other health issue, the charity will provide workshops at schools and professional organisations which will raise awareness of varying forms of mental health, as well as offering insight into treatment options and sharing personal stories from those who have suffered with mental health issues.
With the charity awaiting their charity number, and the new website due to launch in May, I was working with Laura on a strategy for the launch and helping brainstorm ideas for PR, social media and celebrity involvement.
Whilst the launch is exciting, Laura has concerns about the lack of funding – a lot of the money they raise for the charity is spent on resources to help them run effective workshops and talks, to ensure those involved are equipped with the right information to take away with them. Laura's dream is to take on a wider team to assist her in the workshops and talks that she organises, but they have a long way to go to raise that kind of money.
Whilst we are seeing some progress within society towards a shift in attitude towards mental health, there is still such a long way to go. Laura has been through some particularly dark times but her ability to turn a negative into a positive is nothing short of inspirational. Her life-goal, to do all she can to help others who are in a similar situation, will undoubtedly mean the charity will go on to help so many people who are suffering with the sometimes life-debilitating effects of poor mental health.
The power of turning a negative into a positive
Sam and I chose to spend our development days with the brilliant FoodCycle in partnership with MIND for a day of food collecting, cooking and hosting. While researching potential charities, we both realised that we were eager to find a place to volunteer in our communities and this seemed the perfect option.
I opted for Islington and Sam for the Hackney FoodCycle hubs. With a straightforward health and safety online test, we were signed up in minutes making it super accessible! The hubs are completely run by volunteers, and you can opt to either, collect the food, prepare the food or host the lunchtime meal.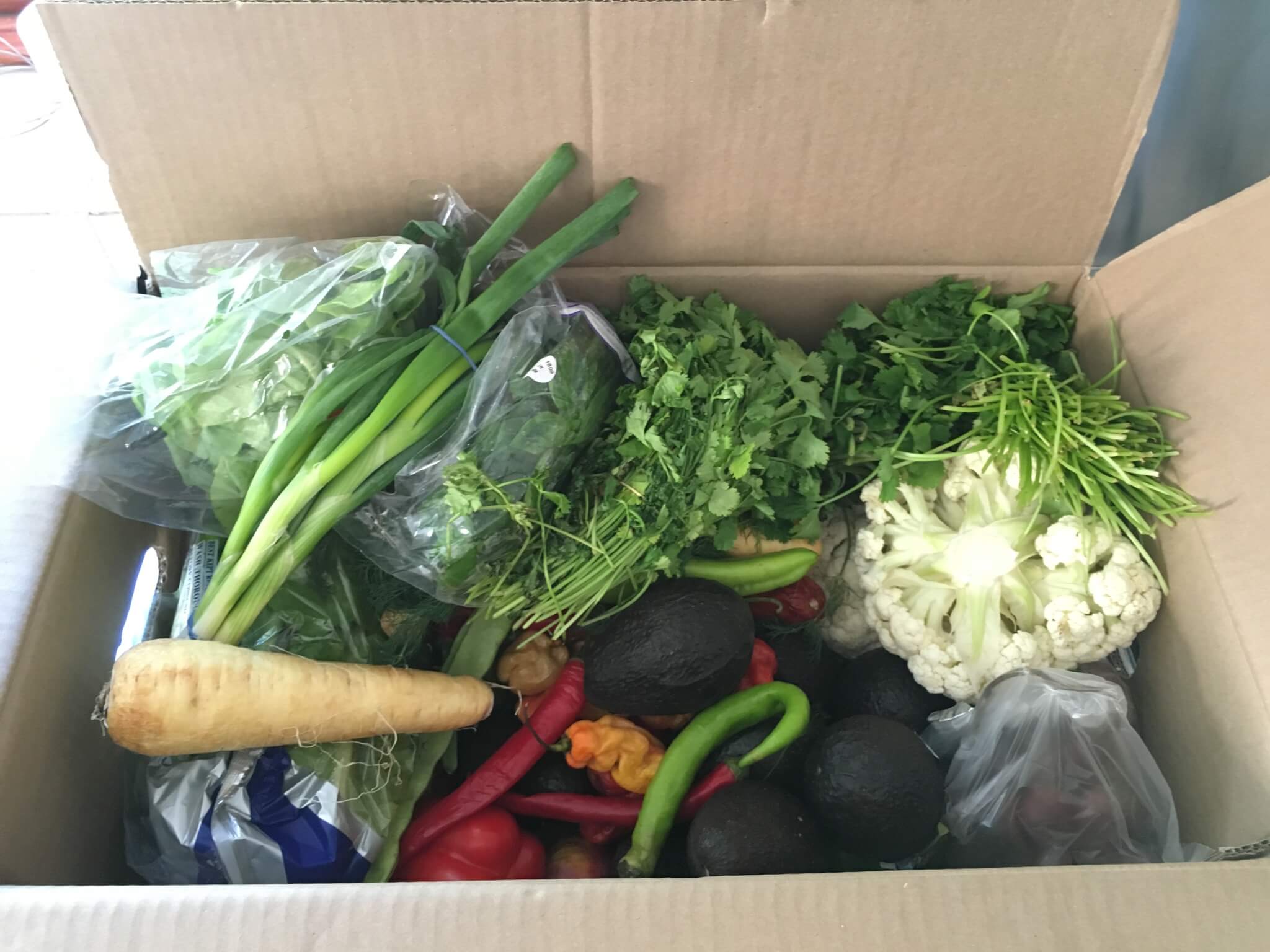 Who are FoodCycle?
FoodCycle have a simple ethos: they combine surplus food, volunteers and spare kitchen spaces to create nutritious three-course meals for people at risk of food poverty and social isolation.
Founded in May 2009, they've served over 125,000 meals since then, all cooked by volunteers who rescue good food which would otherwise be thrown away by supermarkets.
FoodCycle facts:
Since FoodCycle started cooking in May 2009, they have:
cooked over 150,000 meals
reclaimed over 178,000 kg of surplus food
been powered by amazing volunteers who have given over 100,000 hours of their time
Their guests say:
82% feel more part of the community
38% say their main reason to attend a FoodCycle meal is that it is a chance to meet people and socialise
71% of beneficiaries say that they are eating more fruit and vegetables since coming to a FoodCycle Hub
Their volunteers:
96% say the skills and confidence gained through FoodCycle will help their careers
92% say that they have developed friendships with people from different backgrounds and cultures
98% would recommend volunteering with FoodCycle to a friend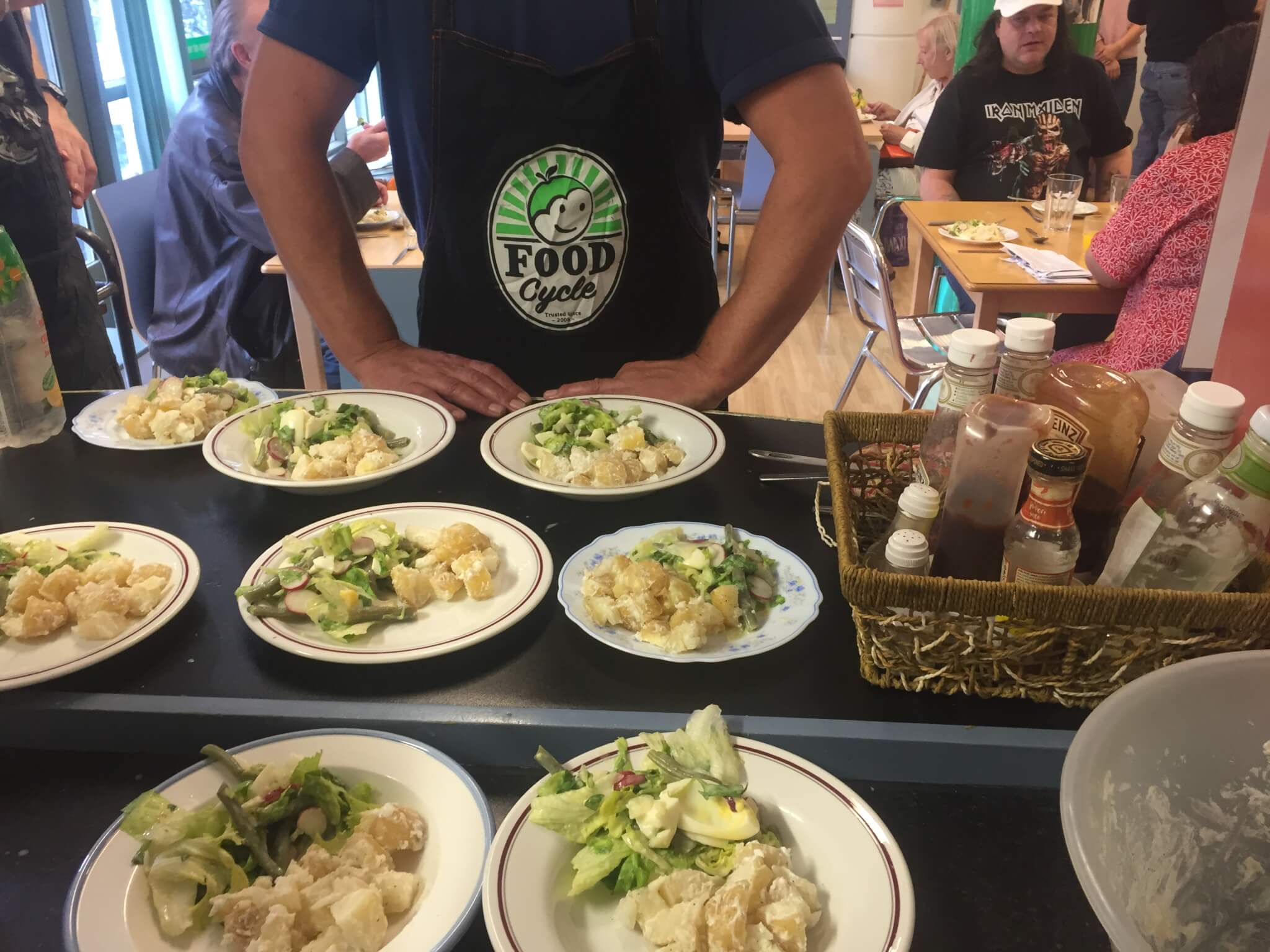 Abbi's highlights:
I had an amazing time with FoodCycle and couldn't believe the sheer amount of food that we collected from the supermarkets. Not only did we have plenty of food to create a three-course meal for over 40 guests, but we also had a huge selection of dried food and cereal bars and snacks to give to guests to take away.  It really drove home the importance of a charity like FoodCycle and taking part in the almost 'ready steady cook' style three-course meal prep was a great challenge!
Part of the FoodCycle ethos is to create a sense of community, and that was evident from the regulars that looked forward to seeing each other and the volunteers each week. I saw a genuine excitement from the guests who clearly looked forward to the community meal each week.
The highlight of my day was meeting a guest called Patsy, who I had a long conversation with. We sat and chatted and she spoke honestly to me about her struggles and the impact that a place like FoodCycle has on her mental wellbeing. She sang the praises of FoodCycle and explained how she often met friends here and loved the different volunteers to chat to each week. A huge dog fan, she regaled me with tales of her pets and was a pleasure to spend time with.
All in all, I'd highly recommend a day with FoodCycle and would return straight away given the chance!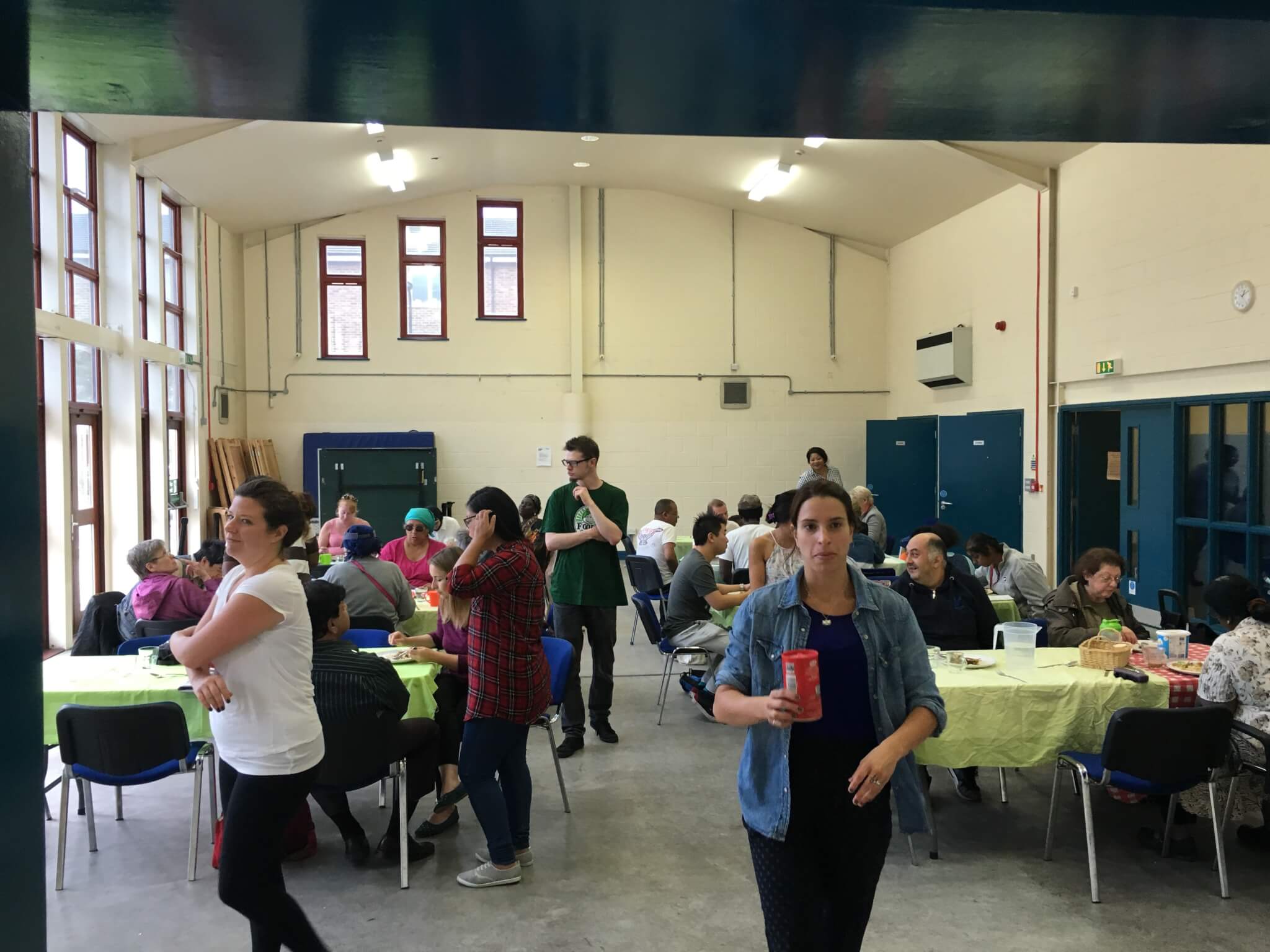 Sam's highlights:
I loved the task of seeing what surplus food we had been given and deciding what three-course meal we could make. It really goes to show how far a box of vegetables and some dried food can go!
As a team, we all gathered around a table and opened up the boxes to see what lay inside. Everyone got very excited about the avocados as this is not a vegetable that often gets donated!
We decided on a summer salad (since it was very sunny that day), a vegetable curry and a fruit bread and butter pudding. We all split into teams to create each course, and there was a real sense of community between the volunteers.
I opted to be in charge of the vegetable curry. This was a challenge in itself, as I'd never dream of cooking a curry for 40 people before, so this was definitely an experience!
The best part of the day, however, was watching all the local community tuck in and enjoy our food after spending hours in the kitchen. When many returned for seconds saying how much they enjoyed it, it was an amazing feeling.
This is definitely something I would love to do again, I'd recommend a day (or more!) with FoodCycle to anyone who fancies getting involved in the community and making a real difference!
A day with a charity: FoodCycle in partnership with MIND
Last week I chose to spend my development day in the press office of UK charity Make-A- Wish® UK, which works to grant the wishes of children and young people who are fighting life-threatening conditions. The wishes they grant for children and young people are a way to bring hope and happiness into their lives during particularly challenging times, and in the 30 years that the charity has been running, they have granted the wishes of over 10,000 children.
The charity has granted a wide range of wishes from helping children to 'become' something for a day; a ninja princess, a chef or a fireman to name but a few, to sending the children on the trip of a lifetime, and the charity works hard to enrich the lives of so many families affected by devastating illnesses.
Celebrity ambassadors play a large role for the charity, with big names signed up in support of the work they do including John Terry, Warwick Davis and Jessie J. Many of the wishes for a lot of the children are to meet their favourite celebrities, and the likes of Usain Bolt, Ed Sheeran and Helena Bonham Carter have all played a part in granting special wishes.
You can read some of the children's stories here.
My day was spent in the press office of the charity, which is manned by Joanne Porter, a relatively new addition to the team and who had made the move over from a career in journalism and working for BBC Children in Need. There's a great emphasis on digital engagement at Make-A-Wish and press coverage for the charity is largely case study placement across regional press. They also focus on events and special projects across the year including their annual sports dinner, which sees a wealth of top sporting stars attend the dinner in order to fundraise for the charity and celebrate the work they do.
We spent much of the day discussing strategy for journalist outreach, and how best they can maximise the case study stories they have, as well as coming up with new ideas for how else to raise awareness of the charity. We also spent quite a bit of time discussing ways in which the charity could maximise the relationships they have with celebrity ambassadors, in order to generate further press coverage, and we explored the pros and cons of different PR databases such as Gorkana and Celebrity Intelligence.
Sadly, and much like so many other charities, Make-A-Wish is up against the issue of a lack of funding. The work they do wouldn't be possible without the work of their volunteers and fundraisers so it felt really beneficial to share ideas and strategy between myself and Jo, sharing experiences from two different press offices, and we were in agreement that we both took away valuable learnings from each other.
When I asked Joanne about the most rewarding part of her job, she told me about a little girl called Amelia who had a wish to be a zookeeper for the day. Joanne said: "After her wish was granted, I spoke to Amelia's mum and she said Amelia didn't think it was remotely possible that her wish would happen. So when it did, she started thinking that other things might be possible too – including getting better."
With that kind of feedback from the children they are helping, it's clear to see the positive impact the charity is having on so many families across the UK who are enduring some very painful times.
You can read Amelia's story here and if you are keen to find out more about becoming a volunteer you can view the options available here. You can also donate here.
A day in a different press office: Make-A-Wish
High street shops are shutting all around us, unable to cope with the relentless pressures of the recession. Money is so tight that doors are closing. Even the shops that we consider to be high street royalty are struggling – their doors might still be open but the money most certainly isn't rolling in. After a washout summer, retail giant Marks & Spencer has struggled to keep its head above water as it seems that womenswear just isn't selling; without sun, there's really very little need to head to the shops to revamp your wardrobe with swimwear and sunglasses. One of the biggest stereotypes about Britain: we love to talk about the weather, but in this case, it really might be to blame!
One chain seems to be going against the curve and it's perhaps not the one we were expecting! Whilst stores up and down the high street face losses, Oxfam sales are soaring. As the recession shows no sign of surrendering, shoppers are realising that there's no real room for frivolity and are heading to the likes of Oxfam, Sue Ryder and Cancer Research UK to bag themselves some bargains. Before heading to big-name bookstores, customers check to see what is available for a fraction of the price at their nearest charity shop, quite rightly asking themselves, 'Why pay £8 when you could pay 80p?' The main reason behind booming business for charities is the desperate attempt to make money go just that little bit further and buying second-hand products gives us that chance. According to the Charity Retail Association, 22% in the UK have admitted to shopping more often in charity shops now than two years ago, with 19% saying that they will continue and even increase buying from charity shops over the next year. It seems that we're finally embracing the charity shop!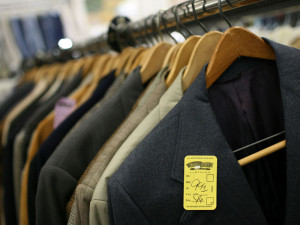 Jumping on the digital bandwagon, charity shops now also provide online shopping services, so we have the opportunity to buy cheaper products from the comfort of our own homes. What more could we want? What's more, in contrast to the fall of many high street giants, the increase in demand for charity shops is so high that new shops are still opening. In 2011, Oxfam's army of stores around the country and online shop had an income of over £85million combined, highlighting the unbelievable success of the charity. The increase in the number of charity shops together with the drop in sales for retail giants emphasises the changing trends of the high street. Money-tight shoppers are choosing to visit charity shops before the expected, popular high street shops with the hope that they can get good-quality items at a fraction of the price. Oxfam Boutique, for example, sells not only the standard donated goods, but, if you look hard enough, hidden gems are lurking in the corners, waiting to be found. As vintage clothes become more and more popular, the fashion-forward are more willing than ever to spend time searching through the racks of clothes to find one-off items and designer specials at low prices.  Swapping designer boutiques for bargains, the strapped-for-cash masses have found a thrifty alternative to the soaring costs of the high street. That being said, clothing is not the only reason that shoppers are heading to charity shops. Not only are we buying second-hand garments, we're buying furniture, books, anything that we can get our hands on for less!
Reacting to the economic crisis, many of us are choosing to save our money and only buy essential items; it seems that luxuries can no longer be afforded. Charity shops provide the perfect opportunity to buy (whilst suppressing any shopping cravings!) without breaking the bank. However, in order to raise a bit of extra cash, many people are deciding to sell their unwanted goods as opposed to donating them. One in six people sell their old clothes instead of giving them to charity shops so that they can make money to buy new things. This is where the charity shop struggle starts. Despite takings of almost £1bn last year, when the donations stop so do the sales, and it appears that contributions are beginning to waver. In order to contest this potentially damaging dip, Oxfam has teamed up with Marks & Spencer, as the retailer fights to improve sales, with the 'Shwopping' campaign. Charity bins can be found in every store to persuade and remind customers to throw in any unwanted garments, whilst raising awareness for the charity. Cancer Research UK, the British Heart Foundation and a multitude of smaller charity shops have also jumped on the bandwagon, starting campaigns which urge customers to reuse and recycle their old clothes, books and household items to not only help charities, but help others to save money. Everyone wins.
Although the recession is obviously causing massive problems for people all over the country, if there's one positive to come out of it, it's that we're helping each other, helping ourselves and helping those much less fortunate elsewhere.  With business booming, we're going to continue to see charity shops pop up along the high street, enticing customers away from retailers selling similar items for a lot more money. You've heard the saying 'one man's trash is another man's treasure' – well let's embrace that and support charities as they continue to prosper!
High Street Gloom, Charity Shop Boom