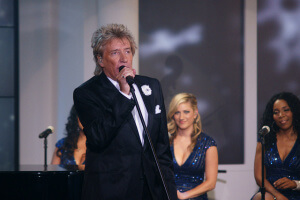 Rod Stewart was in trademark gruff voice as he sang "happy birthday" on stage – shortly after jokingly telling the champagne quaffing guests to politely "shut up" so he could get on with the singing.
John Cleese stopped for a quick natter with Sir Bruce Forsyth, while Kimberly Walsh and Denise Van Outen looked as stunning in their party outfits as they did whilst competing on Strictly Come Dancing. Seeing Joan Collins in the flesh was an experience.
No, this isn't me recanting some bizarre red-wine induced dream but a vignette of my night at the Hello! 25th birthday party, held in the beautiful setting of the Wallace Collection in London's Manchester Square.
A colleague told me the next day that all he could see on his Twitter timeline was people tweeting about being at the party.
We Brits are perennial curtain twitchers. We love to know what's going on in celebrity lives. (It's why magazines like Hello! exist, why we read newspapers and scan the web).
We love news, we love gossip, we love revelations.
And that is one thing we have in common with our pals in France, so it seems.
Fast-forward from the Hello! party to a dinner I attended some days later at the offices of Farrers law firm in Lincolns Inn Fields. There Alain Toucas, the leading reputational management and privacy lawyer in France (he advises the Monaco Royal Family, among others).
In a wonderfully illuminating talk, Alain revealed to me and other Farrers' guests how they deal with privacy breaches and defamation in France.
The French media has recently come into our focus once again due to those Kate Middleton pictures being published in the French edition of Closer. The case in is on-going.
France has privacy laws – thought to be the toughest in the world – as well as being defined by the European Human Rights Act (where, as in the UK, article eight, the right to privacy, and article ten, freedom of expression, are key to media).
Like Article Eight, the French Civil Code has Article Nine  – "Everyone has the right to respect for his private life."
Infringements can be a criminal act – with jail terms looming for those who breach.
But the key point that stuck with me was that when a publication gets it wrong on a celebrity or Royal, the remedial statement – or apology of sorts – needs to be printed on the same page. That's right – screw up a page one story, and your apology, or admittance of a privacy breach, goes smack on page one as well.
Incredible. The look of faces of other reputation management PRs around the dinner table as respective copies of Paris Match and the like were passed round with half-page splash apologies was a sight to see. I know I joined them all in this surprise. Although campaign groups have argued that the same should happen here, seeing it on a page is totally alien to PRs and media in the UK.
I asked Alain's team if sales of these magazines plunge when they had to print page one apologies. He didn't have those figures to hand – but he did know that huge revelations in French magazines put sales on.
And the revenues from those sales far outstrip the fines that could be levied on privacy fines for publications, meaning the decision to publish, even when warned over privacy, was a no-brainer for an editor. Sure, there is embarrassment for the more serious magazines when they have to print remedial statements on page one. But the good – the commercial gain – far outweighs the bad.
And although lawyers in France can have seven or eight actions EACH week for just one client, the ball-game rolls on. And on. And on.
There is the threat of criminal prosecution but take the high profile example of the Kate pictures – it is widely accepted that the two people charged over the Kate pictures will escape with a fine and not be jailed.
Most startling was the game-playing that goes on in France – one publication passed around the table showed an apology at the bottom of the page relating to Prince Albert. But the top half of the splash had a brand new story on Prince Albert basically singing the praises of the story that they had been taken to task over.
So, not a remedy at all really – the magazine publishers apologise on one hand, then laugh about it behind the other.
There is huge cynicism and despite the legal cases flowing and page one apologies hitting the news-stands, the juggernaut roles on. The French press have decided it is okay to take risks.
Interestingly, there is no press-regulatory body in France, unlike the much maligned and soon to be replaced PCC in the UK.
So, as the UK newspapers battle it out with politicians and self-appointed, un-elected campaign groups over a new form of press regulation – said to be the first press laws this country has ever had – the need to get it right is so important.
And while some of the details Alain wonderfully outlined at dinner would seem very appealing for those of us working in reputation PR, the world's toughest privacy laws don't seem to be the answer. We should be careful what we wish for.