The PHA Group's HR team recently visited The University of Sussex for their 2016 Mini Careers Fair. The afternoon of informal discussions about future employment opportunities was aimed at soon to be graduates looking for summer internships and permanent roles.
It was a perfect opportunity for employers to meet with students and have a relaxed chat about a career in PR, what to expect from a role with The PHA Group and how to apply.
Here at The PHA Group we attend a number of careers fairs each year, and we very much enjoy the chance to chat to university staff and students, and ultimately take the first step towards the skills exchange that takes place between employers and students during work experience and graduate roles. By a skills exchange, we are talking about the mutual benefits that come with talented and enthusiastic candidates working with exciting and supportive companies.
This exchange of skills kicks off at initial meetings between employers and students. Careers fairs are a great example of this; they let employers find out first-hand what graduates are looking for in terms of preferred industry sectors, types of opportunities (work experience, paid internships, graduate roles), and what they value most in an employer. Likewise, careers fairs give students direct access to employers and therefore a chance to speak frankly about the company and ask questions that they may not be able to find answers to elsewhere.
So what can you expect from The PHA Group at a careers fair?
Firstly, you will get to meet our HR team who deal not only with recruitment, but staff benefits, training, progression planning and promotions, all of which are very important aspects of your working life once settled into a role. We recommend making the most of the chance to speak with our HR team and to get to grips with the structure of our agency through their insights.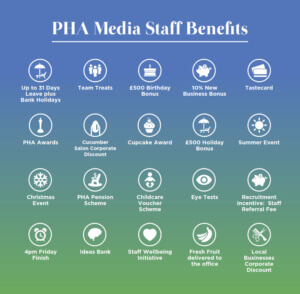 You will also have the opportunity to find out what The PHA Group is all about: from our founding 10 years ago by national newspaper editor Phil Hall to our many awards, including Media Employer of the Year 2015.
We come equipped with a number of pieces of take home material that are great reading for anyone still not sure what a job in PR really entails or what you can expect to get up to as an intern. We provide handouts that break down a number of PR terms through a bespoke glossary, give an example of what a day in PR can look like and provide a succinct summary of our core values. We have a number of detailed PR case studies from award-winning campaigns for students to take a look at, and if you have any questions on these we will be happy to answer them.
What can The PHA Group learn from you?
Whilst careers fairs are ultimately an opportunity for students to demystify graduate employment and speak frankly with employers, there are also a great deal of advantages that careers fairs can offer to employers.
Here at The PHA Group, we pride ourselves on the support we offer to our staff, and we actively encourage a culture of inclusiveness that is formally supported through our training programs and staff benefits.
But we understand that getting a fresh perspective on all of our internal strategies is important and can help when advertising for a new role. Therefore, understanding what students and recent graduates are looking for in an employer is crucial.
We value the insight we get into course structures from students at careers fairs, and we learn a great deal about what students enjoy most about their course and how they would like to build upon these skills through work experience.
We value such information and report it back to the teams to ensure that graduates receive an engaging and relevant experience with the agency. Why not have a read for yourself to see just how much of a positive experience candidates on our work experience and paid internships have.
If you would like to find out more about opportunities at The PHA Group then you can contact HR Assistant Lucy Wardlaw O'Brien on lucyw@thephagroup.com.
The PHA Group are holding an Open Day in September 2016 where prospective candidates can get to visit our London offices, chat to staff of all levels about their experience in PR and listen to talks from senior consultants on subjects such as crisis and reputation management PR. All of the details are available via our recruitment page.