Frequently termed 'The King of Social', Instagram started as a simple picture sharing app, used mainly between close friends and some carefully-selected family, to display the 'best' snapshots of your life. It was a refreshing alternative to the swathes of imagery that confronted you on Facebook, each one only slightly different to the last. It's single-picture format enforced a kind of self-control not seen elsewhere. Of course, this wouldn't last forever. Years later we have video, galleries and stories, and Instagram has expanded far beyond your own social circle. It has, however, kept its highly-polished aesthetic and fetish for 'authenticity'.
Now the app is one of the biggest Social Media sites in the world, with over 700 million users, 400 million of which are active daily! It's impressive to say the least and the potential audience reach on this platform is ever growing. It took only four months to gain the last 100 million followers, whereas the previous took six months.
So, what makes it such a great platform? It's seen as considerably cooler than Facebook, more interesting than Twitter, and more useful than Snapchat. Instagram has become incredibly sophisticated in storytelling and doing so in an artistic manner. The ability to fluently and diversely communicate a brand or individual's story has become indispensable. Authenticity is key to modern marketing, and Instagram is the platform that allows this 'intimate' insight into a brand. And what better brand to apply it to than a Start-Up? A company that is rooted in individuality, ingenuity and passion. One that is already trying to tell its own story, and express its personality, unlike many conglomerates that churn out an all-encompassing 'brand' worldwide.
Engage your audience
So, we know Instagram has the audience and the tools to effectively tell your story, but what techniques can you employ to make Instagram work for you? As a Start-Up, it's important not only to put out great content, but to actively engage with your following, and users who you feel would be interested in your brand. This engagement, or 'community managing', is what will help you grow your channel, awareness, and ultimately your brand. It may seem like a lot of work, but just taking the time to reply to comments and reach out to users and brands can make all the difference.
Hashtag it
Building this community can be done in several ways, but the most immediate is through hashtags. By putting up to 30 relevant hashtags underneath your post you can make yourself visible to the potentially millions of daily users who are engaging with account and brands like yours. Engaging with other users in these hashtags is the next step to generating conversation, and this is worth remembering. Social Media is not a one-way street, you need ask questions, respond authentically, get people interested and keep them talking with you and about you.
If you are a local business, such as a restaurant, boutique or event, then you can utilise these hashtags to target a specific audience. Likewise, you may also use geo-tagging to involve the local community in a location-targeted campaign. These techniques allow you to build a community both offline and online.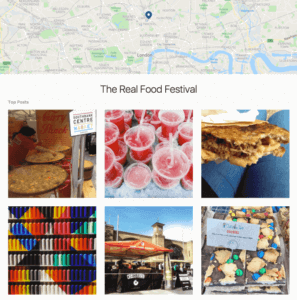 Collaborate and listen
Many brands have taken to cross-posting and collaborations to bolster their online presence. This is a mutually beneficial process that sees both brands raise awareness, and is particularly applicable in a Start-Up environment, where both have a chance to establish themselves in an industry. It's not just other brands that you might consider this tactic with; featuring your customers is an increasingly valuable tool in promoting your brand's merit. Not only will this provide potential customers with authentic, positive feedback for your brand, but it also rewards fans for being fans. In doing this, you encourage them to continue to share their interactions with your brand on Social Media. It's a win-win, they get to interact with the brands they love in an authentic way, and you get exposure and great content for your own channels. Just make sure you always credit them!
For me?! @chapabouttown is ready to chow down on some Turkey and Duck Dinner!

Do what works for you

There are a plethora of techniques to employ on this ever-expanding channel. To do it perfectly, you would be using a variation of careful curated daily posts and stories to provide the most artistic storytelling experience you can. You could run competitions, and cross-post and promote other brands. You could shout about your brand down every relevant avenue, and target it perfectly with paid posts and influencer marketing. This is a lot to take on, especially as a Start-Up. It can seem overwhelming, but it is also wholly unnecessary to try to do all of them at once, and to sustain them. Our advice would be to cherry pick what works for your brand, and remember that creativity and authenticity are at the heart of successful Social Media marketing.

Get Creative

If you want to champion your brand on Instagram effectively, the main thing to consider in this whirlwind of possibilities is creativity. Instagram is a platform that welcomes creativity more than any other. This is the point of difference needed to stop users endlessly scrolling through their feeds and focus on your post. This is the first point of engagement with a consumer, and one of the hardest things to engineer. You want to disrupt and simultaneously engage; having a creative edge here is key.

Of course, this is perhaps easier said than done. But with a proper strategy and some practice, you should quickly find yourself building your brands presence and identity online. Building and maintaining this presence is of huge value to brands and businesses, after all, 32% of all internet users are on Instagram. That's a big slice of the pie to be missing out on!

If you would like to talk about how our digital services could help grow your Instagram following, why not get in touch with us today.

What a month at The PHA Group

By Ellen Maddin, The PHA Group Intern

It's the final day of August and it's my final day at The PHA Group. Some say, 'time flies when you're having fun' and my month here definitely has.

I remember the 2-minute wait in reception on my first day felt like an eternity. The nerves were mounting and upon reflection; the 2 double shot cappuccinos I'd had that morning were probably not a good idea.

However, the welcome given to me by the Entrepreneurs and Business Team (Abbi, Emily, Celia, Alice, Prisca, Jasmin, James and Stuart) instantly made me feel better. I cannot express how thankful I am to them; their positive energy is infectious, their work ethic is inspiring and their supportive nature radiates across the pods. Two words to sum them up are: Girl Power! Not forgetting of course James and Stuart who immediately made me feel part of the team!

Now to the important points…

What I have learnt…(a vast amount):

I now have a real understanding of how a PR company works
I have learnt how to use Gorkana – vital when creating media lists
You must be on the ball; constantly keeping an eye on news outlets for coverage opportunities
Brainstorming ideas is essential especially when deciding on a new pitch angle – two brains are always better than one!
Being confident is a fundamental part of PR – mine has grown while being here!
Don't be afraid to ask questions (everyone is happy to answer them) – it gives a meaning to the work you are doing and it makes it much more interesting!
It has been exciting to see how all the different parts link together to form an overall strategy!

My Highlights

There have been too many highlights to write about them all so here are my top 3:

I loved the mini project I was involved in because I could demonstrate my creative skills. It also gave me an insight into the broad range of work PHA do for their clients. Seeing the finished product was a great way to end my time.
The research tasks I have completed have all been fascinating and have shown me the wide variety of clients PHA-Media have. Everyday has been different!
Knowing that I enjoy writing, Emily (from E&B) set me some blog posts to write for some of The PHA Group's clients. Understanding when to use a different tone and language style has been incredibly useful!

This internship exceeded my expectations and taught me some invaluable lessons. Notably, to succeed in PR you need to be determined and enthusiastic. A month ago, I was feeling anxious about graduating in a year's time knowing I'd be entering the 'real world'. Now I feel like a future career in PR could hopefully be on the cards and that is all testament to what I have experienced at PHA. Thank you everyone!

P.S. influenced by the mini project I was set, my parting gift to the E&B Team is a survival kit

Are languages old business?

By Ruby Muir

'Why bother when everyone speaks English?', 'There are other things that are more worth my time' are just a few of the many comments heard about learning languages in playgrounds, universities and workplaces today. Throughout the country our priorities have shifted, increasing the void between apparently employable, practical and worthwhile skills and the study of foreign languages. With the removal of compulsory language study for 14-16 year olds in 2004, the number of students studying languages to a high level has plummeted drastically. This has resulted in a deficit of graduates equipped to transfer their language skills to the continually expanding global markets.

But what effect does this actually have on our businesses and global profile? There is some argument that a mastery of English is all you need when working and trading on a global level. Countless European countries raise their children to be bilingual with English and those that don't are quickly implementing widespread bilingual school programmes to catch up. China, India and countless others, all operate with such a high level of English language that communicating haphazardly in other native tongues could be unnecessary.

But where does this leave us in reality? Practically this absence of language skills costs our economy £48 billion a year. Parts of this results from expenses to businesses who have to employ translators to carry out foreign exchanges where the level of English isn't sufficiently high. For smaller business where this is unaffordable this means a loss of business. For a prospective linguist, this void creates huge advantage making them a valuable asset, able to communicate directly without an intermediary thereby improving their commercial opportunities. Even without a broad grasp of a foreign language, the ability to greet and exchange niceties in someone's native tongue should not be underestimated. The care and effort of this gesture can very much enhance the tone and outcome of prospective negotiations and build beneficial relationships for the future.

Moreover, an understanding of a foreign language is accompanied by a cultural appreciation that can be useful when adapting campaigns and brands to foreign markets. Understanding the comedy and other reference points of a target nation can help personalise and enhance global marketing campaigns. It also allows adaption to cultural norms during exchange and negotiation. In this way, knowledge of foreign languages can change perspectives, remove perceived barriers and enable confident expansion in new markets.

However, with the looming execution of Brexit, the prospects of educating the future workforce in foreign languages are uncertain. Within days of the Leave victory, Danuta Hübner, the head of the European Parliament's Constitutional Affairs Committee, announced that English will lose its official status as an EU language after the separation. With this change, it could be that for the UK to continue with some European trade, language skills will need to become a key priority. It could be we will need to focus on educating our children in Mandarin, Arabic and Hindi to secure reliable trade from beyond Europe. It could be that an independent Britain and the US will be enough to retain the Anglo dominance in global markets. Currently, no one knows.

Nonetheless, the EU contributions to language education, such as the funding of its study abroad programme Erasmus and living grants for students, are sure to be cut and are unlikely to be replaced through government funding. This could inhibit the study of languages for many prospective students, to whom living abroad for the compulsory year would be an unaffordable luxury. Depending on movement and immigration changes, the resource of native teachers and language assistants could be depleted, reducing the authenticity of cultural and linguistic learning. Again, no one knows.

All that is clear is that the shape of post-Brexit Britain will for the foreseeable future remain uncertain. However, we know for sure that language skills are a fantastically valuable asset to have within our businesses and workforces. It is clear that as a country, we need to adjust our attitude that learning languages is other people's responsibility. We need to fight for our youth to engage culturally and linguistically to keep up with their counterparts in China, Europe and the rest of the world. Most importantly, we need to stop telling ourselves that the skills we gained from that bit of French we learnt in school or 'the get by in' classes at the local community centre aren't adequate, useful or able to make a difference in international engagements.

Double, Double Toil & Trouble; Private Valuations & Fintech Bubble

Every couple of months an article or two regarding the 'fintech bubble' floats onto the pages of online and print media.

"Are we in a bubble? Will it burst?" fret the writers of such articles. "Are valuations based on real worth or mere chatter? Could fintech be the next Dot-Com?"

Reading these, it can seem a little like the sector is just waiting for a disaster to happen. Like all the hype is a brave face belying a fragile body.

However, questions like these should come as little surprise. Despite a sizzling market, it's smart to stay a little wary and acknowledge that just because entrepreneurs and investors are excited doesn't mean everything is smooth sailing. After all, startups fail. That's a thing that happens. And with the massive explosion of new businesses, it's indubitable many – if not most – will fail.

Does this mean there's a bubble?

Let's have a look.

2015 was a big year for the tech sector. Huge even. According to the capital's promotional company London & Partners, a record $3.65bn (£2.5bn) was invested in private UK tech companies in 2015, equating to around a 70% rise in funding for startups compared to 2014. Around a quarter of this funding went to the financial services sector. This escorted a coming of age for fintech as it entered mainstream consciousness through new mobile payment options, the rise of companies like Transferwise, and some headline grabbing statistics as unicorn after unicorn raised their highly valued horns.

But Q4 also saw the beginning of something of a slow down in tech investment. After hitting dot-com funding levels in Q3, things began cooling off.

According to research from CB Insights, venture capital funding fell by 30% during the second half of 2015, with far fewer 'mega-rounds' of investment in Q4 in particular.

To make the situation sound even more dubious, the unicorns are beginning to look a lot like horses dowsed in glitter – at least if the latest tech IPOs are anything to go by. Square (and Match) received a decidedly chilly welcome as their shares sold for under the projected offering range, suggesting retail investors are more sceptical than expected when it comes to private tech valuations.

Cue: mild concern followed by sensational headlines about bubbles and what happens when one bursts.

However, take a step back and a deep breath and it's fairly clear beyond the fluff pieces and general buzz of big ideas there's some actual substance. There's a different kind of cycle happening in financial technology compared to just 'bubble and burst'.

For one, whilst the 'coming-of-age' may have been the growth cycle of the last two years, fintech has been around for a lot longer than that. As Bruce Wallace pointed out in Finextra:

What's different now? The new fintech technology startups are now mostly selling their solutions directly to consumers and businesses instead of selling to the traditional FI channel. The increased efficiencies are changing customer expectations and shaping the future of financial services.

This shift is important. It's a maturation of an established industry. Indicative of the changing mentality within the larger financial sector.

Furthermore, it conveys why disruptors have had such success in the last two years and why now there might be a cooling as money begins to flow into 'enablers' instead. Fintech has largely revealed the potential – or indeed the necessity – of its products. Payments companies and alternative lenders like Zopa, Funding Circle, and WorldRemit comprise the majority of the 35 unicorns in the sector. And part of the reason for this is because the landscape they are entering has remained stagnant for so long that a real need exists to innovate. By innovating they're taking part of the market share away from the incumbents. By innovating they're reforming.

As Chris Skinner said, "That's why there's no Fintech bubble bursting.  Just a re-architecting of finance through technology that, until it finishes, will see us moving through waves of innovation and change."

This is why banks are 'getting serious' about fintech as well. Why they are pouring in their own money to digitise, to gamify, to tap into all the things that disruptors have emphasised and monetised in the last few years.

Of course, acknowledging a change in mentality doesn't alter the fact that there has been a drop in deals.

But to play devil's advocate, according to research by Erin Griffith's for Fortune there's also a distinction to be made between late-stage investors and early-stage investors regarding the slowdown reported by CB Insights.

According to the late-stage investors, there is a new element of caution. 'Market dynamics are setting the bar much higher' than before. They don't want to keep funding businesses reliant on private money without turning a profit. On the other hand, early-stage investors are pretty much continuing the same as ever.

Why the disparity?

In part it's because the prices are simply too high to tempt many professional VCs. They're willing to wait to see the weaker business models shaken out by failures and takeovers. However, it also seems to relate to investors simply not wanting to feel the burn of another popped tech bubble and acute awareness of the swathe of 'down-rounds' where fintech companies have IPOed. Essentially, early stage investors have been paying too high prices and need to adjust expectation, which can be done with future investments. Everyone is thus left thinking maybe they should be wary, maybe they should keep on the side of realism instead of being succored in by mythical beasts, maybe they should stick to the usual methods of valuing a company like cash flow and profit.

At the end of the day it's not being negative to accept that many of our startups will die. And it's not foolish to consider that just maybe there is "too much money chasing too few assets" as Damien Lane, partner at Episode 1, told The Times. It's simply pragmatic. And what's falling in London's favour is that VCs have largely maintained their pragmatism in the face of a booming sector. Especially when compared to New York and Silicon Valley.

There is no doubt that 2016 will be a pivotal year for fintech. As recent and upcoming exits play out we'll really begin to see which business are worthy of the hype and which are not. But as yet the bubble is as close to unreal as many billion-dollar valuations.

Forget #Fintech Bubble: Market Gets Serious in 2016 https://t.co/SibXKwkPNo @CityAM #finserv pic.twitter.com/icjuoExg5o

— Jim Marous (@JimMarous) December 16, 2015

The fall of the paywall – enjoy it while you can

By Callum Mollison

News was born free. Its roots can be traced back to the "Daily Acts", decreed by Julius Caesar, that were placed on public message boards in Ancient Rome. They contained news on everything from political happenings to prominent marriages.

Last month, Britain's biggest-selling tabloid newspaper, the Sun, followed in this tradition by disarming its paywall. It may safely be inferred that this was largely for monetary reasons. Alas, the Sun has not suddenly emerged as a revenant of the enlightenment, fighting for the right of the public to free information.

The fact is that the Sun has failed to garner the same number of views as its rivals, the Mail Online and the Mirror, behind its paywall. The advent of social media has diversified methods of news distribution, so whilst paywalls have gone up, barriers to journalism have fallen – the information behind a paywall can be placed on Facebook by anyone with an opinion. However, those newspapers without a wall can benefit from the social media users option to share, which generates subsequent click-through views.

However, free news will not last. The emergence of the digital age may have given news-lovers a brief, charge-free moment in the sunshine, but the sun is already setting. To understand this you must look to history. The appearance of the first modern newspaper was accompanied by a charge when the Venetians decided to charge one gazette for news-sheets in 1556. The newspaper meant that news was no longer a state-funded right but an independent and profitable venture. As long as there is money to be made, news will never be free.

One survey has shown that nearly three-quarters of newspapers are now charging for online content and print-media is dying. The Sun's publisher, News UK (owned by Rupert Murdoch), is, in fact, keeping the subscription model for its Times and Sunday Times publications. This model is also proving successful for publications such as the Wall Street Journal, Financial Times and the Economist.

As soon as other news sources learn how to grow their audiences, take advantage of social media and make more from advertising they will erect paywalls. Other business models are simply inadequate when people are willing to pay.

The future of the news is paved with paywalls. Why am I so sure of this? Look around you on public transport. Do you see young people carrying newspapers? Rarely. The real picture you see is dozens of people glued to their phones and this trend will certainly worsen as accessible WiFi spreads. The modern man doesn't want to carry a newspaper; he wants quick, easy, weightless information. In fact, a 2013 study in the Guardian showed that 20% of 25-34 year-olds have already paid for online news. 

There will be no more Julius Caesar's. There will only be newspapers catching up with technology.

Five tips for PR interns

I've learned a lot in my short stay at The PHA Group about the world of PR and for that I'm incredibly grateful.

So, if you are thinking about a PR internship, here are five quick pointers:

Be curious about the bigger picture: One of the things that makes PR so interesting is its complexity. More is constantly going on than meets the eye. Always deliver on a brief but be sure to ask about the bigger picture and where it fits in with the strategic goals of the clients and the agency. Knowing this will also motivate you to do the 'mundane' tasks and, take my word for it, doing them fast and well will get you far enough.

Don't think "sell-in", think "pitch in": When I was first told to sell-in a story, I didn't really feel up to the task. I thought I had to master some kind of sales skills and that put me off.  Turns out I had the term down wrong; to "sell-in" is to chat with a journalist and convince them that your content will enhance their piece or publication. So rather than a sales call, you should think about it as a persuasive dialogue. Also, be sure to discretely eavesdrop when an account manager or someone more senior is pitching and study them (without staring creepily though…)

Less is more: If you're moving straight from academia, you probably use words like 'ameliorate' where 'improve' works just fine. Of course you do – essays are more about expanding than condensing. To make the leap to PR, you'll need to make your content short and snappy. Put it this way, you'll have a journalist's attention for less than 20 words or 15 seconds (if that). Make them count!

Make friends: This may sound obvious. You want to have a good time and all that. Who wouldn't right? That's all well and good but what friends have to offer other than fun is guidance and crucially, backing. If you like the company and you think you're well-suited for a role, make sure you take time to build relationships with the whole team and you'll hopefully have more than just yourself making a case for you.

Ask and take risks: Ask questions, and make sure you're getting enough feedback to improve on your writing, time-management skills and pitching-in. But be grateful and understanding when people take the time to walk you through a task and show you've mastered it the next time around. It is useful to volunteer for a task that is more challenging than your previous one – this shows you're growing and listening. Internships are short and if the learning curve isn't steep and a bit scary, you're not doing it right.

Dimitris Dimitriadis

 

Image: Thomas Edwards, flickr.com

Hungry but Humble – a guide to succeeding as an intern

University students and graduates are always on the lookout for internships, to gain that invaluable work experience that university simply cannot teach you. Having been successful in gaining an internship in my first year at university, in a fast-paced public relations agency in the heart of London, here are my top five tips on succeeding as an intern.

Show drive and willing

Before starting my internship I received one piece of advice from a university lecturer, which I believe will help any intern stand out from all the previous interns. 'Go into the workplace hungry but humble' with a smile on your face and happy to take on everything and anything. This will be sure to get you noticed around the office – too many interns feel they have some sanctimonious right to be involved in all of the exciting projects.

Prove yourself

Reality check: you have to prove that you are good enough to be involved in the exciting projects, by making sure every task you are given, however small, is carried out to the best of your ability.

I have had the opportunity to get involved in countless tasks during my time as an intern. I have created numerous media lists and have been a little media detective looking for celebrities, agents or managers' contact information. I really enjoy doing this, and to some extent have become an expert at creating them now.

Get our your comfort zone

Always attempt to do any tasks even if you are not confident with them. I have to be honest, press releases are not my strongest point but I was hungry to learn how to get better at writing them and have now written a number of during my time at PHA. It's true what they say, you only get better with practice.

Use existing skills

Don't be afraid to offer help in tasks that you feel you are capable of doing well; I have a background in film editing, and I offered to edit a video that needed doing. This saved time for my colleagues to get on with other tasks that needed completing – plus it feels particularly rewarding knowing the skills you already have can be applied professionally.

Spend time with your colleagues outside of work

Finally, socialising and getting to know your colleagues is not only imperative, but actually really fun. People can be completely different as they are in work mode, but everyone is a lot more relaxed outside of a work setting. This is also a great opportunity for your colleagues to get to know more about you, and for you to leave your mark so you are not forgotten.

The PHA Group wins Media Employer of the Year Award

February 18th 2015 will long be a date that sticks in the mind of The PHA Group employees for all the right reasons.

On a star-studded evening, hosted by Pathfinders at Soho's Ham Yard Hotel, the company scooped the biggest prize in their ten year history as they claimed the prestigious 'Media Employer of the Year' award.

It was vindication of the journey and hard work that the company from the top down have undergone and the ethos that has been established over the best part of a decade.

Credit must also be paid to runners up, Brandfuel, who were extremely magnanimous in defeat as the judges revealed there was little to separate the two companies, who were by far and away this year's outstanding candidates.

Particular areas of praise included the firm's staff appraisal process, high retention rate, and consistent ability to convert interns into full time staff, something I have particular experience of.

It is difficult to argue that the award was deserved as I have seen first-hand the work and personable nature of the company on a daily basis. Being just days short of my year anniversary (a date which is naturally in everyone's diaries) has meant that I have been one of the main beneficiaries of the businesses' numerous schemes and internship programmes. Yes, this was my first year at the company and we claimed victory but to suggest a correlation would be too much… I was just delighted to be involved in the entry process as my experience has been a wholly positive one.

While 'Bra packer to Junior Account Executive' is unlikely to be the title of my impending autobiography, it does highlight the importance that the company place on the person behind the CV. Ensuring the job is done to the best of your ability is of course paramount in any profession but I do believe that the culture of a workplace is equally crucial and can further fuel success. From the approachability of the company partners, to the strong sense of team, right through to Friday massages and drinks…The PHA Group have their staff's best interests at heart.

It is equally important that this award is not seen as the end of the journey but merely the beginning of it. It is always nice to be recognised in this nature but it is worth pondering why we were victorious and how such high levels of staff satisfaction can be maintained and even improved upon. The accolade is not to be underestimated and while PHA are ruled out of winning the award in the future, we will have great pride in handing the award to next year's worthy winners. Now in true Ab Fab style, let the champagne flow!

Director of PR, Stuart Skinner, was understandably delighted with the accolade: "We are absolutely delighted and honoured to receive this award. We have won prizes before for commercial growth, and for client campaigns, but this award genuinely means the most. This one is all about the people in the company and they are the most important asset we have and what drives the business forward."

For more information on working at The PHA Group click here.

Ten Japanese tech start-ups that could take the UK by storm

With Silicon Valley in the US and Silicon Roundabout in our own capital, we know the West is good at taking the plunge and being entrepreneurial. But what of the East?

In Japan, business culture is still 'dominated by the concept of lifetime employment' where, in exchange for unwavering obedience and loyalty, the employee can expect stability, security and several company perks. However, as the next generation of 20 year olds reject the restrictions and limitations of the corporate world, Japan's entrepreneurial spirit is slowly reviving.

As a keen Japanophile, and having lived in the country among a number of budding business minds, I like to keep a close eye on the ideas emerging from the Land of the Rising Sun, in the hope that one day they'll expand into the UK. So below is a list of some of my top 10 favourite contenders.

1: Combinator (EN) – So you have a fantastic idea for a business – but what happens when you don't have the skills to develop your service or product yourself? Helping to turn ideas into reality, Combinator is a platform where budding entrepreneurs can pledge their time to fledgling start-ups in the making. You can be as committed as you want, whether that's working the odd weekend, helping out after you finish your day job, or fully committing yourself to the project.

2: Air Closet (JP) – Ever looked at your wardrobe brimming with clothes and thought you still have nothing to wear? Fear not, for Air Closet is effectively a library of clothes that you can borrow, with membership costing approximately £40 a month – you receive a package containing three items of clothing, selected for you by a professional stylist, and are allowed to keep the items for as long as you like.  It looks like you can only borrow three items at a time though, so once you're ready to get your next batch, you simply send the clothes back (free return delivery and no need to wash) and review. The more feedback you share, the more accurate the stylists can be.

3: Conyac (EN) – Machine translators are getting good, but if anyone has seen this Let It Go Google Translate parody, we know that language is sometimes simply best left to the people who know how to use it! Conyac is an online platform that connects individuals and businesses alike with 40,000 affordable translators around the world, catering up to 75 languages. But perhaps what makes this service special as opposed to your ordinary translation agency is that they have three levels of service: light requests, standard requests and business. For a light request – say a quick email reply in the sender's language – you can get a translation from a human in as quick as ten minutes.

4: Living Room (JP) – Your children have left their toys all over the floor, refuse to brush their teeth and simply don't want to help with the household chores. Is there any hope? Yes says Living Room, a Japanese platform that helps to gamify the cleaning, washing, tidying, hygiene – you name it – experience for children. Set for release in February, children are assigned tasks through characters in a 'game' app (John the Adventurer in "Chores Quest" for the boys and Princess Marie in "The Magic of Chores" for the girls). The children's apps are connected to a parent app, where Mums and Dads can confirm when a job has been completed – and once they give the green light, the children receive an in-game reward. The platform also includes a 'Mama & Papa café', where parents can discuss ideas and suggestions.

5: Listnr (EN) – We're getting to a stage in technological development where interacting with your environment by sound is very much becoming a reality – and Listnr fits beautifully into the puzzle as an interactive baby monitor. Working in conjunction with an app, the user receives notifications when the device registers certain sounds – be that laughter or crying. As it develops, Listnr is also set to register the tone of voices in a room and change colour accordingly. The product is still very much in its infancy, but with backing from Panasonic and a successful CES 2015 under its belt, it's sure to be a strong contender in the smart home arena.

6: Popinfo (JP) – Timing and visibility are of the essence in any marketing and promotional campaign, but can often be difficult to get right – after all, emails and display ads can be easy to ignore. Popinfo aims to increase click-through rates by combining geographical and behavioural insights for perfectly timed push notifications directly to consumers. It appears to be an opt-in service, with users subscribing to shops and cafés of their choice, so it's a great way to keep your customers updated on activities and events, and drawing in the crowds.

7: AnyPerk (EN) – It's not unusual nowadays for people to move job every few years, but if you've got some great talent in your midst, you won't want to just let them go. Companies who subscribe to the AnyPerk platform give their employees access to over 700 pre-negotiated products and services, ranging from gym memberships to childcare services. The perks never expire, have no limits on redemption frequency and are redeemable immediately – companies can also customise what's available to include their own perks, as well as remove those that don't fit their company culture. Those that sign-up further receive regular updates on redemption statistics, enabling them to identify the most popular perks and benchmark themselves against competitors.

8: Giftee (JP) – How many times has a friend come through for you last minute – whether paying for your taxi home after losing your wallet on a night out, or coming over at a moment's notice and offering a shoulder to cry on? Giftee specialises in small token gifts, allowing users to show their appreciation through digital vouchers for little treats, such as a cup of coffee, a slice of cake, a beer, a bowl of ice cream or even a copy of their favourite magazine. It's the perfect way to spread the love.

9: AmazingLife (EN) – Like all things in life, everything and everyone eventually passes – but it can be difficult, and indeed complicated, to prepare for a death. AmazingLife has therefore developed a number of smartphone apps to help simplify the process and payment of services – from cremation and funeral preparations, to wills and inheritances – so that people can take the time to decide what is right for them at their own pace.

10: Type (JP) – As a fellow glasses wearer, it's not often that a company comes around trying to make specs more 'cool'. Oh My Glasses, however, attempts to do just that with their new line of eyewear products – Type – inspired by the similarities between the function and design of fonts and frames. The currently have four styles, named after the typefaces they were born from – Din, Futura, Garamond and Helvetica – and I can honestly say I was drawn immediately to my default font…

There are, of course, many, many more fantastic business ideas emerging in Japan – and I'll be keeping a beady eye out for them. But in the meantime, I hope you'll agree that there are some worthy contenders in the East that could really take the West by storm – and we should be encouraging them to try.

How to Rebuild Trust in Your Tech Brand

Scandal, scandal, scandal. Security breaches, data hoarding and ethical ambiguity – if the likes of Apple, Snapchat and Sony are anything to go by in terms of trust in technology, they certainly didn't do SMEs and entrepreneurs any favours in 2014.

Last week, a report highlighted that Brits' trust in technology had substantially dipped in the last year. Consumer electronics and telecoms, in particular, both took a tumble, and now, as other countries enthusiastically steam ahead with innovation, Brits' trust (or lack thereof) in tech is significantly impeding our progression towards a connected future.

So what can tech companies do to reassure British consumers? Here are our top three tips to inspire, maintain, or, in some cases, rebuild trust in your tech brand.

Data and Security

After numerous high profile data hacks and security breaches in 2014, consumers are understandably concerned about how their details are mined, managed and manipulated. For tech brands, ensuring you are plain and transparent with your use, storage and trading of data is vital to allay the fears stoked by these incidents and strengthen that all-important consumer trust.

Only a couple of months ago, MPs on the Commons Science and Technology Select Committee were compelled to call for new guidelines for apps and websites, requiring them to explain clearly their use of personal data. Increasingly, regulation is making it difficult for technology to evolve, so instead of waiting for more guidelines and possibly laws to be introduced, why not prove to society that tech brands can be responsible, transparent and effectively self-regulate? As Andrew Miller, chair of the committee, noted: "Socially responsible companies wouldn't want to bamboozle their users".

Quality and Safety

Technology as a topic can often seem inaccessible – after all, there's a lot of jargon and few people understand how software and hardware is actually built. So when there are rapid developments, it almost appears too good to be true, leaving some sceptical and mistrusting consumers questioning the validity of research and the quality of the design of a product.

In fact, nearly half of UK consumers believe that innovation is happening too quickly – but then, it's not in the best interests of tech developers to slam on the brakes. Instead, it's vital that tech companies address these concerns directly, by allowing people to trial and test their capabilities. Demonstrating quality by offering your product for high profile reviews is a good way of gaining advocacy from trusted, independent parties.

Positioning your company as experts in a relevant field – through thought leadership pieces and interviews – will also reassure consumers that the same intelligence and conscientiousness has been baked into your product or service.

Purpose

Perhaps one of the most surprising snippets to come out of the mammoth Consumer Electronics Show 2015 earlier this month was an admission from Gary Shapiro, CEO of the event. He acknowledged that over-reliance on digital products is a "Natural trend that people are talking about", and that he believes in the good of "everything, in reason."

A digital detox, it seems, may well be on the horizon – and tech companies must be prepared. Consumers mistrust products and brands that serve no true purpose, or that bombard them with so many that they can't discern what the product is really for. So decide what problem you want to solve and where your niche lies, instead of trying to be a jack-of-all-trades. Less is more – or, in the immortal words of Coco Chanel, "before you leave the house, look in the mirror and remove one accessory."

In your communications, tech brands should ensure that the value your product adds to the market is conveyed clearly and consistently. If consumers can see how your product will save them time, bring them new information or simply entertain them, trust in your brand will strengthen. That one must-have feature of your offering should shine through: purpose over puff.

As we move forward into 2015, it seems that innovation is no longer enough. Trust in your tech brand must be built upon a foundation of transparency, independent advocacy and clear communications – only then will Brits embrace the advances you have nurtured. How will trust in your brand fare this year?