Frequently termed 'The King of Social', Instagram started as a simple picture sharing app, used mainly between close friends and some carefully-selected family, to display the 'best' snapshots of your life. It was a refreshing alternative to the swathes of imagery that confronted you on Facebook, each one only slightly different to the last. It's single-picture format enforced a kind of self-control not seen elsewhere. Of course, this wouldn't last forever. Years later we have video, galleries and stories, and Instagram has expanded far beyond your own social circle. It has, however, kept its highly-polished aesthetic and fetish for 'authenticity'.
Now the app is one of the biggest Social Media sites in the world, with over 700 million users, 400 million of which are active daily! It's impressive to say the least and the potential audience reach on this platform is ever growing. It took only four months to gain the last 100 million followers, whereas the previous took six months.
So, what makes it such a great platform? It's seen as considerably cooler than Facebook, more interesting than Twitter, and more useful than Snapchat. Instagram has become incredibly sophisticated in storytelling and doing so in an artistic manner. The ability to fluently and diversely communicate a brand or individual's story has become indispensable. Authenticity is key to modern marketing, and Instagram is the platform that allows this 'intimate' insight into a brand. And what better brand to apply it to than a Start-Up? A company that is rooted in individuality, ingenuity and passion. One that is already trying to tell its own story, and express its personality, unlike many conglomerates that churn out an all-encompassing 'brand' worldwide.
Engage your audience
So, we know Instagram has the audience and the tools to effectively tell your story, but what techniques can you employ to make Instagram work for you? As a Start-Up, it's important not only to put out great content, but to actively engage with your following, and users who you feel would be interested in your brand. This engagement, or 'community managing', is what will help you grow your channel, awareness, and ultimately your brand. It may seem like a lot of work, but just taking the time to reply to comments and reach out to users and brands can make all the difference.
Hashtag it
Building this community can be done in several ways, but the most immediate is through hashtags. By putting up to 30 relevant hashtags underneath your post you can make yourself visible to the potentially millions of daily users who are engaging with account and brands like yours. Engaging with other users in these hashtags is the next step to generating conversation, and this is worth remembering. Social Media is not a one-way street, you need ask questions, respond authentically, get people interested and keep them talking with you and about you.
If you are a local business, such as a restaurant, boutique or event, then you can utilise these hashtags to target a specific audience. Likewise, you may also use geo-tagging to involve the local community in a location-targeted campaign. These techniques allow you to build a community both offline and online.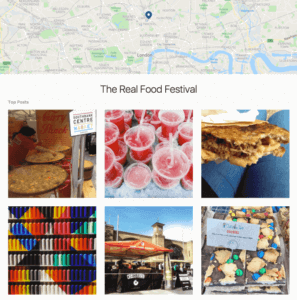 Collaborate and listen
Many brands have taken to cross-posting and collaborations to bolster their online presence. This is a mutually beneficial process that sees both brands raise awareness, and is particularly applicable in a Start-Up environment, where both have a chance to establish themselves in an industry. It's not just other brands that you might consider this tactic with; featuring your customers is an increasingly valuable tool in promoting your brand's merit. Not only will this provide potential customers with authentic, positive feedback for your brand, but it also rewards fans for being fans. In doing this, you encourage them to continue to share their interactions with your brand on Social Media. It's a win-win, they get to interact with the brands they love in an authentic way, and you get exposure and great content for your own channels. Just make sure you always credit them!
For me?! @chapabouttown is ready to chow down on some Turkey and Duck Dinner!

Do what works for you

There are a plethora of techniques to employ on this ever-expanding channel. To do it perfectly, you would be using a variation of careful curated daily posts and stories to provide the most artistic storytelling experience you can. You could run competitions, and cross-post and promote other brands. You could shout about your brand down every relevant avenue, and target it perfectly with paid posts and influencer marketing. This is a lot to take on, especially as a Start-Up. It can seem overwhelming, but it is also wholly unnecessary to try to do all of them at once, and to sustain them. Our advice would be to cherry pick what works for your brand, and remember that creativity and authenticity are at the heart of successful Social Media marketing.

Get Creative

If you want to champion your brand on Instagram effectively, the main thing to consider in this whirlwind of possibilities is creativity. Instagram is a platform that welcomes creativity more than any other. This is the point of difference needed to stop users endlessly scrolling through their feeds and focus on your post. This is the first point of engagement with a consumer, and one of the hardest things to engineer. You want to disrupt and simultaneously engage; having a creative edge here is key.

Of course, this is perhaps easier said than done. But with a proper strategy and some practice, you should quickly find yourself building your brands presence and identity online. Building and maintaining this presence is of huge value to brands and businesses, after all, 32% of all internet users are on Instagram. That's a big slice of the pie to be missing out on!

If you would like to talk about how our digital services could help grow your Instagram following, why not get in touch with us today.

Fintech: A Startup By Any Other Name

Fintech is crazy hot right now. Just ask Oscar Williams-Grut. Or Anna Irrerra.

With London Technology Week behind us, and the UK's first fintech unicorns (companies valued at over £1bn) announced, fintech's popularity is scorching headlines. In fact, it's burning through the business world.

However, you might also have noticed the latest fintech startups becoming more and more creative with their branding. In particular: brand names that now range from the artfully misspelt to the completely baffling.

This creativity seems to stem from the desire to stand out in an increasingly crowded market. It's beginning to resemble the rush hour train from London to Aylesbury with everyone crammed into a single sweltering, economy carriage. And they all want the much-coveted upgrade to Business Class.

So then what's in a name? Does creative naming help or hinder a fintech startup? Can it help you get the golden ticket?

Finding the right name for a product, or even for the small business that makes it, is notoriously tricky.

The general understanding is that there are different 'genres' of fintech startup – banking fintech, consumer finance fintech, wealth management fintech, payments fintech, investor or incubator fintech. However, like any other set of definitions, there is a great deal of overlap – ie. between consumer finance and payments.

This presents a unique challenge.

How to make something meaningful and memorable whilst working within the relatively narrow parameters laid out by trailblazers and recognised by the target audience? An audience, I might add, that is more digitally and financially aware than ever before.

In a recent article in City A.M., they looked at five tech startups seeking to disrupt the financial industry that have caught the eye of some of the world's leading firms in the sector.

All winners of a search for startups creating new technology by RBS, Lloyds and American Express, and the Department for Business (amongst others), include a savings app, a company using visual cryptography to create secure passwords and a money laundering detection service.

But if you look at this list of the five winning names, can you pick out which three I've described? Here are your options:

Swave. Tento. Bubbal. Squirrel. Mentat.

As it turned out, when I first read the article, I was surprised at how little I understood what they did.

The only name I instantly connected with was Squirrel, which turned out to be what I expected: a platform to help you 'squirrel away' some savings.  Bubbal too I figured out eventually (it connects people to small local retailers via an app). Mainly because it reminded me of ProtectMyBubble.com.

The others, however, left me stumped.

Let's consider Swave:

Is it a misspelled 'suave', chosen for the domain name? An allusion to a Secondary Wave because fintech 2.0 is like the follow-up to an earthquake? Perhaps simply a twist on 'swathe'? Or maybe they snapped it up from Urban Dictionary, where it's defined as a phrase coined by Brooklyn rappers H Squared to mean 'a level above swag or swagger'?

Do any of these tell me what it does though?

Not really.

Turns out though that Swave is a personal savings platform. Winning the consumer financial literacy category, the app monitors spending and encourages users to save.  Looking again, the name suddenly makes more sense. Take out the 'w' and it's 'save', put in the 'w' and it alludes to a plethora of different ideas. It's clever. It's unexpectedly dynamic.

Yet when I asked the office the question: 'what do you think a fintech app called Swave' does, the replies varied between 'an app to help people find suave clothes' to 'a surfing guide'.

For a young company with even younger technology, the initial ambiguity could be problematic. It is, perhaps, too clever for its own good.

Moreover, whilst it has won an award for its innovation and been lauded for its ability to provide great user experience, it's possible to see why some investors might be deterred as early as the brand name.

The same could be said of Mentat – which, incidentally, my phone continually autocorrects but which is apparently a reference to the fictional Dune universe. Like Swave, it's a clever name. The platform provides amazing innovation. In context, it's easy to see why it's a winner in the eyes of some big players… but without googling, can you really see what either is for?

That's not to say that none of the more creative names haven't taken off. Seedrs works brilliantly. TrillionFund includes a fantastic story about how much it will cost to undo environmental damage. Cake, the new restaurant payment app, has garnered great attention because it 'lets you pay with Cake', makes paying 'a piece of cake', gives users a 'taste of the sweet life' etc. Sometimes the humour in the story or in the name can work.

City A.M.'s article admittedly does not go into great detail on the brands in their article, nor their creators. Indubitably, a huge amount of thought went into them.

Having asked what startup investors and venture capitalists think is important,  perhaps these top tips might help:

It's great to have a name that means something, not just something that sounds quirky.
There needs to be a link between name and the activity or product. Or alternatively, a really strong story behind the name that is memorable, amusing or informative.
The name needs to appeal to the audience – not just to geeks.
Avoid the all-too-common trend to name it something with -ly, -me, or -fy. And without dropping vowels because that's also a thing. It's not original anymore.
And it really needs to be original enough not to compete with other, better-established brands.  Do your research beforehand.

Investors think it's best to avoid names that need a lot of explanation or marketing to remember. It's important to not be too clever by half. And even more imperative that the name not disappear beneath the waves of someone else's mojo.

For many fintech startups wanting to be the next billion-dollar unicorn, it's vital to disrupt – not just slightly wobble – the boat. The need to stand out is paramount.

So whilst the hope is to do this with a stellar product, why start at a disadvantage with a weak name, or a name so clever no one understands it?

It's the first sticky point, the first idea that customer engage with.

Perhaps those fintech roses really could smell sweeter.

Scare Tactics : 'Fear' as a Successful Communications Tool

The value of emotion in selling products, and papers, is more or less indubitable.

Christmas: every advert pulls on the heartstrings. Headlines about fairness and altruism pepper the pages of our newspapers.

February: roses are red, violets are blue and romance is in the air for every marketing campaign and headline that can possibly squeeze in an iota of an excuse for doing so.

Yet this is not just a gimmick of once-a-year holidays. It is a strategic part of brand narratives from McDonald's to Nike, Virgin to Jack Wills.

And one of the most effective emotions is fear.

Take as an example the full-sized polar bear released in London this past January. It disrupted tube-commuters' usual routine of 'studiously minding own business and ensuring zero eye contact with anyone' with a potential panic attack.

"Is it real?!" People begged the cameras recording their mixed reactions of fear and curiosity.

Twitter went crazy. Videos and photos spread across the Internet.

I love the part were the girl says "is it real??" : Polar Bear Roams London [Sky Atlantic, Fortitude]: https://t.co/mn05nnCdca via @YouTube

— TheAnswer (@AtTheAnswer) February 2, 2015

As a stunt it grabbed headlines – partly because a giant white bear on the Jubilee line makes a great photo – but it also embodied the new television show it was publicising, Fortitude, by using a bear that is something of a sinister motif for danger in the show to create a similar threatened feeling in the British public.  Moreover, considering Sky's current adverts saying 'not all television is created equal', which suggests their programmes are somewhat more challenging, more intriguing, this stunt certainly seemed to capture hearts and minds with a comparable emotive thread.

An 'Emotion Factor' constitutes a central part of helping a consumer to bond with a brand, a business, a product, a person.

Hardly a new concept, Dale Carnegie identified emotions as key for business people who want to appeal to their customers back in 1936 and it has been the linchpin in communications of all kinds ever since. There are books dedicated to it, and academic studies.

Those who have never watched Mad Men might be forgiven for wondering then why I'm talking about fear. Almost everyone has been told sex sells as demonstrated by Davidoff cologne or Virgin Atlantic adverts. Many will have experienced how feeling empowered makes that totally unaffordable car sound like a good idea, or how humour makes one website seem simpler and friendlier than the other.

But to quote Don Draper: "Advertising is based on one thing: happiness. And do you know what happiness is? … It's freedom from fear."

The same applies to building a narrative in public relations.

Telling a story for a business is an integral part of PR because it's all about looking for the story that will bring a brand's message to life. A story can build or bulldoze a reputation, manage or frustrate consumers. So whether it's through a message, a logo, a CEO or even a product, telling a superficial tale is not going to win over a busy journalist or capture the attention of a digital audience. Only a quality, sophisticated story can do that. Preferably one that's succinct and can fit into the required column inches.

"What you call 'love' was invented by guys like me to sell nylons." – Don Happy Valentine's Day, #MadMen fans. pic.twitter.com/RQX1IwMAD5 — Mad Men (@MadMen_AMC) February 14, 2015

This is where fear comes in. Good stories need an element of fear.  Something for a hero to overcome. That hero might be the consumer or the product or the business as a whole. But if all is happiness, simplicity, friendliness, and humour, what's the point in being a hero, of wanting more than this? How can you feel powerful driving that car, or sexy travelling on that flight, or clever because you chose this brand, if there's nothing to fear?

Nike does this well, painting the consumer as both hero and villain. Their base, lazy-self doesn't want to wake up, to run, to push up that hill. Can their strong, inner hero win out? Yes, they can. Likewise, the anti-bank narrative taken up by new financial technology (fintech) companies often paint themselves as 'Jack' characters going up against fearsome 'Giants'. A traditional story becomes a strategy rooted in the potential to conquer fear.

By identifying what seems scary, the opportunity to expose ways to overcome the monster emerges. This encourages people to believe in the story, to come to their own conclusions and hopefully align their opinions with that of the brand. Since they value this self-made deduction more than those shoved down their throats, the business' story then becomes their story. Loyalty is created. A reputation with consumers established.

Crucially different from the fear inspired by some political propaganda or scaremongering, it's important to note that this kind of fear is also distinct from manipulation. Using fear is not a way of coercing consumers into falling for a web of lies.  It is, however, a means of a business connecting on a human level with the people it needs to connect with and a way of cohering a brand with both left-brain ideas and right-brain emotions.

So whether it's by tapping into the fear of missing out, the reality of heart disease, the creepiness of unseen germs, or just the Very Dangerous World – businesses need to really start thinking about what people fear and what story they want to tell in the age of anxiety.

How to Rebuild Trust in Your Tech Brand

Scandal, scandal, scandal. Security breaches, data hoarding and ethical ambiguity – if the likes of Apple, Snapchat and Sony are anything to go by in terms of trust in technology, they certainly didn't do SMEs and entrepreneurs any favours in 2014.

Last week, a report highlighted that Brits' trust in technology had substantially dipped in the last year. Consumer electronics and telecoms, in particular, both took a tumble, and now, as other countries enthusiastically steam ahead with innovation, Brits' trust (or lack thereof) in tech is significantly impeding our progression towards a connected future.

So what can tech companies do to reassure British consumers? Here are our top three tips to inspire, maintain, or, in some cases, rebuild trust in your tech brand.

Data and Security

After numerous high profile data hacks and security breaches in 2014, consumers are understandably concerned about how their details are mined, managed and manipulated. For tech brands, ensuring you are plain and transparent with your use, storage and trading of data is vital to allay the fears stoked by these incidents and strengthen that all-important consumer trust.

Only a couple of months ago, MPs on the Commons Science and Technology Select Committee were compelled to call for new guidelines for apps and websites, requiring them to explain clearly their use of personal data. Increasingly, regulation is making it difficult for technology to evolve, so instead of waiting for more guidelines and possibly laws to be introduced, why not prove to society that tech brands can be responsible, transparent and effectively self-regulate? As Andrew Miller, chair of the committee, noted: "Socially responsible companies wouldn't want to bamboozle their users".

Quality and Safety

Technology as a topic can often seem inaccessible – after all, there's a lot of jargon and few people understand how software and hardware is actually built. So when there are rapid developments, it almost appears too good to be true, leaving some sceptical and mistrusting consumers questioning the validity of research and the quality of the design of a product.

In fact, nearly half of UK consumers believe that innovation is happening too quickly – but then, it's not in the best interests of tech developers to slam on the brakes. Instead, it's vital that tech companies address these concerns directly, by allowing people to trial and test their capabilities. Demonstrating quality by offering your product for high profile reviews is a good way of gaining advocacy from trusted, independent parties.

Positioning your company as experts in a relevant field – through thought leadership pieces and interviews – will also reassure consumers that the same intelligence and conscientiousness has been baked into your product or service.

Purpose

Perhaps one of the most surprising snippets to come out of the mammoth Consumer Electronics Show 2015 earlier this month was an admission from Gary Shapiro, CEO of the event. He acknowledged that over-reliance on digital products is a "Natural trend that people are talking about", and that he believes in the good of "everything, in reason."

A digital detox, it seems, may well be on the horizon – and tech companies must be prepared. Consumers mistrust products and brands that serve no true purpose, or that bombard them with so many that they can't discern what the product is really for. So decide what problem you want to solve and where your niche lies, instead of trying to be a jack-of-all-trades. Less is more – or, in the immortal words of Coco Chanel, "before you leave the house, look in the mirror and remove one accessory."

In your communications, tech brands should ensure that the value your product adds to the market is conveyed clearly and consistently. If consumers can see how your product will save them time, bring them new information or simply entertain them, trust in your brand will strengthen. That one must-have feature of your offering should shine through: purpose over puff.

As we move forward into 2015, it seems that innovation is no longer enough. Trust in your tech brand must be built upon a foundation of transparency, independent advocacy and clear communications – only then will Brits embrace the advances you have nurtured. How will trust in your brand fare this year?