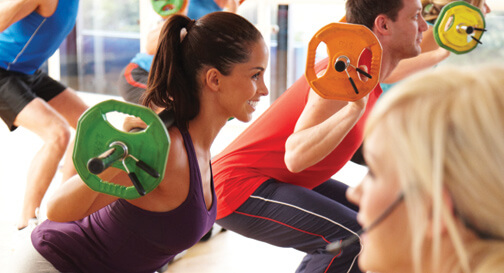 Following a very over-indulgent Christmas and the horror of discovering that my new dress, brought especially for New Year, no longer fitted, I decided that it was time to join a gym. So, along with everyone else, I jumped on the 'New Year, new you' bandwagon and joined my local fitness centre.
This wouldn't be the first time I have joined a gym; there have been many memberships over the years, which usually begin in January and end in March when, rather than face the shame of cancelling my gym membership, I cancel my direct debit instead.
I realised that the reason for this is that when it comes to fitness I am not very self-motivated. If I am left to my own devices on the gym floor you can count on the fact that after a very leisurely walk on the running machine and a slow cycle on the exercise bike I will probably slope off to the spa via the vending machine.
So this year I decided that it would be best to leave the gym floor alone and participate in classes instead, where I can count on a gym instructor to keep me moving and push me to my physical limits.
The first class on my list was Body Sculpt which, according to the timetable, will tone, shape and condition the whole body with the use of resistance training and weights – sounded good!
I arrived at the class fresh-faced at 10am in the morning to find the studio set up with an aerobic step, barbells and yoga mats. Unfortunately for me though, the early birds had already taken the places set out with the lighter weights which left me with the same weights as the uber-fit male gym instructor – gulp!
The class consisted of non-stop toning exercises that worked parts of my body that I didn't know existed. Squats, planks, bench presses and lunges were all part of the routine with the added element of 10kg on your back.
The instructor was brilliant at keeping the group motivated and engaged and would pull you through each exercise by shouting out how amazing each part of your body was going to look afterwards.
By the end of the class, my body ached, which according to the instructor is the sign of a good work out, and I felt energised for the rest of the day. I can definitely say that I will be incorporating this class into my weekly gym schedule from now on.
Our verdict: Body Sculpt is an enjoyable, fun, yet challenging work out that generates great results over a short period of time. A great class to get you in shape for your summer holiday!
Our Score: 8/10