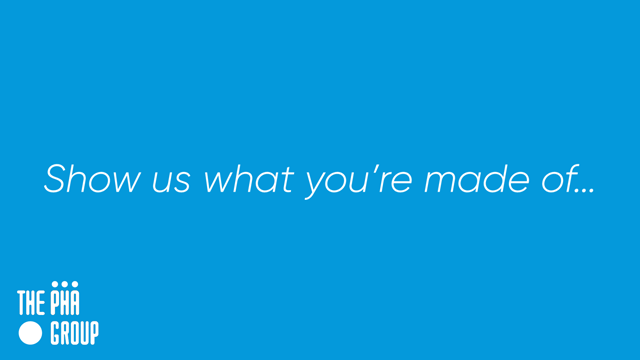 Terms & Conditions for The PHA Group employee initiative: Show us what you're made of
Entry is open to permanent employees at The PHA Group only.
Any individuals whose employment terminates or are working their notice during the period the competition is live will be unable to participate in the competition. No redemption of prizes may occur once notice is given of termination of a person's employment. In addition, if a person has already received part or all their prize in advance (for example in exchange for flights) The PHA Group reserves the right to reclaim the amount advanced directly from payroll.
Employees whose pledges are incomplete by 1st December 2018 will be unable to win a prize.
All entrants to the competition will be asked to provide evidence that their pledges have been completed.
First prize is two economy class flights up to the value of £2,000 (total for both tickets) and an additional prize of £500 for spending money. Payment of the flights will be made directly by The PHA Group accounts team. Spending money will be reimbursed within 7 days of the provision of fully itemised receipts.
Should the winner decide to travel to Mustique and stay at Mandalay for 7 days, then up to £2,500 can be spent on flights, with any residual balance available for spending money. Food and drink consumed within the Mandalay property (only), will be provided free of charge.
Return flights must be booked within a 14-day period and are subject to the standard employee holiday booking process.
It is a requirement of the competition that anyone travelling through redeeming their prize, including their companion, must have valid travel insurance in place. The PHA Group does not accept any responsibility for any loss or injury either personal or to property that occurs as a result of redeeming a prize.
Second prize will be an overnight stay for two people at any UK hotel plus dinner up to the total value of £400. Payment will be made via BACS within 7 days of the provision of fully itemised receipts.
Third prize is dinner for two at a London based restaurant up to the value of £150. Payment will be made via BACS and within 7 days of the provision of itemised receipts.
The prizes are as stated, are not transferable to another individual and no cash or other alternatives will be offered.
The winners are responsible for expenses and arrangements not specifically included in the prizes, including any necessary travel arrangements (including accommodation & additional flights), sustenance, documents, insurances, passports and visas.
The PHA Group reserve the right to amend or alter the terms of the campaign at any time and reject entries from entrants not entering the spirit of the competition.
In the event of a prize being unavailable, The PHA Group reserves the right to offer an alternative prize of equal or greater value.
Unless stated otherwise the winners will be selected from a shortlist by an independent panel. The shortlist of 10 (and ties) will be decided upon by a companywide vote open to all employees of The PHA Group. (Those able to vote will be subject to the same rules as point 2 above)
The three winners will be announced at the 2018 PHA Group Christmas party in December, exact date TBC.
All prizes must be redeemed and completed by 31st October 2019, 9 months after the winners are announced
The decision of the independent panel is final based on the criteria set out in the campaign and no correspondence will be entered over this decision.
Hayley
Marketing,Senior Leadership
Hayley has over seven years' experience working with SME's and international businesses and brands across multiple sectors including; PR, healthcare, recruitment, education, FMCG and music. Hayley is a highly motivated, experienced marketing and communications professional, with a proven track record of developing and leading marketing strategies and campaigns. She has demonstrated success by driving business growth in target markets, implementing key activities and heading up projects. Hayley specialises in digital marketing with a real passion for SEO, programmatic and PPC advertising.