As you've probably heard, FIFA is in a bit of a state. However, amid the corruption and scandals, there has been one gem of positive news to emerge in the past few days, women teams will be included in FIFA 16!
This autumn, gamers will be able to play as 12 international female teams. This is just the beginning too with a wide collection of player's stats being collated as we speak. Domestic leagues are not far away.
[ca href="https://thephagroup.com/wp-content/uploads/2015/06/Ellen_White_and_Steph_Houghton_cropped.jpg" target="_blank" rel="noopener">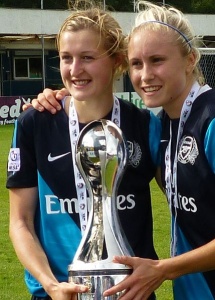 Soon gamers will be able to play as Ellen White and Steph Houghton.[/caption]
The first question on many people's lips is why has this taken so long? One simple answer would be to suggest the gross institutionalised misogynism at FIFA and other national governing bodies.  This would be fairly accurate, considering FIFA's soon to be dethroned president Sepp Blatter has suggested women's football would be more popular if they wore shorter skirts.
Even in the UK, it's not been too long since Andy Gray's dismissal for making offside jokes at the expense of a female official. At first glance, it would be easy to suggest the sport will only succeed once the sport is taken seriously and this isn't untrue. The first step is to give women every opportunity that the male version has and that's where the problem has arisen.
The sport at present fails to draw the crowds of men's matches. This results in a lack of sponsorship, TV rights and funding. Without the funding, the majority of female footballers can only ever become semi-pro and thus cannot reach their potential. In perspective, most conference teams (5th Division) are fully professional. Without this funding, awareness of the sport cannot be raised and therefore women will continue to struggle to balance a full-time job with their footballing career.
Although it's early stages, the FIFA inclusion has the potential to be one of the best things to happen to the women's football. People have downplayed how significant the addition is, which is a mistake. At present, FIFA is one of biggest sport franchises on the planet, shifting 2.6 million copies in the UK last year alone. These gamers are ready-made football fans, no conversion from another sport needed. All they need is a push the right direction. With the introduction of just a few teams, each team will gain a colossal boost in awareness from the regular gamers. Once they find favourite players amongst the teams (and they will), the demand for television rights and match tickets are certain to rocket. The time is now to invest.
The sport has already gone a long way in the past few years. Since their impressive Olympic performances the women's team, led by Manchester City's captain Steph Houghton, the sport has never been more popular. With additional exposure, the brand of women's football is set to increase phenomenally, with the potential to grow even more when the domestic leagues are introduced.