About us
The key to happiness and success at work is enjoying coming to work for an exciting company that offers incredible opportunities to hard-working, passionate, results-driven people.
Our culture and people are what make The PHA Group a great place to work. We are a collaborative and innovative team where everyone is unique and valued for their individuality. If you are looking for a work environment where you'll never stop learning and no two days are ever the same, get in touch! We are looking for vibrant people who deliver. Simple.
About the role
We are currently looking for an Account Director to join our growing Technology & Innovation team, which is part of our Enterprise Division. T&I has grown rapidly over the last few years thanks to its talented and motivated people who strive to deliver impressive coverage while enjoying a work/life balance to rival any in the industry.
Our growing portfolio of exciting clients ranges from globally recognised consumer apps and gadgets to start-up disruptors at the cutting edge of their sectors. We speak every week with the leaders behind these businesses to build their brand's profiles as well as their own. Team members at every level are client-facing and encouraged to come up with ideas to add value.
The ideal candidate will primarily have extensive experience working with B2B and B2C technology brands and will preferably have experience in growing clients & managing teams. They will have a broad knowledge of pertinent tech trends and identify PR opportunities within these spaces.
Role responsibilities
Client responsibilities
Lead client management and administration of accounts, including budget development and management, invoices/payments, reporting, contract management, record keeping and filing.
Ownership of relationships with clients, discussing issues outside of the day to day account management and sourcing broader opportunities through their networks
Strong writing, editing and commissioning skills
Business development
Lead new business efforts and continually identify areas for business expansion
Develop and maintain a strong personal pipeline for your team
Continual improvement of new business collateral
Execute effective campaigns that bring in leads, working closely with the Marketing team
Source and attend networking opportunities to develop new business contacts
Commercial responsibilities
Significant contribution to team's new business strategy
Record higher-level commercial results month to month, maintaining awareness of stance in relation to targets and where improvement is needed
Planning for renewal well in advance of contract expiry
Work with account teams to drive upsells and new areas of income
Team management (where relevant)
Lead and motivate team who support your contribution to the company
Provision of support and feedback, aiming to develop individual career plans
Oversight of delivery of work and client relations
Upward management to ensure the smooth running of accounts and flag issues immediately
Make recommendations to Head of Department for any investment required and consider internal collaborations
Wider company responsibilities
Ensure that you are presenting yourself and PHA in the best possible way, by contributing to the industry through article features, blogs, public speaking, events and networking wherever possible.
Develop a broader role across the company where you can share knowledge
What you get
We offer a variety of performance incentives, a comprehensive training and development plan as well as a diverse benefits package to ensure that you are rewarded as highly as possible. We can provide more detail on this when we meet although, put simply, we believe in recognising, encouraging and rewarding talent.
The team
PHA people have a real love and genuine passion for the world of communications, are driven by results and are hugely successful. We think creatively in order to differentiate ourselves, develop new approaches and deliver an outstanding level of service to all. Our success is driven by the commitment, work ethic and exceptional communication and creative skills of our team.
If you'd like to be part of the PHA family, we would love for you to get in touch. You can send your CV to rubyK@thephagroup.com, or call 0203 8487 131.
Hours: Hours will be 8:30am to 5:30pm Monday to Thursday and 8:30am to 4pm on Friday.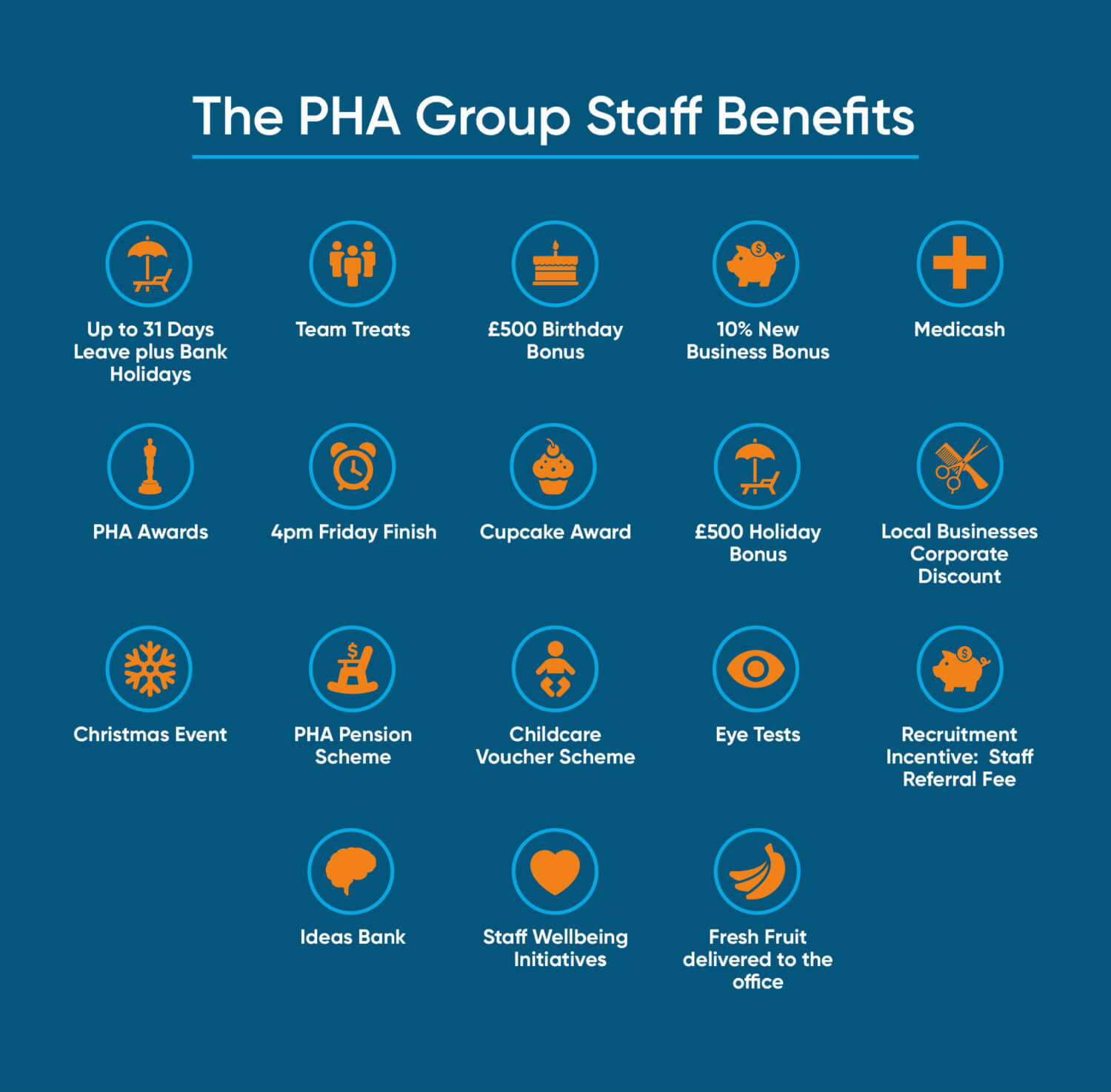 Job description
If you would like a copy of the job description, we will send it straight to your email.