About us
The key to happiness and success at work is enjoying coming to work for an exciting company that offers incredible opportunities to hard-working, passionate, results-driven people.
Our culture and people are what make The PHA Group a great place to work. We are a collaborative and innovative team where everyone is unique and valued for their individuality. If you are looking for a work environment where you'll never stop learning and no two days are ever the same, get in touch! We are looking for vibrant people who deliver. Simple.
About the role
Working with authority and professionalism, the Digital Designer will work with the marketing team and social media team to ensure high quality digital design work.
Developing an agency's digital design capability through leadership and inventive concepts, the aim is to set both online and offline campaigns apart from those of competitors. The fullest understanding of graphic design, typography and digital standards is as essential as the experience to execute projects of all sizes and complete them with resourcefulness and dedication.
Knowledge of these software packages and languages is imperative:
InDesign
Illustrator
Photoshop
Video editing software
HTML Coding
CSS
A designer is an important contact point in an agency, so they can expect to be offering advice and sharing knowledge with colleagues.
Typical activities
The specific details of a Digital Designer's role do vary, but common activities include:
Staying up to date with industry trends
Key role in ensuring brand consistency across our new business function
Producing the high-quality digital assets to support our social media and marketing team, for use on Instagram, Facebook, Twitter and LinkedIn
Forging and executing exciting digital ideas for both online and offline channels
Generating ideas and selling them into clients and other members of the team
Encouraging others to share and explore their ideas
Educating team members and the wider agency on latest trends and new ideas
Delegating tasks and providing support for less senior members of the team
Maintaining high standards and ensuring only the best work is released to the client and wider agency
Collaborating across the agency to drive up standards of digital creativity
Skills required

The Digital Designer needs a wide range of capabilities. These include:
Strong written and verbal communication skills
In-depth digital design capabilities
Familiarity with key social media platforms and their specification
Confidence to delegate tasks and provide constructive feedback
Significant industry experience
The ability to meet deadlines
Problem solving skills
The ability to think creatively and deliver clever concepts
The foresight to put themselves in the shoes of the user
Meticulous attention to detail
Significant graphic design experience
As well as attend meetings and briefings with clients and teammates, the Digital Designer will be based in an agile office environment.
What you get
We offer a variety of performance incentives, a comprehensive training and development plan as well as a diverse benefits package to ensure that you are rewarded as highly as possible. We can provide more detail on this when we meet although, put simply, we believe in recognising, encouraging and rewarding talent.
The team
PHA people have a real love and genuine passion for the world of communications, are driven by results and are hugely successful. We think creatively in order to differentiate ourselves, develop new approaches and deliver an outstanding level of service to all. Our success is driven by the commitment, work ethic and exceptional communication and creative skills of our team.
Hours: Hours will be 8:30am to 5:30pm Monday to Thursday and 8:30am to 4pm on Friday.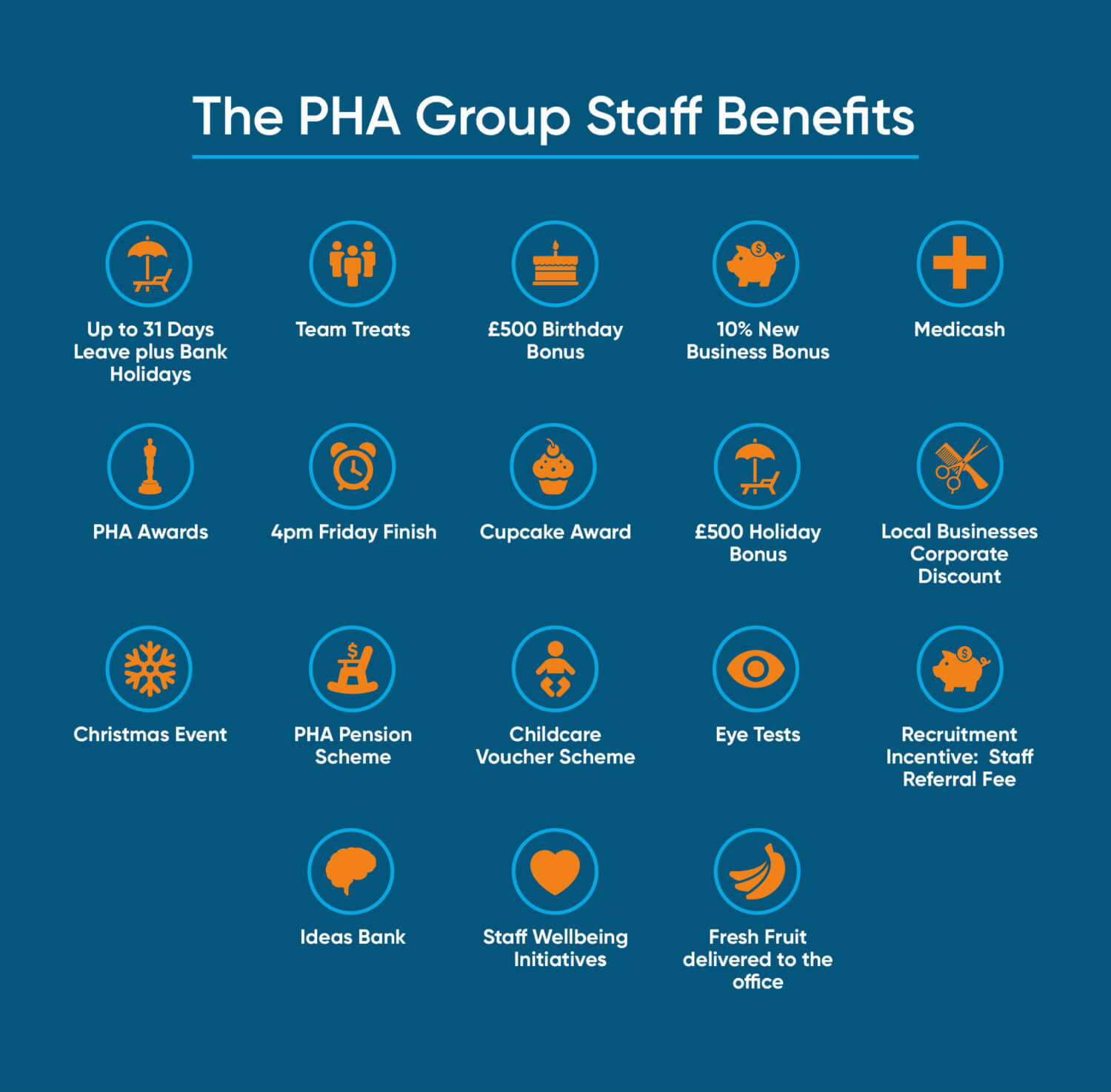 Job description
If you would like a copy of the job description, we will send it straight to your email.