About us
The key to happiness and success at work is enjoying coming to work for an exciting company that offers incredible opportunities to hard-working, passionate, results-driven people.
Our culture and people are what make The PHA Group a great place to work. We are a collaborative and innovative team where everyone is unique and valued for their individuality. If you are looking for a work environment where you'll never stop learning and no two days are ever the same, get in touch! We are looking for vibrant people who deliver. Simple.
About the role
The B2B Marketing Manager is responsible for leading and contributing to projects that drive revenue growth. The B2B Marketing Manager will report directly to the Head of Marketing and be responsible for the development and management of the B2B marketing strategy for several teams, the implementation of it and the results. This person will manage marketing efforts for brand position and awareness. They will manage lead generation, website development and content creation and new business collateral.Collaborate with the Head of Marketing and mentor a Senior Marketing Executive to execute the company's B2B marketing strategy (internal/external branding, lead generation, advertising, events, awards and digital marketing) in order to support the company's business objectives.Focus on acquiring new clients through the management of all online and offline marketing channels including, PPC, SEO, digital advertising, podcasts, content syndication, email, social media, lead nurturing, channel marketing and analytics.  Collaborate with a number of our team members and external vendors to increase marketing's contribution to revenue. This position requires a candidate with a blend of strategic, technical, creative, analytical and project management expertise.
What you will be doing
Oversee marketing lead generation for designated areas.
Provide both short and long-term market forecasts, reports and trends to assist business development in the acquisition of B2B clients.
Lead and ensure the consistency in the messaging, branding, content and look-and-feel of all internal and external communications and marketing materials — co-ordinating with the creative team, business development and the wider agency.
Perform industry and competitive analysis to inform the sales process and help positioning and messaging.
Perform ongoing tracking and reporting on B2B marketing initiatives.
Develop and execute B2B marketing plans that may include PPC, email campaigns, participation in industry conferences and events and website updates.
Desired skills and experience
Bachelor's Degree and 4+ years marketing experience required; a minimum of 2 years' experience in B2B marketing with proven ability to deliver consistently strong measurable results.
Proven track record managing marketing pipeline generation, including managing campaigns from concept to ROI analysis.
Google Analytics and Google Ad Word certified (desired).
Excellent communication skills – strong written and oral communication skills.
Strong analytical skills including experience reviewing performance results and making recommendations for future actions.
Be organised with the ability to meet deadlines and possess a strong attention to detail.
Excellent computer skills in MS Office including Word, Excel and PowerPoint.
Experience working with a CRM system, track and report on lead conversions.
Must be very comfortable with continuously changing opportunities and priorities.
Email, database and digital marketing experience a plus.
About you
We look forward to hearing from people who are excited about the prospect of joining one of the UK's fastest growing agencies. We are looking for individuals who can demonstrate energy and enthusiasm for any challenge they encounter, who are keen to be involved in a wide range of accounts, and who are looking to develop their career in an award winning, innovative PR agency. You should also be…
A team player
An exceptional communicator
A keen networker
Highly committed
Results driven
Tenacious
Self-motivated
Super organised
Passionate
Creative
What you get
This is a rare opportunity to join one of London's leading PR agencies, working with an exciting and diverse range of clients. We offer a variety of performance incentives, a comprehensive training and development plan as well as a diverse benefits package to ensure that you are rewarded as highly as possible. We can provide more detail on this when we meet although, put simply, we believe in recognising, encouraging and rewarding talent.
The team
PHA people have a real love and genuine passion for the media, are driven by results and are hugely successful. We think creatively in order to differentiate ourselves, develop new approaches and deliver an outstanding level of service to all. Our success is driven by the commitment, work ethic and exceptional communication skills of our team.
If you'd like to be part of the PHA family, we would love for you to get in touch. You can send your CV to Ruby, our Talent Acquisition Manager, on rubyk@thephagroup.com, or call her directly on 0203 8487 131 for more information.
Hours: Hours will be 8:30am to 5:30pm Monday to Thursday and 8:30am to 4pm on Friday.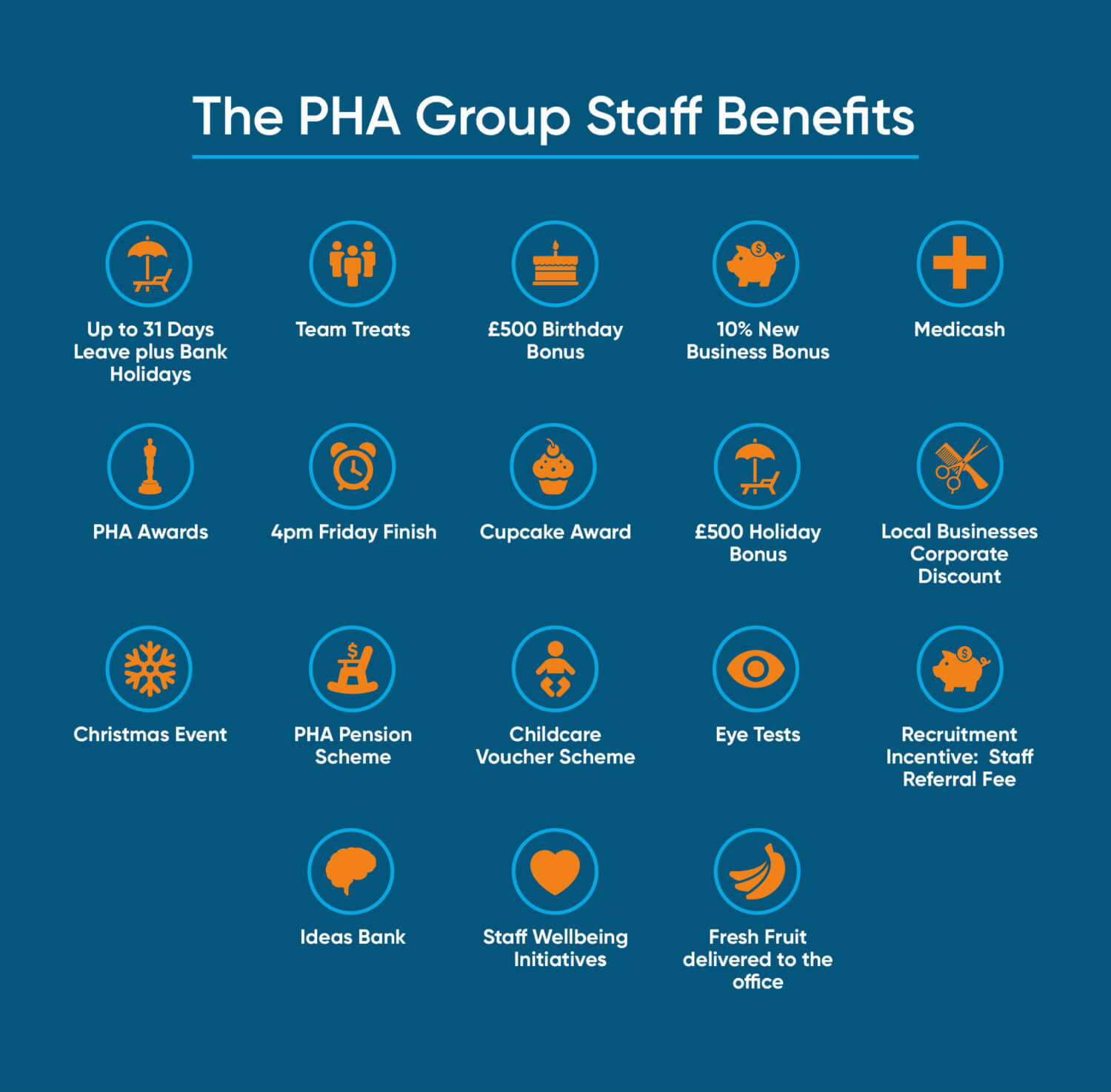 Job description
If you would like a copy of the job description, we will send it straight to your email.