4 healthy lunch spots to lure you away from your desk!  
Why not get out of the office this week, have a stroll and take your pick from one of the below healthy lunch options?
We've rounded up our top five all in varying distances from the office, enjoy!
1. Savage Salads–  Some days nothing hits the spot like a Savage Salad, now an institution on Berwick Street market, this tiny market stall serves up their famous salads with interchangeable seasonal extras.
Expect: a big queue if you go at peak time but it's always worth the wait
We recommend: Halloumi and Chicken with extra dressing!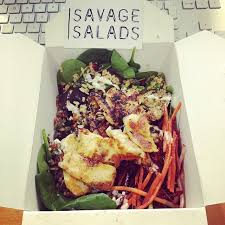 2. Vantra– This hidden gem used to be on Wardour Street and moved to Tottenham Court Road a couple of years ago. The food is just as delicious as when it was on our doorstep and once inside you'll feel miles away from the hustle and bustle of Central London.
Expect: veggie and vegan dhals, curries, delicious salads, juices, Chai lattes and guilt-free cakes.
We recommend: the 'help yourself' box with choices from the delicious hot and cold options on offer… our fave is the mushroom stroganoff!
3. Veggie Pret – What started as a Pop Up on Broadwick St is now a permanent fixture. This is no doubt due to the fact it's heaving with customers every single day and the countless new options on offer! Why not grab a lunch here and go to Golden Square to eat outside?
Expect: All of the usual Pret yumminess but with a Vegan and Veggie spin.
We recommend: pretty much everything but the coconut milk coffees are pretty amazing as is the raw chocolate orange pot. On the savoury side, the olive tapenade and artichoke baguette is pretty amazing.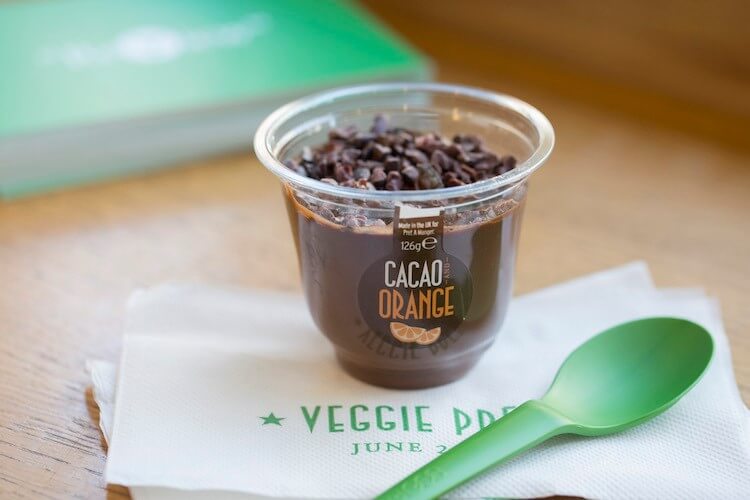 4. Wild Food Café, If you're feeling brave enough to venture out of Soho, head to Seven Dials for an array of delicious raw and vegan food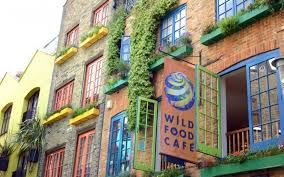 Expect: shared dining tables and amazing on the day specials
We recommend: the raw chocolate and berry tart- the picture says it all…