By Peter Jackson Eastwood & Emily Burditt.
It's the festive season, so what better way to celebrate than to forensically examine just how appalling Politicians Christmas Cards are? Welcome to the strange and wonderful world of political Christmas cards…
Nigel Evans MP – Christmas 2016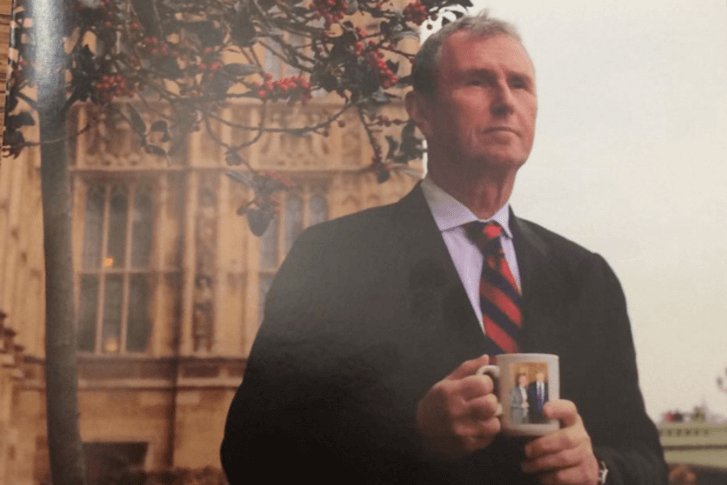 Come along now Mr Evans, you're not even Trump's favourite Nigel!
Everyone knows that Farage and Trumpy are already best mates, so maybe we can find Nigel Evans his own American friend – Mike Pence or Mitt Romney maybe? They seem like interesting chaps, and Ted Cruz could always use a chum as well…
Bonus point for the mug.
Stephen Harper (Former PM Canada) – Christmas 2010
'Season's greetings from our whole serial killing family' is probably not what the inside of this card says, but it should do.
Is there anything worse than one of these god-awful 'happy family' pictures? Everyone looks on edge. Pity the Harper children who were likely slaughtered in the playground for this one. Thankfully Canada is now blessed with the charismatic Justin Trudeau, a man so good at PR-ing himself that his wide-eyed tribute to the late, great, murderous Fidel Castro spawned an entire hashtag – #TrudeauEulogies
Fear not residents of Great Britain, the rest of the world's politicians are equally inept.
Peter Bone MP – Christmas 2015
Given Peter Bone's record in the House of Commons, I think we are all immensely grateful that his Christmas card does not feature Mrs Bone in some kind of compromised state. Small mercies.
Bone's expression epitomises how the whole country is now feeling over all this EU hullabaloo. Are we leaving? Are we staying? Are we staying in the single market? Are we retaining Freedom of movement? Are the courts in charge? Is parliament? Are you sure Michael Gove isn't a lizard-human hybrid?
Don't worry Peter, we all feel exactly as you look.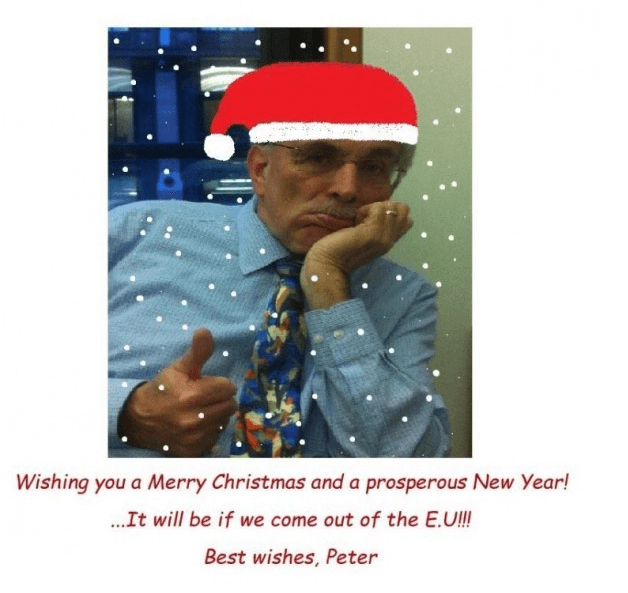 Jeremy Corbyn – Christmas 2016
This looks not dissimilar to the Dove logo, just with a red background instead of white. For that reason, let's call this 'Communist Dove'. And given the cracked, flaky nature of Corbyn's reign, he probably needs some political moisturiser to make his party a slicker machine.
So many beautiful political symmetries can be drawn from this shockingly bad Christmas card and last year's equally atrocious offering. Jeremy Corbyn has had an entire year to improve his Christmas card, but it has only gotten worse. Jeremy Corbyn has also had an entire year to improve his leadership of the Labour Party. Fill in the rest yourself.
Jeremy Corbyn unveils his Christmas card https://t.co/eDIiZYwBAr pic.twitter.com/zkQ0nBwxs3

— Steerpike (@MrSteerpike) December 12, 2016
Tony Blair, Christmas 2014
Things Tony Blair could be thinking in this photo:
'The Chilcott report is coming out soon'
'Ah, I left the oven on.'
'I'd better empty my Outbox in case Cherie sees that George and I are still talking.'
'I forgot to put X Factor on to record'
'Good God Ed Balls can move!'
Alex Salmond MSP – Christmas 2013
Alex Salmond doesn't really make sense to me as a human being, so it figures that I haven't the faintest clue what this is all about.
Perhaps it's a young Salmond in his job at the Post Office, championing independence William Wallace style in his free time.
Apparently it's actually a picture of the fourth wise man who turned up too late to see Jesus.
About as festive and cheery as Mr Salmond's popular demeanour.
Remember when Alex Salmond inexplicably selected this as his official first minister Christmas card? pic.twitter.com/VKDfbj5tdy

— Jamie Ross (@JamieRoss7) December 7, 2016
Nick Brown MP – Christmas 2015
Nick Brown has cracked it – George Osborne is a Sith Lord. Not only do we at PHA Public Affairs fully endorse Star Wars references, we endorse them especially enthusiastically in relation to our esteemed politicians.
As for what that means in relation to this card – George Osborne is surely Kylo Ren – young, widely disliked, following a path that is a mystery to everyone but himself and probably capable of betraying those closest to him with a lightsabre/austerity cut to the heart. And come to think of it, Maggie would make a passable Emperor Palpatine here… (We love you Maggie!)
Have a new contender for Parliamentary Christmas card of the year! pic.twitter.com/3D54Yxc1yY

— Wes Streeting MP (@wesstreeting) December 16, 2015
Godfrey Bloom (former UKIP MEP)
Most MEPs would be desperate to distance themselves from comments that were so controversial, he lost the UKIP whip.
But Godfrey Bloom isn't most MEPs; he is a UKIPper. Honestly, I've no idea whether this did Godfrey Bloom a tonne of damage with his voters, or a tonne of favours. Who knows what anything means anymore.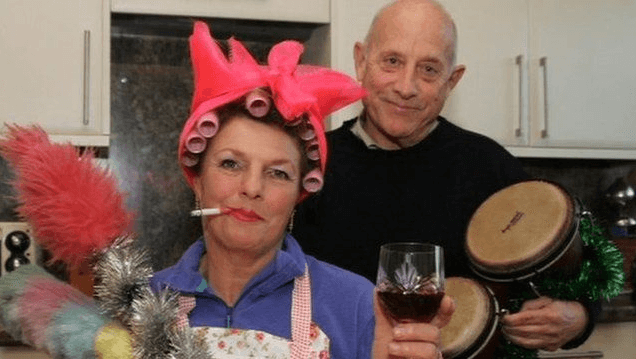 Home Affairs Select Committee 2015
Masterful. Not a single word of criticism for this, a delight.
Home Affairs Select Committee Christmas Card. pic.twitter.com/3xuJ0cdHGx

— Ed Davey (@EdDavey1) December 9, 2015
Home Affairs Select Committee 2013
The Home Affairs Select Committee clearly win the award for best cards.
Keith Vaz as Dumbledore. Theresa May as Bellatrix Lestrange. Julian Huppert as Harry Potter.
No more needs to be said.