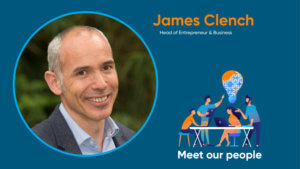 How did you find the transition from journalist to PR?
I was quite daunted at the prospect of changing industries having worked as a journalist for so many years. I had transferable skills – concise writing, news sense, developing contacts, working to deadlines, managing teams – but suspected I had a lot to learn. I was right about that! When I was a journalist, I understood part of the PR world but not the whole picture. I think the major concern for most PR agencies hiring former journalists is how they will form relationships with clients and how they will get to grips with the commercial aspects of the business. Both of those are elements of the job that I've enjoyed hugely. I do miss some aspects of my former industry – especially the buzz of a big breaking news story – but derive real satisfaction from helping clients navigate the media.
What attracted you to working in public relations?
A new challenge; a chance to develop new skills; seeing things from the other side of the fence; working in a more commercial environment; making use of a network built up over years; and a more flexible approach to working.
From your point of view, what does your journalism background add to the mix?
The most obvious added value is contacts. When I was a journalist, I never actively sought to build a network of fellow journalists. But having spent a year training at a good journalism college, nearly a decade reporting on general news, a year as a royal correspondent and five years in different news editing roles including head of news at The Sun, that network built itself.
Having an understanding of how the media works is helpful. An experienced ex journalist should know why a story is a story; what influences determine whether a story ends up as a splash or gets spiked; why it makes sense to pitch some stories exclusively and others all round; and why it might be sensible to pitch a story to land for the Tuesday after a Bank Holiday.  Ex journalists should have the ability to find the sweet spot where a client's message meets a journalist's interest.
Journalists need to develop a can-do attitude to survive in the media. Reporters are often given very difficult briefs to be achieved in very tight deadlines and must think on their feet. That's a good skill to have in most industries. News editors have to think strategically about a variety of issues: where to move reporters; how personalities might fit to particular stories; managing a big story over days or weeks; thinking about what rival media are doing. That strategic thinking sets you in good stead for running a PR team.
You head up our entrepreneur and business sector, what do you find most compelling about the clients you work with?
All of the clients I work with have been successful in business and it is fascinating to learn about their journey to the top. I remember being a trainee journalist and sitting in a seminar run by BBC sports journalist Rob Nothman. He boiled down the essence of interviewing sports stars by saying "You want to know what's going on in here… [bangs his fist on his heart]… and here [points to his head]." For me, the same is true of business leaders. I want to know what inspired them, what motivates them, how they keep going, how they inspire others. I want to know what is going on in the heart and in the head. And from there, my team can develop authentic personal profiles and get to the essence of the brand.
What do you think sets PHA's PR services apart from other agencies?
Media relations and crisis management are two service offerings where we have a great story to tell. We can speak directly with journalists and editors to put across our clients' viewpoint because of our longstanding relationships.
Our strength is also in our balance. Alongside ex journalists, we have exceptional leaders in the business who have worked at every level of PR at PHA and have developed a wealth of experience, ideas and industry knowledge. The culture of the agency means we all work together to get the best for clients. Our delivery level is phenomenal as a result.
What advice would you give a corporate organisation or business leader who is potentially looking for PR services?
Think carefully about what you want to achieve from PR. Is it brand awareness, protecting your reputation, building your personal profile as a leader… or all of the above? Being specific about your goals will lead to better results.
And when it comes to making a decision on hiring an agency, ask to meet all of the team who will work on your account. I'm always impressed by the depth of talent we have at PHA and I'm confident a potential client will have the same reaction.
If you would like to find out how PR can connect you with the right audience for your business then please get in touch with us today.