THE BIONIC FAMILY IS HERE
In the 1970s classic TV series The Six Million Dollar Man, Steve Austin became the world's first bionic man, with infrared eyes that could zoom and a whole array of other body enhancements.
While such imaginations were once merely the stuff of sci-fi fantasy, thanks to innovations in wearable tech the Bionic Man is a reality right now – well nearly.
While today's bionic man may not be able to run at speeds of 60mph or have arms the strength of bulldozers, innovations in wearable technology have created huge leaps forward in other areas. From rings that can detect your stress levels to cuffs that allow you to make video calls on your wrist – the modern bionic man is a truly multi-faceted creature.
To illustrate this, The PHA Group's Technology and Innovation team have identified and collated some of our favourite wearable technologies, which are bringing connected devices to our everyday lives.
Some of this technology enhances human capabilities, some saves lives and some merely entertain, but all are paving the way to a revolutionary bionic future.
The bionic office worker
Fed up of the daily grind of commuting to work? Getting to the office need never be a chore again with your own unique pair of Acton Rocket skates!
Bad back caused by years of sitting slouched in front of your computer screen? You can kiss your painful spine problems goodbye with your new magnetic posture corrector, the Lumo Lift.
Below we've pulled together some of the most exciting wearable tech products on the market aimed at making office life not only bearable but, dare we say it, fun!
Click the image below to see full size infographic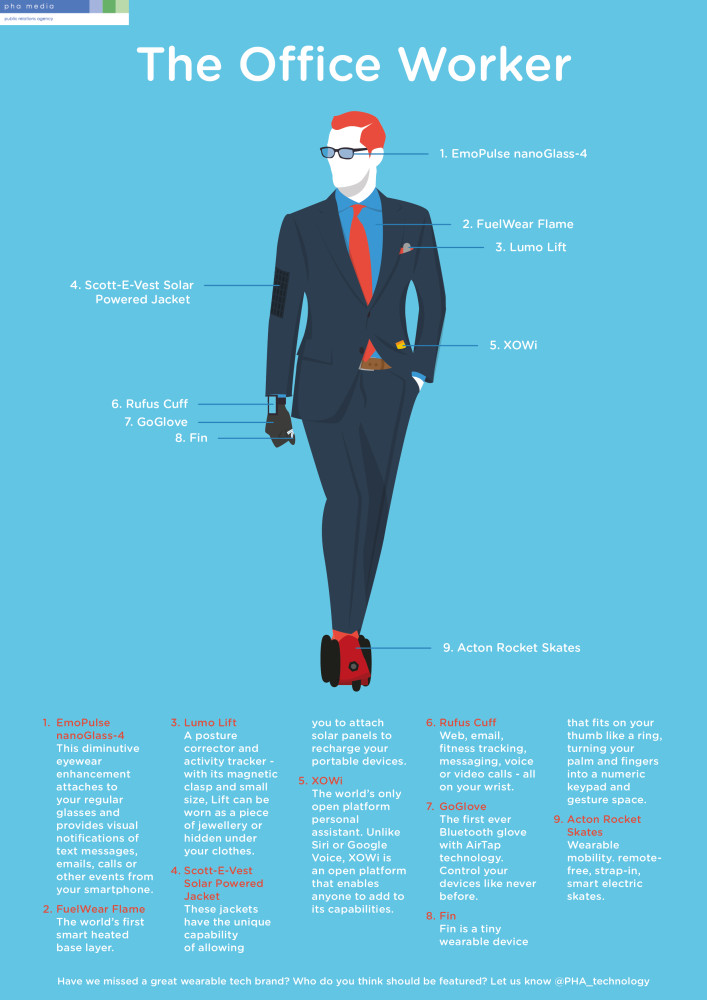 The bionic student
While in the past decades, the best portable entertainment students could hope for was a game of Snake on their Nokia 3210, the modern day student can do anything from immerse themselves in video games to diffusing stressful situations. They can even get their head around history thanks to apps such as Street Museum that bring the past to life!
Click the image below to see full size infographic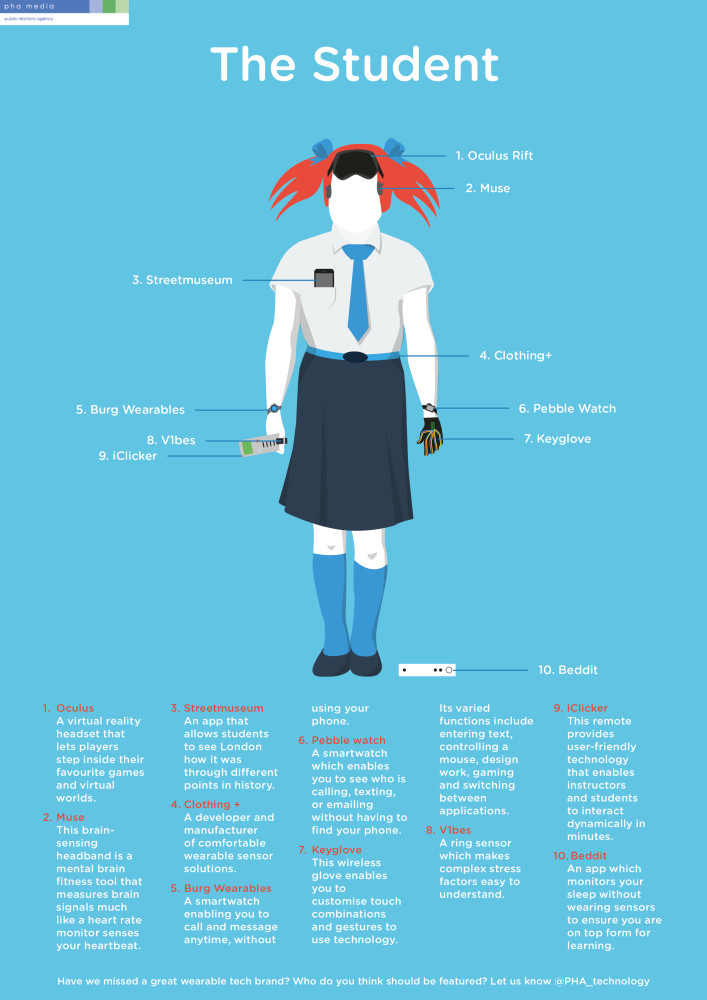 The bionic baby
Every parent knows that while having a baby is a wonderful experience it's tough… it can be really tough!
Thankfully, parenthood now has more help than ever with this range of helpful tech products, ranging from giving you the peace of mind that your baby is breathing, sleeping and eating. And if you are still worried about your baby's health you don't need to go to the doctor… just ask Teddy The Guardian.
Click the image below to see full size infographic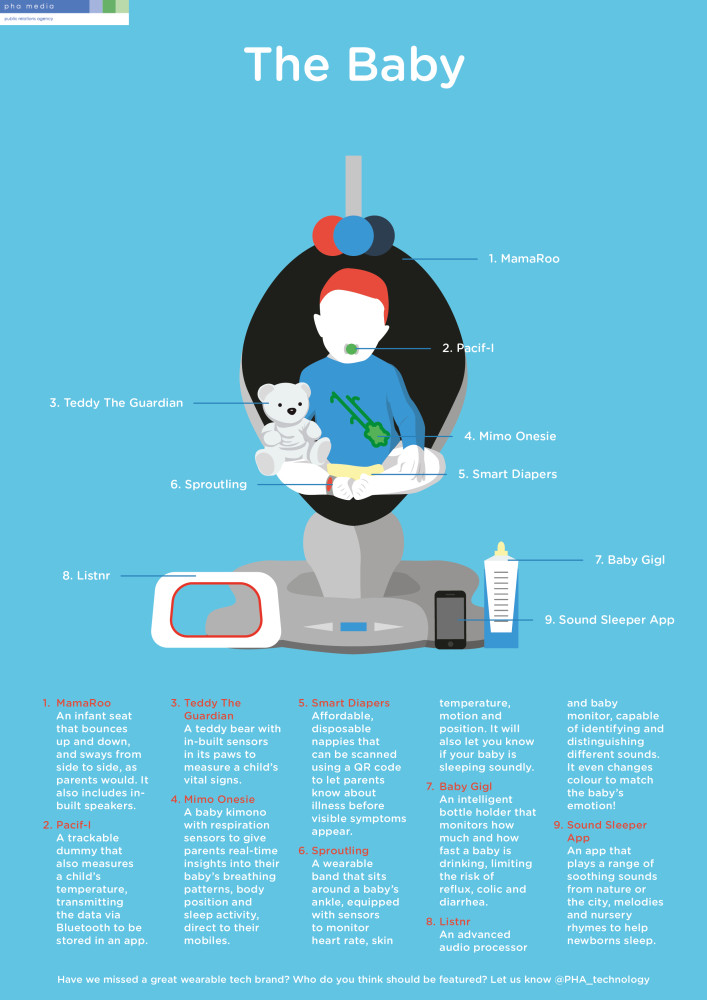 The bionic doctor
Wearable tech and tech in general is having a huge impact on medical science improving the lives of doctors, nurses and – most importantly – patients.
We've selected some of our favourite gadgets that could be making their way to an NHS practice near you, ranging from VisioMed's ThermoFlash to Lechal, the footwear designed to aid navigation for the visually impaired.
Click the image below to see full size infographic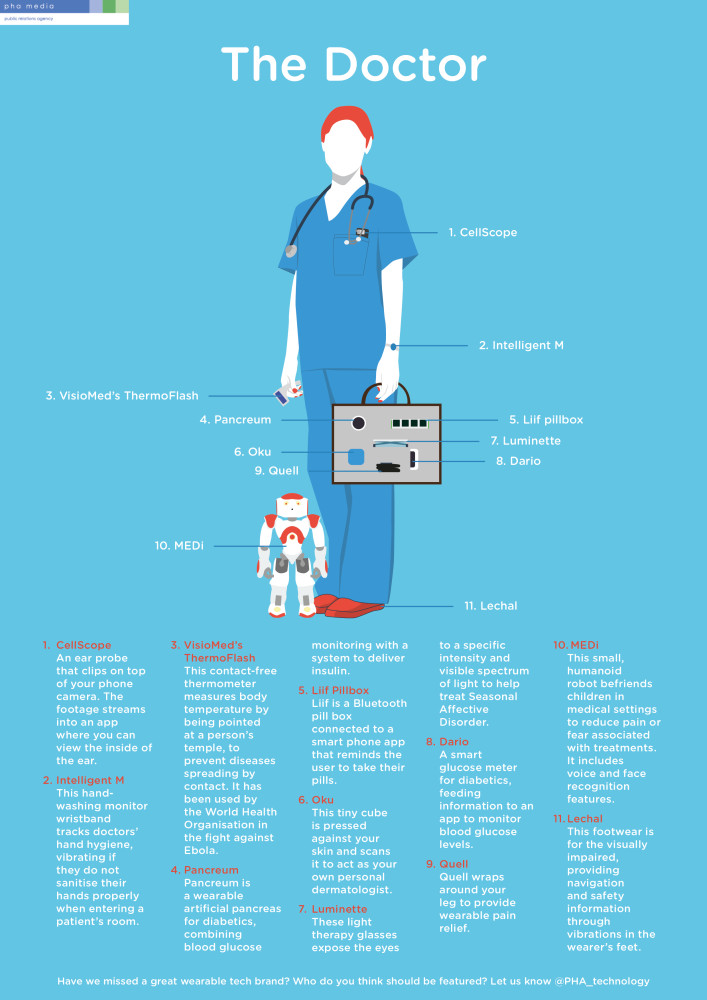 The Bionic Athlete
Whilst you'll still need to break a sweat whilst working out, recording the effectiveness of your workouts has never been easier. There is a plethora of gadgets on the market to help you measure your miles, count calories and record your reps. And whilst you snooze, a number of the devices are still hard at work tracking the quality of your sleep. There are also plenty of activity specific gadgets out there, including 'indicator' gloves for cyclists and 'smart socks' for runners.
Click the image below to see full size infographic