Written by
Eloise Emley
• Published 6th November 2017 • 4 minute read
Social Media has become a brilliant platform for fortifying your reputation both online and offline. More diverse, immersive and accessible than traditional marketing, it provides a level of authenticity which is often hard to capture. Each channel occupies a niche and offers a varied strategy for your developing your online reputation, brand values and identity.
The key point to remember is that you need to be interactive! Social is inherently social; make sure you're asking questions, interacting with people and encouraging a discussion. Ideally, you want to get people talking to you, with you and about you. Positioning yourself as a thought leader is invaluable in building confidence in your personal brand, and Social Media is one of the easiest ways in which to do this.
LinkedIn:
LinkedIn is perhaps the most obvious platform for building your reputation as a thought leader in your industry. After all, it was designed to build and expand your professional network and unite those with common interests. Joining and prompting relevant discussion on LinkedIn can be as simple as writing a post, but it certainly doesn't stop there.
You should join groups that are relevant to your industry, share articles on matters of importance to you, make real connections online and voice what makes you matter as an individual or a business. Jump on top of trending issues, like #PayInterns or Mental Health Day, make yourself seen. Social Media is all about storytelling, so tell yours!
LinkedIn also offers the ability to publish built-in blogs, which the algorithm will support so they generate further reach. Write one, publish it, and encourage people to ask you questions and discuss your ideas. As with everything on Social Media, the more people interact with your posts, the more often they'll your content, so you really want to push for that initial engagement that keeps them coming back for more!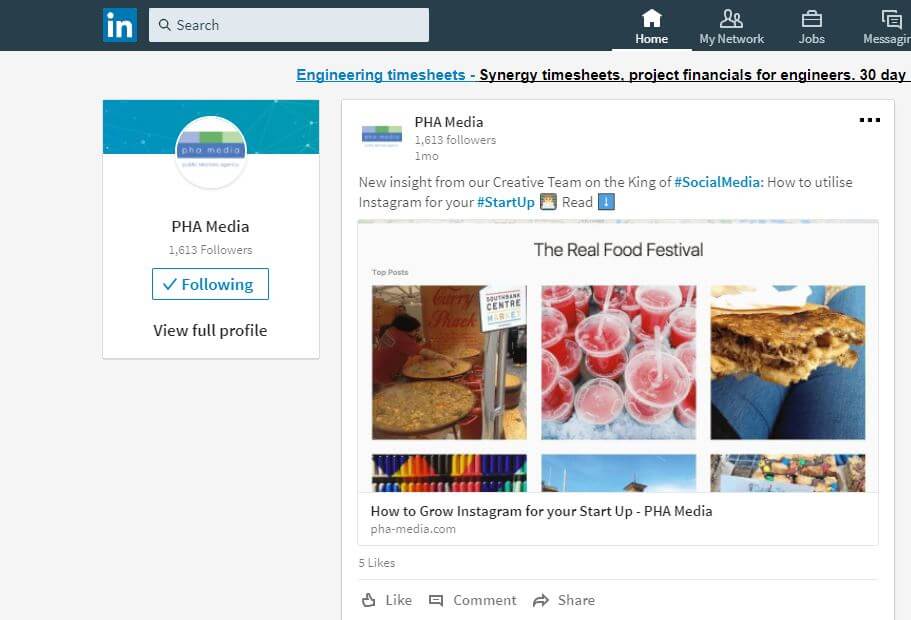 Instagram:
Instagram a great platform for the professional, as it allows you to showcase the aspects of your life that may feel ill-suited elsewhere. Instagram allows you to curate a broader understanding of, and personality around, your brand. This authentic and intimate insight is increasingly invaluable in the world of modern marketing.
When using Instagram, remember to use the whole toolbox! Use Instagram stories, and their ever-evolving features (link), add videos and boomerangs and try to be playful. In the same vein, remember that branded or explicitly commercial content won't sit well on Instagram, so be sure to show off your creative side.
The majority of my time this week

Twitter:

Twitter is often a first-stop for people joining the world of Social Media. As a news-driven platform, it offers the perfect opportunity for comment and discussion, both as a brand and an individual. When using Twitter, it's important to remember it functions on the basis of, 'look at that' NOT 'look at me'. Using Twitter to stay on top of industry agendas is a great way to prove your relevance.

Make sure you're following and interacting with existing influential leaders, and try to get your content in front of them. A key influencer retweeting your message can lead to a hugely expanded reach, engagements and followers.

Really interesting piece on the @HuffPost about 'The Confidence Gap' and how to reduce it! https://t.co/nmWpoc8Lqe

— Jacqueline Gold CBE (@Jacqueline_Gold) October 12, 2017

Facebook:

Facebook may not seem the most immediately relevant channel, but it holds value in its SEO potential, and in having a seamless visual identity and tone of voice across the web. Having these multiple touch points is helpful in keeping your messaging clear and consistent.

One stand out benefit of using Facebook is its sophisticated and intricate options for paid promotion. This is something worth investing in if you want to promote a cause or event, and may yield better results than many other platforms.

In terms of content on Facebook, it can be used to support content pushed out across other channels, and focus on longer form opinion pieces, such as blogs or videos.

Google Plus:

Lastly, there's Google Plus; this is a channel primarily used for its SEO value. By posting consistently and regularly to this channel, you can boost the SEO of you, and your brands, name in the search engine. You can use your usual content here, host in-site blogs and regularly link out to your website. Using Google Plus in this way which give your name credibility and visibility, assuming you post quality content regularly.

Social Media today hosts a plethora of tools to help you tell your story. It's a hugely varied space that is highly flexible to the individual or brand, and since it's now so pervasive, it's easy to get your message where and to who you want.

Do remember, Social Media is not a one-way street, and the first way to put people off is by being 'me me me'. Using your own content is fantastic and certainly recommended, but don't be afraid to share others' work. You can still demonstrate your value and knowledge by directing others to authoritative and illuminating content from across the web. This is also often a good way to continue to expand your network, just make sure you always credit appropriately.

Devise a strategy, find your tone of voice and get stuck in!

Online Reputation Management: Complete guide to your online brand