Top 10 crowdfunding platforms to raise investment
With the power of the digital age, crowdfunding has rapidly grown into a multi-million pound marketplace.  Thousands of start-ups and established companies of all sizes and genres are increasingly launching campaigns to raise investment for their business venture in an inexpensive and time efficient way. The dilemma however, is with so many different crowdfunding platforms, which one do you chose to raise investment for your business?
Below is a list of the top ten crowdfunding platforms in the industry based on levels of success.
1. Kickstarter

Founded: 2009
Background: Aiming to find a 'new way to fund and follow creativity', when Perry Chan launched Kickstarter there was probably little to suggest it would become the best-known crowdfunding website in the world. Its speedy global spread and now seen now over $1.4billion pledged to its projects using a patronage style rewards system. In 2014 alone, the platform brought 22,252 projects to fruition, and 3.3. million people from almost every country donated over half a billion dollars. That's $1,000 pledged per minute.
Success Story: Pebble, an early smartwatch, raised $10.3m from 68,929 backers in 2012. This made it one of the most popular kickstarter campaigns (in terms of raising money) and remains one of the most successful ever. It also proved that hardware ideas that had failed to float venture capital firms' boats could find another route to market. Pretty exciting for technologists across the world.
2. Crowdcube

Founded: 2011
Background: It might have begun as a start-up oriented, equity crowdfunding platform, but Crowdcube is now breaking records for investment in its projects. In July 2014, £1.2m was raised in just 16mins. As an ever equity platform, it gives people the chance to buy equity in the businesses on the site in exchange for investment. It now has expanded this offering to two different types of investment opportunity: equity (stake in a company) and mini-bonds (lending money).  They have now successfully funded £80,651,910 for 235 businesses through the support of 163,039 investors.
Success Story:  A great example of a successful Crowdcube campaign would be Zero Carbon Food – a business backed by celebrity chef Michel Roux Jr which utilises London's redundant underground spaces to produce leafy greens, herbs and micro greens. The campaign raised over £580k and won plaudits for being an innovative idea brought to life through a cohesive marketing campaign. Other notably successful Crowdcube campaigns include Cauli Rice and Fidel
3. Indiegogo

Founded: 2008   More than 300,000 people in 224 countries have launched campaigns on Indiegogo, the world's biggest crowdfunding site. These range from film and arts based campaigns, to young start-up businesses. Uncurated, just about anything that raises the funds can become a reality and you do not have to reach your target to keep what you raise. They've even crowdfunded a baby.
Success story: Indiegogo have dozens of highly successful campaigns. If you've not heard of Solar Roadways, you've probably been hiding under a rock. If you've yet to hear about Skully, the helmet revolutionizing motorcycle gear, then you really need to clue up. And if you've yet to hear about Code.org's Hour of Code campaign, which set a crowdfunding record for the most funds ever successfully raised on the site, then you really should have.
This gives me hope; I really want to see this happen: Solar FREAKIN' Roadways! @SolarRoadways https://t.co/VehBfE3X7r — Kim Cowan (@kim0512) June 21, 2014
4. LendInvest

Founded: 2008
LendInvest is a little bit different as it's the UK's first peer-to-peer lending platform specifically for residential and commercial mortgages. In this sense it's a very unique debt crowdfunding company, allowing investors to find and invest in new loans. Debuting on the London Stock Exchange in February 2015, its success is indicative of the maturation of the alternative finance sector. This is further suggested but its high growth rates, which suggest this year it could be lending up to £250m, with a turnover of more than £20m.
Success Story: Most recently, LendInvest completed £26m of bridging in March 2015, with a £700,000 bridging loan completed in just 72hours through Brightstar.
5. FundingCircle

Founded: 2010
Launched in the wake of the financial crash, Funding Circle is a peer-to-peer lender now valued at $1bn after filling in a market gap. It is a debt crowdfunder that allows small businesses new means of financing their projects. Consequently, more than £550m has been lent to UK businesses to date. Over $850m has been lent to 8,000 businesses globally. The average loan amount is £60,000 – though businesses can borrow up to £1m – and £35m is lent to small businesses every month.
Success Story: Perhaps after £45m being leant to small businesses in the property sector you would expect a great headline, but London-based property development company Medina Capital Investments epitomises this. The company has borrowed £890,000 from over 5,000 people through Funding Circle since September 2014 and are part of the way through the development they're working on in West London. They are expecting to complete the construction and sale of 2 family homes by March 2016.
6. Seedrs

Founded: 2012
Seedrs is similar to Funding Circle. It is a form of equity crowdfunding that specialises in investing in start-ups. It was the first platform to gain FCA approval, and at its most simple, it focuses on seed-stage businesses with investments starting at £10. As a platform it stands out for its support of start-ups throughout the funding stages, from preparation to completion. It also won the Great British Start Up Cup 2014, which was pretty exciting.
Success Story: Whilst Chapel Down, the award-winning English wine producer inevitably has to take the top spot for most successful campaign, raising £3.95m through Seedrs, it's also worth noting that Trillion Fund,  a crowd funding platform that raises money for environmental and social projects, is also one of their most exciting ventures.
7. Trillion Fund

Founded: 2011
As noted above, Trillion Fund was itself funded through £610,550 raised via crowd funding. When a group of developers, asset managers, energy boffins, tech geeks, journalists and campaigners who all want to enable people to do something important – but still profitable – with their money, you end up with something as pioneering as Trillion Fund. Called Trillion because this amount represents the scale of funding needed worldwide to prevent climate change reaching damaging levels, the platform focuses on raising money for environmental and social projects. It is Britain's biggest social crowdfunding platform and it has some pretty exclusive investors as well, with Vivienne Westwood holding a majority stake in the company.
Success Story:  Trillion Fund has a great track record for raising funds – Good Energy Bond raised £15m in 2013, and Downing LLP used it to generate a fund for further sustainable investment purposes. Of course, Triodos must also be mentioned. A UK company managed by Bristol-based Triodos Bank, it owns and operates 11 sites around the UK – 10 wind farms and a hydroelectric scheme – that can generate enough renewable power for more than 34,000 homes. It is significant for its appeal to such a vast array of investors – using Trillion Fund as a launch pad for shares set at £2.28 and a minimum investment of £50.
8. Unbound

Founded: 2010
Co-founder of QI John Mitchinson, joined forces with two other writers to launch Unbound, a digital publishing platform that uses crowdfunding to allow members of the public to fund and influence authors' works at the point of creation. One of the first in the UK to try this format for a publishing house, it lets authors pitch to their potential readers but relies on book lovers to provide the finances for publication. It has already published over fifty books. Similar platforms for publishing have included Readership and Pubslush.
Success Story:  The Wake by Paul Kingsnorth has been longlisted for the Man Booker Prize 2014. Considered the UK's most prestigious literary award (sorry Folio), the Man Booker included The Wake despite the fact that it is written in a form of English that occupies a middle ground between the Old English that would have been spoken by these characters and the English we speak today. The result is a book which is written in a tongue that no one has ever spoken, but which is intended to project a ghost image of the speech patterns of a long-dead land: a place at once alien and familiar.
'Rinse, Spin, Repeat', a graphic novel about surviving a tsunami, is 80% funded on @unbounders https://t.co/5QjaOjONLL pic.twitter.com/2fP9taUwHX — I'veReadThat (@IveReadThat) April 23, 2015
9. Zopa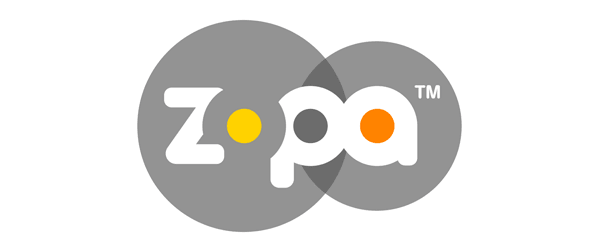 Founded: 2005
Ten years old in March 2015, Zopa is on the fast track to alternative success. Based in London, the platform is a debt crowdfunder that offers a diverse but secure range of lending and borrowing options. The world's oldest and Europe's biggest peer-to-peer lending service matches people looking to borrow money with those who have the money to lend. At the beginning of 2015, it had almost doubled its revenues and plans to lend £550m in the next twelve months.
Success Story: CEO Giles Andrews has said that Zopa's "biggest success in the first couple of years we were in business was in building a risk function that dramatically outperformed." It was a brilliant form of risk management that meant they could outlast the financial crash. However, the fact that it is now muscling in on banking territory has to be lauded as well.
10. Angel List
Founded: 2010
Occasional described as the 'Patron Saint of Equity Crowdfunding', The Angel List platform is exclusively for startups and angel investors – affluent individuals who provide capital in exchange for convertible debt or ownership equity. Since launch, it has supported 2,500 companies, raised $250 million in funds "via" AngelList (this number is 100% verifiable through the platform and may be a little light) and has 30,000 accredited investors in their network. In 2015, it launched its UK syndicate counterpart. Whilst this UK branch has been hindered by EU regulations, the company is still making a major impact as both an equity and debt platform. Angel's Den is a similar UK-based crowdfunder, although this platform also accepts donations and allows investment in any-stage businesses.
Success Story: Uber. Did you see that one coming? Uber initially raised $200,000 through Angel List in 2009. In 2010, it then raised $1,250,000. By the time it went for C Series funding, Google Ventures and Benchmark were investing on the platform – raising $258,000,000 in 2013 and a following $1,200,000,000 in June 2014. The company is now global and despite controversies across the world, continues to grow.