Top Tips from One of the UK's Leading Charity PR Professionals; Sarah Brody
In today's vibrant media landscape, it can sometimes be difficult to cut through the noise and make sure that your Charity PR campaign achieves the mainstream media coverage that it deserves.
Depending on the strategy for your campaign, there can often also be the added pressure of hooking your activity onto a specific calendar date – making it even more important to ensure that you are commandeering the news agenda for a very specific window of time.
To help provide some insider tips and tricks on how to make sure that your charity campaign really makes a 'big bang' within the mainstream media, we've enlisted the help of SSAFA, the Armed Forces charity's Head of PR – Sarah Brody.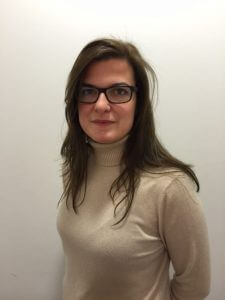 Here, Sarah has broken down the key factors which she believes provide an organisation with the best chance to hijack the news agenda around their campaigns – using SSAFA's very own 'Left Behind' campaign as an illustrative example.
Sarah Brody – Head of PR, SSAFA.
"To mark the one year anniversary of UK combat troops withdrawing from Afghanistan, we decided to raise awareness of the ongoing difficulties faced by those who had lost a loved one during the conflict. From this initial idea, we launched the 'Left Behind' campaign, a joint team effort between The PHA Group, and my in-house team at SSAFA. Below, I have highlighted five key factors which I believe led to the success of this campaign and helped us to ensure that the Left Behind became completely synonymous with the Afghanistan withdrawal anniversary across the media."
"Before embarking on any large scale campaign activity for your charity, it is important to look for a news hook in a bid to encourage the media to cover your chosen topic.
This is particularly important for charities who specialise in niche areas of work, so if you want your campaign to have a serious impact on a national scale and dominate the media landscape, then you need to provide as many reasons as possible for the mass media to engage with you.
One of the primary objectives of Left Behind was to create talk-ability around SSAFA's Bereaved Family Support Groups however, we recognised that this topic is not something necessarily relevant to the average member of the British public. We did our research and identified the one year anniversary of UK combat troops withdrawing from Afghanistan as the ideal hook to take the topic to the mainstream."
"If you are hooking your campaign to a particular calendar date, as we did, then it is also important to monitor what else is scheduled to be released or launched on the same day so that you are as prepared as you possibly can be for any stories which could have an impact on the amount of media attention that your campaign receives. Of course it is impossible to predict what news stories will break on the day and 'scupper' your opportunities for coverage however, you can definitely minimise the risk of this happening by doing some extra research and looking ahead. Services such as Foresight News are great for helping with this."
Make sure your campaign assets… are an asset!
"In order to give yourself the best chance of really dominating the media space with a charity campaign, the creation of innovative and unique campaign assets is essential.
When planning Left Behind, as a relatively unknown charity to those outside of the military sector we knew that hard hitting and emotive material was going to be imperative.  As a result, we carefully planned each element of our activity to ensure that our assets were spot on.
For us, it was about the emotional impact – so we worked with a leading war artist to create a series of stirring, unique images, commissioned an incredibly moving video using bereaved families supported by SSAFA, and shared powerful case study s
tories with both regional and national media. These primary assets formed the basis of our campaign, and ensured that we had plenty of exclusive content to share with contacts across the media spectrum."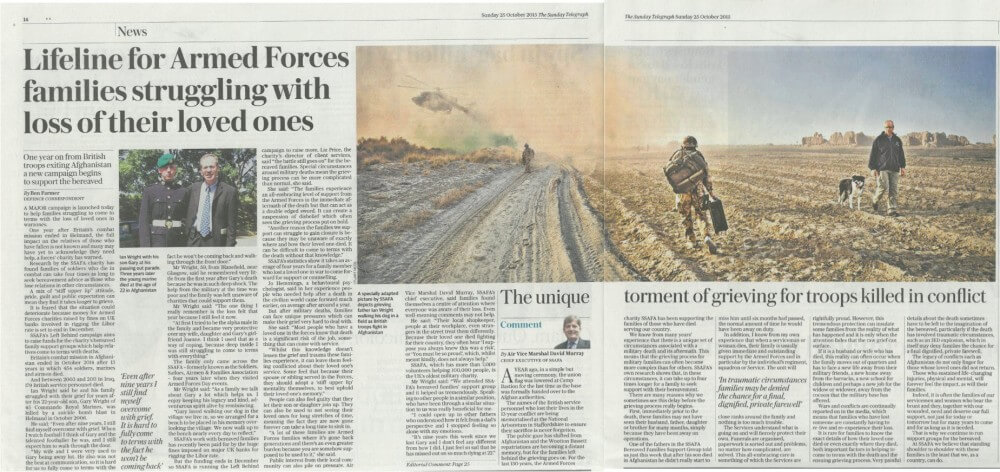 "It sounds obvious, but if you have a big campaign in the works, speaking to your journalist contacts in advance to see what they think of your ideas can be a really smart move.
In order to dominate the news agenda, you need all your contacts to back your campaign, so teeing them up in advance and gaining their feedback whilst you are still in the planning stages is only going to be an advantage for you."
Utilise your spokespeople
"Having media trained, well briefed spokespeople on hand throughout your campaign is a great way to secure further coverage and can also open the door to bigger broadcast opportunities.
If you are planning to put forward a spokesperson for a comment opportunity, pre-record, or live broadcast interview make sure that they have been suitably briefed on the campaign and are able to clearly relay the key messages/call to action which you want to get across.
For our Left Behind campaign we were fortunate to have not only our Director of Client Services, Liz Price, on hand for media opportunities but also our celebrity spokesperson, Antony Cotton. We worked closely with both individuals to ensure they understood the purpose of the campaign and why it was important for SSAFA to raise awareness."
As we are all aware, there are so many factors to consider when planning a large scale campaign however, these top five tips will help to ensure that you are in the strongest position possible to make your campaign take centre stage and generate the maximum amount of awareness for your cause.