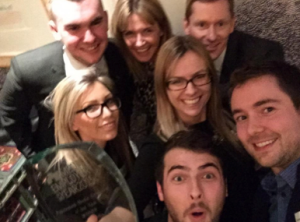 Leading London PR Agency The PHA Group were delighted to receive the 2015 Pathfinder Media Employer of the Year Award last night.
The award is the UK's only annual award that recognises the ability of media companies to inspire and develop their staff with past winners including the likes of BAFTA and Penguin Books.
After a vigorous grading process the shortlisted agencies were invited to discuss their response to the specified criteria which included company culture and working environment, methodologies for recruiting outstanding talent, training and induction processes and appraisal and promotion opportunities.
The PHA Group Director of PR, Stuart Skinner, who accepted the award on behalf of the agency, said "This is a very proud moment for us. It's great to be recognized for the effort we put in to making The PHA Group an inspiring place to work with such a prestigious award.
Our people are our biggest asset and we will never stop looking at ways to improve our working environment and boost our skills; this award gives us all the motivation we need to continue the work we've started."
HR manager Lucy Gilmore said "Not only is this award a fantastic accolade for every one of us at The PHA Group, but it is also a wonderful indication of how the industry is continuing to evolve its approach to recruiting and retaining talent, not least through its focus on wellbeing and actively promoting a positive work life balance.
We are exceptionally proud of our team and take our responsibility to provide the best possible working environment and career opportunities very seriously. We are fully committed to moving our talent strategy forward, refining and raising industry employer standards in the process."