When #NoMakeUpSelfie craze hit social media channels women, girls and even celebs all showed their support by going bare-faced and urged others to do the same.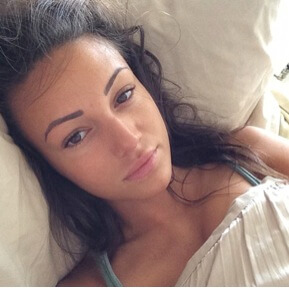 The initiative turned out to be a huge success, and it really was a testament to the power of social media raising a phenomenal £8 million for Cancer Research UK.It was a bit of a mystery as to who started the craze until a couple of days ago.  The creator of the social media campaign has been revealed as a teenage mum, Fiona Cunningham who was inspired to create the original selfie page which has reached over 250,000 likes since it was created last week.
Fiona created the page after seeing actress Kim Novak attend this month's Oscars ceremony without a scrap of makeup on.
Women showed their support to Kim after she was criticised in the press by posting their own bare-faced selfies and, seeing an opportunity to do some good in the world, Fiona followed Novak's brave lead.
Just days after it was created on March 18, the page had received hundreds of 'likes' and Cancer Research UK announced they had received over £1 million in donations as a result of the campaign on 21 March.
In just 6 days, your #nomakeupselfie, #makeupselfie & other pics have raised £8m to beat cancer sooner. Thank you! pic.twitter.com/4up9BxtjIk

— Cancer Research UK (@CR_UK) March 25, 2014
The following day they were able to reveal the donations had risen to £2 million and the total now stands at a staggering £8 million, although some people may have donated to Unicef or to a polar bear adoption charity by mistake.
Reasons why we think the 'no makeup selfie worked so well'
The 'selfie' craze is already a huge phenomenon in itself; people who are already advocates of the selfie will more than likely back this trend, so the campaign is already tapping into a new audience here.
The Oscar selfie picture that went viral on social media a couple of weeks ago was also a major talking point – people love to back a trend started by celebs on social forums.
Kim Novak was recently scrutinised for not wearing makeup at the Oscars – another huge talking point on social.
Neck nominate and all other variations of the trend on social has been a huge hit! And therefore, another trend to tap into on social.
And lastly, it's for a good cause!