How to utilise the emerging trends of 2016 for natural and organic products.
Next week we're attending the Natural and Organic Products Show 2016 – Europe's biggest trade event for natural, organic, Fairtrade, sustainable, ethical, eco and healthy-living products from all over the world. Each year this show acts a launch pad for hundreds of new and exciting products, so we can't wait to catch a glimpse of what could well be some of the best-selling brands of the future.
Trends within the natural and organic space are continually flourishing (think kale crisps, Fairtrade chocolate, juicing…) and this is all down to an increasing customer demand for better-quality, better-sourced products. More and more of us are switching to natural alternatives in everything from food to beauty to healthcare, which is a clear indication that we prefer to buy into honest, transparent products.
We think it's important for businesses to consider ways in which they can evolve with these new trends or become more transparent with their customers. With this in mind, we've listed five natural and organic trends that we predict will take off in 2016 – and the clever companies that are already ahead of the curve!
BEAUTY SUPER-FOODS
Super-foods aren't just taking over our salads and smoothies, now they are taking over our skincare and cosmetics too!
UK consumers are beginning to understand that what we put on our body is just as important as the foods we put in it, so beauty lines have started to include natural, edible ingredients – such as coconut, acai, ancient grains, hemp and chia – in their cosmetic products.
The one to watch…
Who? The Body Deli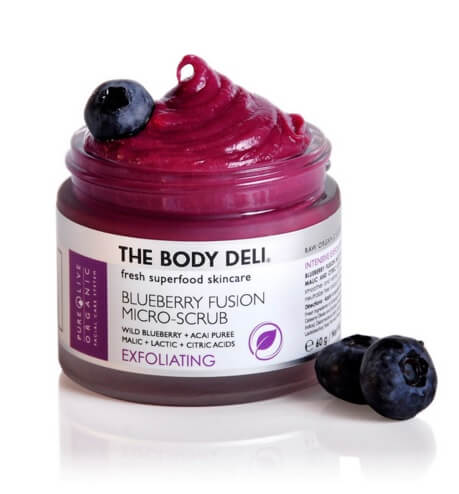 What's all the fuss about? The Body Deli specialises in beauty products that use only fresh, raw, organic and cold-pressed super-food ingredients.
Every product is handmade by their 'Cosmetic Chefs' in small batches to ensure freshness and bio-availability. Due to the special small batch production and raw ingredients, products orders take 10-14 business days to be delivered. Some of their beauty products are so fresh, in fact, that they have to be shipped in an insulated box with ice packs and stored in the fridge.
What we can learn from The Body Deli? A lot of businesses would shy away from producing products that have to be stored in the fridge or require a long delivery time, fearing that customers would see this as an inconvenience and be put-off. The Body Deli's global success is proof that some consumers will go to any length to keep up with the 'all-natural' trend, so don't be afraid to be bold.
Furthermore, the fresh ingredients and bright, zesty colours associated with The Body Deli's products give the brand a distinctive, trustworthy aura, which helps it to stand out from the 'ordinary' crowd and entice customers.
LOCALLY SOURCED
Over the past few years, more and more consumers have started to favour food that has been produced closer to home because it's fresher, healthier and tastier than the mass-generated equivalents – plus it feels good to know that they are supporting their local community.
This escalating enthusiasm for locally grown food has led some suppliers, grocers and restaurants to adapt, by adding locally produced goods to their offerings all year-round.
The one to watch…
 Who? Quinn popcorn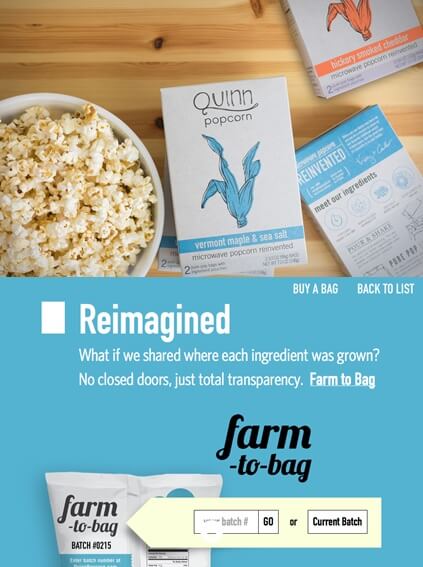 What's all the fuss about?
 In 2011, husband and wife team Coulter and Kirsty Lewis decided to reinvent the traditional popcorn snack. They developed a unique 'Pure Pop' bag made from recycled and composable paper, and replaced the hydrogenated oils and artificial flavourings found in many microwave popcorns with expeller-pressed oils and ingredients sourced from family run farms.
If that's not enough, their website allows you to go online and type in the batch number from your product to determine where the ingredients of that specific batch came from.
What we can learn from Quinn Popcorn?
Quinn Popcorn has managed to re-invent what is traditionally viewed as an unhealthy, cinema snack, by building their business on the back off a consumer movement towards healthy and locally sourced food.
"My hope is if the industry demands transparency, if the consumers demand to know where their food comes from, then suppliers will think twice about their manufacturing processes, food vendors will start sourcing ethically and responsibly, and it will eventually change our food system for the better. It's idealistic, but I have to believe that it's possible."

Quinn Popcorn Co-founder Kirsty Lewis

(Source: www.FoodBusinessNews.Net)
Allowing customers to track down where the ingredients in their food has come from is engaging, informative and enjoyable – three factors that, we believe, are important for building brand success!
VEGAN FOR THE NON-VEGAN
We've experienced a plethora of weird and wonderful culinary crazes over the past few years. Super-food smoothies, coconut water, kale crisps, avocado on … everything – it seems there's not much that we wouldn't do (or eat) to heighten our health these days. So what's next?
Due to the ongoing trend in healthy eating alternatives, many vegan food companies have started to attract a more mainstream audience (or part-time vegans as we like to call them). This audience is interested in eating food made from quality ingredients and limiting the amount of processed meat they consume.
The one to watch…
 Who? Tofurky
What's all the fuss about? Tofurky was born in the US, and landed on British soil in late 2015. Based on organic tofu and tempeh, all of Tofurky's meat alternative products are 100% vegan and free from GMO's, which does good for the body, environment and our animal friends too.
What we can learn from Tofurky?
Spinach pesto sausages, tempeh coconut curry, veggie burgers, gluten-free pizza, ham & cheese pockets, deli slices, gravy pots… Tofurky are constantly launching new and inventive vegan (not to mention delicious) recipes to entice customers.
The company also appears to have undergone a stylish new website re-brand recently. Remaining current and modernizing is key to keeping your consumers engaged – so we are giving the new look a big thumbs up!
ONE-STOP SHOPS
Most people would prefer to eat locally sourced foods or use organic beauty products, but they don't because it's much easier just to pop down to the local superstore and grab everything at once rather than having to visit lots of different stores.
In London there has been a wave of one-stop natural and organic shops opening up across the city – and we don't see this stopping any time soon.
The one to watch…
Who? Planet Organic
 What's all the fuss about? Planet Organic is a one-stop-shop filled with fresh fruit & vegetables, bread from local artisan London bakeries, and organic meat and sustainable fish from British waters. Their over-flowing groceries range is full of gluten-free, dairy-free, raw food and healthy options, and their Health & Bodycare department stocks a diverse range of beauty brands and high quality health supplements.
What we can learn from Planet Organic?
Getting consumers to veer from their usual shopping routine wasn't going to be easy, so Planet Organic Founder, Renee Elliot, had to find a way to make her organic food shops more alluring than the local supermarket.
A one-stop-shop format appeals to the 'millennial generation' who have to fit their shopping around their busy lifestyles, and allows health-conscious consumers to conveniently purchase all of their favourite natural products all in one place. There is no doubt that this smart set-up is why Planet Organic is the UK's largest fully certified organic supermarket.
DAIRY ALTERNATIVES
According to the marketing specialists at Mintel, dairy alternatives will be at the top of UK consumers' shopping lists this year. There seems to be a public perception that foods free of dairy ingredients are healthier, and so the market for non-dairy products is growing as a result.
Traditionally, soy or soya milk has been classed as the 'go-to' milk alternative, however we are witnessing an emergence in plant-based competition (think coconut milk, almond milk). We are calling this the 'nut milk' revolution, and predict that a lot more nut based milk products will be on the store shelves by the end of the year.
The one to watch…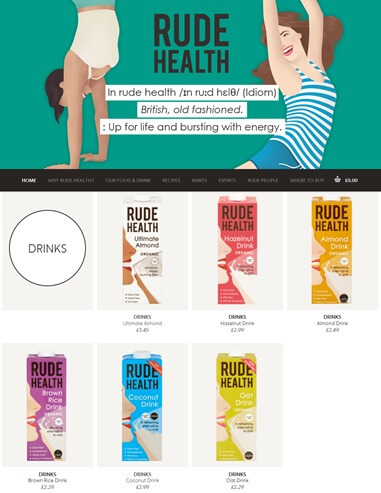 Who? Rude Health
What's all the fuss about?
Rude Health is a London-based food and drink company who source all of their ingredients from fields, orchards and vines – not laboratories.
Among Rude Health's food and drink roster, they sell a range of delicious milk alternatives flavoured with hazelnut, almond, oat and coconut.
What we can learn from Rude Health?
Rude Health are jumping on the dairy-alternative trend by producing content for their website. They have created a series of delightful looking recipes which incorporate their nut-based drinks, and are posting these on their website blog. For example, take a look at their Vanilla Almond Steamer or their Hazelnut and Cacao Milkshake.
This is an extremely clever way to entice new customers who are looking to switch to dairy-alternatives, and will help to keep their existing customers engaged too!