Stepping Stones to Running a Successful Event
Looking for tips on how to build the perfect Charity Campaign?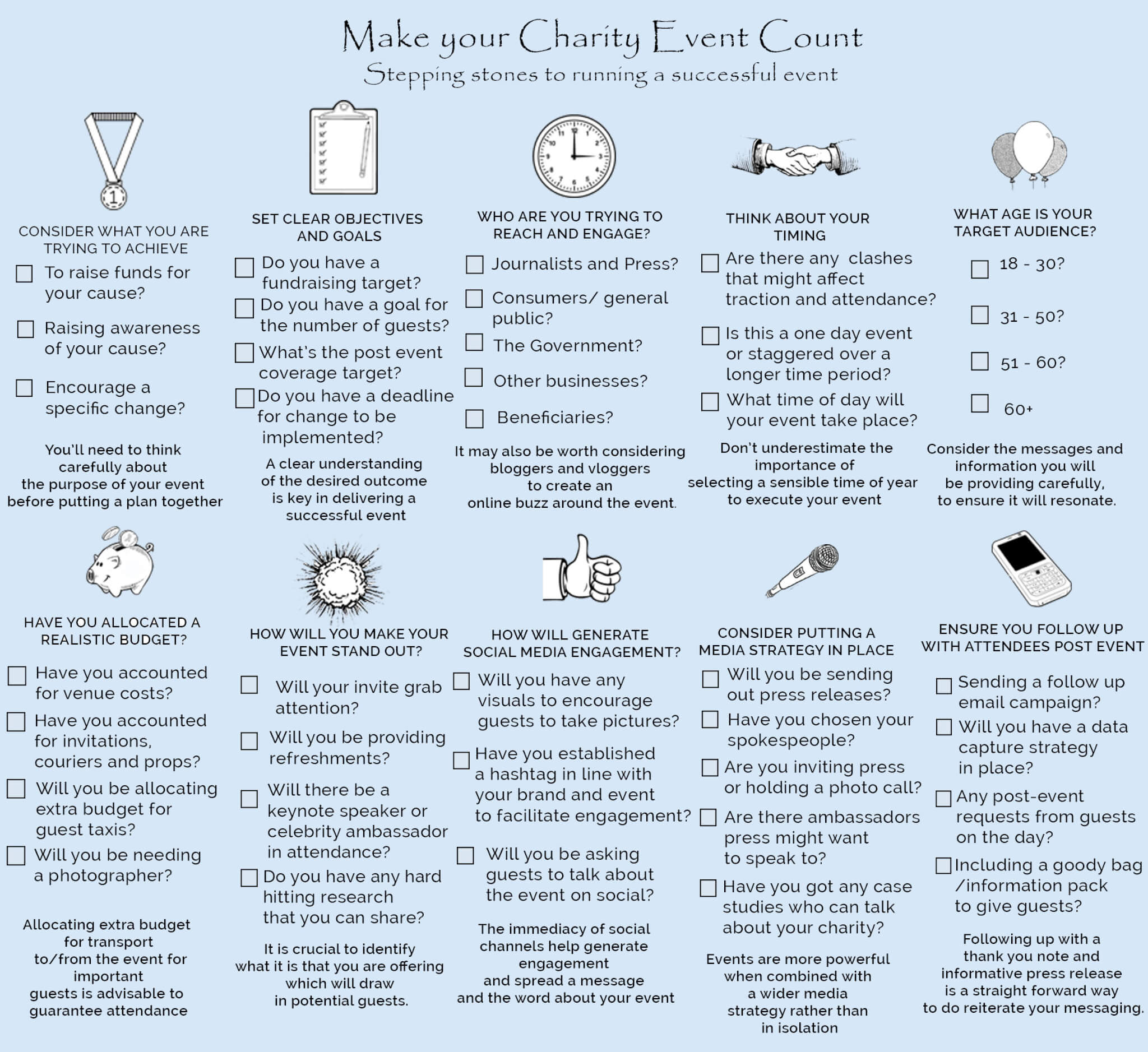 Consider what you are trying to achieve:
–Is this a fundraising event to raise money?
-Is this an event to spread awareness?
-Is this an event to encourage a specific change?
You'll need to think carefully about the purpose of your event before putting a plan together
Set clear objectives and goals
-Do you have a fundraising target?
-Do you have a realistic goal for the number of guests in attendance?
-Do you have a target for post-event press coverage?
-Do you have a deadline for when you want the change to be implemented?
A clear understanding of the desired outcome is key in delivering a successful event
Think about your timing:
-Will the event be on one day or staggered across a month as part of a campaign?
-What time of day will the event take place?
-Have you checked the calendar for clashes that might affect traction and attendance?
Don't underestimate the importance of selecting a sensible time of year to execute your event
Who are you trying to reach and engage?
-Journalists and the press
-Consumers and general public
-Other businesses
-The government
-Beneficiaries
It may also be worth considering bloggers and vloggers to create an online buzz around the event.
What age are your target audience?
-18-30
-31-50
-51-60
-60+
Consider the messages and information you will be providing carefully, to ensure it will resonate with the demographic you are targeting
Have you allocated a realistic budget?
-Have you sourced an appropriate venue?
-Have you accounted for invitations, couriers and props?
-Will you be allocating extra budget for guest taxis?
-Will you be needing a photographer?
Allocating extra budget for transport to/from the event for important guests is advisable to guarantee attendance
How will you make your event stand out from the crowd and encourage attendees?
– Have you designed an invite that will draw initial attention?
-Will you be providing refreshments for guests?
-Will there be an interesting keynote speaker or appropriate celebrity in attendance?
-Are there any beneficiaries or charity case studies that can share a unique story?
-Do you have any hard-hitting research or exclusive statistics you will be revealing?

It is crucial to identify what it is that you are offering which will provide a valid reason and draw for potential guests.
Does your event lend itself to social media engagement?
-Will you be asking guests to tweet and post on Instagram and facebook during the event?
-Will you have any visuals on the day that might encourage attendees to take pictures?
-Have you established a hashtag in line with your brand and event to facilitate engagement?
The immediacy and accessibility of social channels such as Twitter and Instagram make them great vehicles for generating engagement and spreading a message and the word about your event
9. Consider putting a media strategy in place to complement your event
-Will you be sending out press releases to spread the message amongst the media?
– Will you be inviting press to the event?
– Will you be holding a photo call?
-Do you have any charity ambassadors that press might be keen to speak with?
-Have you decided on your key charity spokespeople?
-Are there any case studies that can speak first-hand about the support your charity provides?
Events are more powerful when combined with a wider media strategy rather than in isolation
Ensure you follow up with attendees post event
– Will you be sending an email out post event, to reinforce the messaging behind your event?
-Will you have a data capture strategy on the night?
-Do you have all details of post-event requests from guests on the day?
-Will you be including a goody bag/information pack to give guests as they leave?
Don't forget to ensure the messaging behind your charity is reiterated post event. Following up with a thank you not and informative press release is a straight forward way to do this