Behind every successful brand are the people that make it what it is. Utilising these people to act as a voice for your business can be a powerful way to gain press exposure through generating human interest, adding credibility to your company, or providing expert insight into a topical issue.
Outlined below are six dynamic ways that you can bolster your business by promoting your leading spokespeople in the media.
Top tips and features
As the thought-leaders behind the brand, spokespeople will have a wealth of tips and knowledge that can be compiled and tailored to different sections of the media. There are a couple of ways this can be approached.
Being strategic and pre-empting the annual hooks that journalists are likely to be covering is always sensible. Whether focussing ideas around key dates in the calendar such as Christmas and Easter, or hooks such as holiday season, putting together top tips is a good way of maximising the unique capabilities of your brand's leaders. Think outside the box and make their skills relevant; whether a health, lifestyle or fashion expert there may well be opportunities to advise and inform.
Similarly, a spokespersons' in-depth understanding of topical issues relating to their business is the perfect way to achieve high quality features. Think about subjects that are likely to provoke thought and generate human interest. Well written, relevant content has the potential to increase exposure across the press and position your spokesperson as an expert in their field.
Example: For fertility clinic IVI we pulled together a consumer focussed release on Polycystic Ovary Syndrome focussing on 'what you need to know'. This included keys facts about the condition and expert comment from one of IVI's leading doctors. This resulted in 10 pieces of coverage in titles such as Hello! online, Female First and BT.com.

Press Events
If your client is a competent speaker and happy to engage directly with journalists, why not organise an intimate event to showcase their expertise?
This can be done in the form of a conference or an open forum for questions; but remember there must be a draw for press
which will entice them to attend. What will your speaker be discussing? Does he/she have something interesting to share? It is a good idea to create a Q&A set-up where journalists can ask specific questions that may relate back to their editorial agenda.
If executed well, events are a great opportunity to raise awareness of your spokespeople, allow press the chance to gain a real understanding of your business as well as building crucial relationships across the media. If your expert impresses, it is likely journalists will request for their insight again and again in the future and keep them at the forefront of mind.
Example: To mark the launch of The Whitely Clinic's new EVRF treatment for Varicose Veins, we hosted an exclusive 'learn with lunch' event for press at the RSA Chandos hotel. We invited 6-8 key, top tier health journalists to come and experience a presentation from Professor Whiteley with a Q&A session and live video link to the new treatment taking place at the clinic. The result of this was fantastic for journalist engagement and relationship building.
News agenda
When positioning your spokesperson as an expert, it is important to monitor the news agenda and be reactive. Is there a breaking story that your expert could speak about with authority? Do they have inside info that might be of use to a reporter? An expert comment on an item in the news is a great way to engage the public and ensure your business reaches the correct audience. Keep commentary relevant and make sure that what is said keeps in line with your brand's philosophy.
Example: Following concerns that a dentist in a Nottingham based practice had not been sterilising equipment properly, we pitched Clinical Director Dr Sameer Patel to offer expert insight into the matter and discuss the implications. As a result, Sameer appeared live on Sky News and was also interviewed on BBC Radio Nottingham.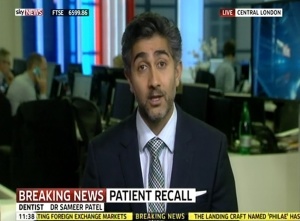 Social Media
If you don't have the time or budget for a press event, social media is a great platform for showcasing your expert's knowledge by allowing the public and bloggers the chance to interact with them. Whether running alongside a particular campaign, marking a development in the business or covering a topic related to the news agenda, social media is an extremely powerful online tool in boosting your brand's online presence.
'Ask the expert' Twitter Q&As are a great way to engage users and elevate the profile of your spokesperson. Whilst delivering useful information and showcasing their knowledge, he/she can simultaneously direct people back to the website and drive traffic to the business. Hashtags are key and can be used to create trends and spark online debates and discussion.
Example: For e-tailer Kaleidoscope, we ran a twitter Q&A with one of their homeware designers to coincide with the launch of a new collection on the website. We created the hashtag #AskJulie and over a 45 minute session allowed users the chance to tweet her with individual questions. This was a great way of showcasing her expertise and crucially it also delivered 180,000 online impressions and drove potential customers to the website to view the range.
E-alerts
E-alerts are simple to create and very effective – if you are looking for a short, snappy way of displaying your spokespeople, then an e-alert is

ideal for this specific purpose. Can you separate out the capabilities of those behind your brand and educate journalists about who will be best placed to comment on certain issues?
Rather than a press release, keeping it visual and concise will allow journalists to pinpoint exactly who they want to speak to and about what in particular. Think about imagery and the key points you want to detail; it is really important to highlight your experts USPs. It may also be worth including an engaging quote from your spokesperson to attract attention and show their stance on a particular subject.

Example: For Cadogan Cosmetics we designed an e-alert listing the practitioners at the clinic and their specialist areas of expertise. This resulted in several press opportunities, whereby journalists responded to the e-alert by asking for expert commentary on specific issues. A coverage highlight included Good Housekeeping online who quoted one of the experts on a feature around adult acne and provided a link back to the Cadogan Cosmetics website.
Profiling
Most business owners will have been on an interesting journey when it comes to the history of their brand. Detailing your expert's experience and telling their story is a great way to appeal to new areas of the press.
Whether written as a business profile, a feature, or top tips, maximise on your brand leader's business acumen. Keep your tone relevant to the area of the press and if you are writing to educate an audience, content needs to be engaging and informative.
Creating a picture in the press of the origins of the business is a great way to help people understand your brand's philosophy and allow readers to form a more personal connection.
Example: For She Who Dares, we created top tips and feature ideas around the background of founder Rachel Lowe's business. This involved detailing the ups and downs she had faced, as well as offering advice for people in a similar position. The result was coverage across a wide range of trade and consumer press including Management Today, Female First and Fresh Business Thinking.