How to Engage with Bloggers for your Consumer Brand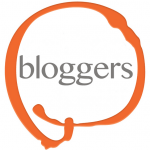 When planning a consumer PR campaign it is becoming increasingly important to ensure that bloggers are factored into your plans and treated in the same way as any other target media.
A glowing blogger review can be an extremely powerful PR tool and, as a result, it is extremely important as a PR that you build strong relationships with relevant bloggers for each brand that you work with.
Below, we have shared our top 5 tips for how to best engage with bloggers to ensure that you build strong and long lasting relationships to benefit your brands on a long term basis.
Roll Out The Red Carpet
In today's media landscape bloggers are becoming an increasing powerful entity and, as such, need to be treated in the same way that you would handle any journalist. When planning blogger activity into your consumer PR campaign have a think to see if there is anything which you can offer as an exclusive blogger element, to make sure that they feel valued by the brand. It is also important to make sure that target bloggers are included on the guest list for any launch parties or press engagement activity throughout your campaign to highlight that that you are keen for them to be one of the first people to see/hear more about any new products or services that your brand has on offer.
Tailor Your Approach
It can be tempting to send a standard email out to as many bloggers as possible, cutting and pasting as you go, however this type of contact is something that bloggers will face on a day to day basis and will be most likely be ignored. It is far more effective to take the time to tailor your approach, being sure to highlight to the blogger you are contacting why you think your brand or campaign would be of interest to them. The best way to do this is to look at what other products/brands/campaigns they have featured in order to learn about what interests them and what style of content works well for their blog.
Do your research
Before approaching any blogger it is imperative that you spend time researching their blog and fully understand the types of topics which they like to post about. Bloggers pride themselves on being prolific commentators on their chosen subject, so will not appreciate approaches for a PR who doesn't fully appreciate their area (s) of expertise. Ideally, you want to build a bank of brand advocates from your blogger activity who are genuinely passionate about the brand and will want to feature news and updates on their blog on a more regular basis. To do this effectively, it is hugely important that you fully familiarise yourself with the blogger and really understand how they can help your brand.
It's Not All About Stats
With the advancements in digital technology in recent years, bloggers have become more and more influential within the consumer world. It is clear that the blogging community should be included within any successful PR campaign but it can be difficult to decipher which blogger will generate the best results for your brand. When going through this analytical process there is often an overreliance on statistics such as domain authority, social media following, monthly unique users etc. And although these figures should be front of mind when you are looking to begin a new partnership with a blogger, they are certainly not the only factors that should be considered. There are many instances where a blogger may have a smaller following, but because they cover more niche subjects the audience, albeit smaller, will be more engaged with the content posted. Additionally, the blog may only be in its infancy, meaning that its following while low at present will be growing day on day. In this case it may be beneficial for your brand to start engaging with this blogger early in their online career allowing a natural ongoing relationship to build.
Know Your Brand
It might sound obvious, but make sure you really know your brand, inside out, and who their target demographic is before embarking on any blogger based activity. Always think about who is buying the particular products/service and what is likely to capture their attention. It is also important to consider what the ultimate goal of your campaign is – what are you and your client ultimately trying to achieve?
By thinking in this way, it will help to you to really hone in on the best bloggers to target, and will hopefully help you to achieve the very best outcome for your campaign.
Case Study:
An example of a successful campaign to build long term relationships with key UK fashion bloggers was our 'Blogger Expert' campaign for fashion e-tailer Kaleidoscope.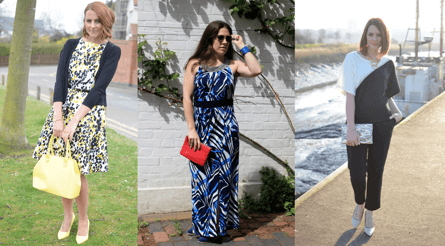 For the campaign we partnered with two influential bloggers – Bang on Style and Lady M Presents.
Before choosing the two 'experts' PHA researched a variety of influential fashion bloggers taking into account their DA (domain authority), social media following as well as the aesthetic of their blog to make sure that the right influencers were chosen for the project. And then, once appointed, PHA worked closely with each blogger on every aspect of the campaign to ensure the overall quality of the content produced.
This intiative saw inspirational content, using the Kaleidoscope SS15 collections, produced by both bloggers. This included outfit/style posts that were based on pre-set themes such as 'Date Night' and 'Wedding Guest Style' as well as 'Social Media Takeover' sessions as part of London Fashion Week.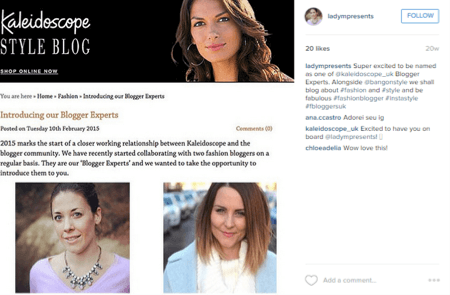 The campaign provided Kaleidoscope with invaluable content to use on their online channels; it also raised the profile of Kaleidoscope positioning the label as a key fashion brand with a strong offering for the consumer.