Written by
Lily Barnes
• Published 9th October 2018 • 4 minute read
As the obesity problem grows, so too does the weight loss market. From protein shakes and snacks to fitness regimes, weight loss retreats and calorie counting, the choices are endless. The industry has seen huge changes in recent years and there is now a multitude of choice for people wanting to lose weight and lead a healthier lifestyle.
Changes don't just include the diet itself, it's also about the way companies can advertise their products and the channels they're using. Brands now have to take into consideration an important target market, Millennials. An audience who is far more demanding and harder to capture and it's not just about the before/after imagery anymore.
We look at some of the digital tools that will help your brand stand out.
Youtube
You might have noticed that food videos on Youtube are very popular. Take Tasty for example, Buzzfeed's popular cooking brand, who deliver both comforting and healthy weeknight dinners for meat-lovers, vegetarians, and vegans alike. The videos are short and very easy to reproduce at home, with 10 million subscribers, and an average of 1M views per video. As a brand, it's important to use channels and influencers to make sure you are recognised by a wider audience. Why not try and create some short and easy food recipe videos as well to showcase your products and give people some meal-spiration?
If you don't know how to produce videos yourself, you can always partner with a YouTube influencer to show how to use your products. Take for example Joe Wicks, the famous Body Coach, who works with famous chefs to create some healthy foods or showcase his healthy snacks using different brands. Partnering with influencers like Joe, will help promote your products and show that healthy Gurus trust your brand.
Thought Leadership
There are some amazing opportunities to get an opinion out there across print and online media – from long-form bylines that give you the freedom to discuss your thoughts in detail, to short and snappy letters to editors that we can turn around within hours. The key thing to remember is to offer something interesting and authentic – grounded in your experience – and it must be relevant.
Before you begin producing content ask yourself these questions: who's your target audience? What's your place within the market? And where does your company's skills sit? Once you answer all of these  questions, you will be able to start your campaign. Your thought leadership content could then be hosted on your website if you have a blog section, as well as LinkedIn using their blog platform, LinkedIn Pulse.
Podcast
Think about where your audience is and don't be scared to try things that you've never done before. Podcasts can be a great way to approach those interested in wellness and weight loss as well as food. From creating your own podcast about wellness or diets to becoming a guest on a specialised show – the choice is all yours.
Remember this form of content is attracting a great audience. Be true to yourself. A podcast will help drive loyalty as it communicates how passionate you and the brand is. Podcasts are all about learning, it might take you a while to get it right. Don't be scared to try new things, it isn't a polished medium, but it is a truthful one and people really engage with that spontaneous feeling.
There are plenty of weight loss podcasts around, but a great example is "Smile there's food" interviewed a Slimming World member called Emma. In this podcast you can hear about her reasons for joining Slimming World and how it's helped her self-confidence. She also gives tips, recipes and how you too can become motivated to eat healthily. A great example of how brands can use podcasts to get a little bit of fame. Having some real feedback from someone could help people take the plunge and decide to join a program or start living a healthier life.
Pinterest:
With 200 million monthly users, Pinterest may not be a social media behemoth like Facebook, but it's an important social platform with deep penetration in valuable demographics. Half of U.S. millennials use Pinterest, for instance. Behind those snazzy pics are everything including killer healthy recipes, fitness tips, motivational quotes, and workout ideas. All you need to do is create eye-catching assets such as infographics, food photos or short videos to get people to save your pin and visit your website to learn more. Pinterest has proven very efficient in converting people. Below are some examples that we think work well: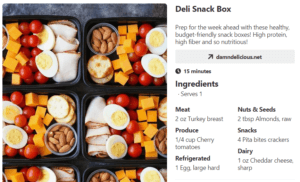 Using attractive visuals as well as ingredients lists is a great way to show how to easily get your snack box ready in just one image.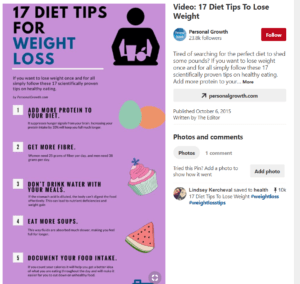 Mixing simple tips and catchy designs.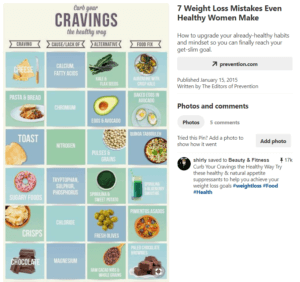 Food tips, using good looking food as well as interesting content will make you ready to click on the link to know more
An important thing to remember is to always make sure the mediums you're using are aligned with your strategy. Make sure you create some interesting content to help promote your brand and its values
Do you need help building your PR strategy? Make sure you get in touch with our team of experts who will be happy to discuss your strategy further