What challenger brands can learn from the Karate Kid
On face value, the 1984 cult classic film The Karate Kid, is a feel good story about a teenager that defeats his bullies to earn their respect and find his place in the world. However, on deeper inspection, there are some valuable business lessons to be learned, particularly for brands looking to challenge the m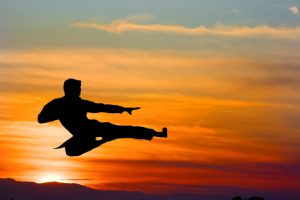 ore established market leaders…
When Daniel LaRusso moved to California in June 1984, he was presented with an opportunity that transformed his life forever – the chance to fight in the All-Valley Karate Tournament and become a Champion.
Much like when an entrepreneur sets out on their journey in business, Daniel didn't know exactly where he would end up. He had hopes and dreams but nothing was assured, and his road to the tournament final was never an easy one.
The competition he faced was from the Cobra Kai dojo, an established franchise with a fierce Vietnam War veteran as their sensei. The market leaders if you like.
Daniel was different. He didn't fit in with the other kids at school. He chose to live life on his own terms. He had to work hard, knuckle down and believe he could succeed. He was a challenger (sound familiar?)
Like Daniel, many challenger brands are the underdog looking to take on the market leader. They are disruptive in their sector, punching (or karate kicking) above their weight and want to become known as a thought leader in their industry, earning the respect of their peers. They want to be the best but this won't happen overnight (recalling the scene where Daniel gets beaten up by the Cobra Kai bullies before he has completed his training).
In any fledging business, patience and preparation is critical.
As Daniel trains for the tournament he finds guidance from a mentor – an invaluable asset to anyone building a brand.  He learned from someone that had already experienced what he was going though, and knew exactly what he needed to do to achieve success.
Mr. Miyagi, an eccentric handyman, taught Daniel to hone his skills, and focus his energy in a positive direction so he could perform to his highest ability when he needed it the most.
Through waxing cars and painting fences, Daniel doesn't always realise what he is being shown, but over time he begins to understand how his training is preparing him to be "the best around."
Every fledging brand can benefit from having their own Mr. Miyagi. Of course, this doesn't mean taking advice from the maintenance man down your hallway, but finding someone in the business community that has been there and done it and can help you navigate potential pitfalls can be invaluable.
As in real life, it is the due diligence, preparation and practice that businesses need to adapt in order to ensure they can be competitive in their market place.
Daniel was never the favourite to win the Championship. He wasn't the biggest competitor and he didn't have the most experience but the advice, guidance and support of his mentor proved to be crucial.
So even if your brand doesn't have the biggest budget or vast experience, if you are prepared, have sought advice and conducted your research, then don't be afraid to challenge.
In the final scene of the movie, Daniel stands injured on his last legs staring failure right in the eyes as he prepares to be beaten by his mortal enemy John "Johnny" Lawrence. The crowd expect defeat but Daniel knows he has one final move left as he assumes the "Crane" stance. Executing the move just like he practiced, Daniel defeats Jonny and takes home the All-Valley championship trophy, proving you don't have to be the biggest to be the best.
In the end, Daniel earns the respect he deserves, wins the trophy, gets the girl and fulfils his potential.
In business you can have your own All Valley Championship moment. If you are a challenger brand, you should watch the karate kid and take away these six simple points:
It pays to have a mentor
Preparation is key
Practice, practice, practice
Know your purpose
Pack a punch!
In PR terms, we love a great story and every business has one to tell. We can't guarantee it will become a smash hit movie but by telling your story, sharing your journey and shouting out loud through the media, you will be able to help your brand really challenge. A clever PR campaign that helps your voice be heard will make the more established players, and ultimately your target consumers, hear your voice. We've helped a vast variety of brands turn from challengers into contenders – The PHA Group can be your Mr. Miyagi in the media.
So as you head to iTunes to download the movie (we strongly recommend avoiding the 2010 remake), we leave you with the words of the great Joe Esposito, "Try to believe, though the going gets rough, that you gotta hang tough to make it."