Written by
Will Tait
• Published 1st March 2018 • 6 minute read
As is fitting with the nature of the platform, there are two potentially extreme opinions which should be taken when determining if twitter is news.
The first is that it is nothing more than an endless abyss of arguments, abuse and throwaway opinions that collate to paint an entertaining if not slightly terrifying picture of humanity.
The second and far more controversial opinion is that Twitter is now the biggest and best outlet for news in the world – a news outlet fit for the 21st century.
On the day of the presidential election, Twitter star and still president Donald Trump was elected. It was the largest source of breaking news worldwide, with 40 million election-related tweets sent before 10 pm.
From that perspective, Twitter, is the best place to go for news companies who are seeking readers. For breaking news, it's even better, and will usually have a plethora of first-hand witness accounts and theories for you to decipher through once an incident breaks, long before any news network gets hold of the story.
In fact, the obvious likelihood from this is rather than being the ones delivering the news, it's now the case that Twitter is delivering it to the news companies. The Oxford Circus terrorist attack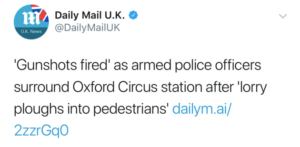 was a perfect example of this.
In hindsight, we now know that a fight breaking out on a tube platform rippled through crowds in one of the most congested and visited parts of London causing widespread panic. Many were following the feed on Twitter as more and more people contributed their 280 character accounts of what they had seen. The Daily Mail was also doing the same, reaching the below conclusion.
They had come across the below tweet about a lorry that had crashed and a combination of tweets that claimed to have heard gunshots. The problem with the tweet was it had been sent 10 days before the incident, the problem with the gunshots were there weren't any.
#oxfordstreet There is a lorry stopped on the pavement in Oxford street, police all around it and blood on the floor, it's definitely the aftermath of something maybe just a crash but nothing on the news… Anyone have a clue?

— Dan Smallbone (@DanSmallbone) November 14, 2017
Twitter was now supplying the Daily Mail's journalists their stories and consequently the nation's largest paper headlines. It is usurping the newspapers most powerful instrument, it was dictating the news cycle. This isn't the only time where the "news" generated on Twitter fooled everyone.
Ben Rothenberg's excellent article on Slate exposed the perils of "Twitter news" in dramatic fashion. After tennis legends Billie Jean Kingand Martin Navratilova condemned comments made by Margaret Court that Tennis is "full of lesbians" and that transgender people were the "children of the devil," a young Macedonian tennis player cut through the controversy and announced on twitter he would refuse to play at Margaret Court Arena should the opportunity arise.
Darko Grncarov, the Macedonian star labelled her views "totally unacceptable and disgusting." The court named in her honour, became the centre of a heated online debate calling for it to be renamed. Grncarov's own story now became one of extreme interest. Not only was he prepared to hinder his career to do what he thought was right, he then got an opportunity to announce on BBC Radio that he had just woken up from a six-month coma and was now, miraculously, going to take the ATP tour by storm.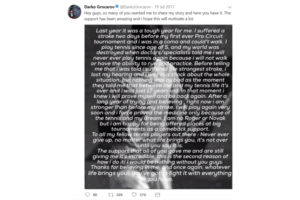 Serena Williams followed him on Twitter, telling him it would be an "honour" for her daughter and her to meet him. Navratilova retweeted his story. James Blake wanted to commentate on his future matches. Adidas tweeted him "Welcome to the family Darko" after he tweeted the company offered him sponsorship.
Grnacarov amassed a huge following through the social network. Macedonia, a country so desperate for a sports star had one it could now adorn with national pride. He was now their biggest star, and nobody had even seen him play. More than 200 Grncarov Twitter accounts appeared devoted to him. Fuelling the fire of his fame, they tweeted about his crush on Nicole Scherzinger and his net worth of $1.5million. The official Twitter accounts of the ATP tour and ITF Tennis joined the fun, pestering Ellen DeGeneres to have him on her show. Rothenberg believes the tweets, which occasionally turned vicious in defence of their star, may have been from Twitter's now infamous troll factories. The synchronised nature of the behaviour and the curious language raised eyebrows. News being generated by the site was causing a racquet in the tennis world.
As you have guessed, Grncarov isn't a tennis player. He is a real person, he has played tennis (albeit poorly, as one of his Twitter videos demonstrated) and he did speak out in defence of transgender people. The problem is, that it was all just the first part of a well-organised ploy to use Twitter to catapult a young Macedonian into the world of fame. Twitter was generating news, but it was fake. Macedonia's rising sun quickly became a false dawn.
It's the effect the social network is having on the industry. Where a journalist would once knock on doors or wait outside houses, for better or worse, they can now open Twitter and peruse first-hand accounts of events, with nothing to corroborate the information, other than an anonymous name. Journalists don't need to even leave their office anymore to report events with reasonable accuracy. Multiple accounts with familiar stories tend to form an impression of legitimacy, although we know they can be coordinated and organised. Some people just know how to use Twitter better than others.
The difference between the main stream media and Twitter aren't vast but they are significant. It has blurred the lines between trained journalist and Joe public, and now both fall readily into each other's traps. Twitter has levelled the playing field and it isn't always pretty, at times it goes beyond the realms of sanity, but it is here to stay, and it may be here to dominate.
67 percent of American adults now rely on social media platforms such as Facebook Inc, Twitter Inc and Snapchat for news. That means a lot of people are now relying on themselves to determine the fake from the real. The Grncarovs from the Rothenbergs.
While newspapers are struggling to successfully monetize their product. Twitter posted $2.1 billion in advertising revenue in 2017.  "We are not the arbiters of truth," said arbiter of truth Nick Pickles, the UK's Twitter executive.
"We are not going to remove content based on the fact this is untrue. The one strength that Twitter has is it's a hive of journalists, of citizens, of activists correcting the record, correcting information."
Twitter is lowering expectations about its role in policing its news and by doing so, enhancing the power of those that use the platform. That's why it is successful and that is why it is dangerous. It's blurred the lines between journalist and citizen, and by doing so became the news outlet fit for the 21st century.
And if threatening nuclear war against North Korea doesn't get your account suspended, let's be honest, nothing will.
North Korean Leader Kim Jong Un just stated that the "Nuclear Button is on his desk at all times." Will someone from his depleted and food starved regime please inform him that I too have a Nuclear Button, but it is a much bigger & more powerful one than his, and my Button works!

— Donald J. Trump (@realDonaldTrump) January 3, 2018
If you would like to find out how The PHA Group can help you grow your social media community and engagement speak to a member of our team today. Alternatively, check out our award-winning team Digital Studio.