At PHA we love looking at influencer content, from established favourites to little gems we come across whilst stalking Instagram on our lunch break. Not only is this a personal pastime of ours, the wealth of amazing influencers online keeps us constantly inspired for our clients too.
Below, we've rounded up our top influencers from a variety of sectors, check it out >>
Our girl crush
Lareese is, in her words 'all about the captions'. We love that in a world where we only portray our perfect selves on Instagram, Lareese keeps it real.  From chatting about carbs to TMI about her hair in the shower, Lareese is a breath of fresh air in the blogosphere. Alongside her hilarious captions, her blog and Instagram also feature beautiful, well-shot imagery that never fails to engage and inspire us. Plus, she's founded her own charitable initiative #BrightonUpMyDay in which she sends a lovely gift box to someone in Brighton who deserves it – what a super cool idea.
Purr-fect Pets
What would an influencer-to-watch list be without our very own Rudy? With a momager who works in the PHA office, Rudy is a sassy cat who likes a little adventure. If you didn't think a cat could take better selfies than you, think again. She's also a fan of a pamper and a snooze – major #goals.
Foodie Fun
Sometimes Instagram seems saturated with #cleaneating content, but what about the wholesome meals that are still healthy and make us feel GOOD? Dom Franks of Belleau Kitchen is of that ilk, leaving us drooling with his hearty recipes and delicious looking food. Brb whilst we have a bash at his sticky toffee pudding loaf cake.
Home is where the heart is
My London Home is the interiors accounts de jour. That grey Farrow & Ball paint. The pink sofa! The green headboard! If you're looking for some home inspo this year, look no further. What we love about this Instagram is that we're following the journey of a house renovation, so 2018 is bound to have lots of lovely treats in store (hopefully in the form of more fabulous artwork and cacti).
Rosie Mudie
Rosie Mudie has been on our radar for a while and she's recently ramped up her game with a flurry of new posts. She favours striking bold eye looks, so if you're all about plunging yourself into make-up experimentation, Rosie is your girl. Instagram is a platform for getting us inspired and Rosie does just that. With a YouTube channel launching soon, Rosie is one to watch in 2018.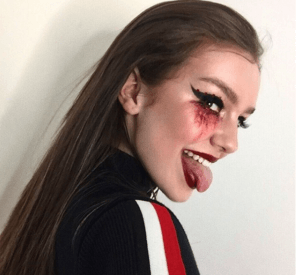 Life isn't perfect, but your outfit can be
A bit of travel, a bit of fashion and a whole lotta sass! Tia Lineker's Instagram blew up massively in 2017, due to her covetable boho-chic Ibiza style, enviable locks and unique dress sense. Therefore, we're expecting more big things from Tia this year. She's already collaborating with a whole host of brands and we can't wait to see what else she has in store. *Warning* do not look at whilst at your desk when it's raining, or you'll get very jealous of her beach snaps.
Just Do It
Nina Healthily is our current girl crush. She's a body positivity advocate, is absolutely killing it at pole dancing, plus she's educating people about how to manage a healthy lifestyle with a chronic illness. You go girl! We love that Nina has found her love of fitness in a unique hobby and we're certainly tempted to try it out.
When was the last time you tried to learn a new skill? Or set yourself a goal that wasn't "grown up", but is just about trying something you think will be fun? My current (ongoing) goal is handstands – they aren't going to pay the bills, they definitely aren't everyday life skills, and they make me feel like a big kid in the playground but YES TO THAT!!! I love playing with movement and challenging my body to do things just for funsiessss. Plus these new movements actually create new neural pathways in your brain, making you smarter! (I am actually not joking here…#science

I'm goin' on an aeroplane. And I don't know if I'll be back again

Often the word travel blogger conjures up images impossibly tanned couples gallivanting around the globe. However, for many of us, that lifestyle is simply out of reach! Char, of Taylor Hearts Travel gives us a glimpse into her travels, doing it with a baby in tow. Showing it's possible to even have mini adventures in your home town, we love being privy to her family's trips – whether they're on home turf or further afield.

If you're looking to use influencers in your next campaign, speak to a member of our award-winning public relation team today.