We train with former England manager Glenn Hoddle.
It's not often that you are given the chance to be coached by a former England manager, but that's exactly what happened earlier this week when I visited the Soccerdome in London to take part in a coaching session organised by The PHA Group client FTBPro.
30 writers from the FTBPro website- the largest fan-generated media platform in global football – won a competition to be part of a training session with Glenn Hoddle and his team of England youth coaches. And thanks to a very kind boss I was also invited to take part!
We began the day with a light warm up and then we were split into four groups. After playing a few games against each other, which involved dribbling and passing between cones, we progressed into some small sided games under the watchful eye of Glenn Hoddle himself.
Glenn stopped us in our tracks a couple of times to give some advice but on the whole, he let us play as we wanted. It took me a while to get into the game but after a few decent touches and a couple of off the ball runs he acknowledged me and said he could tell that I had played at a good level. It's not every day you receive praise from a former England manager!
Not that it matters too much but we lost the first game 2-1, drew the second 2-2 and in the third and final game we drew 1-1.
We finished off with some shooting from outside the 18-yard box. We were split into three groups, one group on the outside left of the area, one group on the outside right and one in the middle. I was in the middle group. We were told that we had to be on the move when striking the ball so either a teammate would have to set it up for you or you could take a touch out of your feet and hit it.
I happened to have the ball at my feet and Glenn Hoddle was standing with his back to goal on the penalty spot. So I took my chance and fizzed the ball into him and shouted left, luckily he was switched on and he set the ball back to me and I curled a shot just over the bar. It would have been better if it had gone in but nevertheless I can still say that I played a one-two with a man who won 53 England caps and managed his country!
Out of four shots, three hit the target and I scored one which, for a fullback, are pretty good statistics.
We then all had the chance to have our picture taken with Glenn and as I approached him and shook his hand he asked me who I played for. I answered that I played for Royston Town FC and, as it turns out, Glenn is actually good friends with a few of the coaches at the club…..hopefully he'll put in a good word for me!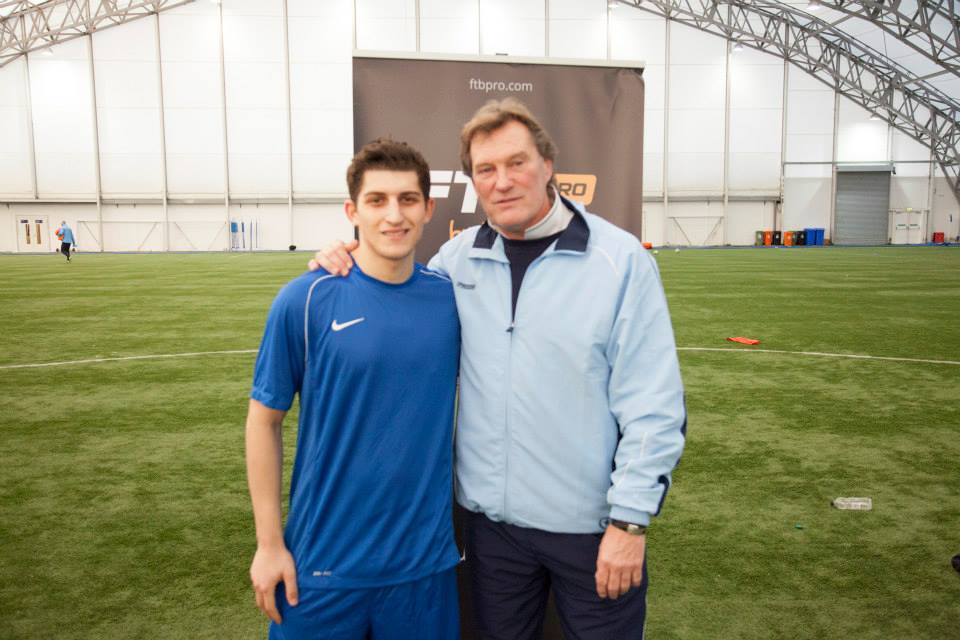 After some lunch, we finished with a Q and A session with Glenn. He was more than happy to share stories with us about his career and give us some insight into how he thinks England will perform at this summer's World Cup:
"A European team has never won the World Cup in South America so the most important thing for England this time around is to give the younger players as much experience as possible and the only way to do that is to go as far as they can in the tournament.
"The best player I ever played against was Maradona. When you look at the way he singlehandedly helped Argentina win the World Cup in 1986, for me I hold him in higher regard than Messi or Ronaldo.
"The best goal I ever scored was against Manchester United in 1979. It's the goal that gave me the best feeling".  (That was the goal that produced the iconic image, many will remember, of Glenn Hoddle floating in the air as he connected with a scissor kick volley to score).
"Paul Gascoigne, Paul Ince and a pint of Guinness" he said, discussing England's heroic draw with Italy in 1997 to qualify for the 1998 World Cup.
On modern football coaching styles, he was asked… Mourinho's style of play or Guardiola's? "I prefer my own" he said.
Overall it was a pleasure to meet Glenn Hoddle and it's obvious that he still lives and breathes football. He certainly still has a lot to offer the game and I'm sure it won't be too long before we see him standing in the dugout again.
To find out more about FTBpro visit www.ftbpro.com or on Twitter @FTBpro