As part of PHA's Charity & CSR initiative, employees are entitled to one Development Day per year in addition to their annual holiday allowance. This is an opportunity for staff to pursue areas of personal and professional interest that are likely to have a positive and tangible effect on their personal and professional development. Employees from across the agency are encouraged to organise a volunteering, charitable, educational, or community day. Alternatively, they can get involved with one of the Charity and CSR team's suggested activities.
For Summer 2021, PHA's Charity & CSR team developed an exciting Summer Development Day with The Conservation Volunteers (TCV). The brief was a fun and impactful activity day carrying out practical conservation work to improve green spaces and engage with the local community – and  (hopefully!) enjoy the summer weather. 
The day needed to contribute to PHA's ongoing pledge to give back to the local community and support charitable organisations. TCV's Employee Action Days offer amazing opportunities across the country from creating habitats such as ponds or wildlife meadows for threatened species and improving access to neglected public green spaces by building new paths and steps, to learning traditional skills such as coppicing or hedgelaying and creating spaces for communities to grow food.
This proved an exciting opportunity for those from across the company, and a team of PHA volunteers was quickly assembled.
The newly formed #PlantClub headed to Cricklewood's Westcroft Estate Allotments in North London ready for a challenge. An extremely overgrown garden in the allotment awaited them, which had begun to attract anti-social behaviour and fly-tipping. Residents wanted to see the area converted into a better-tended green space to alleviate these problems for the local community and help the owner – who was physically unable to clear the space herself – avoid eviction.
With brambles, trees, bushes, and weeds blocking the entrance and surrounding pathways #PlantClub got straight to work. Along the way, the team learnt about the gardening tools and plants from TCV's knowledgeable team leader as they removed bramble, couch grass and bindweed, and turned over the earth. After stopping for a well-earned morning break, complete with drinks and snacks from the garden's owner Margret, #PlantClub uncovered a long-forgotten shed and searched for the rumoured entrance to an Anderson Shelter. As the afternoon's work drew to a close, Margret, who was overwhelmed by the sheer amount of work the team put in, gave an emotional thank you speech. #PlantClub had cleared over 60% of the space ready for a new team to remove the remaining garden waste the following week.
The next morning the local council's green spaces officer took a look at PHA's work, reporting that he was happy that so much progress was made in only one day. A huge step away from eviction for the lovely Margret bringing her much closer to her dream garden (an open, grassy space with a small pond) … go #PlantClub! 
Before                                                                 After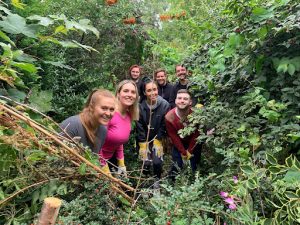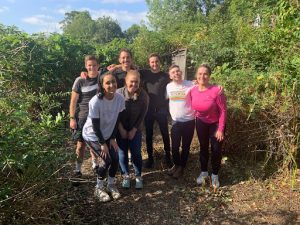 From local parks and community gardens to local nature reserves and Sites of Special Scientific Interest (SSSIs); from school grounds and hospital grounds to waterways, wetlands and woodlands; TCV connects people to the green spaces that form a vital part of any healthy, happy community. To find out more, please visit: https://www.tcv.org.uk/