Every couple of months an article or two regarding the 'fintech bubble' floats onto the pages of online and print media.
"Are we in a bubble? Will it burst?" fret the writers of such articles. "Are valuations based on real worth or mere chatter? Could fintech be the next Dot-Com?"
Reading these, it can seem a little like the sector is just waiting for a disaster to happen. Like all the hype is a brave face belying a fragile body.
However, questions like these should come as little surprise. Despite a sizzling market, it's smart to stay a little wary and acknowledge that just because entrepreneurs and investors are excited doesn't mean everything is smooth sailing. After all, startups fail. That's a thing that happens. And with the massive explosion of new businesses, it's indubitable many – if not most – will fail.
Does this mean there's a bubble?
Let's have a look.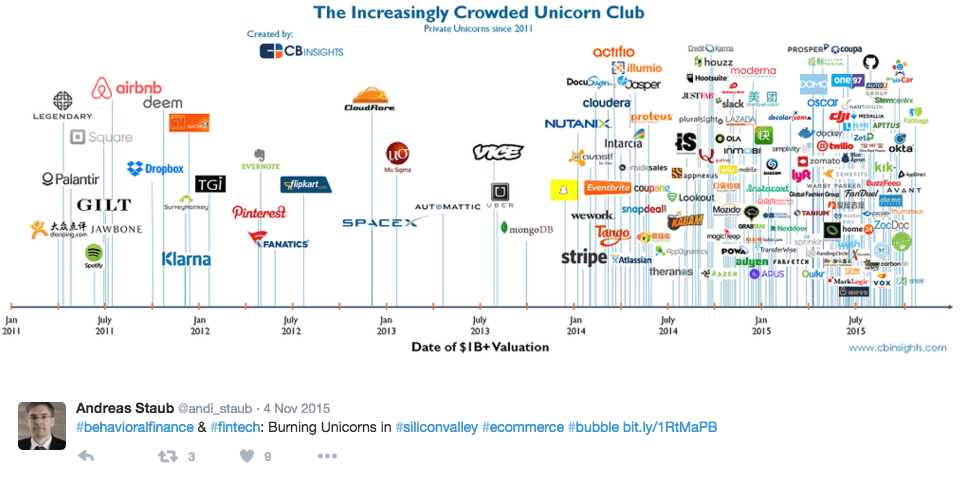 2015 was a big year for the tech sector. Huge even. According to the capital's promotional company London & Partners, a record $3.65bn (£2.5bn) was invested in private UK tech companies in 2015, equating to around a 70% rise in funding for startups compared to 2014. Around a quarter of this funding went to the financial services sector. This escorted a coming of age for fintech as it entered mainstream consciousness through new mobile payment options, the rise of companies like Transferwise, and some headline grabbing statistics as unicorn after unicorn raised their highly valued horns.
But Q4 also saw the beginning of something of a slow down in tech investment. After hitting dot-com funding levels in Q3, things began cooling off.
According to research from CB Insights, venture capital funding fell by 30% during the second half of 2015, with far fewer 'mega-rounds' of investment in Q4 in particular.
To make the situation sound even more dubious, the unicorns are beginning to look a lot like horses dowsed in glitter – at least if the latest tech IPOs are anything to go by. Square (and Match) received a decidedly chilly welcome as their shares sold for under the projected offering range, suggesting retail investors are more sceptical than expected when it comes to private tech valuations.
Cue: mild concern followed by sensational headlines about bubbles and what happens when one bursts.
However, take a step back and a deep breath and it's fairly clear beyond the fluff pieces and general buzz of big ideas there's some actual substance. There's a different kind of cycle happening in financial technology compared to just 'bubble and burst'.
For one, whilst the 'coming-of-age' may have been the growth cycle of the last two years, fintech has been around for a lot longer than that. As Bruce Wallace pointed out in Finextra:
What's different now? The new fintech technology startups are now mostly selling their solutions directly to consumers and businesses instead of selling to the traditional FI channel. The increased efficiencies are changing customer expectations and shaping the future of financial services.
This shift is important. It's a maturation of an established industry. Indicative of the changing mentality within the larger financial sector.
Furthermore, it conveys why disruptors have had such success in the last two years and why now there might be a cooling as money begins to flow into 'enablers' instead. Fintech has largely revealed the potential – or indeed the necessity – of its products. Payments companies and alternative lenders like Zopa, Funding Circle, and WorldRemit comprise the majority of the 35 unicorns in the sector. And part of the reason for this is because the landscape they are entering has remained stagnant for so long that a real need exists to innovate. By innovating they're taking part of the market share away from the incumbents. By innovating they're reforming.
As Chris Skinner said, "That's why there's no Fintech bubble bursting.  Just a re-architecting of finance through technology that, until it finishes, will see us moving through waves of innovation and change."
This is why banks are 'getting serious' about fintech as well. Why they are pouring in their own money to digitise, to gamify, to tap into all the things that disruptors have emphasised and monetised in the last few years.
Of course, acknowledging a change in mentality doesn't alter the fact that there has been a drop in deals.
But to play devil's advocate, according to research by Erin Griffith's for Fortune there's also a distinction to be made between late-stage investors and early-stage investors regarding the slowdown reported by CB Insights.
According to the late-stage investors, there is a new element of caution. 'Market dynamics are setting the bar much higher' than before. They don't want to keep funding businesses reliant on private money without turning a profit. On the other hand, early-stage investors are pretty much continuing the same as ever.
Why the disparity?
In part it's because the prices are simply too high to tempt many professional VCs. They're willing to wait to see the weaker business models shaken out by failures and takeovers. However, it also seems to relate to investors simply not wanting to feel the burn of another popped tech bubble and acute awareness of the swathe of 'down-rounds' where fintech companies have IPOed. Essentially, early stage investors have been paying too high prices and need to adjust expectation, which can be done with future investments. Everyone is thus left thinking maybe they should be wary, maybe they should keep on the side of realism instead of being succored in by mythical beasts, maybe they should stick to the usual methods of valuing a company like cash flow and profit.
At the end of the day it's not being negative to accept that many of our startups will die. And it's not foolish to consider that just maybe there is "too much money chasing too few assets" as Damien Lane, partner at Episode 1, told The Times. It's simply pragmatic. And what's falling in London's favour is that VCs have largely maintained their pragmatism in the face of a booming sector. Especially when compared to New York and Silicon Valley.
There is no doubt that 2016 will be a pivotal year for fintech. As recent and upcoming exits play out we'll really begin to see which business are worthy of the hype and which are not. But as yet the bubble is as close to unreal as many billion-dollar valuations.
Forget #Fintech Bubble: Market Gets Serious in 2016 https://t.co/SibXKwkPNo @CityAM #finserv pic.twitter.com/icjuoExg5o

— Jim Marous (@JimMarous) December 16, 2015