Phil Neville's commentary for the BBC throughout England's Group D defeat at the hands of Italy on Saturday night was beyond parody at times.
So bad was his performance that it drew 445 complaints to the BBC from irate viewers (to be fair, 14.5 million tuned in so it could have been worse).
The less-decorated Neville brother made the cardinal TV sins of stating the obvious, speaking too long and unfortunately for him, being locked in a monotone hell which got more flat as the game got more tense. He did a better impression of a robot than Peter Crouch did with that ridiculous dance at Germany 2006.
It has to be assumed that in the months leading up to the tournament, Neville has been given specialist media-training for what is a very difficult job. He may have even asked brother Gary for a few helpful hints.
It would seem he was undone by the biggest enemy when it comes to media performance – nerves.
One of Neville's first run-outs as a pundit for the BBC came last season when he appeared as a studio expert on Match of the Day.
That time, he was insightful and to the point, so much so that host Gary Lineker quipped about him having a future career in TV.
To blood him in such a big game was a gamble which just didn't pay off. He was certainly no Raheem Sterling.
Neville took to Twitter to point out it was his first 'live'. He will get better – but he has learned the harsh lesson that just like a German penalty taker, TV is unforgiving – a rule underlined to veteran BBC commentator Jonathan Pearce during the France-Honduras match.
Pearce's goal-line technology gaffe was as nearly as excruciating as a Gary Lewin goal celebration.
Had he made the error and then admitted he got it wrong, it would have been fine. But, seemingly having taken classes at the Phil Neville School of Punditry, he kept going. And going.
In my own mind, I had visions of his co-commentator shifting slowly away from the confused Pearce as if to say: "He's not with me and I don't know how he got into the press box."
Despite Neville and Pearce's best efforts, the BBC is winning the broadcasting stakes in its battle with ITV.
The simple reason for this is its line-up.
Former England defender Rio Ferdinand is making his debut. Although he likes to role-play imaginary conversations between opposing players in his analysis, he is sharp and draws on his own and very current experience of playing at the top level.
The Beeb has also triumphed in enticing back Clarence Seedorf.
Then there is Thierry.
Smoothness personified, Henry is as much the star man for the BBC's Brazil coverage as he was for Arsenal. His first few forays into the punditry world last season were far from perfect. But they still had broadcasters fighting over his services.
Men want to listen to his views, I suspect women just want to listen to his voice.
And like on the pitch, he is delivering in abundance. He is so cool he should be used pitch-side to lower players' temperatures in the Brazilian heat.
And he has been able to mix sharp analysis with a sense of humour.
His response to Gary Lineker smartly asking him if he'd ever got away with a handball was brilliant ("no, never" was his dry answer to rebut the jibe over his notorious 'basketball' indiscretion against Ireland).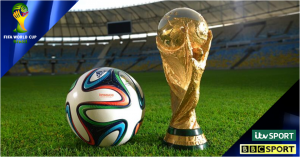 His super-cool handling of Robbie Savage going after a row over France's Paul Pogba was also silky – "Robbie, you are entitled to your view but I am French, so it wasn't a red card" is how I recall his 'back-in-your-box' handling.
Amongst all of this, there is, of course, Lineker – an England hero and a scorer of ten World Cup goals in his time.
Over on ITV, Adrian Chiles bore the early brunt after England's warm-up game against Honduras in Miami went awry, but he is a skilled performer who filled in very well.
Glenn Hoddle and Lee Dixon are a good watch, but the star-players Gus Poyet and Fabio Cannavaro just aren't matching the big guns which the BBC have rolled out.
Clarke Carlisle also went one better than Neville or Pearce when he waxed lyrical about Jackson Martinez not being able to get into the Ecuador team. He can't – he's Columbian.
But overall, the absence of Roy Keane is telling and the spark has been lost.
Like Roy Hodgson's men, ITV will need to get it back when it televises England's two remaining Group D matches against Uruguay and Costa Rica.
If England win both of those, Adrian Chiles may not seem so unpopular after all.