Yesterday marked the one year anniversary of the tragic earthquake in Nepal which killed more than 8,000 people, injured 21,000 people and damaged over 900,000 homes.
Nepal is a country very close to my heart. In 2012 I spent a month living in Nepal, where I volunteered for a children's refuge and raised the money via an international social media campaign to save a little boy from poverty.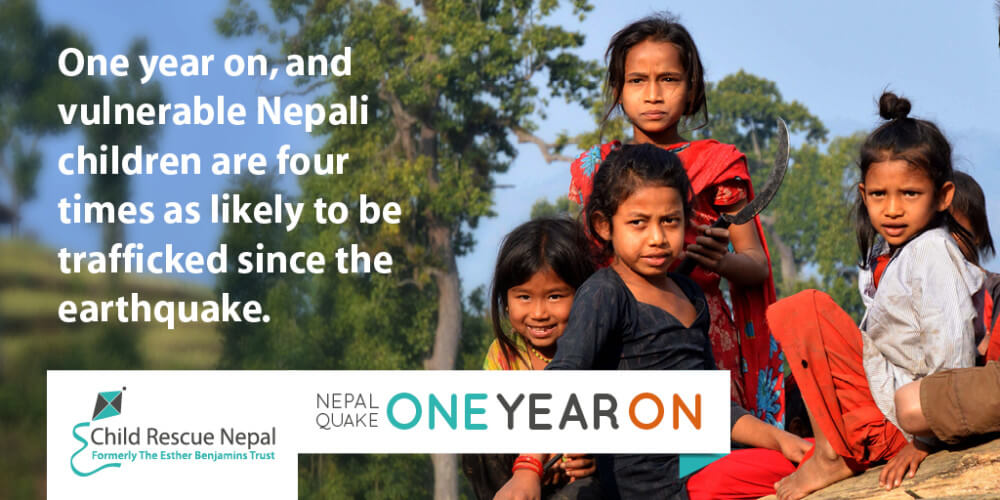 Because of this special connection, I continue to keep a close eye on current affairs in Nepal and, like many throughout the world, was shocked and dismayed to witness the devastating effects of the earthquake.
When I was approached by registered charity Child Rescue Nepal to become a media advisor to their board of trustees, I didn't hesitate.
Since we launched our new 'development day' scheme, I decided to take advantage of this to give up a day of my time to work in-house for the charity alongside their UK team and the one year anniversary seemed like the perfect time to lend a hand.
We had decided to use the anniversary as a news hook to launch a special fundraising campaign, to raise awareness of the invaluable work that Child Rescue Nepal does in rescuing children from trafficking and reuniting them, where possible, with their families and keeping them safe in schools.
The campaign, called #NepalEarthquake  #OneYearOn calls for funding to enable Child Rescue Nepal to carry out this invaluable work, particularly in light of shocking new statistics that child trafficking is rife in Nepal as rebuilding efforts falter, despite some of the positive news stories the rest of the press is telling.
Today we launch our #OneYearOn #NepalEarthquake fundraising appeal, please RT or donate now: https://t.co/9ikgT4UsR2 pic.twitter.com/RJ8QR7YkQf

— Child Rescue Nepal (@childrescuenep) April 25, 2016
The charity issued a press release yesterday with data from the first independent survey into child trafficking conducted since the earthquake. Key findings were:
• More than 50, 000 children are at risk of trafficking since the earthquake (four times as many as before)
• In three Nepalese areas surveyed, more than 2,600 children have been trafficked in four months
• Children are sold onto larger-scale traffickers and put to work in factories, circuses, or as sex workers.
• Trafficked children are typically made to work long hours with little or no pay, and suffer verbal, physical and at times sexual abuse
• Girls are at greater risk than boys of being trafficked.
I spent the day helping Child Rescue Nepal at their HQ in CAN Mezzanine, a special serviced office space for charities and social enterprises to get the message out to the media and engaging with supporters, politicians and celebrities on Twitter. The social media campaign involved the use of hashtags and the creation of visual posts, with reference to the campaign and clear calls to action for donations. I also spent some time building lists, showing them how to use tools such as Social Oomph and bit.ly, as well as Twitter and Facebook ads.
As the day progressed we got some great results on social, with Aidan Radnedge Metro (print) Chief Reporter, Lucy Sherrif  of editor of HuffPost UK Young Voices and celebrity Zoe Wannamaker retweeting in support of our cause
Children in Nepal more at risk from trafficking since last year's earthquake. Help Child Rescue Nepal to help them. https://t.co/9SE9MdNxxn

— Zoë Wanamaker (@ZoeWanamaker) April 25, 2016
We also got an overwhelming response from The PHA Group employees and departments on Twitter and a very generous donation to the campaign from Phil Hall on behalf of The PHA Group, which was received with much gratitude.
Today marks #OneYearOn from the #NepalEarthquake read more about the work of @childrescuenep here: https://t.co/bgiwsv67au

— PHA people (@PHA_people) April 25, 2016
At 2pm we launched a Global Giving page, which enabled donations up to a certain amount to be match funded:  I'm pleased to say that this has raised £7,789 so far. It raised over £5,000 in the first 24 hours.

One media opportunity that was generated from the press release was an interview on Rhod Sharp's Radio 5 Live's Up All Night programme. I volunteered to be a spokesperson to convey key messages and you can hear my broadcast here at 02.24.40:https://bbc.in/1pBjwUa
The campaign is only still in its early stages, so if you would like to lend support to this fantastic small charity doing big things in Nepal then please follow them on Facebook and/or tweet them your support, or to donate go to Global Giving or via their usual channels.