While possibly hard to imagine or remember, just nine years ago the impact of Black Friday in the UK was negligible. With Google forecasting reduced peak demand, and searches occurring throughout November, have we already seen the peak of Black Friday in the UK?
Before 2014, our main exposure to Black Friday in the UK was through news reports of huge queues and aisle scuffles as consumers fought over electronic goods. Held on the day after Thanksgiving, it is widely believed to be that day that businesses financially moved 'out of the red and into the black,' however, the real story behind its name, is somewhat darker.
As we gradually became more exposed to the concept here in the UK, international companies started to realise how lucrative the event was in the US and began to replicate the concept in the UK, offering deals, sales, and promotions to entice consumers into buying.
Initially a one-day event, we have seen Black Friday morph into a weekend, witnessed the arrival of Cyber Monday and watched as the event then became a week, with some retailers going that step further and offering a flat month of discounts.
And what of those businesses that choose not to engage? While at first these outliers received vast amounts of attention, increasingly consumers are voting with their wallets and expect companies to be sustainable and environmentally aware of the impact of consumerism on the planet. Their behaviour over Black Friday needs to reflect their ethos at other times of the year or risk damaging brand loyalty and advocacy.
The trend of the last few years, and Google's own forecasts, suggest that Black Friday is on the wane in the UK.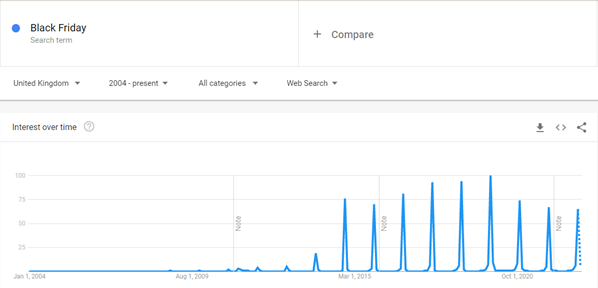 As Google's trends tool confirms, the searches for Black Friday in 2022 are less concentrated on the day itself. Searches started a little higher earlier in November than in the last few years and had a more significant uplift in the preceding week than in the past.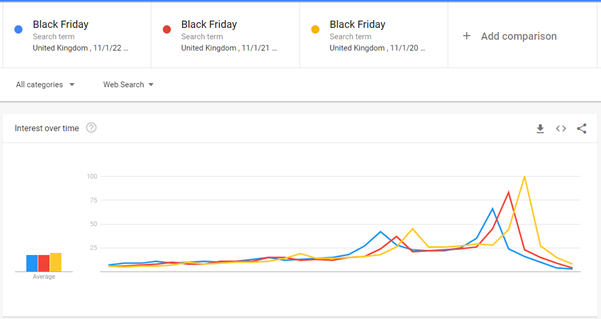 Our client's data on search terms containing Black Friday goes even further, with the peak in searches actually occurring in that preceding week.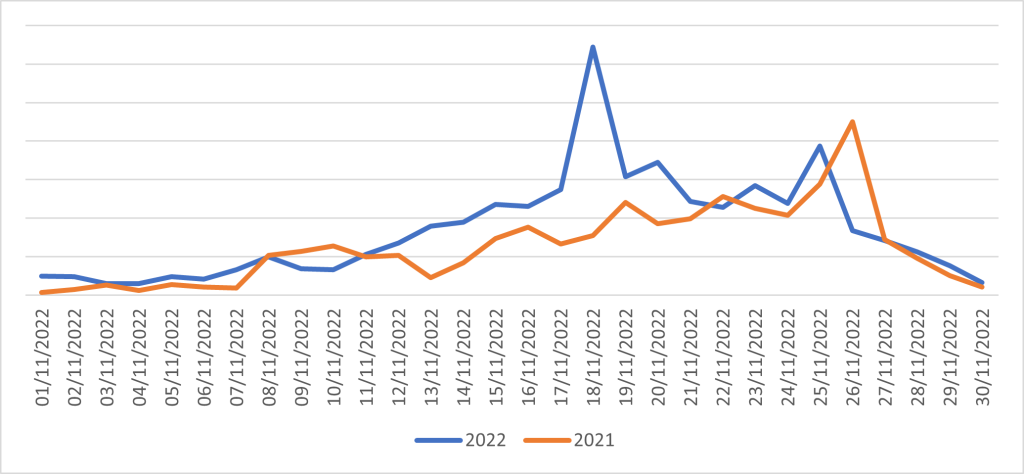 In the next nine years we may see that although there is a significant amount of sale activity in November to catch the Christmas shoppers, it will no longer be focussed on Black Friday, Black Friday Weekend, and Cyber Monday and will instead continue with the dilution and erosion of what is a key shopping moment in the US.
November will continue to be a key sale period, but no longer centred just around Black Friday.