So, what is CBD?
CBD, cannabidiol, is a non-psychoactive compound found in marijuana and hemp plants. These are both included under the umbrella term cannabis which is a flowering plant in the Cannabacacae family. Hemp is a very strong and versatile natural fibre and is used in over 50,000 ways including in carpets and ropes, soaps and shampoos, as fabric and even in newspapers and packaging!
CBD infused products are taking wellness markets by storm across the world. CBD is said to have a plethora of health benefits; there have been studies showing that CBD can improve sleep, concentration, reduce anxiety, pain, inflammation and potentially other benefits that are still being explored. The World Health Organisation (WHO) claims CBD could one day be used to treat Alzheimer's and cancer. For CBD products to be sold medicinally, however, products must be licenced under the Medicines & Healthcare products Regulatory Agency.
Currently in the UK, THC is illegal, but CBD is not. CBD products are growing in popularity exponentially and are constantly being developed, from beauty products to baked goods. This article will explore some of the food products available in the UK and several cafes, bars and restaurants that are updating their menus to contain the plant extract.
CBD Food Products Available in the UK
Good Hemp produce several products containing CBD extracts including milk, seeds, cooking oils, oil drops and protein powder. Their website has a cookbook section with lots of yummy recipes to use their CBD infused products in. The brand is stocked in many health stores such as Holland and Barrett, and in supermarkets including Tescos, Sainsburys, Morrisons and Waitrose- so it shouldn't be too hard to find!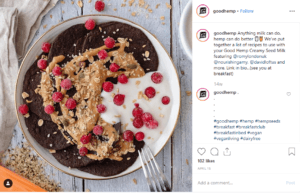 Like Good Hemp, Love Hemp produces CBD oils. It also sells CBD infused sweets like sugar free gummy bears, vegan and sugar free jelly domes and chocolate bites! Unique to Love Hemp is its bottled mineral water infused with CBD hemp droplets, the first CBD infused mineral water in Europe. Each bottle contains 2mg of natural hemp extract and is sugar free, allowing you to get your CBD fix and stay hydrated.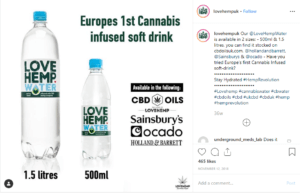 Mr Prempy's is a smaller CBD foods company that focuses on sweet treats- cakes, chocolate coconut bars, chocolates and truffles to name a few. Planet organic stocks the boxes of truffles and other products can be bought directly from the Mr Prempy's website. Mr Prempy's also offer a bespoke private make-to-order service. So, if you'd like to throw a party with some delicious CBD infused snacks, get in touch with Mr Prempy's!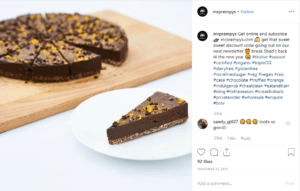 CBD Cafes, Bars and Restaurants
Not only are there CBD food products springing up everywhere, several cafes, bars and restaurants are incorporating CBD into their menus.
Farmacy Kitchen is an organic restaurant in Notting Hill. They grow many of their own ingredients in Kent and then deliver them on a weekly basis by electric van to Notting Hill. All very eco-friendly! Farmacy Kitchen serve a unique high tea including open sandwiches served on gluten-free charcoal bread, a mushroom and spinach quiche, prosecco jelly and berry pavlova and of course CBD infused chocolates.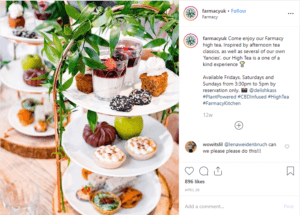 Mortimer House Kitchen
Wanting a health kick? Mortimer House Kitchen in Fitzrovia is a superfood-focused restaurant located in Mortimer House which is also home to a gym and wellness centre. A shot of CBD infused turmeric oil can be added to any coffee on the menu, relaxing you after a long workout.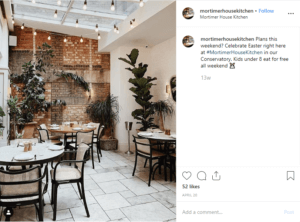 For a healthy desert treat, head to Yogland in Notting Hill for the world's first 'cannabis-laced' frozen yoghurt. The CBD infused froyo flavour is named Hemp Matcha and is not only low calorie (under 80 calories a serving), it's vegan too! Yogland released this flavour in light of the legalisation of CBD oil in 2018.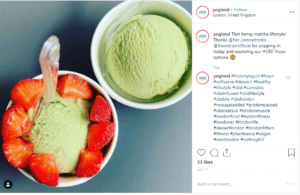 Fancy a CBD cocktail after your CBD meal? Mr Fogg's House of Botanicals in Fitzrovia, London offers a CBD infused cocktail at their upstairs bar. The cocktail, named Bhang, comes in a bong-shaped glass and contains CBD oil-washed Alipús San Juan mezcal, Green Chartreuse herbal liqueur, Acqua di Cedro liqueur, fresh lime juice, sugar syrup and fresh tarragon and is described on the menu as smoky, aromatic and healthy.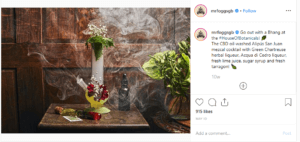 If you have a CBD business and would like to find out how our award-winning team could help promote your business, or if you're launching a new product into the market, get in touch today.