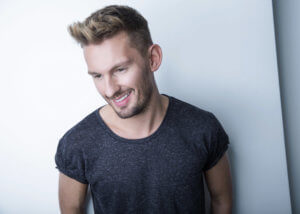 Pride season is upon us and now is a great time to reflect on why the celebrations are so important. The reason gay pride takes place in many cities across the world is for communities to unite to take a positive stand against homophobic attitudes within society.
In 1967, sexual acts between two men were decriminalised, so long as they were kept private. Just let that sink in for a second: 50 years ago, it was illegal to be gay – sounds ridiculous doesn't it? Following decriminalisation, there were still leaps and bounds to be made to tackle homophobia and discrimination of the LGBT community. At the time, just because it was legalised, did not mean that it was accepted.
The first Gay Pride parade in London was held in 1972 – with 2000 people in attendance. Since then, Pride celebrations have spread to cities across the world. Today, pride is an opportunity for LGBTQ+ people to come together, celebrate their identities and strive further forward towards a society free from prejudice.
LBGTQ+ rights have come a long way in more recent times, but let's not forget that there are others who are still having to suppress their sexualities and gender identities because society does not accept them. Members of the LGBT+ community have endured decades of discrimination and abuse from every corner of society and still do today. Same sex relationships are still illegal in 74 countries across the world. 13 of those countries enforce the death penalty for the 'crime' of homosexuality. It is mind-boggling that in today's society, a person can be killed for loving somebody.
We need LGBT+ communities and their allies to stand shoulder to shoulder in defiance of regressive behaviours and work together to encourage a shift in attitudes and change for the better. That's why at Ditch the Label we live by these values:
We want to enjoy life in a society where eventually there is no need or expectation to 'come out' unless you choose to do so because it is universally understood that sexuality can be fluid and is not defined by the gender of the person you love. A society free of judgement.
We want to live in a world where it is safe to walk down the road holding the hand of the person you love…to openly show affection…to flirt…without having to look over your shoulder or 'check' your behaviour to make sure it is safe.
We want to live in a world where a person is defined not by their gender or sexuality, but by what's inside their heads and their hearts.
We want a world where it is not only safe to be your true, authentic self, but embraced and celebrated.
We want to live in a world where equality prevails, and nobody is discriminated against because of who they fancy, the colour of their skin, where they were born, or what's in their pants!
We want to thrive in a society where love prevails, not hate.
So, this pride, make sure you take a moment to reflect on the meaning behind the revelry. We can't wait to see you there!
The importance of Pride – Liam Hackett, Ditch the Label
We understand the challenges that can be faced in each sector, and we know how to prepare and protect our clients should they ever need it. In recent years, there has been increased scrutiny amongst the media towards charities, and even more hard-hitting scandals this year have had an impact on public perceptions. It can take a hundred good stories to build a reputation but only one bad one to bring down the house.
We've helped charities in the eye of the storm and advised clients in high profile situations. Our support can help you to prepare for and react decisively to an issue or crisis situation. If you want to take steps to protect your organisation today, please don't hesitate to get in touch.
Developing a crisis response strategy
We know that most comms issues can be navigated effectively with the right strategy and support in place. Having the confidence that you can mitigate a risk comes from knowing you are properly prepared. We work closely with clients to create straight-talking crisis comms strategies that cover:
• Situational analysis – a review of key events that could impact your organisation
• Risk assessments – what issues are you likely to encounter? What could have the most impact?
• Crisis team structures – including Trustee support
• Comms protocols and checklists – a clear structure to follow at a glance
• User handbooks – communicating your crisis strategy in a format that can be easily accessed and used when the time is of the essence
• Template materials – to help speed up response times during a crisis situation.
Training days
Part of being able to respond to a crisis is being confident when handling media. The media will view your chief executive like any other CEO – they are the leader of the organisation and should be prepared to be scrutinised.
Journalists argue that they are reporting what the public needs to know, or wants to know, reflecting public mood. Spokespeople should be media trained, armed with facts and prepared for the toughest questions.
At PHA, our expert teams have been on the sharp end of media questioning, and can expertly prepare any spokesperson. Our tailored media training sessions train spokespeople to:
Structure key messages
Learn to control media interviews
Develop prepared responses
Understand the media
Learn different interview styles.
In addition to media training, our crisis simulation training days will put comms teams through their paces, with a mock crisis scenario involving how to deal with news of the crisis breaking, the first stages, the first calls from journalists, the CEO being doorstepped, and more.
Real-time support
During a crisis, even those with agreed protocols in place often require additional support. Crisis management experts are used to dealing with difficult situations, and good ones are not afraid to tell clients how it is once they see the depth of problems in an organisation. They should be able to bring with them not only expertise but contacts and links to other third parties who can help.
Getting up to speed on an issue quickly is vital. At PHA, we offer a 24/7 service that monitors social and traditional media coverage including sentiment. Our twice-daily reports with analysis and recommendations mean that you can always be sure of informed decision making.
Support from PHA can be scaled up or down depending on the level of crisis. From handling all media enquiries and social posts to acting as a sounding board for critical response deadlines, you will always be working with a dedicated senior comms consultant who will be on-hand at a moment's notice. We also plug clients into media lawyers were necessary to help protect reputations and advise on other issues should the need arise.
Proactive PR
Following on from a crisis, it's important to focus on the future and how or where you need to re-build relationships. Our third sector specialist team can help with:
Reviewing existing content and communications
Stakeholder engagement strategies
Thought leadership/feature placement
Proactive awareness-raising or fundraising campaigns.
If you would like to know how PR can help protect your organisation, please don't hesitate to get in touch today.
Third Sector crisis communication support
Regardless of the sector you work in, PR professionals will always need to deal with sensitive subject matters. The subjects in question will vary dramatically depending on the type of client you are representing, however, it is important for all PRs to be fully prepared and understand how to handle challenging topics for discussion.
Looking specifically at the health sector, PRs will often find themselves dealing with niche, sensitive topics which the public do not wish to openly discuss. From tooth decay, to varicose veins, to odorous armpits – these are just some of the common health concerns that it is important to educate people on, but not the most glamorous of topics to cover.
As PRs, we must deal with such topics in a delicate, professional way. However, it is also the job of the PR team to bring these topics to life and take what would usually be perceived as an 'unsexy' issue and catapult it to the forefront of public conscious through targeted and creative PR activity.
Below we've detailed some of the key PR tactics that can be utilised when handling a sensitive subject:
 Don't be afraid to ask questions…
As a starting point, it is important to ask ALL the awkward questions that no-one wants to talk about. This will help to establish the key messaging for a campaign and draw out the most press-worthy hooks. Armed with this information, you will then have the basis for PR'able content.
 Make it bite-sized!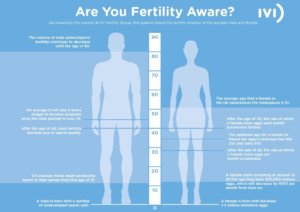 The key to promoting a sensitive health topic is to make the issue feel relevant to the masses, and to make sure that the subject is easy to digest and understand. Feature articles focussed around 'top tips about….', or 'myths and facts about…' can be great ways to engage a mass audience and provide consumers with the must-know info in a bite size form. Also, for a more visual content strand, infographics can be a good way to provide information about a sensitive subject.
Case studies are key
 Case studies can also be hugely beneficial when trying to spread awareness of a sensitive subject and bring a challenging topic to the forefront of the media's attention. Real stories illustrating a health condition or problem help bring a topic to life by adding a human face, and help educate a consumer audience on warning signs/symptoms they should be looking out for – which can help people to identify if they too are suffering from the condition in question.
All case studies must be handled with the utmost sensitivity. It is important to guide the case study throughout the entire process – making sure they feel totally comfortable with answering sensitive questions and being contacted by journalists. For media articles, all case studies will be required to reveal their full name and be pictured within any resulting articles so it's also important that case studies are fully briefed on this from the get-go and feel completely happy to have their name and image in the public domain.
Think about your audience!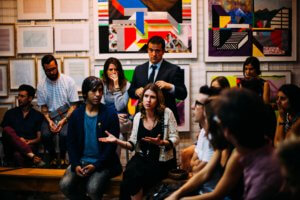 When dealing with sensitive health stories, it's also important to think carefully about who the target audience is and where they want the information to go. What's the age demographic you are trying to engage with? Is the condition/topic you are dealing with more geared towards men or women? Does the condition require an expensive procedure to treat? These are all questions which you need to ask yourself when planning your PR activity to ensure that you are cutting through the noise and hitting the people who are most likely to want to hear from your client.
In summary, to effectively PR a sensitive subject matter, it is vital that you spend time carefully learning about the topic – drawing out all the required information whilst recognising the sensitivities around the issue. Make sure that your PR messaging reflects the client and subject matter suitably. Finding a delicate balance between the need to spread awareness and any sensitivities around real-life stories /making sure that the topic is featured via the appropriate channels is key to any successful PR campaign focusing on a sensitive subject matter!
If you would like some help on how to address a sensitive subject then please get in touch.
How to talk about a sensitive subject: The secrets of Health PR
Date: 27th of June
Times: 08:30  to 10.30
Venue: "The Loft" at The Ivy Club
We will be providing breakfast followed by networking and a panel discussion with industry experts discussing the burning issues that charities face as they communicate in an increasingly challenging media landscape.
We will be hearing from our keynote speaker Toby Porter, CEO of Acorns Children's Hospice, alongside The PHA Group's Shelley Frosdick, Director of Consumer PR; Neil McLeod, Head of Strategic Communications and Tim Snowball, Head of Public Affairs. The team have delivered highly successful campaigns for the likes of Jeans for Genes, SSAFA and SmileTrain, so it is set to be an interesting and informative morning.
We would be delighted to have you there, if you would like to attend then please RSVP below, along with any dietary requirements.
More information on the speakers below:
Tim Snowball, a former Director of Communications for the Liberal Democrats and political adviser to Nick Clegg when Deputy Prime Minister, now works with a wide range of charities, CAR initiatives and causes to help them become more effective when engaging political stakeholders. Tim's work for pressure group Living and Dying Well won "campaign of the year" at the 2015 public affairs industry awards.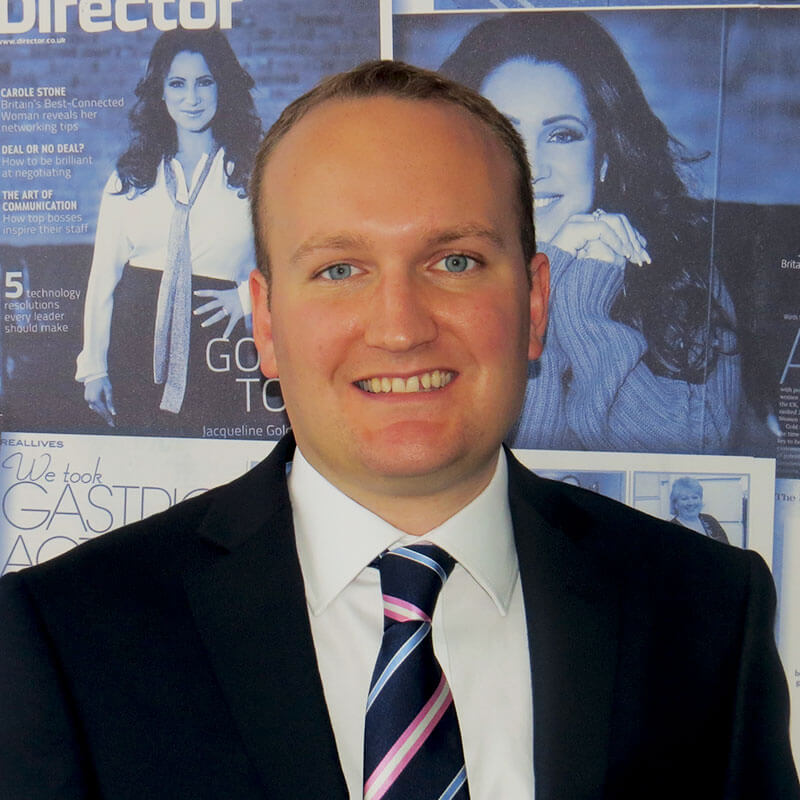 Neil McLeod, Head of Strategic Communications. Neil is a former journalist who has advised charities in crisis comms as well as corporations and high profile individuals.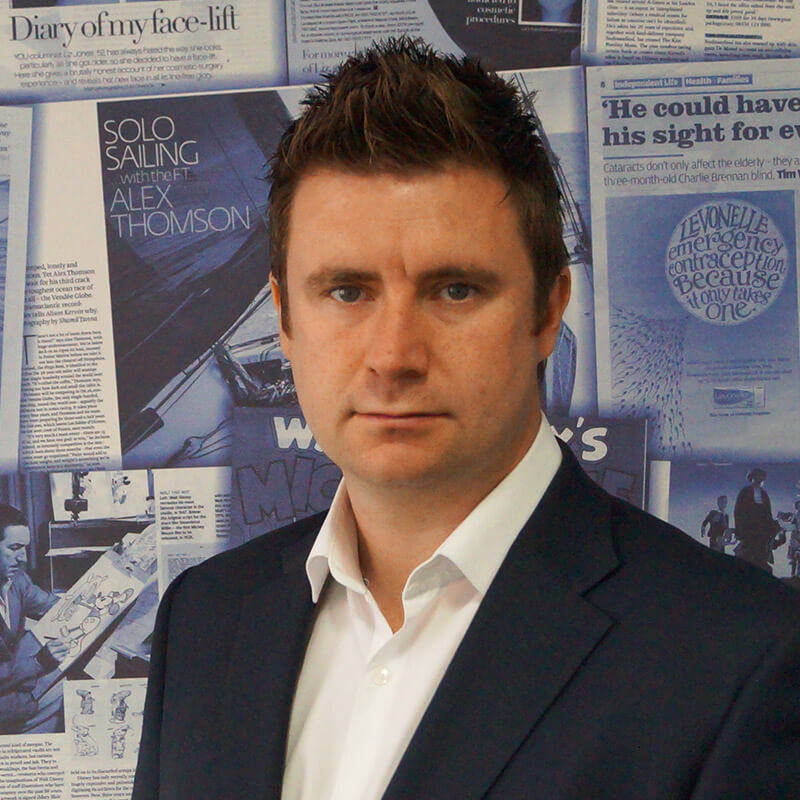 Shelley Frosdick is Director of PR at multi-award winning agency The PHA Group where she heads up the Consumer division which has a specialist interest in third sector PR. Joining the agency eleven years ago, Shelley has managed campaigns for a range of high profile clients including charities such as SSAFA The Armed Forces Charity, Women's Aid, Jeans for Genes, Crohns & Colitis UK, Smile Train and Breakthrough Breast Cancer.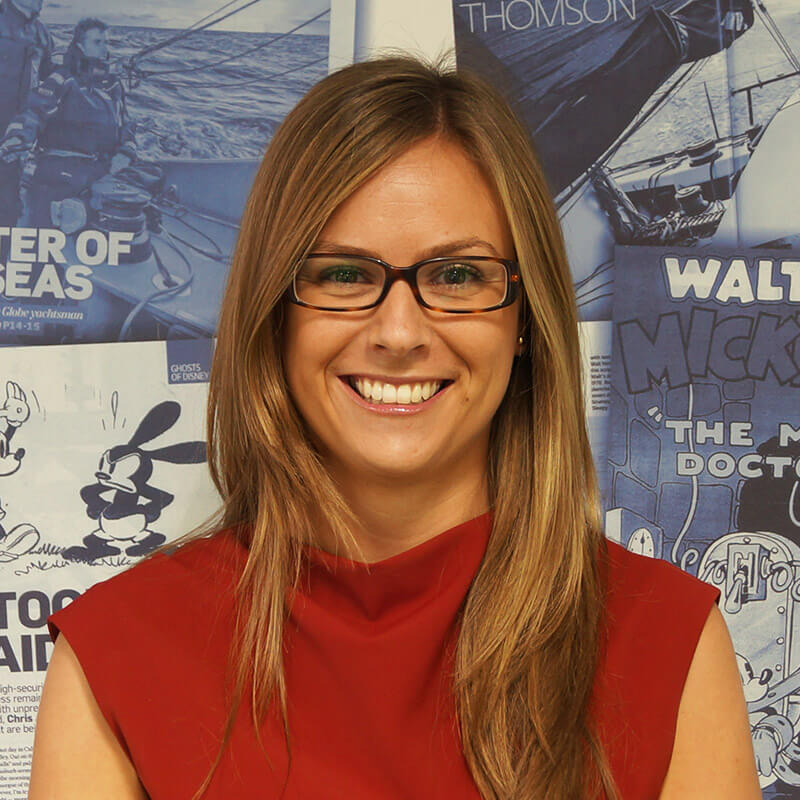 Toby Porter is the Chief Executive of Acorns Children's Hospice Trust, one of Birmingham's best-loved charities. Toby joined Acorns in September 2016, following three years leading HelpAge International, a global network of organisations working to help older women and men claim their rights, challenge discrimination and overcome poverty in older age.
Toby has dedicated his entire career to humanitarian and development assistance, working for 10 years with Save the Children, and five years before that with Oxfam. As Global Emergencies Director, he led Save the Children's response to the Asian Tsunami in 2004, the Pakistan earthquake in 2005, before moving to New Delhi seconded to Save the Children India from 2008 to 2011. Earlier in his career, Toby worked in the Rwanda refugee camps in 1994 and 1995, and led Oxfam's response to the Kosovo crisis in 1999.
Toby attended the Annual Meeting in Davos of the World Economic Forum in 2014, 2015 and 2016, as one of the global civil society representatives.  He also served on the World Economic Forum's Global Agenda Council on Population Ageing for 2014-16.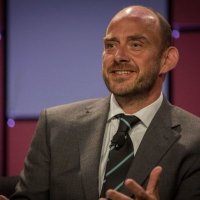 Comms That Make a Difference: managing your reputation and making an impact.
Politics can be confusing for charities, especially when you're operating on a small budget that is being stretched multiple ways.
But for many charities, it will be important to engage in politics at some point – perhaps because they have a funding issue, they want to campaign for a policy change, or they want recognition for the work that they are doing. Often, it can be a combination of all three – political recognition can open new doors and attract new donors, and having political champions is essential if a charity aims to change policy.
Well-established charities can often afford to hire full time communication specialists in-house, but for many of the 160,000-plus charities in the UK, this simply isn't an option. So how can charities go about getting involved in politics on a shoestring?
Be clear about what you want
The mistake that many charities make is by being unfocused in what they are asking for. Charities often have a deep understanding of their policy area, and can see what is and isn't working on the ground. This can mean that charities have lots of feedback and changes that they would like to communicate–but this means that the message can easily get confused!
To give yourself the best chance of success, it is important to have clear and realistic goals as soon as you start the process of engaging politicians.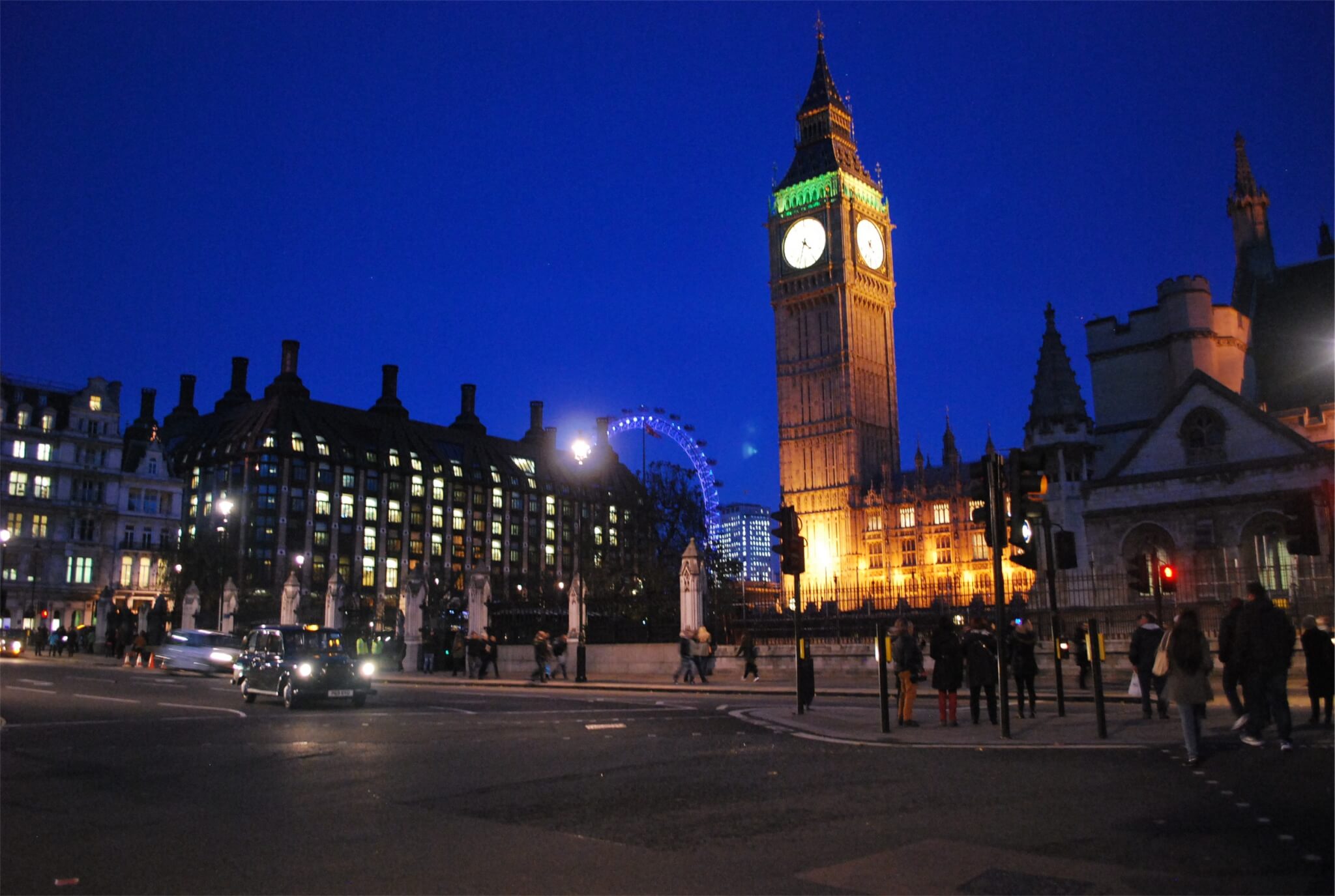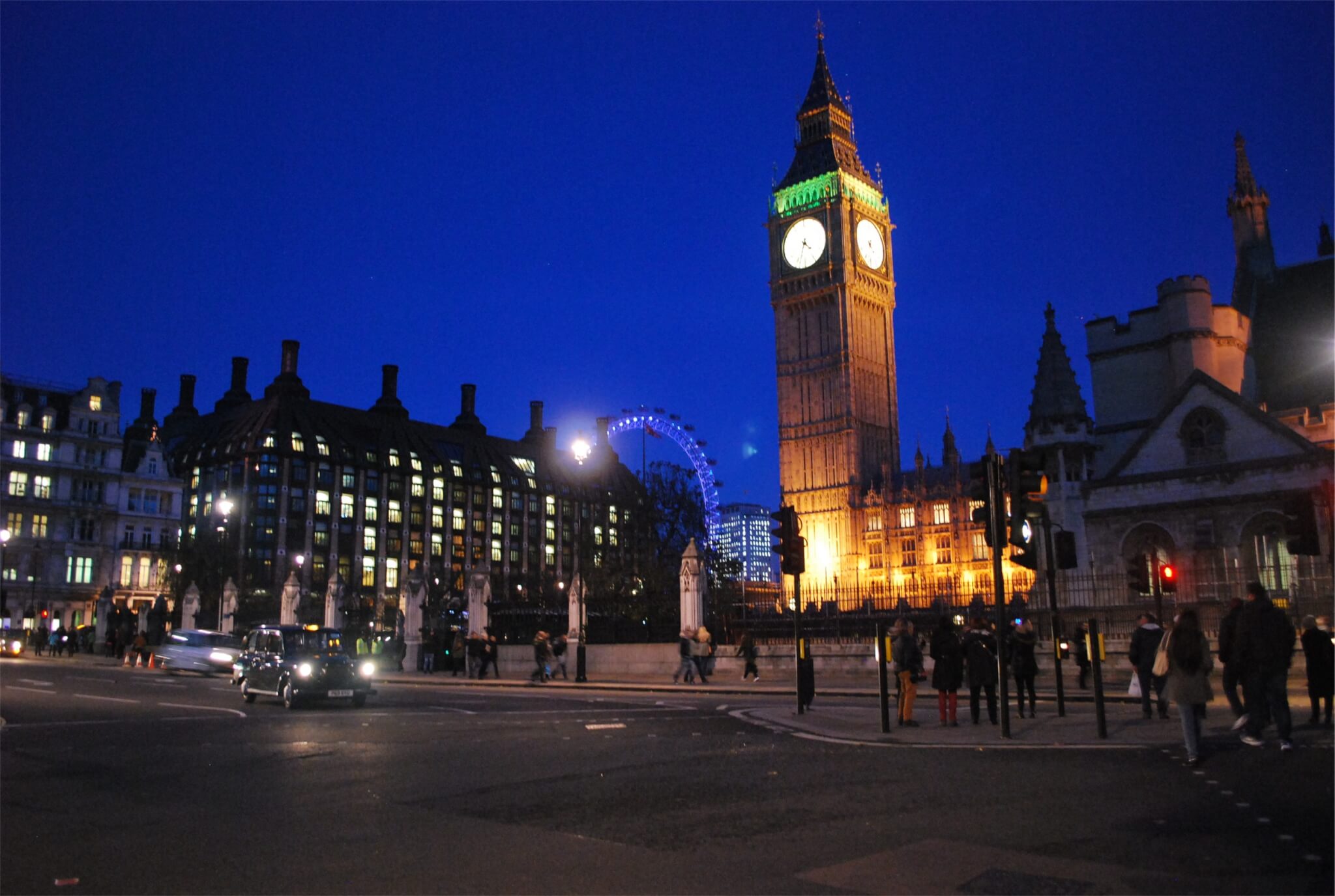 Use your resources wisely
As a charity with a limited budget, make the most of the resources you already have. If you aren't able to host a reception in Westminster, why not invite the MP's in the areas you operate in to come and look around your charity? Or instead of glossy brochures and a fancy campaign website which takes hours to maintain, ask your volunteers and your supporters to write or tweet to their local MP on your behalf. MPs care most about what their constituents think about them, so it is likely that receiving a mailbag full of personalised letters will make your MP sit up and listen. You can then engage with the MP and turn him into a champion of your charity.
Be targeted
Similarly, don't waste time reaching out to every parliamentarian. If possible, undertake some stakeholder mapping and identify your key targets. With a smaller pool of policymakers, you can reach out and make personalised, individual approaches. These are much more likely to be successful than the hundreds of templates letters which MPs receive every day – which 90% of the time, end up in the bin.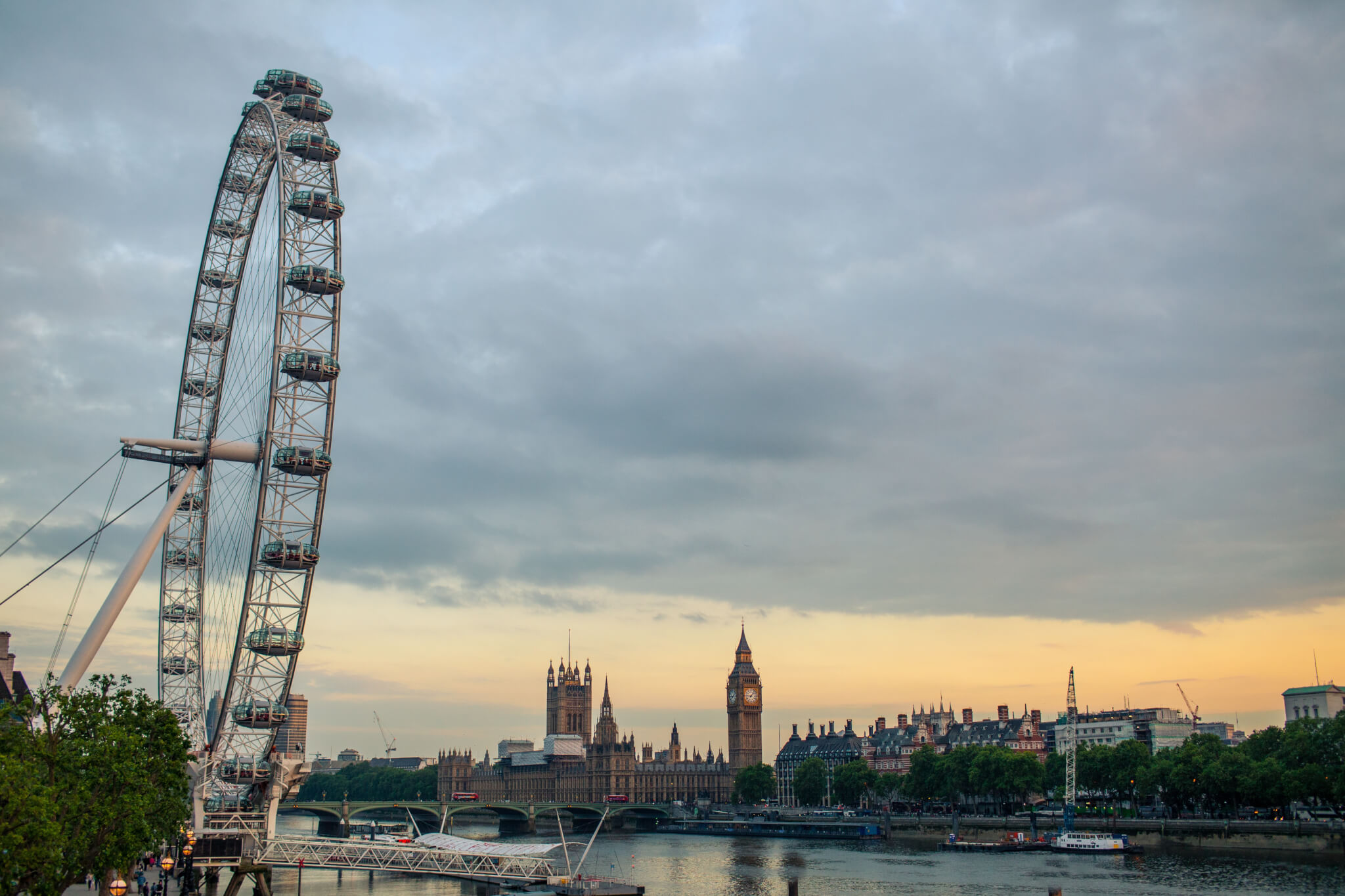 Look for opportunities
Parliamentary business moves quickly – blink, and you'll miss it. But it is vital that you monitor what is going on in Parliament every day, and not just in the main chamber of the Commons. There are often select committee inquiries, questions for short debate in the Lords, new legislation and Westminster Hall debates that you can get involved with, either directly or through your political champions. These are a great opportunity to get your voice heard by the people who matter most.
Be impartial
Although charities are required to be politically neutral, there have been many incidences where politicians have felt that a charity is biased against them. No matter how strongly you feel about an issue, it is important to remember that giving any impression that you are not impartial (even personally!) is likely to alienate politicians who could otherwise have listen to you and helped your cause.
This doesn't mean that you can't criticise a political party's policy – but it does mean that criticism should be proportionate and you should remember that a policy is always formulated with good intentions – even if in reality it doesn't work on the ground. Stick to your message, and work to educate policymakers, and you'll find it much easier to influence policy.
How can charities change policy on a shoestring?
Animal charities occupy a great deal of space in the third sector and have created some of the most successful campaigns that we've seen in recent years. There is a risk, however, for animal charities to fall into the trap of guilt-inducing videos. These can cause viewers to cringe away before they engage with the issue. It seems shocks tactics are on the way out, and in their place, we are seeing a series of imaginative and varied campaigns that really work to capture and maintain people's attention. Here are our top 5 creative animal charity campaigns:
This shocking but brilliant campaign from PETA Asia highlights the cruelty practised every day in the exotic-skins and leather goods industry. As consumers, the reality of what we wear is hidden from our consciousness by glossy shop fronts, designer labels and personal ignorance. This project demonstrated to shoppers what their fashion choices mean for animals the world over, forcing them to take ownership for the harm that this necessitates. PETAs bold statement sent shockwaves through social media, with the original video hitting nearly 4million views. PETA drove home the message that these skins belong on the backs of animals, not hanging in our wardrobes.
Working with IKEA in Singapore, Home for Hope came up with an innovative campaign to encourage families to adopt dogs by making them look like part of the furniture. Home for Hope placed a number of individual life-sized cardboard cut outs of each dog around the IKEA showrooms, with a personalised QR code attached. Once shoppers saw how the homeless dog could fit in with their home all they had to do was scan the code to start the adoption process. Teaming up with IKEA was a particularly clever move in a bid to target people who may be moving house, perhaps to somewhere with space for a new canine companion. This campaign delivered a really effective and creative strategy on a tight budget, and we think that deserves some recognition.
The WWF have a history of clever campaigns that inspire people to donate to or 'adopt' the world's most vulnerable animals. Some of their most impressive work over the years has been focused on the tiger, possibly the most iconic animal of all time. Yet the tiger still faces constant threat to its habitat and wellbeing. WWFs ongoing campaign aims to double wild tiger numbers by 2022; this relies on donations to fund everything from the rangers in the field, to care programs and efforts to stop poachers. This campaign encompasses the video above as well an immersive Tiger Experience, set up in White City Westfield. Using VR, WWF engaged more than 5,000 potential donors and took 12,000 participant photographs. This overwhelming response saw The Tiger Experience generate 21% more sign-ups than originally targeted. This is a great example of how new technologies can be used to rejuvenate well-documented campaigns and issues.
https://www.youtube.com/watch?v=V6sBUcVSYTg
Battersea Dogs and Cats Home have plenty of emotive content to work with, and an easy hook for a nation obsessed with their pets. They have utilised this approach well for many years, but this campaign takes a different tactic to encouraging adoption. The #LookingForYou campaign took a simple leafleting approach and transformed it into an interactive and immersive experience within your own shopping trip. The dog in the video followed potential donors around the shopping centre, appearing at every corner they turned, just like a real stray would. This charming and gentle approach shows that not every animal charity campaign needs to reduce you to tears to be effective, although we have to be honest, this one had us pretty close.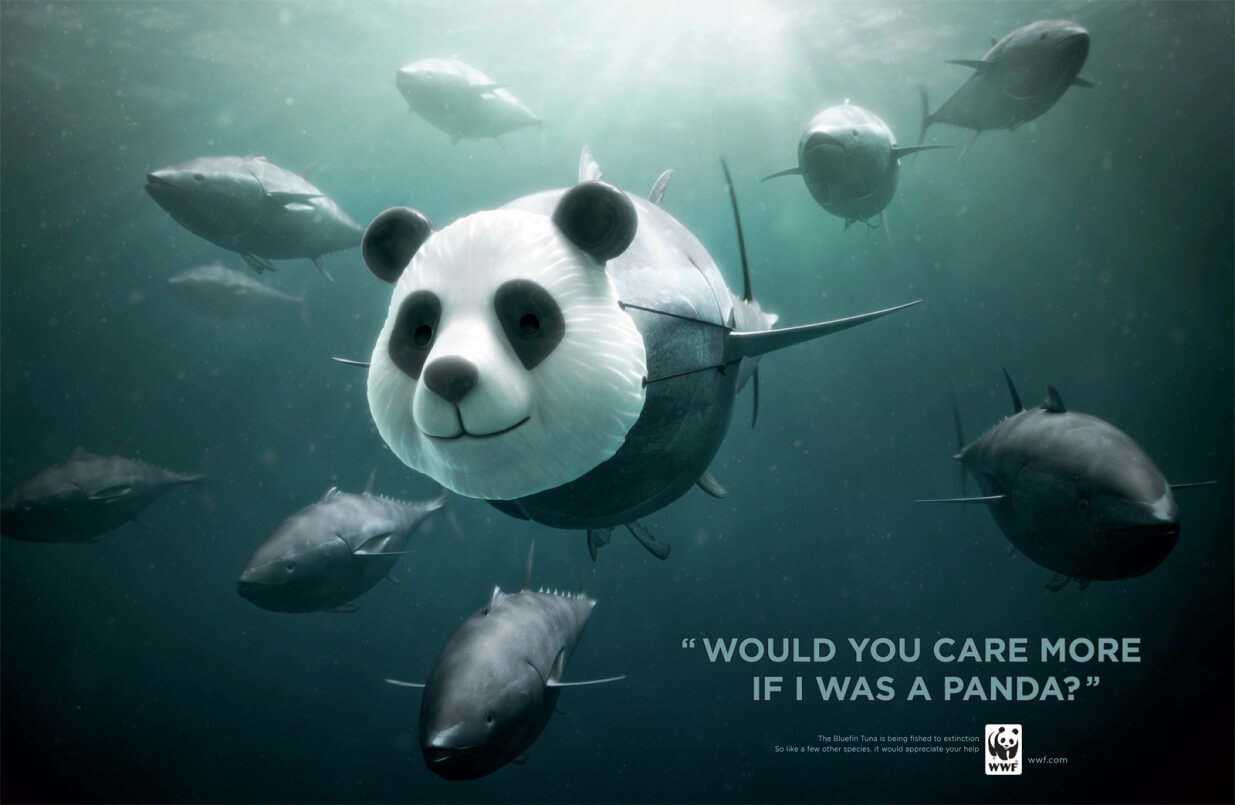 The last on our list is a hugely important PSA from WWF about the endangered status of the Tuna and the apparent lack of care expressed by the public. This series of image based adverts challenges this conception and urges us to think about this hugely important species, even if it isn't cute and fluffy. This is an ongoing problem for campaigners within ocean rights and sustainability; WWF has played on this by changing the face of Tuna as we know it. The genius of this campaign is in its forcing us to consider our flaws and prejudices, to acknowledge all life as equal and worthy of help, not just those with fluffy ears and a tail.
Charity & Commercialisation
How your business can support your staff's charitable endeavours
Modern employees place company values at the top of their list when it comes to choosing an employer. The importance of being an ethical employer, coupled with the challenge of retaining talent within an increasingly mobile workforce, means employers are having to listen to the requests of their employees more than ever to provide teams with opportunities to engage in purposeful activities.
Millennials need a sense of purpose when it comes to their working lives. They see their personal and professional activities as more intertwined than older generations and often look for jobs that align with their personal interests and aspirations.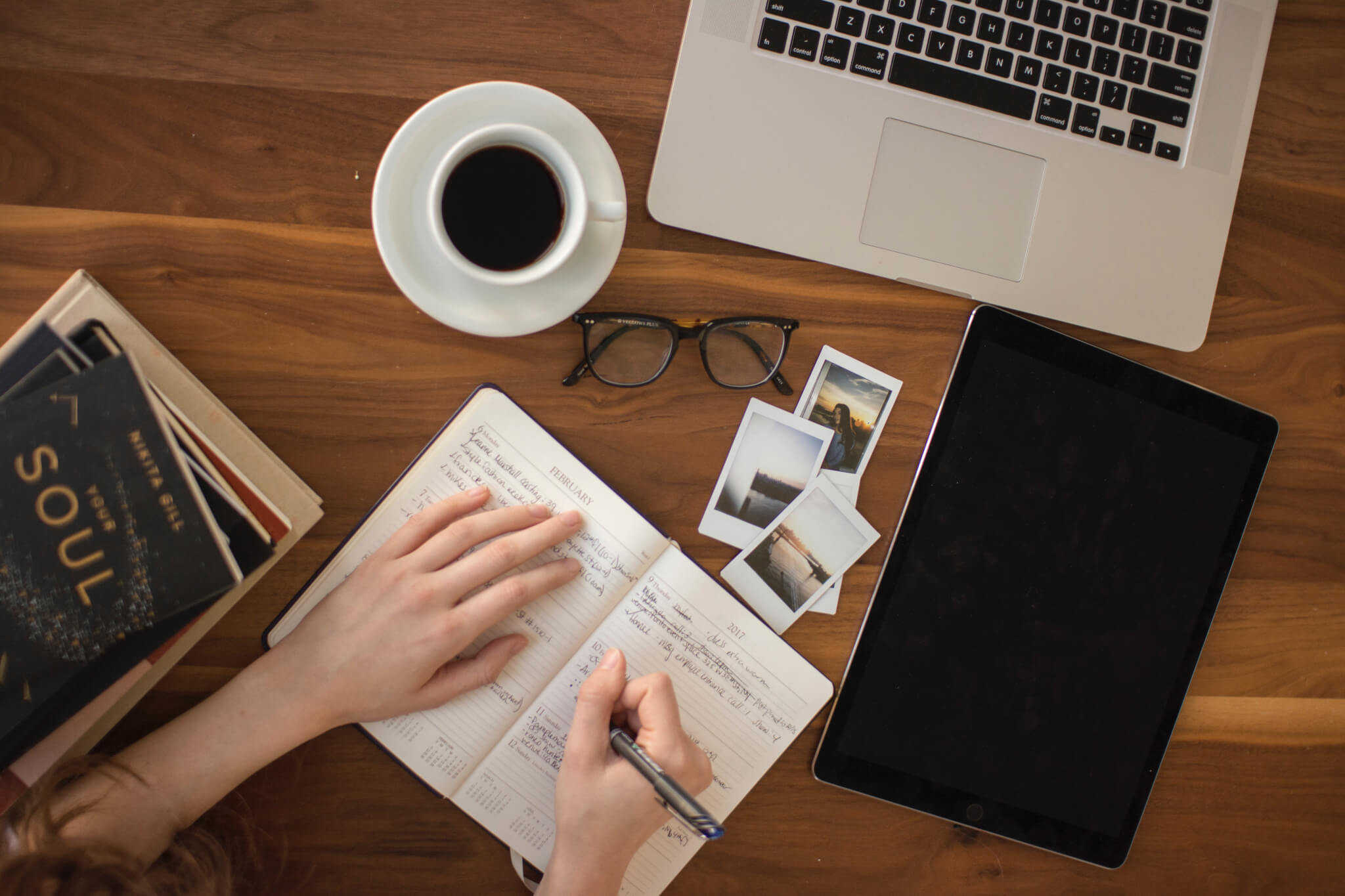 The challenge for the employer is to ensure that they are listening to the needs of their staff and going the extra mile to provide opportunities for employees to feel like they are doing social good in their everyday actions.
Supporting a charity and carrying out charitable activities is a popular way for employees to feel like they are giving back and contributing to a purposeful activity. Millennials love the feeling of satisfaction that comes with knowing that they are making a difference and are demanding more from their employers when it comes to opportunities to do so.
Crucially, millennials are engaging with charities in a different way to that of older generations. Instead of giving money to a charity, millennials are more likely to want to support a charity by offering their time, skills or expertise in a certain area that could benefit those in need. For example, a millennial may prefer to spend time with an elderly person in their community to help reduce loneliness, rather than making a one-off donation to charity which supports this cause.
Employers must realise that employees need to be given the opportunity to engage in activities with charities, and provide them with the time to allocate to charitable giving which in turn creates a happy workforce.
Our Development Day initiative to allows staff the opportunity to broaden their skill set and pursue areas of personal and professional interest that are likely to have a positive and tangible effect upon their development. The development day can fall into one of the following categories:
Volunteering
Charitable initiatives
Educational courses
Helping the community
The initiative has seen the team give generously with their time to charities they feel passionate about. The team have spent their development days doing a variety of activities, from giving PR advice to charities in need of guidance on strategy, to volunteering with food kitchens.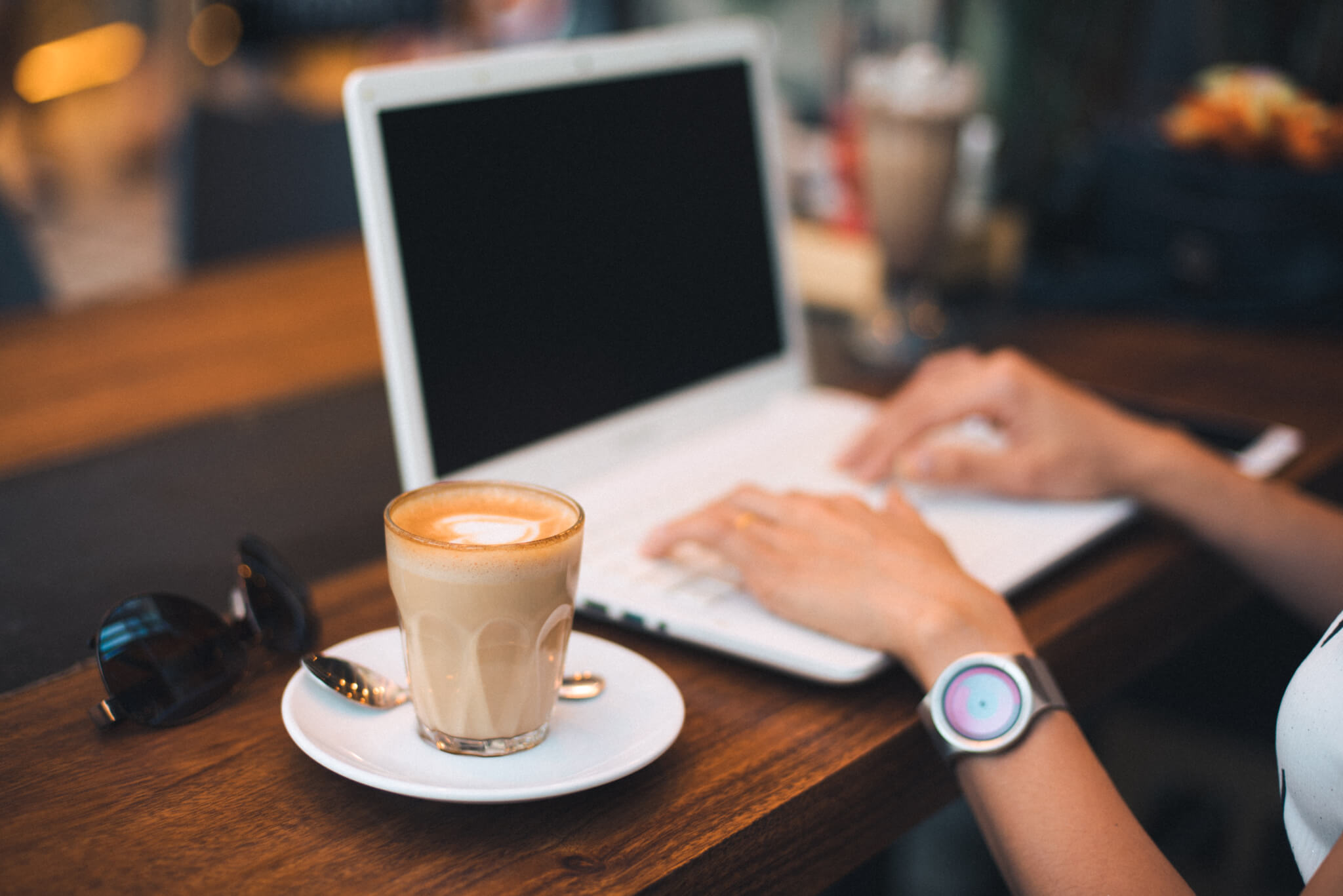 The development day initiative offers a clear exchange of positive experiences. The charity benefits from the support of a willing volunteer and the employee gives to a cause they feel passionate about.
Development Days
The dominant transformative feature of life in the last 200 years has been the steady commodification of all things and activities. This has occurred to the point that under capitalism, nothing is produced that cannot be sold for profit. This commodification has been applied to everything from goods to labour, and increasingly to intangible products such as 'love'.  It seemed inevitable then that such an approach would be applied to the act of giving and charity. Many would argue, so what if it still raises money? However, this commodification and associated commercialisation pushes at the boundary of disrespectful when it begins to override the cause itself, and the lives of those it represents.
Charity, compassion and altruism have become market commodities. Through the development of branded product, whether it's from Breast Cancer Awareness or Brand (RED), charity is increasingly about purchasing power. These items are bought and displayed by the consumer, to other consumers, as a mark of their good deeds. Yet, through the endless commercialisation, these products become disassociated from their original cause. The purchasing soon risks becoming a self-interested action, rather than a genuine demonstration of charity.
Though this isn't necessarily the end result the charities had in mind, it does seem inevitable. The whole plan is to sell product, after all. To encourage this kind of engagement, you must first build a brand around the cause. Doing this unfortunately means simplifying the issue and core values. This works well for consumer products, but can marginalise and ignore any other than the chosen representation of the disease. In the case of Breast Cancer Awareness, this was the focus on early screening and preventative measures, not the devastating effects that occur if these efforts fail. This 'softened' and one-sided narrative has led to growing upset within the community of survivors and sufferers alike.  Likewise, the original BandAid initiative was rife with reductive depictions of Africa and Africans. These do little to help the cause, in fact hindering it in the long run by reinforcing the 'White Saviour' complex and reducing the agency of those in need. Such ideas are dangerous, particularly as they become ingrained in our understanding having been so heavily commercialised.
There have also been arguments that thought it encourages engagement with an issue, this is apathetic engagement, whereby people buy into a brand because of its status, not because they really care. This would perhaps be considered acceptable if all profits from the products went to the charities, unfortunately this is rarely the case. As with the craze surrounding the Motorolla (RED), only partial profits were donated. Breast Cancer Awareness have also come under fire, as the money raised is often largely re-routed back into yet another awareness campaign, rather than tangible research.
The Pinkification of Breast Cancer Awareness is perhaps the most contentious issue of late. Meant to entice the 'socially aware' consumer, this campaign although wildly successful, has been criticised for encouraging apathetic involvement and yet further excuses to spend on needless product. This trend is especially prevalent in the US, where pink products sold under the guise of Breast Cancer Awareness are inescapable. Yet some give such a marginal percentage of profit, or none at all, that it has become hard to justify the omnipresence of pink. This spending would be better utilised via a direct donation, but it seems people don't like to give something for nothing… an inherent misunderstanding of how charity works.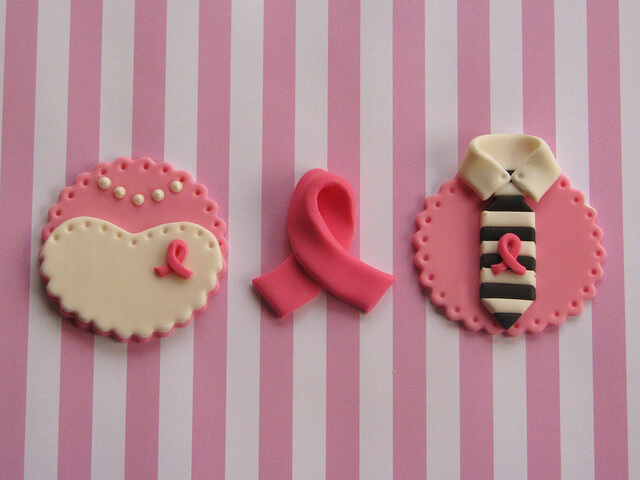 There ought to be a focus on action before awareness, as important as the latter may be. In fairness to the movement, it did set up to remove the taboo of Breast Cancer and enable people to speak freely of their experience. In this respect at least, they have made significant change. It is simply a shame that charities have been forced to commodify their message to engage consumers.
Shopping habits aside; the real risk with charity campaigns like (RED) and Breast Cancer Awareness, is the unintended upset caused to those who feel their voice has been marginalised. The use of pink, a gendered coloured associated with softness and femininity, has received criticism for 'weakening' this form of cancer and pushing aside any defeminised narrative. Activists are working hard to re-integrate these stories into the public sphere. Projects like 'Punk Cancer', as well as Stella McCartney's mastectomy photo-shoot have attempted to recalibrate how breast cancer awareness can fit in with other versions of a woman, proving that what might be traditionally deemed 'defeminised' ways of speaking about breast cancer, can, and have been equally successful. We can hope that this approach will be more widely adopted in future campaigns.
The Commodification & Commercialisation of Charity
2016 was the year of video content, and these campaigns certainly showcase some of the best of this talent. Video's ability manipulate emotion and effectively convey even the most complicated issues lends itself well to charity and social good campaigns. Here we take a look at our top pics from the year, and what they did so well!
This brilliant video from The National Autistic Society shows a minute and a half through the eyes of an autistic child. The walk through the shopping centre shows the challenges that those with autism have, specifically the information and stimulus overload that can be particularly distressing.
Although it received some backlash for reducing the many-faceted nature of autism, and the whole host of different symptoms across the autistic spectrum, it still relayed an important message of acceptance and open-mindedness. People should be careful not to view this video and suddenly assume total knowledge and understanding of the disorder. However, it was still a hugely powerful campaign and quickly went viral.
We absolutely loved this year's Paralympic campaign. This all singing all dancing affair was a fantastic display of talent and success. Quite apart from making us feel wholly unimpressive, the song was incredibly catchy and one of the most feel-good campaigns we saw all year. This charming and emotive 3 minute display of excellence is a sure winner for our top 5 picks of 2016.
This campaign highlighted the inequalities faced by young girl's every day, and experienced in every part of their life. The words of others echo and reform at later stages, chipping away their self-belief and confidence. This campaign aimed to dispel these preconceptions and empower young girls to participate and get stuck in wherever they please. Girl Guiding has always been a group aiming to engage and teach young girls skills and values so that they can really make their impact in the world. #ForTheGirl showed Girl Guides relevance today and received over 600,000 views on the original Facebook post alone.
This cleverly constructed, informative and though provoking advert addresses a huge number of issues faced daily by the world's most vulnerable. The Alphabet of Illiteracy sees each letter feature an issue that illiteracy is proven to fuel; the simplified approach to such a complicated issue is really driven home by clever animation. Very deservingly, it won the 2016 Cannes Lions Health and Wellness Grand Prix.
Okay so this one is just on the wrong side of 2016, but it's just too good to leave out. The video explores how we understand and position ourselves in society, and how we naturally do the same to others. By 'unboxing' people we are more open to out similarities, and so more open to new relationships and interactions. The message behind this video comes at a time of increasing uncertainty and distrust of others, especially of those from a different background to us. All That We Share does an excellent job of reminding us that there is more that unites than divides us, even if it's something as small as never having seen a cow…
Special shout out to the BBC Three mini-series, 'Things not to say to …' This is a hilarious and genuine insight into the lives of people facing various disabilities and challenges. Their frank and honest approach makes their condition more relatable and combats many of the taboos faced in daily life. Also, it's just a great example of bite-sized video content that is so successful these days. These videos are a real coming together of important social good campaigns and digestible and shareable content.
Top 5 charity and social good campaigns of 2016
Charity Case Study: David Shepherd Wildlife Foundation
A charity's website is a vital part of any organisation. It is the medium in which they can reach out to an audience and engage with their donors. It can also provide vital information about the causes that are supported.
At the heart of any charity are two main goals;
to provide information by cutting through the noise
receive donations by providing a clear messaging.
The David Shepherd Wildlife Foundation is an effective wildlife conservation charity, funding key projects in Africa and Asia working to save endangered wildlife.
The foundation relies heavily on donations from the public, through the campaigns they run and the donations they receive through the website. We were approached by the foundation as their website failed to provide them with a modern interface which in turn resulted in losing out on vital donations.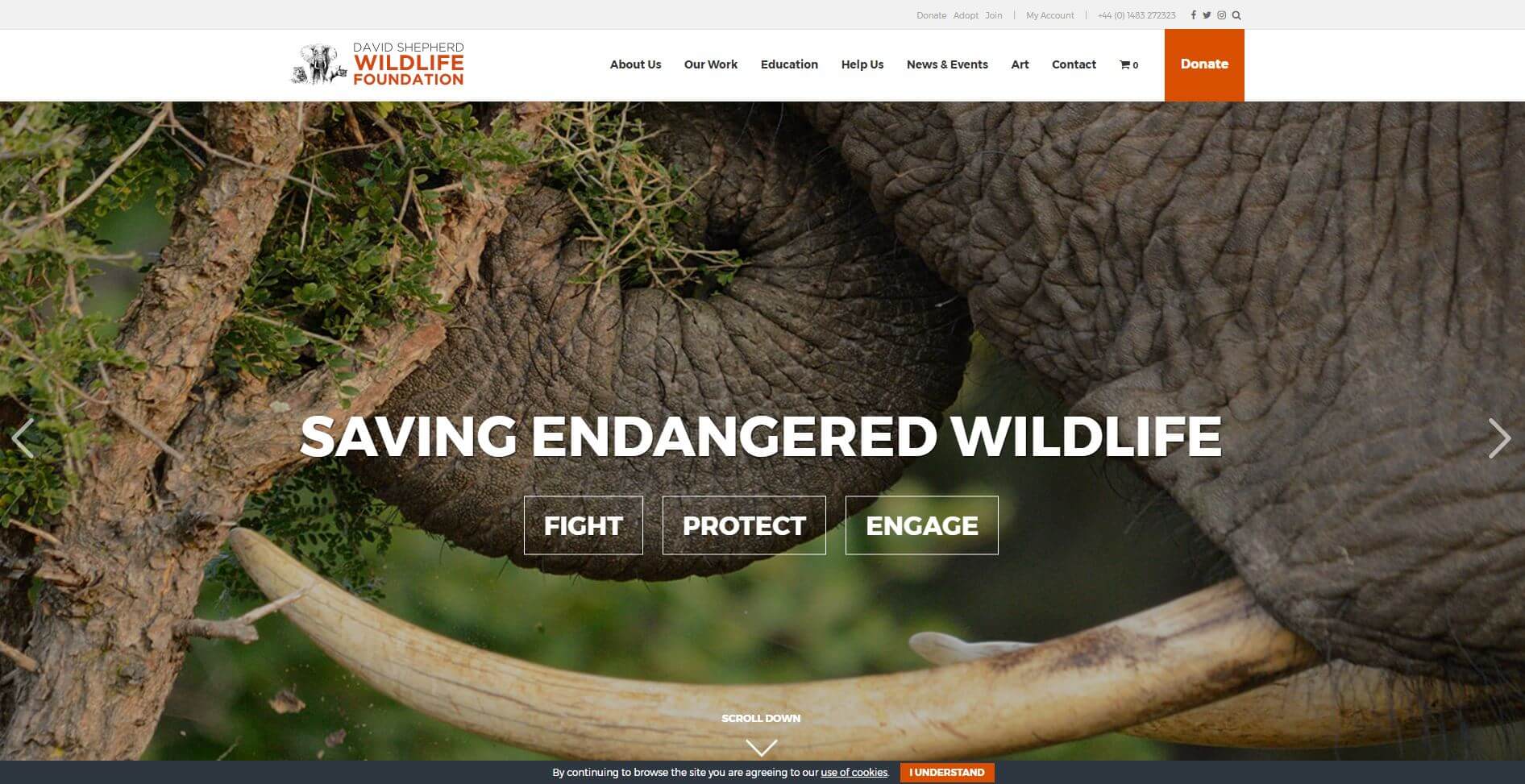 In terms of functionality, the site required a new approach to incorporate the new brand direction, creating a unified look and feel between print and digital, along with staying true to their heritage.
The heritage of any charity is important. Their journey to this point must be considered when thinking about a website design.
Working alongside the DSWF team to align their core messaging and the type of brand they wanted to portray. We implemented a strategy which allowed us to focus on some key core elements of the site; Protect, Fight, Engage. This theme was carried through the site and incorporated in the branding.
The nature of the imagery available, lead us down the route to display these for maximum impact. As the focus of the site was to encourage donations for animals that needed care.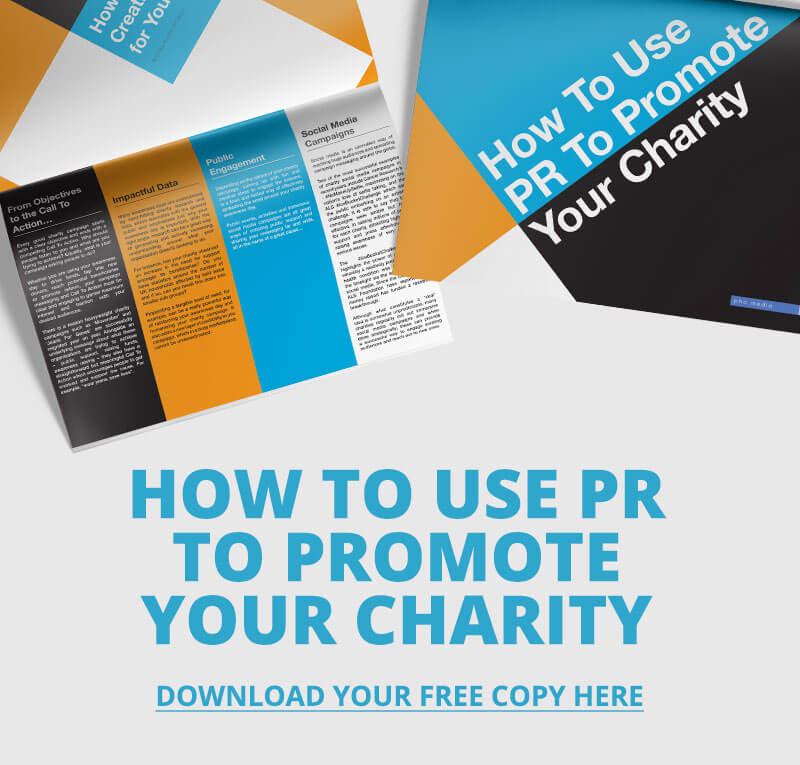 Once we had delivered the website an important part of the process was to maintain a support network for any ongoing enhancements that were needed, which is vital for a growing charity.
 "For a small charity with limited resource, launching a new website with attention-grabbing design that offers customers a seamless experience was always going to be a challenge. PHA worked with us to resolve functionality issues, helped us to focus our messaging and to emphasise the strong visual appeal of what we do. The result is a modern, multi-platform website with great visual impact that we are hugely proud of."
Vicky Flynn – Head of Brand and Communications
How to Build A Charity Website