Thought leadership is a term that you hear a lot in the world of personal PR – but what role does this play in establishing someone as a media authority? And what does 'thought leadership' actually mean?
To dispel all the myths, thought leadership is not brainwashing with 1984-style connotations. It's the opposite. Thought leadership is a phrase to describe someone sharing their opinion via long-form written articles in the media. There are, unfortunately, no prizes awarded to the 'best thoughts' – but there is a position of press authority and public trust to be won.
At PHA, we are fortunate enough to work with business people at the top of their game, and we work to position them at the forefront of the issues that matter to them, and that are making headlines.
At The PHA Group, our clients (and their expertise) run across a  full range of sectors, from energy suppliers to energy bars, law firms to luggage delivery specialists. It follows that a lawyer doesn't necessarily want to speak to the same audience as a logistics expert, so we make sure each client's voice, knowledge and unique take on things is heard, read and seen by the right people. Increasingly, that means thought leadership is changing.
Thought leadership was traditionally long-form articles but there are a host of ways we can position your opinion, with authority, in the press:
Have an opinion:
There are some amazing opportunities to get an opinion out there across print and online media – from long-form bylines that give you the freedom to discuss your thoughts in detail, to short and snappy letters to editors that we can turn around within hours. The key thing to remember is that you need to offer something interesting and authentic – grounded in your experience – and it must be relevant.
When an opinion piece works, it really works. One of our legal clients was the talk of an industry event this year when she appeared in City AM and then on Sky and TalkRadio to discuss GDPR before the legislation was enforced.
Hot off the press:
Reacting to the news agenda is another fantastic way to build your personal profile and establish yourself as an authority in the media. It all hinges on how quickly you can respond to something – breaking stories must be responded to within the hour. If these quick timeframes are honoured, it can lead to your comment being covered widely across all mediums – broadcast, print, online – and effectively 'hijacking' the news to support a personal or business agenda. We've had fantastic success reacting to breaking stories in this way, and the rapid response time pays off.
There are also things you can prepare for; spring and autumn budgets, competitor company results and so on, and we make sure we're always looking out for relevant topics for our clients.
Be social:
Thought leadership isn't the exclusive reserve of the so-called traditional media, and increasingly, experts take to digital platforms to share their insight. A huge benefit of LinkedIn and Twitter is that you can put paid spend behind posts to target the most relevant audiences and measure the impact and reach of your content.
James Reed, Chairman of Reed.co.uk, the UK's leading job site, has a weekly Monday Message on his LinkedIn page that attracts thousands of engagements every week. It gives James the opportunity to comment on stories that he finds interesting; from lessons learned from Gareth Southgate's management style to how to recover from the back-to-work blues. The blogs provide an unedited look into what interests James. Jobseekers take note!
As well as social being a platform to share unique content, it's also a platform we use to amplify great coverage – ensuring that there's a 'second wave' of attention paid to the headlines and opinions that contain core messages of the businesses and people we represent.
Events and awards:
Events and awards are excellent ways of bolstering your credentials, and shortlistings and wins also provide us with a great news story to issue to the media. One of our wonderful clients was awarded a Queen's Award for Enterprise earlier this year, which serves as an undeniable proof-point when talking to journalists about the business' astonishing growth. The content of the entry has been invaluable for drafting content – and vice versa, the opinion articles we placed, and PR successes formed part of the business' entry, bringing the cycle of establishing a personal profile full-circle.
Thought leadership isn't something that you can tick off a to-do list, it's an ongoing activity that takes many forms across multiple channels. In supporting a client's personal profile, we can authentically raise awareness of the company or organisation they represent.
If you'd like to speak to us about personal PR, please contact us today to find out more.
How to become a 'thought leader'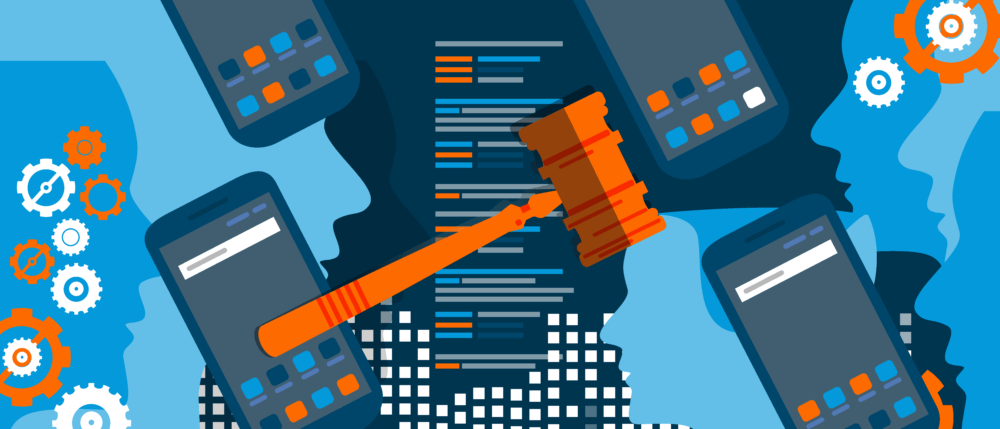 It's little surprise the UK's legal sector hasn't rushed into meeting the latest technology drive. Much like the deregulation of the financial services known as the Big Bang in the 1980's, the rules around the ownership and running of law firms was relaxed in 2011. While the UK's financial services responded quickly to become the world's dominant financial centre, the UK's legal sector has instead reacted to these reforms with a firm yet mild disinterest.
The first belated reaction came in 2015, when Gateley became the first UK law firm to go public originally raising £30 million. Even by the sloth-like standards of the law, this was slow… but not unsuccessful. In the two years since that offering, Gateley's share price has doubled. This may have been what inspired Gordon Dadd and Keystone Law, who both floated on the markets late in 2017.
Despite now being one of the most liberalised and profitable industries in the country (generating around £30billion a year). The sector has a natural resistance to change. Partner models promote short-termism, litigation wreaks havoc on client's budgets and the billable hour persists as an awkward deterrent to efficiency.
Yet a combination of austerity, diminishing budgets, increased competitiveness and growing caseloads has shifted the battleground. Stimulated by a £1.2bn government programme aimed at industry-wide modernisation but that in practice is designed to save costs, law firms are searching more and more for technology partners to improve practice. Not least in the running of the courts, where the UK's are understood to produce a tower of paper the size of The Shard every 4 days. Modernisation is badly needed.
Yet as the power of the lawyer lies in the uncertainty of the law, the type of modernisation law firms are seeking is a specific kind. It's technology that strengthens the lawyer's hand by taking care of mundane tasks. It needs to remove mistakes but not the terrified associates who make them.
In other words, the more boring side of the technology revolution. There will be no Netflix saga on the artificial intelligence upgrades that happen inside law firms. But maybe… just maybe, there might be a few more lawyers finishing work before midnight. And deep down isn't that something we all want?
So, we're after evolution, not revolution in this gig. We're after five steps firms can take to improve their legal tech balance.
I couldn't work out what I liked more. This gentlemen's name or his job title. But Mart van de Kerkhof, Head of 'Know-how' at Magic Circle firm Allen & Overy says Clocktimizer is definitely worth exploring for any law firm that really wants to understand what's going on in its business. Which I estimate is just about everyone who works in a law firm except HR.
Clocktimizer says its algorithms study time card narratives to then provide actionable data on budgeting, pricing, management and firm-wide profitability. It's taken a task that normally takes around six months and has finished it in seconds. I don't 'know-how' they do it.
Imagine if you could assess this article without reading it. Wouldn't that be great? Well, ThoughtRiver have applied that blue sky thinking to contracts. Their contract intelligence software uses machine learning to scan contracts and other legal documents and presents the information in an online dashboard, allowing users to visualise risk.
And while I for one welcome our new overlord GDPR, I don't have to read contracts for a living. Using AI technology to assess contracts for issues and provide actionable insight may become a nothing less than a necessity going forward.
One day the robots will replace us. Or to be more specific, find the people who will replace us. Legal Monitor combines search and analytic technologies with a huge database of legal expertise. It contains 190,000+ lawyers across the world's largest 400+ law firms. Meaning it's the perfect solution for sourcing the best legal candidates, following the industry's hiring trends and conducting your own legal market research.
They say the road to hell is paved with good intentions. This Norwegian start-up was founded by a business lawyer who felt the law was too inaccessible and found the sharing of legal knowledge to be inadequate. Good intention.
But they have built a tool named Lexolve that allows colleagues to share knowledge and details of legal documents, streamlining the process of drawing up legal contracts and other documents. Potentially saving a significant amount of time and resources while protecting client budgets!
When dealing with a lawyer time is always money. So, while these previous additions have been focused on increasing efficiency, so also is this one! This app is created by lawyers, for lawyers. It works like a portal, keeping clients 'in the loop' on the app without the need for back and forth communication or long phone calls, allowing solicitors to increase their productivity across the working day. Simply log into the app on your phone, you spend all day on anyway, and check if everything is in place. Putting clients first like this will only be good news for law firms.
These ideas focus on law as a service industry and set out to improve efficiency and protect client budgets. That's why they will likely be successful in restoring the legal tech balance in a law firm.
Are you a looking to build your exposure, or perhaps reach a new audience? Speak to our team today to find out how we can help you achieve your goals.
Five steps to improving your Legal Tech balance
As is fitting with the nature of the platform, there are two potentially extreme opinions which should be taken when determining if twitter is news.
The first is that it is nothing more than an endless abyss of arguments, abuse and throwaway opinions that collate to paint an entertaining if not slightly terrifying picture of humanity.
The second and far more controversial opinion is that Twitter is now the biggest and best outlet for news in the world – a news outlet fit for the 21st century.
On the day of the presidential election, Twitter star and still president Donald Trump was elected. It was the largest source of breaking news worldwide, with 40 million election-related tweets sent before 10 pm.
From that perspective, Twitter, is the best place to go for news companies who are seeking readers. For breaking news, it's even better, and will usually have a plethora of first-hand witness accounts and theories for you to decipher through once an incident breaks, long before any news network gets hold of the story.
In fact, the obvious likelihood from this is rather than being the ones delivering the news, it's now the case that Twitter is delivering it to the news companies. The Oxford Circus terrorist attack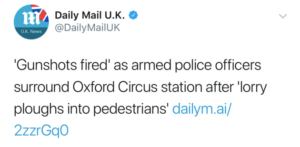 was a perfect example of this.
In hindsight, we now know that a fight breaking out on a tube platform rippled through crowds in one of the most congested and visited parts of London causing widespread panic. Many were following the feed on Twitter as more and more people contributed their 280 character accounts of what they had seen. The Daily Mail was also doing the same, reaching the below conclusion.
They had come across the below tweet about a lorry that had crashed and a combination of tweets that claimed to have heard gunshots. The problem with the tweet was it had been sent 10 days before the incident, the problem with the gunshots were there weren't any.
Twitter was now supplying the Daily Mail's journalists their stories and consequently the nation's largest paper headlines. It is usurping the newspapers most powerful instrument, it was dictating the news cycle. This isn't the only time where the "news" generated on Twitter fooled everyone.
Ben Rothenberg's excellent article on Slate exposed the perils of "Twitter news" in dramatic fashion. After tennis legends Billie Jean Kingand Martin Navratilova condemned comments made by Margaret Court that Tennis is "full of lesbians" and that transgender people were the "children of the devil," a young Macedonian tennis player cut through the controversy and announced on twitter he would refuse to play at Margaret Court Arena should the opportunity arise.
Darko Grncarov, the Macedonian star labelled her views "totally unacceptable and disgusting." The court named in her honour, became the centre of a heated online debate calling for it to be renamed. Grncarov's own story now became one of extreme interest. Not only was he prepared to hinder his career to do what he thought was right, he then got an opportunity to announce on BBC Radio that he had just woken up from a six-month coma and was now, miraculously, going to take the ATP tour by storm.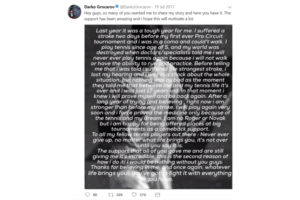 Serena Williams followed him on Twitter, telling him it would be an "honour" for her daughter and her to meet him. Navratilova retweeted his story. James Blake wanted to commentate on his future matches. Adidas tweeted him "Welcome to the family Darko" after he tweeted the company offered him sponsorship.
Grnacarov amassed a huge following through the social network. Macedonia, a country so desperate for a sports star had one it could now adorn with national pride. He was now their biggest star, and nobody had even seen him play. More than 200 Grncarov Twitter accounts appeared devoted to him. Fuelling the fire of his fame, they tweeted about his crush on Nicole Scherzinger and his net worth of $1.5million. The official Twitter accounts of the ATP tour and ITF Tennis joined the fun, pestering Ellen DeGeneres to have him on her show. Rothenberg believes the tweets, which occasionally turned vicious in defence of their star, may have been from Twitter's now infamous troll factories. The synchronised nature of the behaviour and the curious language raised eyebrows. News being generated by the site was causing a racquet in the tennis world.
As you have guessed, Grncarov isn't a tennis player. He is a real person, he has played tennis (albeit poorly, as one of his Twitter videos demonstrated) and he did speak out in defence of transgender people. The problem is, that it was all just the first part of a well-organised ploy to use Twitter to catapult a young Macedonian into the world of fame. Twitter was generating news, but it was fake. Macedonia's rising sun quickly became a false dawn.
It's the effect the social network is having on the industry. Where a journalist would once knock on doors or wait outside houses, for better or worse, they can now open Twitter and peruse first-hand accounts of events, with nothing to corroborate the information, other than an anonymous name. Journalists don't need to even leave their office anymore to report events with reasonable accuracy. Multiple accounts with familiar stories tend to form an impression of legitimacy, although we know they can be coordinated and organised. Some people just know how to use Twitter better than others.
The difference between the main stream media and Twitter aren't vast but they are significant. It has blurred the lines between trained journalist and Joe public, and now both fall readily into each other's traps. Twitter has levelled the playing field and it isn't always pretty, at times it goes beyond the realms of sanity, but it is here to stay, and it may be here to dominate.
67 percent of American adults now rely on social media platforms such as Facebook Inc, Twitter Inc and Snapchat for news. That means a lot of people are now relying on themselves to determine the fake from the real. The Grncarovs from the Rothenbergs.
While newspapers are struggling to successfully monetize their product. Twitter posted $2.1 billion in advertising revenue in 2017.  "We are not the arbiters of truth," said arbiter of truth Nick Pickles, the UK's Twitter executive.
"We are not going to remove content based on the fact this is untrue. The one strength that Twitter has is it's a hive of journalists, of citizens, of activists correcting the record, correcting information."
Twitter is lowering expectations about its role in policing its news and by doing so, enhancing the power of those that use the platform. That's why it is successful and that is why it is dangerous. It's blurred the lines between journalist and citizen, and by doing so became the news outlet fit for the 21st century.
And if threatening nuclear war against North Korea doesn't get your account suspended, let's be honest, nothing will.
If you would like to find out how The PHA Group can help you grow your social media community and engagement speak to a member of our team today. Alternatively, check out our award-winning team Digital Studio.  
Is Twitter news?
With resources often tightly stretched, entering industry awards can often fall low on the priority list. Entries are often a lengthy process and require time and focus that you may feel you can't afford.
However, winning or even being shortlisted for an industry award can be hugely beneficial for your business. Here are our top 4 reasons why you should make industry awards your focus this year.
Built in marketing
The value of business awards to your marketing efforts cannot be overlooked. Even being shortlisted can make a significant improvement to your brand awareness and help you promote your business to new customers. Being recognised by an industry body can open doors to new contacts and help you break into new markets – as long as you maximise this in the right way.
Once you've been shortlisted make sure you:
Update your website: let your customers know about your success!
Add the award logo to your marketing materials: This could include business cards, email signatures and physical marketing collateral.
Let your customers know: Consider dispatching an email marketing campaign announcing your success. It's a great way to let your customers know about how your business is being recognised by trusted bodies.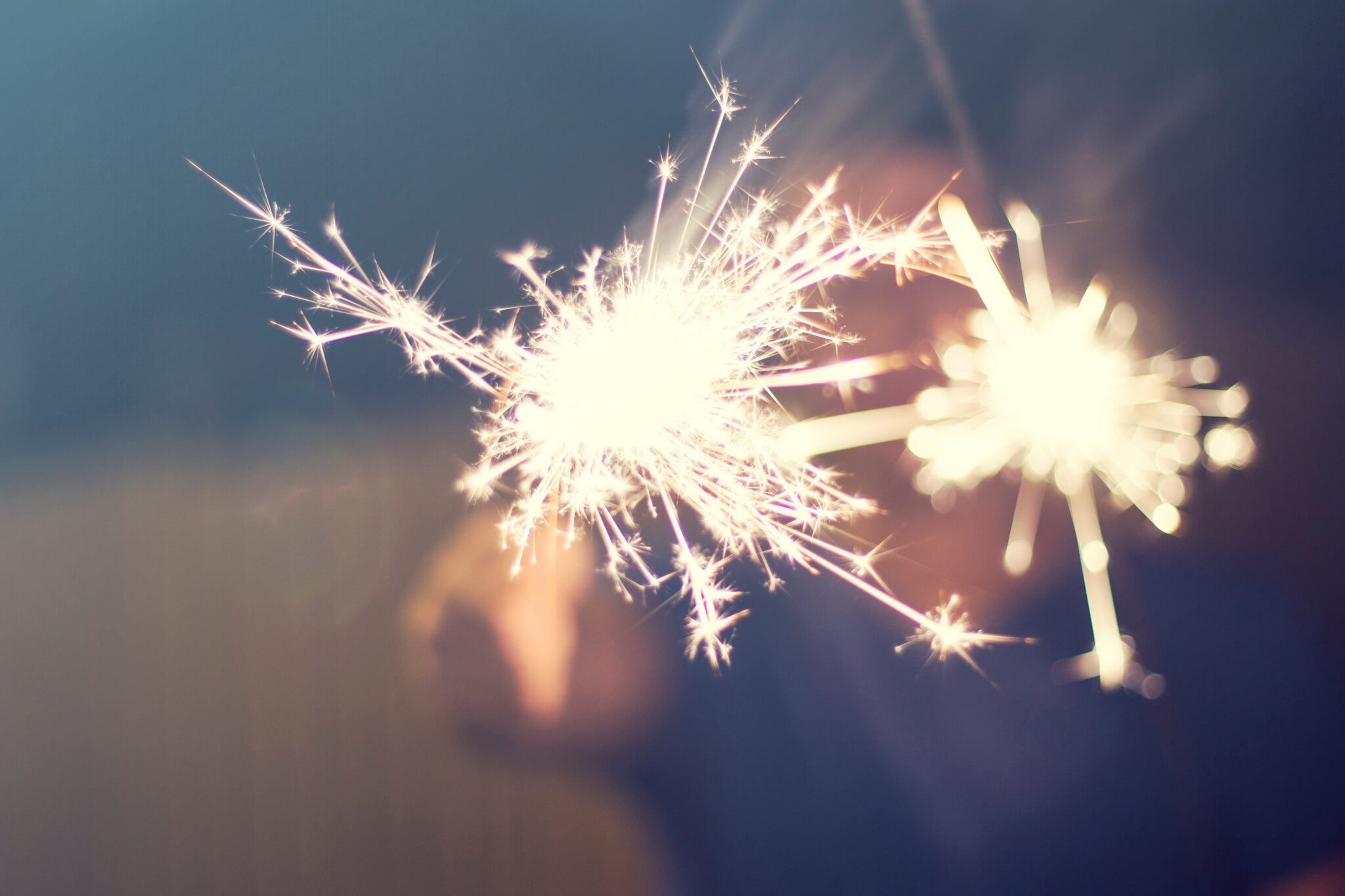 A fresh perspective
Entering industry awards often open the door to you looking at your business in a new light and comparing yourself to your competitors. The process of entry often requires you to think about how you stand out from the competition, why your business deserves recognition and can highlight gaps that, if filled, could elevate your business to an award-winning level.
Reflecting on areas such as innovation, growth, diversity, customer service, people and strategy can help you identify room for improvement which could prove to be more valuable than winning the award altogether.
Celebration and motivation
Whilst the process of entering an award can highlight room for improvement, winning or being shortlisted for an award can be a fantastic source of employee motivation. After all, it is the hard work of your staff that allows your business to perform at an award-winning standard.
Encouraging your staff to feel proud of the company they work for and emphasising that they have actively contributed to this success is a proven way to increase motivation.
Inviting your staff to the ceremony or holding a meeting to celebrate the victory is a great way to say thank you for their hard work and focus your team on the positive aspects of the company they work for.
Valuable Endorsement
Whether you win the award or are shortlisted, this is a fantastic 3rd party endorsement for your business. It's a seal of approval that can signify credibility to potential customers and renew loyalty amongst your existing customer base. In a crowded marketplace, it's hard to set yourself apart from your competitors so an award win could push your company over the edge.
Why Entering Awards is Good for Business
CEOs On Social Media: Nicety or Necessity?
In this day and age it is pretty essential for a company to have a social media presence. Most brands not only have social media accounts but social personas, audiences that they interact with on a daily basis and a tightly managed social strategy and team.  They have rightly recognised that social media has the power to drive sales, boost brand loyalty and set brands apart from others in the same space.
So it seems surprising then that the same care and attention isn't always extended to the social media channels belonging to the CEO's of these very same brands.
Whilst some CEO's are incredibly well versed in the power of social media and use it extremely well, there are some notably lacking in social media presence in this space.  HP CEO Meg Whitman has not refreshed her social feed since October 2011. Apple CEO Tim Cook only joined twitter in September 2013. In fact a report by Domo in 2015 showed that 61% of Fortune 500 CEO's have no social presence. That's right. None. Zero.
This is surely surprising. It's no secret that social media has the potential to impact sales in a positive way. Shopify found that an average of 85% of its 529,00 socially referred orders came from Facebook alone. Surely, it's worth joining that party?
Giving your customers a seat in the boardroom can grow your market and increase your sales. But more than this it can humanise your brand and give your customers a face to a name. Not only can it increase brand visibility but it can make it all the easier for your business in tougher times.
Think about it like this. If a large, profitable company undergoes a disaster, say a piece of equipment they develop malfunctions and results in the death of several employees (hey we said disaster!). If a CEO the public have never met before takes centre stage to apologise and assure the world that they are doing all they can to help the families of those involved, you can choose to believe them. Or you could choose not to. After all, why should you? You don't know this person, you don't have trust in them and their morality. How do you know they weren't aware their equipment was faulty?
Now imagine the CEO is Richard Branson. And the equipment is Virgin Galactic. Branson's personal brand is pretty much unrivalled and his social media presence is a huge part of building the image we all know so well of a man who is well-liked and cares about both his customers and staff. A man who takes the time to engage with his staff and customers on social at least twice a day. A man who doesn't delegate his responsibility to a team to write on his behalf. A man who takes time out of his own day to answer and ask questions.  It has been argued that his personal brand was very helpful in this instance in controlling the situation. When he apologised, people believed he was truly sorry. When he insisted, he would do everything in his power to look after the families of those involved, people nodded in agreement with him. Because we feel like we know him.
True Branson's persona is much larger than that of his social media presence and the example is extreme but surely it's easy to see the value of building those relationships?
If you're looking to make a similar impact here are 5 handy tips to getting it right on social as a CEO:
There is nothing more important than this. Whilst outsourcing your social might save you time your customers can sniff our inauthenticity in a second. By all means seek assistance but try to keep a tight hold of your platforms because there is nothing more effective in boosting your brand than providing a face behind the company. The aforementioned Richard Branson does this with aplomb by sharing personal stories, insightful career advice and keeping his followers updated on what he's up to. In return he enjoys a high level of customer loyalty and brand awareness is through the roof. When you think of Virgin, you think of Branson. They are one and the same.
Similarly, Apple CEO Tim Cook since arriving, admittedly fashionably late, to the twitter party uses the channel to thank his employees and customers for their support. This again encourages brand loyalty and I think we can agree, Apple is doing pretty well on this front. As Arianna Huffington told Co.Exist in 2012, "when it comes to championing causes, social media can be a valuable tool for sharing your values and your causes." She also said, "Social media can be used for mindless escape, or for the opposite, for connection and meaning."
Choose your platforms wisely
Find a way of engaging with social media that you enjoy and doesn't feel like an onerous task. If your marketing team have insisted that you start posting on 5 different platforms daily, when you've previously not even had a twitter handle, you may feel overwhelmed and it will show. Find a platform that works for you and start slowly. Equally there is nothing worse than forcing yourself to use a channel that doesn't suit your style. See above – keep it authentic.
Generate the conversation
Make sure you're not always on the receiving end; a leader in business will be expected to lead outside of it as well. Engagement is crucial to a successful social media presence, developing a discussion around something of personal interest will signpost your personality and allow people a more tangible understanding of you and your core values. Just make sure these align with the corporate brand! Conversation also provides your brand visibility and the ability to expand your reach. Elon Musk is prime example; he speaks frequently and passionately on climate change. This is of course central to Tesla but also to the wider global audience. His promises to push his environmental concerns in White House meetings demonstrate beyond superficial level commitments and values that garner trust from the public.
As well as adding to discourse, you want to make sure what you're saying is interesting and relevant. You want to establish yourself as a though leader and central to this is providing sparky and engaging insights. Aaron Levie, CEO of Box the cloud storage system used by 92% of Fortune 500 companies, was the 7th most influential executive in 2015. The Twitter Influence Index calculates engagement rates and the quality of interactions with these accounts. Part of the reason for Levie's success on Twitter are his witty and outspoken commentaries on current events and issues. This provides the perfect 'snacking content' for a millennial audience; 140 characters of easily digestible, yet pithy, nuggets of information that push for a reaction…no wonder his engagement is so high.
It's a scary world out there in the Twittersphere and people don't pull any punches when it comes to telling you exactly what they think. No matter how valid (or more often than not completely invalid) their criticism may be, it's important to try not to take it personally. Take Donald Trump as an example. His tendency to leap down the throats of anyone who criticises him and air it on twitter has earned him mockery and, were it even possible, has made him less able to be taken seriously as a leader. Which is quite horrendous when you consider that he's one of the most powerful men on the planet. EEK.
With 82% of customers more likely to trust a company whose CEO engages on social media, it's clear that this is channel you cannot ignore. The right approach here can provide an invaluable process for your brand, often holding more weight and influence than the corporate account. People inherently want to interact with other people. Giving your company a face allows for higher engagement, trust and genuine human connection, which will prove very useful should a crisis hit.
CEOs, Social Media & Business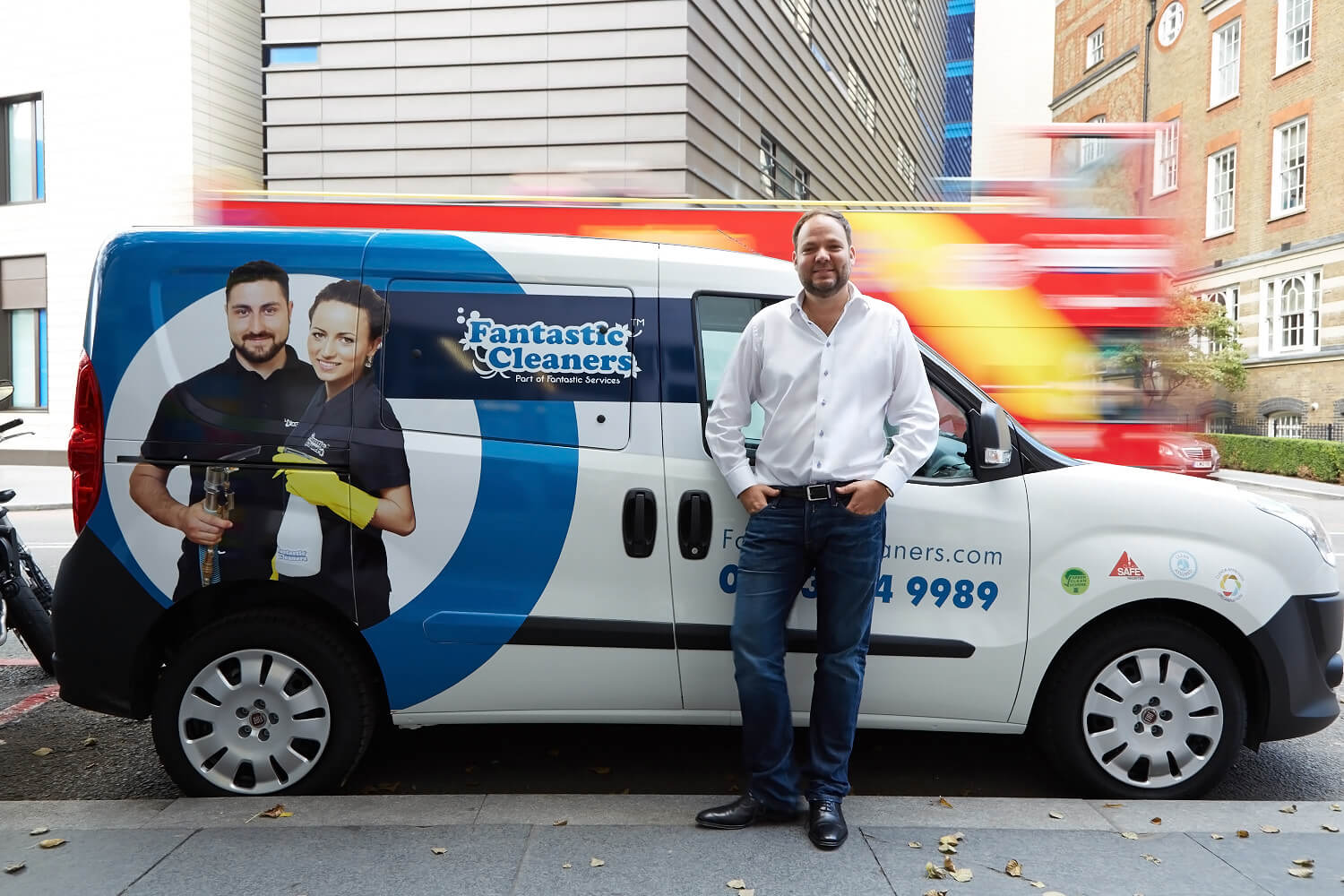 Personal PR can be a daunting task for many, especially when you're thinking about it as an entrepreneur. The first step is of course to get an expert team behind you who can develop a robust and hard-hitting strategy to raise the profile of you and your business. This is what Fantastic Services CEO Rune Sovndahl did; he co-founded the domestic services company in 2009 and it has since grown to encompass 650 employees and over 2000 franchisee experts spanning the UK, USA and Australia. We sat down with Rune to discuss his experience of personal PR:
Why were you afraid of raising your profile through personal PR?
In all honesty, I'm quite a modest guy and at first I didn't want the attention to be on me!
What made you change your mind?
I started to think about other entrepreneurs that I look up to and realised that so many of these told their story as well as details of their business. I'm a huge fan of Gary Vaynerchuk who offers a personal insight into his life and his business and he's broken the conventional mould of the 'boring businessman' stereotype. I realised that actually I've had a pretty interesting route to where I am today, and that if I could inspire others to follow their passions that could only be a good thing. I also noticed that through raising my personal business profile business negotiations became easier and led to the interest of potential investors.
What do you think makes entrepreneurs afraid of being in the limelight?
I think it depends on the person but I know that a lot of my friends who run businesses, were reluctant because of a fear of failure. I've now come to realise that having journalists write something unsavoury towards you, or having a negative comment online or on twitter isn't the end of the world. I think being in the public eye makes you toughen up and you realise that if on the odd occasion you do face criticism, it's because you're being talked about in the first place!
The  hard fact as to why we waited longer was we wanted to know our company was fantastic before we became known, we wanted our services to reflect our personal goals, before we stuck our head out of the box.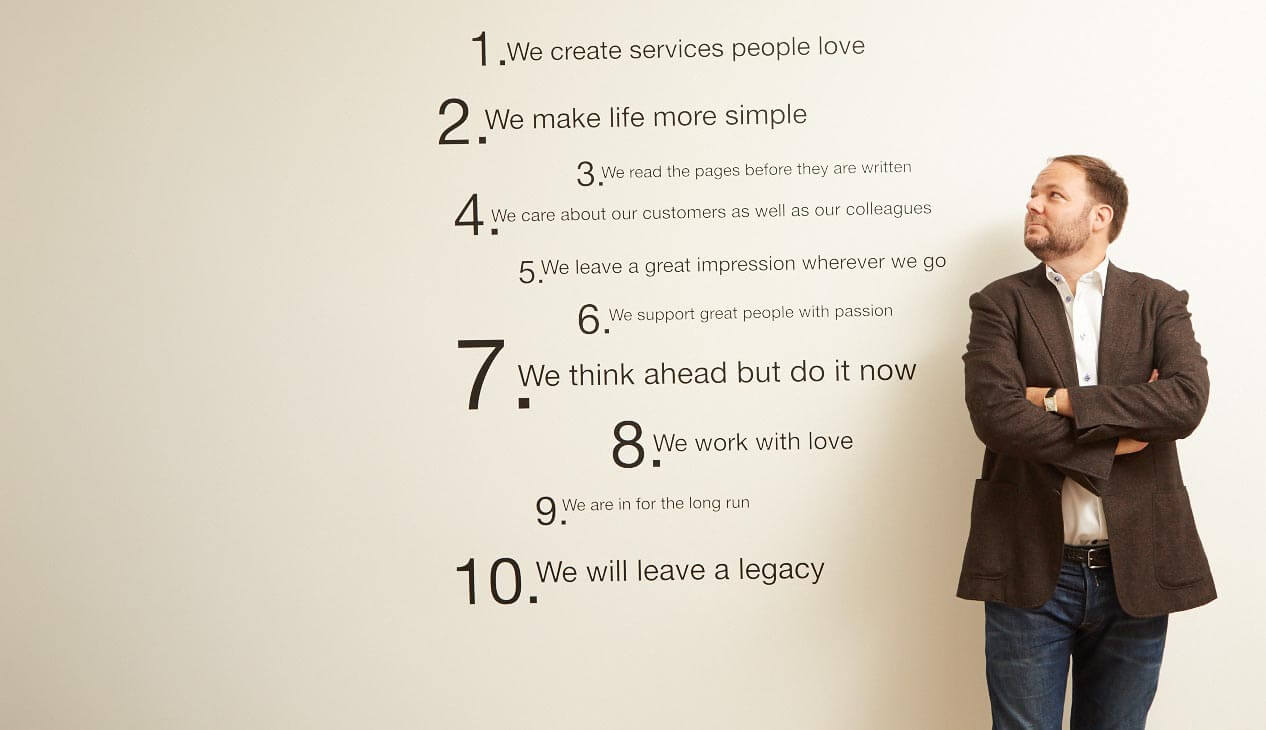 What advice would you give for other entrepreneurs who are reluctant about being in the limelight?
Think carefully about how you want to be presented and make sure you're working with a PR team that understand you and your objectives. I think there's a real risk in PR and communication for agencies to try and mould you into the vision that they see for you, rather than the other way round.
I also think that you as an entrepreneur are much more interesting than you realise yourself, because you are always pushing and you know what you are missing and haven't done etc and what needs to be done and what can be improved in the business you sometimes don't see that you are doing something that a lot of people want to do and have looked at or been inspired by, sometimes good sometimes bad, but all of it then you and almost all people are much more interesting when they are themselves and have less fear around their personality and are more interested in doing and growing, as thats what drives the entrepreneurs I know who succeed, we fail many times a day but always make it up, so you can't be too self conscious. You just have to do, and then try it, the first time on tv is scary the second time scary and it doesn't get less scary when it's live, but when you get those call from businesses and from friends and people you haven't spoken to for years and congratulations, it's all worth it.
What has been your favourite experience of personal PR?
I'm a huge thrill seeker and I love extreme sports. PHA saw this as a way to raise my profile in an interesting way and we've had a few photoshoots and day trips out to cool places across the UK for cave diving shoots. One of these I got to test drive a seriously fast car and then spend the day doing what I enjoy, which is cave diving. If you're gaining coverage for your business and doing a favourite hobby, it's a win win situation.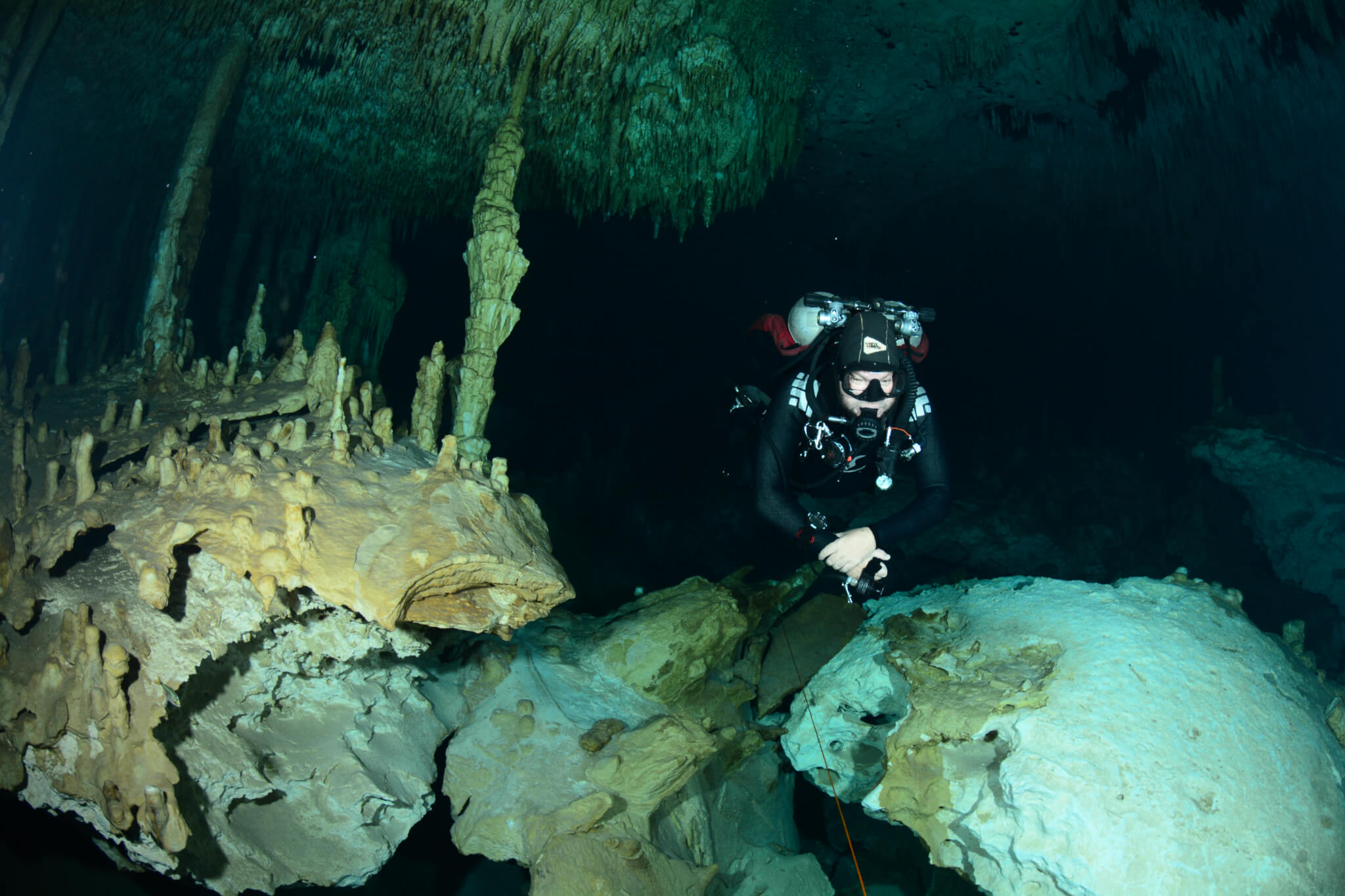 How have you found the results?
From a business perspective it's a great way of raising morale of staff, the excitement around great pieces of media coverage and TV interviews are a sure fire way to build enthusiasm.  I've also found that through sharing my interviews on social media it's a great way to re-connect with my network. You can go years without speaking to old colleagues or friends and suddenly they'll drop you a message after spotting you on TV or in the paper, which is always nice! And the number of calls that comes and the number of partners is great, when you CV or linked starts with interviews and people their homework before meeting you, I now have investors and business calling  who know about us before they talk to us.
What's next for you in raising your personal profile?
I've always said I'd love to write a book about acknowledging the importance of team success in a Start Up aimed at founders advising them on how to achieve a successful partnership. I find that most entrepreneurial books are written as autobiographies and forget to mention how important partnership and multiple stake holders are.
Why I Was Afraid of Personal PR
The inauguration of Donald Trump reiterated the sheer power of a positive personal PR campaign. Whatever your views on "The Donald", the success of his personal PR to his key audiences makes clear the inextricable link between a figurehead's public persona and their brand's reputation. He demonstrates how, with the right strategy, personal PR can be harnessed to improve the standing of an organisation or brand.
Personal PR should be an essential element of an organisation's PR strategy, now more than ever before. From a President elect to social media stars, today's public require personality. This extends to CEO's of multi-nationals as much as it does budding entrepreneurs and thought leaders.
As the figurehead of your organisation, ensuring you have a positive public reputation, befitting of the organisation you lead, can greatly boost your brand in the public eye. Personal reputation is vital when seeking investment, looking to sell or move on, recruiting employees and especially in times of crisis.
A positive brand reputation which promotes the core values of an organisation is highly 'sellable' and stands a company apart from competitors. It is attractive for new business and makes a sounder investment. On the other hand, a figurehead with a negative public persona, think Phillip Green circa 2016, or no persona at all, is cause for concern.
When looking to sell a company, bidders will also be looking at every element that forms its reputation and, even though you may be selling and moving on, in the eyes of the buyer, they are still buying your public identity as part of the package.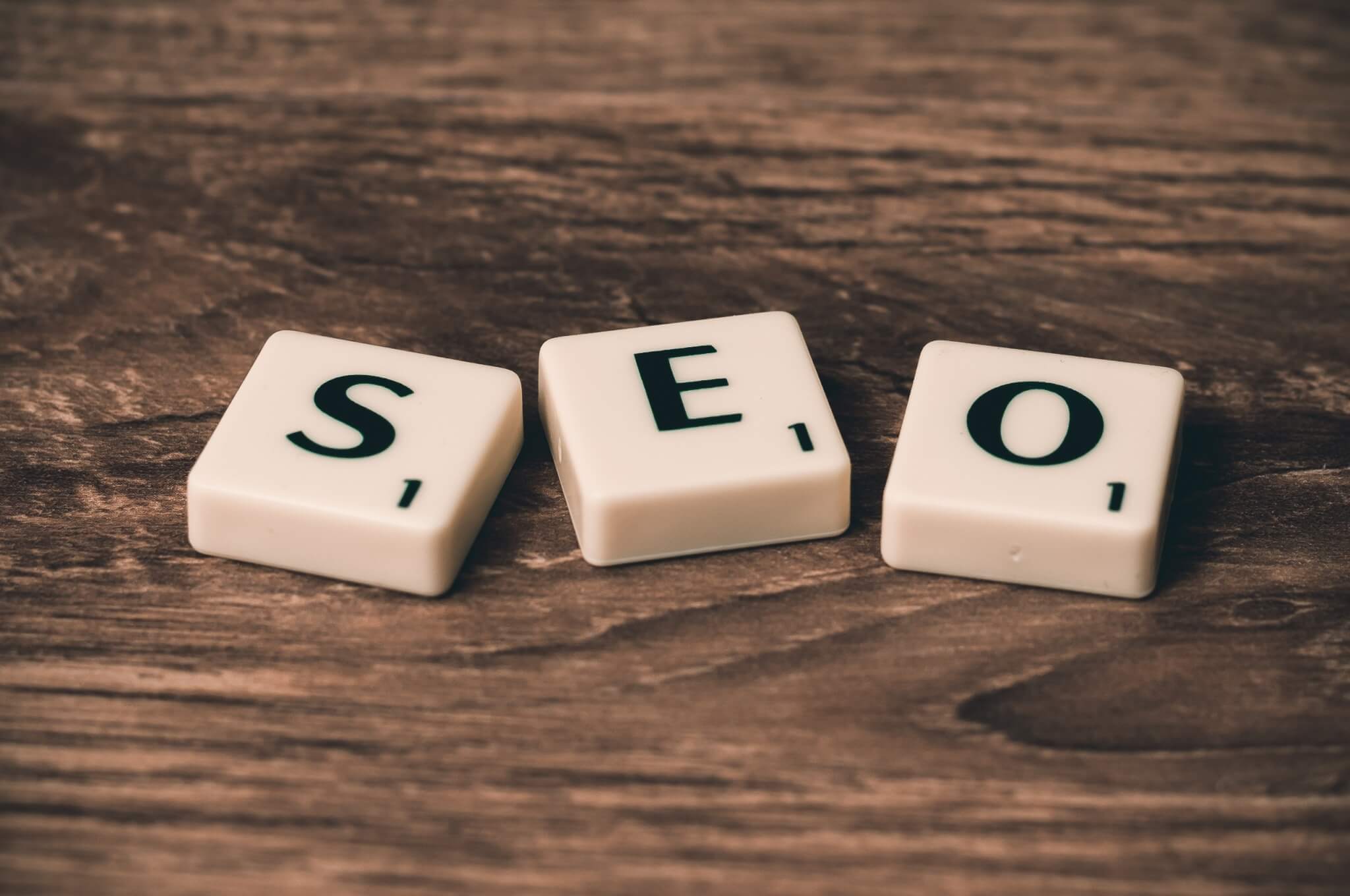 Prospective employees, whilst researching into prospective companies, are now scoping out the backgrounds of the company's board, it's CEO, even their potential managers. Ensuring that your own SEO (Search Engine Optimisation) profile paints an attractive picture of you as an employer is key to attracting first class candidates.
Creating a positive personal PR identity can take time. It takes effort to build the right SEO footprint and this may seem a daunting task, requiring more time than you may think you can afford. It is crucial you invest in the right personal PR strategy, one that not only raises your own profile but compliments the brand to which you are affiliated. It may be an investment you had not thought about, but when executed strategically, the personal and professional rewards can be significant.
To ensure your personal PR strategy gives your company the opportunity, that it attracts a loyal customer base, worthwhile investment opportunities and the highest quality employees, here are the key rules to follow:
Rule 1: Know Your Audience
Whilst raising your profile it is crucial that you have a target audience in mind and tailor all content directly to this audience. This may seem obvious when being interviewed by a journalist or when writing an article for a newspaper or magazine, but many fail to audit and curate their social media profiles in much the same way. If you are in the public eye, even your private social media accounts are not private. You must approach them, and the content you put out in the same manner you would formal forms of public communication.
This is not to say you shouldn't alter your tone of voice to fit with the platform you are writing on and it doesn't mean you should forgo using social media but do ensure that what you write appropriately aligns with your organisation's core values.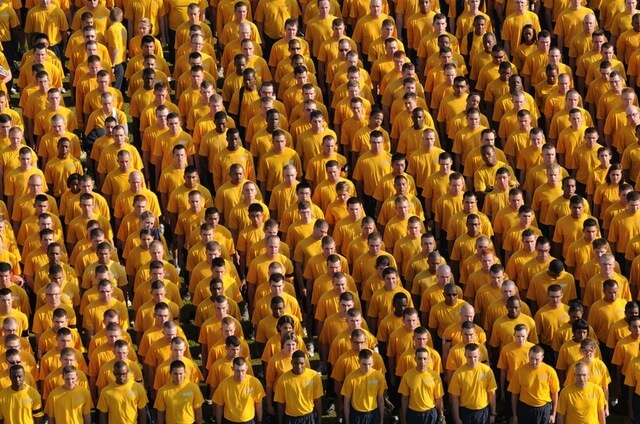 Rule 2: Beware of Skeletons
Even the most minor of skeletons in a closet can derail a personal PR campaign.
Whether writing an email, Tweeting, or commenting on a status, always bear in mind that what you say can be taken out of context and can also be dragged back up at any time.
Not only should you audit any social media accounts currently in existence, but if you have any concerns about something said or done in the past, however small, seek expert advice and guidance from your personal PR team. It is far better to raise this concern in advance and form a reputation management strategy than be caught off guard and unprepared.
Rule 3: Humanise your Brand
Best practice personal PR gives your organisation a personal touch. Its shows a face behind the name and humanises your brand. This can be a hugely lucrative strategy when trying to build a loyal customer base.
Rule 4: Seek Expert Advice
Your reputation as the leader of your company can have a huge impact on its long-term success. Specialists in reputation and profile management can help provide the framework to boost long term business growth, greater investment prospects and improved sales. Using their expertise not only relieves you of additional work and pressure but will ensure that you are forming the best public reputation for you and for your company.
How To Top 'Trump' your personal PR
6 CEOs with Strong Personal Brands
"Your brand is what people say about you when you're not in the room," said Amazon founder Jeff Bezos. He wasn't wrong. Your personal brand has become more and more important in defining how you and (perhaps most importantly) your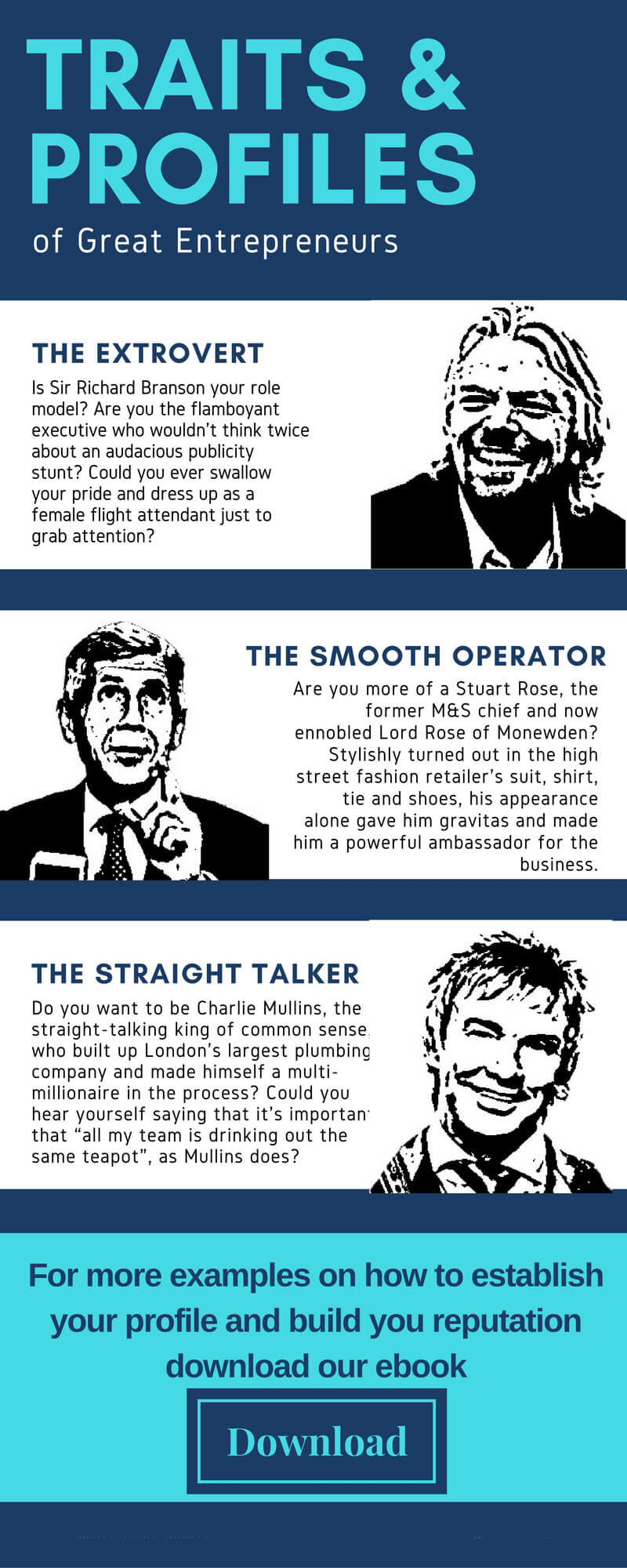 business appear to the world.
Let's imagine you are the CEO of tech startup specialising in home security. You are dynamic, exciting, you speak at events and often make your voice heard on issues that affect your industry. Your audience knows who you are and automatically identify you with your area of expertise as well as your brand. Perhaps you begin to get invited to speak in the media about issues surrounding home security that occur in the press. It seems likely that this would increase your brand's authority. When you put it like this it seems obvious that building your personal brand is hugely beneficial however it is surprising how often this is viewed as a vanity exercise, or simply unimportant.
We've taken a look at 5 entrepreneurs who have built reputations that represent their business values and enhance their brands. Love them or loathe them their success is undeniable.
Richard Branson
In a recent article for Entrepreneur magazine, Virgin boss Richard Branson said his most valuable possession is his reputation. No matter what your personal feelings Branson has, in his own flamboyant style, expertly leveraged his personal brand to add value to the Virgin brand.
From swallowing his pride and dressing up as a flight attendant to riding a jet ski around the waters of Dubai Branson is not scared of an audacious publicity stunt or two. As a result, Virgin has become associated with risk-taking and innovation, giving them the competitive edge over other companies.
Where's he's arguably excelled the most, however, has to be in times of crisis. Firstly Branson has consistently upheld excellent relationships with journalists receiving fair and balanced treatment in the press even at times of crisis for the brand. Secondly, he's not afraid to step in personally. At the time of the Virgin Trains derailment, Branson headed straight to the site to comfort frightened passengers, express gratitude to the staff and assure everyone that Virgin would emerge stronger.
In an article on his site Branson is quoted as saying: "In If, Kipling also wrote: 'If you can meet with Triumph and Disaster and treat those two impostors just the same.'
"He was probably not talking about the corporate world. Nevertheless, an executive's ability to lead his or her company during the bad times as well as the good shows why only a few executives deserve to have the word 'chief' in their title."
Karren Brady 
The Right Honourable Baroness Brady, and The First Lady of Football, that's quite the set of titles Karren Brady has under her belt. She wasn't born into nobility, however; throughout her career, she has been a sporting executive, politician, television personality, newspaper columnist and an author.
Yet it is not just her CV that makes her so impressive, she has generated a brilliant personal brand, one that has stood firmly with her throughout her years in business. Her personal brand is so strong that it holds its own in a room with Alan Sugar, and has done for 8 years. Maintaining her 'ballsy' approach from her first match day with Birmingham City FC, when one player said: "I can see your tits in that top", and she quickly replied "Well, don't worry – when I sell you to Crewe, you won't be able to see them from there".
And she did sell him. It is this level-headed but lethal approach that encapsulates Karren Brady's style, making her a prime example of how to affirm your place at the table with a strong reputation and consistent personal brand.
Stuart Rose
Sir Stuart Rose is one of the best known British business leaders, lauded by investors and retail experts alike for stepping in to fight off a takeover bid from Sir Phillip Green in 2004 and bringing M&S profits back to the £1bn mark (something that hadn't been achieved since 1997).
His strength lies in his own ability to be a powerful ambassador for the brand. Stylishly turned out, his appearance alone gave him gravitas especially as he was often clad from the rails of his own company. Couple that with an even sharper rhetoric and you have a powerful combination: "If it looks like a duck and quacks like a duck, then it's a duck, right? That's how I operate. I'm not going to take the duck's bloody footprints, send them away for DNA analysis and find 10 weeks later that it's a duck, by which time it's flown away. That's where I think they have been a bit slow here sometimes. It's analysis-paralysis"
Rose took a personal interest in his customer's thoughts on products, refusing to take a step back from the product his business was selling. He famously arranged a meeting with Jeremy Paxman following his criticism of M&S men's pants. Anyone who doubted his ability to turn things around for the retail behemoth prior to his appointment cannot have doubted him for long.
Charlie Mullins
A straight talking, King of Common sense Charlie Mullins has positioned himself as an antidote to the stuffy suits of the city.
Outspoken and well known for his political views and no-nonsense attitude, Charlie has used unique style to ensure Pimlico Plumbers stands out from the crowd. He regularly appears on TV and is outspoken in his desire to distance himself from the bog-standard plumber (pardon the pun) with reputations for unreliability and overcharging.
Pimlico Plumbers' apprenticeship programmes and fundraising initiatives are directly tied to Mullins ethics of hard work and reflect the way he built an empire from humble beginnings. A patron of the Princes Trust Mullins practises what he preaches as he works to offer young people the same chances he had.
His outspoken nature and transparency have cultivated a trust in his business that is invaluable in the service industry.
Tyra Banks
Ms Banks is the former host of "America's Next Top Model" and one of America's most successful and most loved models, turned presenter, CEO, celebrity icon and entrepreneur. She's built her brand, and empire, on the pillars of self-confidence, frankness and smising.
Her down-to-earth attitude won the hearts of millions and propelled her into the spotlight as role-model and mentor for women all over the country. However, what ties her personal brand up so well is her individual commitment to always learning and evolving, something she preaches to her mentees.
Starting with an executive education program at Harvard Business School, she soon proved herself to the business world with her company 'TYRA beauty'. Now she is co-teaching her own two-week class for MBA students at Stanford University, the title of her course "Project You: Building and Extending Your Personal Brand". How fitting for this champion of personal brands, and we are all rooting for you, Tyra!
Got the breakdown on my new Winter Slay Queen TYover… Now you can steal my holiday look

Anna Wintour

Anna Wintour is perhaps the best-known name in fashion, and certainly one of the most feared and influential. Kanye knew the power in her approval and vied after it for years, but what makes her personal brand so impenetrable? For starters, she is beyond consistent; her vision for Vogue has always been completely intertwined with her personal identity, and as such, as Vogue grew, so did her personal brand. Wintour has positioned herself, like Vogue, as sharp, ahead of the curve, aspirational and never wrong. Vogue and Wintour are heralded as the true voice of fashion, and as such their prestige is rarely questioned. Regarding her controversial managerial style, Wintour's uncaring attitude to these opinions quells most dispute and only continues to bolster her personal brand. And even if she is subject to critique, see Devil Wears Prada or the archetypal villain of the fashion editor, this does little to damage her reputation. She has built these brands with near-diamond integrity and an aura of divine knowledge; her ability to maintain this speaks to the strength of her personal brand and ability as a businesswoman.

Wintour has positioned herself, like Vogue, as sharp, ahead of the curve, aspirational and never wrong. Vogue and Wintour are heralded as the true voice of fashion, and as such their prestige is rarely questioned. Regarding her controversial managerial style, Wintour's uncaring attitude to these opinions quells most dispute and only continues to bolster her personal brand.

Even if she is subject to critique, see Devil Wears Prada or the archetypal villain of the fashion editor, this does little to damage her reputation. She has built these brands with near-diamond integrity and an aura of divine knowledge; her ability to maintain this speaks to the strength of her personal brand and ability as a businesswoman.

Personal Brands & Business

The old adage of 'people buy from people' is never more relevant than in the world of PR. To bring a brand to life, to make it seem personable and real, for the messaging to strike a chord with you, what's needed?

There's no hard and fast answer to this question, but one way to raise awareness is to find the face of the brand.

Having a founder, owner or even a staff member that can communicate the benefits of your product or service is vital. However, your communications strategy can also be extended to thought leadership, by creating content which positions you and your team as experts at the forefront of your field. In what is an undeniably saturated consumer market, being a friendly, concise voice of reason can work wonders for improving your credibility and giving you the edge over your competition.

If you think of many of the brands that are household names to us, we're also familiar with the brains behind the operation, so to speak. A great example of a creator becoming the 'face' of a brand is James Dyson and Dyson…he gave his name to the product he created, but more than this, his direct, knowledgeable manner means that he is seen as a voice of authority and innovation.

Another example of using a personal profile to help build brand awareness comes in the form of Innocent Smoothies co-founder, Richard Reed. Innocent is a brand with clear values – indeed Reed himself said that it aims to "leave things a little bit better than we found them". Reed is one of three founders of Innocent, but was clearly chosen to become the face and voice of the brand, whilst the other two co-founders focused on remaining areas of business. Through using Reed as a mouthpiece for these aims, Innocent were able to communicate the more serious messages of the brand through by humanising it, whilst keeping the brand itself light, fun and more than a little tongue in cheek.

Even smaller brands need a spokesperson who can convey and embody who they are and what they do. Having a strong opinion and being reliable as a trustworthy source of information and viewpoint is important, but equally making yourself available to the media is key.

Not everyone in business will feel comfortable in making themselves the face and voice of the brand but pushing yourself outside your comfort zone will help the business move outside its comfort zone too.

It's all too easy for us to think of Sir Richard Branson as a celebrity these days, but when he first started out, he positioned himself as a vehicle to sell the products and services he was offering through the press. That doesn't mean to say you need to put yourself forward to take up every PR opportunity by dressing up in wigs or flying around the world in a hot air balloon, but being able to make yourself available to the media and to clearly articulate who you are, what you do and why you exist is a crucial in making a name for your brand.

More than a nod needs to be given to longstanding The PHA Group client Charlie Mullins, Managing Director and Founder of Pimlico Plumbers. From a one man band with a bag of tools, Pimlico Plumbers had grown unrecognisable, and Charlie is now an established media and political commentator. His personal profile and that of the Pimlico Plumbers brand are so intrinsically linked that they feed off one another, helping to make a national household name for a London centric business.

Founder of WAH Nails, Sharmadean Reid, is another great example of  an entrepreneur who has successfully imprinted on her brand her own very personal brand of cool. Reid's nail empire has grown unrecognisably from a single East London salon to a brand stocked in the likes of Topshop, largely down to her own inspiring persona and clear message of female empowerment. Reid documents her life on Instagram, and her aspirational yet attainable persona means that her brand is both highly desirable and accessible. There's the feeling nothing in her range that she wouldn't personally endorse, making each new product or style seem that little bit more genuine.

If you truly want to build your brand, to be seen as credible, trustworthy and a leader in your field, developing a personal profile can do wonders for this. Yes you can communicate your message through branding, but branding is a subtlety that's difficult to explain. By putting forward a 'face' of the brand, it's far easier to communicate your passion and reasoning. More importantly even than this, your brand appears relatable and that little bit more human, giving you the edge over a faceless, corporate competitor.

Click here to read more about our media training packages

HOW TO HUMANISE YOUR BRAND

With an array of marketing tools now available for free and tools that allow you to analyse your market in tiny details, reaching and appealing to the right people can be an easy task.

We live in a society that is constantly yearning and looking for new ideas and inspiration so it is vital you make sure you are part of people's conversation and give consumers something to talk about.

Competition is also harder than ever before with the foodie phenomenon growing and an ever expanding number of self-acclaimed restaurant critics ready to pounce and review your restaurant at the first opportunity possible; this could be a good or a bad thing.

In order to get noticed it is vital that you:

1.Utilise social media

Social media can no longer be ignored. It is imperative your restaurant has its own social channels it you want to have any chance of standing up against the competition and attracting young enthusiastic foodies who will be happy to shout about your restaurant (provided you impress them!) on their own social media channels expanding your reach further than ever imagined.

Your restaurant doesn't necessarily have to be on every platform going but Instagram is key.

Instagram now has over 400 million users, 14 million of these users living in the UK, and therefore potential customers of yours. Due to its aesthetic nature, it provides great scope for you to be artistic and really show off your food, drinks, interiors, chefs at work and so on.

As fun as Instagram can be, it is also important to plan your content carefully and think about the tone your audience will want you to take. Are you a fun restaurant disrupting the marketplace? Then edgy pictures and silly captions will work for your target audience. If you're sophisticated and aiming at the higher end, classy and aspirational images providing a detailed insight in to the experience customers will receive will probably be better for you.

An example of some restaurants working social media perfectly are Patty & Bun, Duck and Waffle and Sosharu.

They all announce new menu items and special on their pages create hype and urgency to visit, they all show behind the scene images providing insight in to the ingredients that go in to their dished and their staff's daily duties, they announce news such as change to opening times and new openings, they all speak in the tone of their target audience and so on.

2. Speak with key influencers

Build up rapport and a good relationship with these people. They have the power to create hype and make your restaurant 'the place to be'.

Learn who they are, get in contact with them and invite them down to your restaurant to review their experience.  Some influencers might want payment but others will just be happy with an evening on the house.

By key influencers, we mean people that have large loyal followings to go to for information and decision planning and this can therefore be everything from well-known publications, both in print and online, to bloggers, Instagrammers and critics.

An example of some key influencers are Time Out magazine, a magazine aimed at 18 – 35 year olds interested in quirkier things to do, food blogger CertifiedNosh and Grace Dent, food critic for the Independent and the Evening Standard

Celebrities are just as important too. Invite them down, give them five-star treatment and get them talking about their meal and get them coming back!

3. Competitions / free food

The best way to get people in to your restaurant is to give them free food. People love a freebie and they certainly love free food!

By making customers feel like they are getting a great deal you will attract the crowds and naturally word of mouth and spreading the word on social media too.

In order to qualify for free food, you can get people to post something on Twitter or Instagram, leave a review, tag a friend in a picture and so on. There are countless mechanisms that can be used to get people chatting about you which will consequently result in popularity.

This is a tactic we use for a lot of our clients from driving schools to fashion brands and really works to not only drive engagement online but also bring the crowds down to you and raise awareness of your existence and great food.

4. React to relevant stories in the news

As a PR agency we are constantly monitoring the news for any stories that are relevant to our clients or which we feel our clients are expertly placed to comment on.

Recently, for example, a big story has been about ministers being concerned about double tipping to due service charges being automatically added to bills in restaurants, as covered here by the Telegraph. If this is a topic you have on opinion on there is no reason why you shouldn't be expertly placed to comment on TV, the radio or in written articles regarding the subject. Look out for these opportunities and get in touch with the right people to secure an opportunity.

We are also constantly speaking with journalists and keeping on top of forward features lists.

We have great mutual relationships with them where we provide the content they are after.

5.Ask for reviews!

Incentivise your guests to review their meal after visiting you. This can be on your website or on popular review websites such as Trip Advisor, Trust Pilot, Checkatrade, Yelp and Facebook.

Top 5 PR tips for Restaurant owners