Whether it's a Colombian, Guatemalan or an Ethiopian for most of us, the day doesn't start until we've had time to enjoy a hot or cold cup of coffee. Today marks International Coffee Day, a day to celebrate and pay homage to the liquid rocket fuel that helps us through Monday and delivers us to Friday.
But rather than just focus on the coffee itself we've decided to look at the sustainable companies that are making sure that we'll still be able to enjoy our favourite coffees in years to come and won't impact on the environment.
If you're a coffee consumer that wants to buy from a sustainable and organic brand, then make sure to check out Percol. Aside from supporting both the Rainforest Alliance and the Soil Association they have also been ethical innovators since their beginning and were the first UK company to go completely plastic-free.
Fast-forward to the present day and Percol's entire roast and ground range are Fairtrade certified, which guarantees the farmers a fair price, decent working conditions and adequate training which will help to support the next generation of coffee growers.
Percol is stocked in all the major supermarket chains, so whether it's instant, ground or even beans pick up a packet of Percol today.
Meet the team of experts based in Cambridge who are making it their mission to create innovative impactful and sustainable change through coffee waste. It's estimated that half a million tonnes of spent coffee grounds are unnecessarily discarded in the UK every year.
Using proprietary technology Bio-bean take spent coffee grounds from our lattes and americanos and sustainably renew them into valuable materials whilst significantly reducing their emissions. Whilst the usual process sees coffee ground waste left in landfill sites where they remain untreated and emit harmful greenhouse gases.
Did you know that half a trillion disposable cups, that's 70 cups for every person on the planet are manufactured annually around the world? Or that the single-use paper cup has been around for over 30 years? Since that time ecoffee cup estimate that over 3 trillion, (yes you read that right TRILLION) of them have ended up in landfill.
Ecoffee cup was created with one solution in mind, to help encourage people to opt against using single-use plastics. The cup itself has been developed through using natural fibre, corn starch and resin, it has a resealable 'no-drip' lid which means you don't need to worry about spilling hot coffee on yourself if you're on the move.
With a variety of different designs and different sizes available to choose from, it's time we all start supporting the planet more.
View this post on Instagram
For most, firing up the espresso machine first thing in the morning is a necessity to get a jump on the day, but do you ever think about what happens to those little pods after they produce your coffee?
Aluminium capsules usually find themselves at the bottom of a landfill site or in the ocean where they will remain for 500 years. HALO is an example of where innovation meets sustainability, with the world's first 100% compostable paper capsule made from sugar cane and paper pulp, and that's just the pods.
There's also a snazzy reward scheme where you receive HALO credits just for creating an account.
If you would like to find out more about how we could support your sustainable business then why not get in touch today or read about Ethique, the world's first zero-waste beauty brand.
International Coffee Day
Over the past five years we have worked with Jeans for Genes and each time the brief is clear: to raise awareness and drive sign-ups for their annual fundraiser.
Jeans for Genes is a national children's charity, which raises money for the care of children and families who are affected by genetic disorders. The charity also aims to raise awareness and understanding of genetics and what it means to live with a genetic disorder.
The brief in 2019 was no different. The campaign itself was simple: asking people to wear jeans in return for a donation to support children living with genetic disorders.
Each year we create a fresh and strategic campaign that focuses on educating the public on the health implications of genetic disorders. As we reach the end of this year's Jeans for Genes week, we have so far secured 350 pieces of coverage across print, online and broadcast media and hundreds of social media posts from celebrities and influencers encouraging people to support the campaign.
So how do we go about driving impact year after year? Learn more about our strategies below:
Case studies
A key part of our strategy was to include real people in the campaign. We set out to educate about the impact a genetic disorder can have on a family and the amazing stories of those who live a fulfilling life. We worked closely with over 30 families who were affected by genetic disorders and secured opportunities for them to share their experiences. We placed a series of emotive case studies generating 123 pieces of coverage across the national and regional print and broadcast media.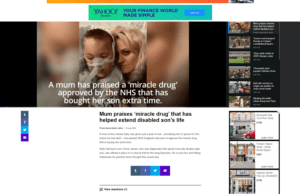 Educational coverage
We set out to educate the public on what a genetic disorder is and to encourage individuals to learn more about genetics. Deploying a multi-pronged educational strategy utilising Gene Therapy expert Professor Bobby Gaspar, we secured 22 pieces of coverage including publications such as the Manchester Evening News and Yorkshire Post.
Fashion and lifestyle coverage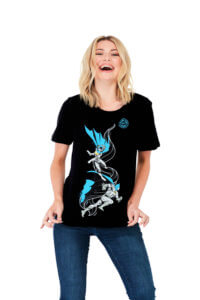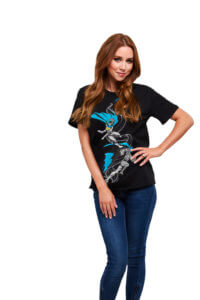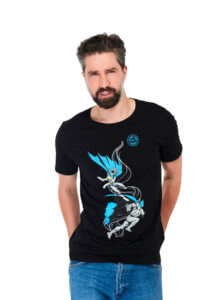 An important element of the fundraising campaign is the sale of their fashion t-shirt. Each year there is a high demand for the uniquely designed garment, and this year was no different, with the t-shirt designed in partnership with Warner Bros and featuring Batman and Batgirl. Our team secured 227 pieces of coverage dedicated to promoting the t-shirt.
Celebrity influencers and endorsement
Celebrities and influencers as we know can be a very effective way of increasing engagement, building awareness and reaching your target audience.
As part of the Jeans for Genes campaign, we worked with; Alice in the looking glass, Christopher Taylor, David Seaman, Emma Barton, Faye Tozer, Nadiya Jamir Hussain, Adam Pearson, Charlotte Hole and many more.
It was a real focus of our team to ensure we made the right partnerships to ensure the success of the campaign.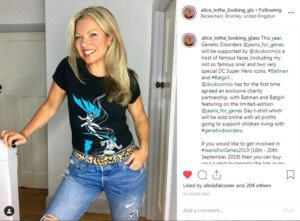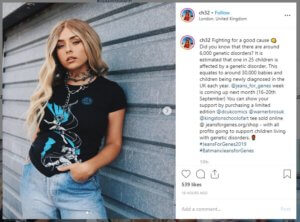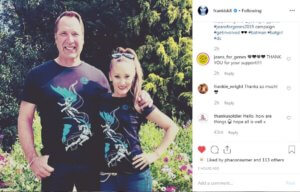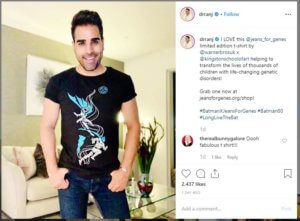 Gifting
To help keep our campaign and messaging at the forefront of journalists minds we activated a series of desk drops with branded Biscuiteer biscuits to a selection of fashion, health and lifestyle media.
Hosting a celebrity event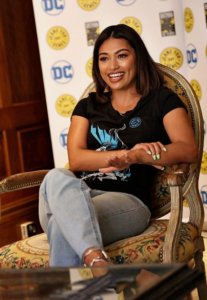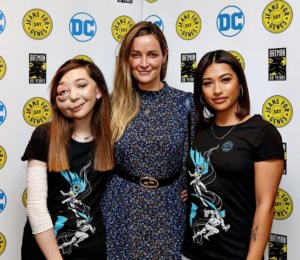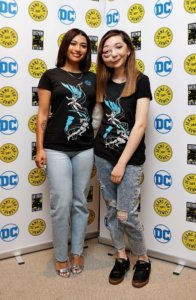 Jeans for Genes Day ambassador and singer-songwriter, Vanessa White hosted an intimate breakfast event at the Covent Garden Hotel to launch the 2019 Jeans for Genes Day campaign and its new charity T-shirt, on sale now.
The breakfast event at the Covent Garden Hotel was also attended by Made In Chelsea star, Francesca Newman-Young, and Jeans for Genes ambassador and emmy winner, Nikki Lily.
Vanessa debuted the limited edition 'Batman and Batgirl' design at the event, created by Kingston School of Art Graphic Design student, Chayanis Jumrus. This year's T-shirt motif was selected by a distinguished fashion panel, including Coleen Rooney, Louise Thompson, the London Evening Standard's Head of Fashion, Maurice Mullen and Fashion Director-at-large at Glamour UK, Alexandra Fullerton.
Vanessa greeted guests with a short introduction to her involvement with Jeans for Genes, upcoming projects, and why she has chosen to support the 2019 Jeans for Genes campaign.
Jeans for Genes Day has such a positive impact on the lives of children and families living with genetic disorders, which is why I am proud to be able to support the campaign. It is estimated that one in 25 children is affected by a genetic disorder, which means 30,000 babies and children are diagnosed in the UK every year. Whereas some disorders are apparent at birth, others are diagnosed at different stages throughout childhood. Vanessa White
If you'd like to speak to a member of our team and find out how we can support your organisation, please get in touch today. Or if you'd like to support this year's Jeans for Gene's campaigns it's not too late, visit their donation page here.
Making it count: Jeans for Genes
Sustainability, the topic everyone is talking about and every business is trying to crack. From politicians to everyday people and famous figures, just about everyone is now aware that something needs to change if we want to keep our planet clean and cool. The fashion industry is now under the spotlight as it turns out to be THE industry that has one of the biggest impacts on climate change.
Innovating and finding new materials for clothes is now a priority. We take a look at sportswear brands starting to change the industry with their recycled material and funky designs.
OrganicBasics take sustainability very seriously. It's at the core of everything they're doing. Which for the brand means investing in quality fabrics and workmanship. The company only work with trusted factories, free of child labour and paid living wage. On their site, you can even visit each factory, making sure they are trusted partners. The site also gives a great overview on each material they are using for more transparency.
OB proposes a range of basic leggings, tees and underwear all made from GRS certified recycled nylon – which takes 80% less water to make. They are using organic cotton, which means no use of harmful pesticides and insecticides, it helps prevent soil contamination and other harmful chemical effects. Each product has an impact index so you can see just how much CO2 you're preventing by buying each item. This is a great website, full of clever designs.
Orontay is a natural sportswear brand that creates quality clothing from Tencel, a material made of eucalyptus trees that are grown in well managed tree farms. The wood is pulverised to make one of the softest fabrics known. Tencel has many benefits including being really good for your skin, a better breathability and has natural anti odour properties.
But Orontay is not just using sustainable material, they are also making sure that their packaging is ocean friendly. In fact, you will receive your garments in high quality, fully decomposable paper bags that can be recycled or used as compost or food waste bin liners.
Adrenna was born from the desire to pursue a more intelligent and environmentally conscious way of producing and enjoying activewear, without having to sacrifice style, function or quality. This means that the brand is tackling mass production, by producing exactly what customers want and only in the quantities needed. Adrenna sources all its materials locally, so they are cutting down the amount of unwanted carbon emissions.
Using the finest technical eco-fabrics from Italy, Adrenna invites you to get directly involved with the creation process, by giving you the chance to customise features of your activewear. Their range includes leggings, sports bras in lots of different colours – far from boring!
Peak+Flow are designing sustainable clothes that are made to last and are cross-functional. The aim of the brand is to reduce how much you need in your wardrobe. The brand is also working on making every stage of the product lifecycle better for the planet.
Peak+Flow has a wide range of products available from sports bras, leggings to swimsuit for women and shorts and t-shirts for men.
Let's not forget that Peak+Flow are also a certified B corporation as well as part of the 1% for the planet.
View this post on Instagram
Yoga usually goes along with sustainability. Manduka is a good example of it, they are creating yoga mats, sport gear for men and women using the newest technology to always respect the land. As a company, they have committed to 100% transparency to show their decision, as well as what they need to improve. The mats for example are made from biodegradable natural tree rubber, manufactured with zero waste and with no harmful plasticizers. They are also free of toxic chemicals, dyes and phthalates, which usually disrupt your hormone balance.
Their clothing collection is inspired by nature and is using premium fabrics sourced primarily from environmentally responsible materials.
Do you have a sustainable product or service that you'd like to gain more exposure and business? Speak to our team today to find out how we could help you achieve your goals.
Sustainable sportswear
Our conscious effort to reduce the number of one-time plastics has never been greater. Programmes like David Attenborough's Blue Planet demonstrating the impact of plastic waste on our planet alongside the continuing depletion of our resources through unsustainable manufacturing demonstrates the clear importance of environmentally friendly products. One of the positives to take from the last year or two is the growing consumer demand for green products.
An industry that has taken a shift toward green sustainable product manufacturing has been men's health products. From switching up the way men shave, to sexual health and grooming supplies, the male health market has been flooded with sustainable options.
We look at some of our favourites available.
Bulldog – Original Bamboo Razor
Bulldog have always prided themselves on putting their customers' viewpoint first and ensuring they operate a business that consumers could be proud of.
There Original Bamboo Razor is no different. The focus of this razor is to lower its environmental impact by reducing and eliminating materials that are hard to recycle and break down. The natural bamboo handle and the un-chromed metal components along with the full recycling packaging make it a real winner in our books. Bulldog doesn't use ingredients from animal sources and is certified by Cruelty-Free International and their products are suitable for vegans and vegetarians.
The Bedford Beard Company was set up by Tom and his partner Caitlin with the aim of delivering a small family run business whose aim is to help men keep their grooming regime natural and eco-friendly.
If you have a burly beard, moustache or you just require new grooming products their hand made in-house made products could be the answer you've been searching for. They pride themselves on using the finest ingredients so whether it is a bamboo handle beard comb, a beard balm or wax they'll have a product to suit you.
Well, we just love this next brand. Brothers we stand brings their own unique twist to the sustainability marketplace with their upcycled products. Using genuine decommissioned fire-hose and lined with waste parachute silk their washbags, holdalls and more don't only look great but are a mark of excellent craftsmanship.
Strong enough to tackle the toughest of conditions and previously deployed in active duty for up to 25 years their 'fire hose' bags are something you can't miss out on. At least you'll have peace of mind your leaky bottles won't spill all over your luggage with these wash pieces.
In 2005 OXFAM's campaign 'Make poverty history' made the founders of Fair Squared think long and hard about what they could do as an organisation. Five years later in 2010 Fair Squared products were then sold via OXFAM and Amnesty International. It was then in the UK that a few students picked up the idea of sustainable products and made Fair Squared products more widely available.
Among those products were their condom range. The natural latex is also suitable for vegans as they eliminate the Casein protein from cow's milk. Not stopping there, Fair Squared also donate more than 10,000 condoms per year for sexual education in schools around North Rhine-Westphalia to educate children about the importance of sexual health.
Owned by Macdonald & Taylor Healthcare Ltd Simply Gentle was founded in 1930 as a cotton manufacturer, building on many years' experience handling non-woven materials. Now specialising in the manufacturing of products for personal care Simply Gentle produce all their products with organic cotton which causes minimal damage to the environment, ecosystem and wildlife in surrounding areas.
If that doesn't spike your interest organic cotton is also said to be safer and softer on your skin as it contains no harsh chemicals making it perfect for baby, beauty and adult care.
If you have a product or service with a sustainable message you want to break to the UK media get in touch with our award-winning team today. Alternatively, don't forget to check out the results we drove for PHA client Ethique the world's first zero-waste brand here.
The best men's sustainable grooming products
Today it is more crucial than ever to make changes to help our environment. Every day we hear about another turtle who has died with a litre of plastic in its stomach or see an image of a hungry polar bear starving in the melting ice caps.
The Homeware industry in previous years has been one of the greatest producers of single use plastics. This has posed serious environmental issues such as increasing CO2 emissions and polluting our oceans, so several companies are trying to tackle this issue and have made huge efforts to create more sustainable products.
First up we have the Waikiki Bottle. This eco-friendly stainless-steel insulated bottle is designed to keep you hydrated whilst encouraging a more sustainable lifestyle. As well as helping the environment by reducing the number of plastic bottles purchased, Waikiki has also launched the Take-back Program. This allows customers to return their used bottles once they are done with them to be recycled at its source. Those who return the bottles receive a discount on future purchases as a thank you for keeping your bottle from the landfill.
Eco-Strawz Reusable Metal Straws 
Another small change that can aid our environment is the removal of single use plastics such as straws. These stainless-steel drinking straws made by Eco-Strawz can be cleaned and reused multiple times, saving space in our landfills from the regular use of plastic straws, which take years to decompose. What is more, with every reusable straw purchased, Eco-Strawz will donate 1p to Sea Shepherd, a world leading direct action ocean conservation charity.
These luxury soy wax candles are not only stylish but environmentally friendly too. Join ensure their candles are vegan, carbon neutral and sustainable. The cotton core wicks and fine essential oils create a long, clean and natural fragrance without harming the environment. Join are committed to reducing their carbon footprint as much as possible, using recyclable packaging from sustainable sources and print with vegetable dye inks.
Panda Packaging Bamboo Lunchbox
This eco-friendly lunch box is a great replacement for your single use Tupperware. The base is made from stainless steel and the lid is handmade from bamboo. The organic bamboo fibre has antibacterial qualities, keeping your food safe. Panda Packaging has a mission to replace the use of all plastic products by creating new and exciting sustainable solutions which are affordable and accessible across the world.
These handmade organic cotton Beeswax Wraps are the new sustainable way to keep your food super fresh. The BeesWax Wrap Co. aims to encourage people to ditch the single use cling film which will fill up unnecessary landfill space and convert to the 100% natural and biodegradable Beeswax Wraps, also available in a variety of colours and patterns. There is even a tutorial on their website on how to keep the wraps clean and fresh, so they can continue preserving your meals and snacks.
Greener Cleaner are committed to delivering high-performing eco-friendly cleaning products sustainably. This high performance environmentally friendly dish brush has durable fibres and is deal for cleaning all types of dishes, pots and pans. The wood flek handle is made of 100% recycled plastic giving it an Eco-Flek finish. All Green Cleaner products are made from recyclable plastics which can be recycled again after their use. The 'Reduce, Reuse, Recycle' waste hierarchy is used as the strong foundation for the creation of Green Cleaner products.
Are you looking to promote your own sustainable homeware product or sustainable service? Do get in touch with our award-winning team today to see how we can help!
6 sustainable products fit for your home…
Tis the last long weekend of the year until Christmas, and we plan to make the most of it! If the British weather allows us to enjoy the outdoors what better way to celebrate the end of the summer than a perfect picnic.
We take a look at the best sustainable and ethical picnic accessories you can get this year to say goodbye to summer and look after the environment at the same time.
We've all heard of paper or bamboo straws, but what about wheat straws? Eco-friendly, 100% biodegradable and fully compostable at home, they would be the perfect feature for any picnic.
Although designed to be disposable after single-use, they will can be used for more than one drink and are great for cocktails, coffees, and soft-drinks. Even better, you can use them for hot and cold beverages, and they don't go soggy like paper straws do . Just Straw are giving the leftover stalks a new lease of life after they have been harvested for flour, grains etc, so no waste involved!
Wheat might be the new cool kid in town. After bamboo cutlery, let us introduce you the new trendy accessory for your picnic, the wheat cutlery set from Weety, a brilliant reusable alternative to disposable cutlery.
Light and compact to carry with you at all times and ditch single use plastic utensils, this set also comes with a box so you don't lose them or get them mixed up with the rest of your bag.
Weety was born when Miguel, the founder was looking for a perfect durable and eco-friendly cup for his morning coffee. As he could never find The One, he decided to invent it himself. In addition, Weety are members of 1% for the planet, which means they are donate 1% of each sale to the organisation to help save the ocean.
You might see this bottle every day, maybe all of your colleagues in the office are sporting them, as it seems that everyone has one these days! The Chilly's bottles comes in different sizes and various colours, with so many to choose from you wouldn't know which one to pick! What's great about this product is that it keeps your drink very cold or hot for a long time. We also like the fact that it comes in different sizes, so you don't have to carry a heavy bottle if you don't want to, you can opt for the smaller size one instead.
Chilly's was founded in 2010 by James Butterfield and Tim Bouscarle, with the aim of providing people with the ability to always have cold water on-the-go, without having to buy single-use plastic water bottles. In pursuit of their mission, Chilly's have now expanded their range including coffee cups, reusable straws and even a sustainable brush to wash your bottle. The brand is also partnering with famous designers as well with non-profit City to Sea, on their award-winning campaign Refill.
We love Black & Blum lunch boxes. They are simple but use the best material to store your food. Of course, the boxes come in different sizes and colours. Oh, and its leak proof, truly, which means that you can carry it in any bag without fearing ruining your bag. Cherry on the cake, the box is a 3-in-1, multi-functional lunch box allowing you to transport your lunch, cook dishes in the oven, and even store pre-cooked meals in a freezer.
Dan Black and Martin Blum met studying industrial design at Northumbria University. In 1998 they formed Black+Blum and based it in London. The company allowed them to express their passion and explore their originality for developing their own designs.
Would you like to know more about our services and how we can help your sustainable business, brand or product? Get in touch today to set up a call with our team.
Sustainable picnic ideas for your summer spread
Now that summer is nearly over, it's time to think about Christmas and what type of PR strategy you need to put in place. Yes, Christmas feels a long way ahead but 48% of UK shoppers have already started buying Christmas presents in July. And another majority will start buying theirs between October and November. But why should you launch a Christmas PR campaign?
When executed successfully, PR can offer a creative, results-driven approach that will help tell your brand's story and generate engaging media placements that talk directly to your target audience. We look at some of the methods and strategies our award-winning teams deploy to gain cut-through and deliver results for our clients during this festive time of the year.
Influencers
In today's age we are bombarded by choice. So, it's no surprise that influencers hold a lot of power in validating our decisions. This Christmas again, influencer marketing is going to help you take your campaign to the next level. Why? Because influencers are real people who we trust and respect, a vital tool in marketing a product given that their opinions can, and do, impact the behaviour of their amassed following.
In December, we were briefed to generate widespread press coverage for The British Library to showcase their membership scheme as a must-have Christmas gift for the season. To achieve this, one of the key activities was to work with a range of digital influencers, based in London. Partnering with key influencers including Liberty London Girl, Not such a Model Mum and Boo & Maddie was important to produce impactful content for British Library Membership and supported the campaign to position a membership as the Christmas gift for the imagination.
The British Library said:
The PHA Group supported us with our British Library Membership Christmas campaign. They were a delight to work with – super organised and results driven!  We gained some great coverage in a short period of time.

Senior Marketing Manager at The British Library
Events
Events, pop-up shops and press conference are in the heart of any PR strategy, especially for Christmas when people are looking for the perfect gifts for their loved ones. Organising an event to launch a new product or range can be daunting. PR agencies can effectively promote your event encouraging media to cover or attend it through excellent relationships and contacts, as well as creating a buzz of excitement by generating awareness and increase the number of attendees. When opening a pop-up store, you can also maximise your brand awareness. You'll face your customers and therefore will be able to test your products or services directly in front of your key customers.
Disney wanted to launch a new video game called Epic Mickey 2. Celebrating the forgotten characters of Disney, this game had the potential to appeal to both older and younger generations. To capture the imagination of our audience, we decided to bring the Disney magic to life through a once in a lifetime event. Taking ownership of a coveted space at Westfield, Stratford, we planned an event designed to cut through the noise of our competition. We brought an official Disney illustrator to draw the iconic characters and a virtual graffiti wall to complete the two-day event which was hosted by TV presenters Dick and Dom, ensuring entertainment for adults and children alike. With over 2,000 attendees, many of which were young families, the pop-up event was a huge success.
Digital
Whatever your industry, segment and audience, a big portion of your customers and leads have a digital footprint. Whether it's to re-enforce your image, create a stunt or promote a new product, social media should always be part of your strategy. From animated GIFs to cinemagraphs and motion graphics, we provide a complete digital solution to create impactful campaigns to engage with your audience. Our dedicated in-house specialists work with you to develop your strategy, and then manage every aspect of all your channels, from weekly content plans and content creation, to daily posting and scheduling through to news agenda or event reaction.
We worked with LaplandUK to position them as the only immersive, theatrical Christmas experience for children to uphold the real and traditional values of Christmas. Our goal was to secure high-profile celebrity visits to create a buzz around the venue on social media as well as raising their profile within key national press and media and consumers to gain top coverage across a variety of channels. Our campaign was based on bringing the magic of LaplandUK to life by enhancing people's understanding of traditional values of Christmas, the innocence of the season and its ethos. We approached A-list celebrities who have children between the ages of 2-12 and arranged for them to book a trip with their family to LaplandUK in exchange for a quote or social media post. We secured visits from the Beckhams, David Furnish, Emma Bunton, Simon Peg, Emilia Fox and Katie Piper to name a few. The campaign was extremely successful with the experience selling out within two-and-a-half-weeks of being open.
Gift guides & placement
Gift guides are a life saver for many people around Christmas, and all magazines are creating some to help people find the best present for their loved ones. So, it's no surprise that a gift guide is one of the most powerful tools you can have during the holidays. It allows you to showcase your products, inspire shoppers, and stay top of mind throughout the season. Often brands who have enjoyed placement in a gift guide can see a huge return in terms of an increase in website traffic and sales of the product mentioned.
We worked with Champagne Pommery to position them as one of the leading and most innovative champagne brands in the world during the festive season. To do so we placed Pommery Brut Royal Champagne within relevant Christmas gift guides including Marie Claire, Red, Woman & Home, Mail online. As well as Gift Guides, we also did some featured placement for the Champagne brands which generated opportunities for key spokespeople to write feature articles for relevant media titles, for example, we placed a feature article on '6 Champagne tricks to make your New Year's Eve party extra special' with Red online.
A PR agency can help you engage with the right audience helping you to create and implement a communications strategy for your business and brand ahead of Christmas. Get in touch now to see how we can help you.
How to "sleigh" your Christmas PR campaign?
Sustainability is everywhere, from beauty to homeware and now making a real impact to the fashion industry, but what about childrenswear? A few years ago, it was very difficult to find a brand that would be good for the environment, sustainable and still look, well, fashionable. Today more and more brands are emerging around the world combining pure material, clever design as well as long lasting clothes.
Children are the biggest clothes wasters of all time; they grow so fast and usually wear a piece of clothing for a few months before having to switch to a bigger size. We're looking at clever companies creating innovative clothes for your little ones to help tackle the impact on the environment and sustainability issues.

Petit Pli is a wearable technology company based in London aiming to dress the future generation. The company has been founded in 2017, by trained aeronautical engineer Ryan Mario Yasin and is inspired by Ryan's background to stop wasting children clothes.
The concept of Petit Pli is built upon using materials sustainably. The company's designs significantly reduce waste, and CO2 emissions at the point of production, distribution and after purchase. Their garments grow up to seven sizes – so instead of buying seven pieces of clothing, you'll only buy one! As well as reducing waste, Petit Pli suits are made from recycled fabrics & have a mono-fibre construction – allowing them to be recycled easily at the end of their use.
Looking at the weather this week, this collection of outwear would be really handy for your little explorers. Launched this summer, this new collection of lightweight jackets is all made from cutting edge recycled fabric. Not only are they good for the environment, they are also 100% waterproof and come in two different print. The collection includes jackets, fleeces and trousers and are all great for cold and rainy days.
It's not too expensive neither to buy this fun outdoor jacket, and you can wash it anytime, as we know the explorers like to get muddy when it rains!
Have you ever wished your child's clothes were made in your size too? Well, with The Bright Company, your dream has been fulfilled. The company describe themselves as the "Design-led, organic and ethical sleepwear and loungewear for modern families". Yes, they design sleepwear for both adults and children so no need to be jealous anymore.
And even better news, all their products use super-soft, GOTS certified organic cotton jersey fabric as well as meeting the strict OEKO-TEX Standard 100, ensuring no harmful substances or dyes are used at any stage of production. All the products are made within the EU for even more ethicality, so you can sleep tight and night!
Who said sustainable had to be boring? Picalilly is a British baby and kidswear brand designing organic clothes from newborn up to 10 years. They're the leading UK company to develop muslin swaddling blankets and manufacture all their organic clothing to the highest ethical standards.
As an example, Picalilly sources their chemical free organic cotton from a project called Chetna Organic. It's a fair-trade cotton programme with a mission to improve the livelihood of smallholder farmers by making their farm systems more sustainable and profitable. In 2008 Chetna became the first cotton farmers organisation in India to receive Fairtrade Certification. All their cotton is grown by small marginal farmers without the use of child labour, chemicals and GMOs.
If you are launching a new product or would like to raise awareness of your sustainability work for your brand or business, get in touch with our Consumer PR team today to find out how we can help.
Sustainable fashion brands for children
Tell us about your experience working in the healthcare sector?
When I first started working in communications, I had no intention of working in healthcare. As a junior account executive my first client was a hot sauce brand, and at the time I thought I would gladly spend the rest of my career debating the relative merits of a habanero or a jalapeno. But in the wise words of Ronan Keating, life is a rollercoaster – six months later I'd been pulled over to healthcare to support on a new campaign for Sudocrem.
I never looked back. Healthcare may be one of the most heavily regulated industries in the world, whether you're working with prescription pharmaceuticals or over-the-counter consumer brands, but that challenge is exactly what makes it one of the most creative fields for marketing and PR.
Since that first campaign for Sudocrem – which went on to snatch Gold at the OTC Marketing Awards – I've gone on to work for consumer health brands across infant health, maternity, gastroenterology, dietetics and nutrition, and immunology (off the top of my head).
One particular highlight of my career to date was working on the licence switch of Viagra Connect last year (from prescription-only to being available over the pharmacy counter). It was, and remains to be at the time of writing, the most high-profile pharmaceutical licence switch to date – but we can expect to see more prescription-only pharmaceuticals, including Cialis and Levitra, following in its footsteps.
What are the most common hurdles brands, products and businesses face in the health industry?
Working with healthcare's strict and detailed regulatory codes can look (and sometimes feel) confining compared to consumer brands. But the reality is that health and wellbeing are among the most emotive subjects in the world, so clever research and a little creativity can go a long way to move hearts and minds.
Healthcare brands are rarely ever designing communication campaigns with just consumers in mind, either. More often they're talking to healthcare professionals, charities and special interest groups, and sometimes commissioners or national decision makers as well as patients and their loved ones.
Unsurprisingly many healthcare brands and businesses find developing a communications strategy that can speak to all these diverse audiences, across all the diverse channels we have these days, to be incredibly challenging. No more so than when they're already struggling to translate a complex disease, condition or treatment into a clear story for media.
What do you like most about supporting businesses with their PR requirements?
No two brands or businesses are the same, so a cookie cutter approach is never going to fix everyone's problems. I love solving puzzles and problems, so working to find the exact balance of activities that will meet a business' unique requirements is interesting and exciting work for me to be doing.
The health sector is tough is terms of competition, how can PR help a business become a thought leader and improve their brand awareness?
If you want to be a thought-leader, you can't always play it safe. After all, if you're saying the same thing as all your competitors, then you may as well be saying nothing at all. But you don't need to take huge risks to stand out – considered messaging, an understanding of your audience and careful risk mitigation can give your brand the chance to shine without any of the downsides.
What sets the consumer PR services at PHA apart from other agencies?
Our team combines people from diverse PR, comms and marketing backgrounds with those who have worked for many years as a journalist. This unique blend of skills and perspectives means we're able to seamlessly blend journalistic values and an ingrained understanding of the news agenda with a strategic approach to communicating brand messages.
It's what makes us so great at spotting breaking news and turning it to our clients' advantage, translating breaking news about a Tiger Woods golfing win into a Daily Telegraph feature about orthopaedic surgery, extensively featuring a client.
Meet our people – Beth Stone
Well known high street and luxury brands are beginning to positively change their stance on sustainable fashion but there are several brands in which sustainability has always been at the core of their business.
By purchasing from sustainable brands, you will be reducing your carbon footprint compared to unsustainable brands. Some use only recycled materials so there is a closed supply chain and no new resources are being used up. Others use organic materials such as organic cotton which require less water, energy and don't use chemicals in production. On top of this, many up and coming sustainable fashion companies run community and environmental projects to give back to the areas where they sustainably source their materials from.
If everyone makes a conscious effort to shift towards only buying sustainable garments and accessories, eventually those companies without sustainable fashion goals will fall behind and will be forced to adapt. Below are a number of brands worth looking at for sustainable alternatives to your typical high street and luxury brands which are not quite there – just yet.
Komodo is a British clothing brand who have been creating eco fashion for over 30 years. Their products are organic, incorporate fair trade and are high quality in order to reduce throwaways. On top of this, Komodo have supported numerous environmental and social projects in the UK and in their manufacturing countries. From sheltering London's homeless, to building schools high in the Himalayas, and reforestation programs on the side of volcanos.
This Ukrainian brand was founded in 2011 and has become an advocate for sustainable fashion in Eastern Europe. After years of research and development, Ksenia Schnaider released its demi-denim collection, all from reworked denim. This is now the brand's signature look. Ksenia Schnaider has become popular among A-list celebrities including the likes of Bella Hadid and Dua Lipa and is now stocked in over 70 stores worldwide! In the UK, the label can be found in Selfridges and Koibird.
Standing for mat(t)erial and nature, MATT & NAT is a vegan accessory brand built on the principle of respecting life and nature. The company is committed to using no animal-based products and has experimented over the years with cork, rubber, cardboard and nylons. Since 2007, they have only used linings that are made from 100% plastic bottles in all their bags.
Mara Hoffman is an American label founded in 2000. It currently does not have any UK stores but is stocked in a few department stores including Selfridges and Harrods. They also ship to the UK. Mara Hoffman aims to educate society on sustainable fashion and encourage people to re-evaluate the relationship they have with clothing. The brand uses responsibly sourced organic, recycled and regenerated materials whenever possible and manufacture in a way that minimises negative impacts and ensures all people involved are treated fairly. Mara Hoffman has also teamed up with various organisations which support the communities they manufacture in, and educate society on sustainable fashion. The label is known for its on-trend designs and bold colours.
View this post on Instagram
Established in 1991, People Tree is a colourful brand with patterns inspired by the V&A archives. Collections feature organic cotton, TENCEL™ Lyocell and responsible wool. These materials are then transformed into garments using traditional artisan skills such as hand weaving, hand knitting, hand embroidery and hand block printing. People Tree also creates manufacturing jobs in rural locations where employment is scarce. Their website includes details on how to care for their garments in order to make them last, again incorporating sustainability.
If you are launching a new product or would like to raise awareness of your sustainability work for your brand or business, get in touch with our Consumer PR team today to find out how we can convey your key messages to the UK media.
Up and Coming Sustainable Fashion Brands