On a star-studded event at the PR Moment of the Year awards yesterday evening, The PHA Group were celebrating a victory for their own Nick Braund.
Nick, who heads up the Technology & Innovation department deservedly fought off his rivals to claim the 'Young Professional of the Year' award with the judging panel stating "We'd hire him tomorrow, actually make that today" – praise indeed!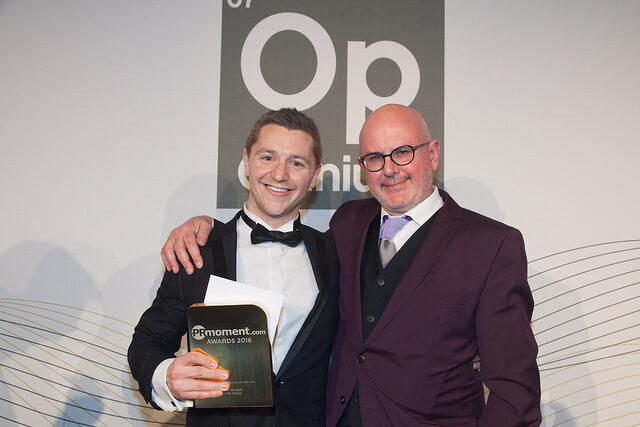 It was a glitzy affair at The Brewery in Farringdon, which played host to the biggest names in the industry with over 700 in attendance.
Among the prosecco reception and chocolate dessert, there were also 34 awards up for grabs, with The PHA Group being nominated for three gongs in total.
The company was up for 'Large Agency of the Year' and 'Technology Agency of the Year.' Both phenomenal achievements in their own right as it was the first year the agency qualified for the large agency category, and as such overtook more illustrious and established names in the process to make it on to the shortlist. To be recognised for the Technology agency award was an incredible achievement along, given the department is a couple of years old and was the only department nominated for the award among specialist technology agencies.
The agency unfortunately missed out on these two this time around but the nominations provided further indication that the company is moving in the right direction, and fast.
The evening belonged to Braund though as his entrepreneurial nous, which has seen the technology department grow significantly in a short period of time, along with multiple high-profile media appearances saw Nick claim the coveted prize.
The award adds to the growing collection the agency has been accumulating over the last 12 months with Media Employers of the Year, BT Sport Industry Award and a double at the Public Affairs awards providing a snapshot of the companies' recent successes.
With a few weary looking faces in the office today, needless to say, Braund's victory was celebrated with the usual PHA vigour well into the early hours.