Written by
Tom Clarke
• Published 20th September 2018 • 3 minute read
Influencer marketing has become a powerful communications tool. In recent years brands and businesses in the fitness industry have seen a spike in new customers due to the incorporation of influencer marketing as part of their strategy.
We look at the best strategies businesses in the fitness industry can implement to drive new business opportunities for their brand and increase their overall engagement.
Recommendations
According to a study conducted by Nielson, '84% of consumers say they trust peer recommendations above all other sources of marketing'. How many of us have bought something because our friend says they love it? We know we have, and it is no different when it comes from influencers on our network. Product promotions, trials and testimonials are some of the most effective pieces of content for brands and businesses.
Whether your business is a chain of gyms, bespoke fitness apparel or a specific nutritional guide, incorporating influencers in your new business strategy can help drive engagement. Consumers love to read and relate to success stories. When the brand Multipower launched their 'Muscles in HD' campaign, it showed how recommendations from influencers can boost business.
The campaign itself was aimed at an image conscious Instagram audience, sharing before and after selfie shots to highlight progress. Multipower decided not to pay the influencers for their time, but instead gave them the product to try for a month and incorporate into their gym routines. Capturing the influencers transformation to convey the HD sculpting effect of the product.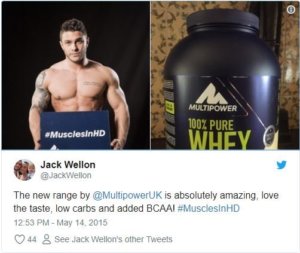 The Multipower website recorded its best ever month of traffic with a 58% year on year increase, and their social channels received 800 new followers up 102%. It's worth mentioning the brand also recorded a sales increase of the new powder range.
Spark comments and conversations
Providing your customers the opportunity to engage in conservation with a relevant ambassador or influencer is an effective method to drive traffic to your site, and increase discussion about your brand.
Live chats, Q&A sessions or pop up events to meet influencers drive a real buzz and can attract plenty of press coverage. In a similar vein, Tough Mudder decided to use Facebook Live and host a preview for potential participants with legendary Tough Mudder coach and influencer Coach T. Mud leading participants through a training course. It meant that people could see exactly what they were signing up for, the video has amassed over 53,000 views.
Ensure longevity
A one-off social media post or a sponsored advert won't have long term impact. You may see an initial spike on the day of the post, but planning consistent messaging building ongoing relationships are vital to the success of your influencer campaign.
Be sure that the influencer you decide to make the face of your campaign is consistently promoting your brand throughout the whole process, set up an ongoing relationship, this will provide authenticity and consistency for your target audience. A brand who decided to follow this approach when launching their fitness campaign was London based boutique brand 1Rebel. Utilising some of London's largest fitness influencers over a sustained three-month promotion, one of the key influencers used during the campaign was nutritionist Jessica Ball, who posted about the brand four times a week for four weeks providing some excellent engagement for the brand.
Engage with your existing members
It's worth remembering that securing new business for your gym is nothing without keeping your existing members happy too. UN1T, a boutique gym based in Fulham and London Bridge have recently hired fitness influencers Zanna Van Dijk and Twice the Health (Emily and Hannah) to be coaches and lead several classes a week. This move works for two reasons, as they actively encourage new sign-ups on their Instagram stories whenever they lead a class, but it also inspires existing members to return and exercise at UN1T.
If you would like to talk to someone about incorporating an influencer communications strategy into your next campaign, why not speak to a member of our award-winning team today.